Have you ever heard of a compression vest? Compression vests were created to allow people to use HyperGravity Training. And now, HyperGravity Training can be taken to a new level thanks to the compression shirt system. Say goodbye to bulky compression vests and hello to form fitting compression shirts.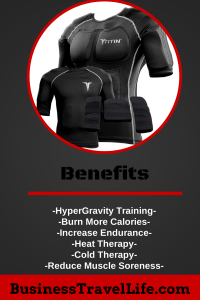 Patrick Whaley, Founder of TITIN Tech and creator of the TITIN Force Compression Shirt System. Whaley created the idea of TITIN Tech Compression Shirts while he was attending school. He used to carry extra books in his backpack to build up his muscle strength. Using this idea, Whaley created TITIN Tech hydro-gels—weights that are strategically placed over major muscle groups to increase build and burn calories without hampering mobility.
What is a Compression Shirt System?
The patented TITIN Force Compression Shirt System is the only weighted compression shirt on the market. The TITIN Force Shirt System allows you to move naturally without stressing your body's joints and can be worn during most workouts and training programs.
The eight pound compression shirt system has three parts:
14 weighted hydro-gel inserts that are the same density as your own muscles
14-pocket inner compression shirt
Outer compression shirt
The gel inserts are strategically placed into the pockets of the compression shirt over large muscle groups, evenly distributing the weight throughout the upper body.
What are the Compression Shirt System Benefits?
TITIN Force Compression Shirt System has many benefits including:
HyperGravity Training – HyperGravity is the force greater than the force of gravity on Earth's surface, therefore, HyperGravity Training allows you to use this basic force by adding to your body weight during training in increase the intensity of any activity.
Heat or cold therapy – The hydro gel inserts can be heated or frozen, used for spot therapy if there is one specific muscle that needs attention, and can be a benefit in post workout recovery.
Moisture – Wicking A.M.Y.® antimicrobial materials block odor and germs.
Reduce Muscle Soreness – According to Men's Health, compression is one of the best ways to beat muscle soreness because the compression pushes blood through your veins, reducing delayed onset muscle soreness.
TITIN Tech reported TITIN Compression Systems has resulted in:
25% Higher Lactate Threshold
13% Increased Vertical Leap
11% Increased Endurance
7% Increased Caloric Burn
3% Increased Running Speed
Is the Compression Shirt System and HyperGravity training only for elite athletes?
The TITIN Compression Shirt System and HyperGravity training is for anyone who wants to increase their strength and endurance. Whether you are a Crossfit junkie, a gym rat, trying to get in shape for an upcoming vacation, or wishing to improve your golf handicap, the compression shirt system will help you reach your goals stronger and faster. You can even wear it while you clean your house to burn more calories. The TITAN Compression Shirt System was also featured in the movie The Expendables 3!
Watch Shark Tank on October 31st to see the founder of TITIN Tech!!
Where can I find the TITAN Compression Shirt System ?
Business Travel Life is now selling the Titan Compression Shirt System in black, navy, and white with sizes available from XS-XXXL. Order now and get free shipping with promo code TITIN.
Business Travel Life
Business Travel Life is an online resource supporting the road warrior lifestyle. We give business travelers the tools they need to maintain their wellness and productivity when traveling. The topics we cover include business travel tips, travel workouts, healthy travel hacks, travel products, general travel tips, and industry trends. Our goal is to make business travel a healthier experience – and to make healthy travel practices more accessible to all road warriors.