Are you shopping for a health conscious traveler? We have some great travel friendly gifts that a health conscious travel can pack up and take on the road.
Wireless Ear Buds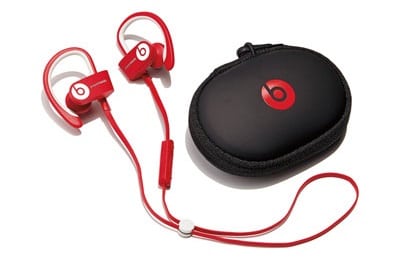 The Beats by Dr. Dre Wireless in-ear earphones are the best head phones for working out. They are compatible with most Bluetooth® enabled devices. The earphones also include No-slip-grip RemoteTalk™ controls that allow you to take phone calls. The wireless range is up to 30′ and the batteries last for 6 hours. The earphones include hard-shell carrying case, universal micro USB cable, cable management clip, and four pairs of multi-sized/shaped ear tips.
Beats by Dr. Dre Wireless Headphones, $200 | Available in Red, White and Black
[divider_line]
Meal Management Bag
This slideshow requires JavaScript.
The ultra-health conscious traveler will love these insulated meal management bags. Each style includes an insulated compartment with trays to hold meal containers and a separate compartment for storage. The Executive 300 Briefcase holds three meal containers and a 15″ laptop. The Renee Tote holds four meals containers and a 16″ laptop. The Mini-Innovator holds 3 meals and features a strap on the back to slide over a roller bag handle.  These bags make meal prep a cinch from home and on the go.
Executive 300 Briefcase, $189, black with red trim | Renee Tote, $159, black, red, stone, and navy | Mini-Innovator, $69, black or red
 [divider_line]
Fashionable Fitness Tracker Cover
This slideshow requires JavaScript.
Make your fitness tracker more fashionable with this set of interchangeable covers. Whether you are running to catch a flight or running to a meeting, these stylish covers will look professional and keep track of your steps.
Jawbone® Up & Up24 wristbands, $40 for set of 3 | FitBit Cover Necklace, $40 | FitBit Bracelet, $40
[divider_line]
TRX Home Suspension Training Kit
This slideshow requires JavaScript.
The TRX Home Suspension Training Kit offers a full-body workout from the comforts of your hotel room or home. This lightweight, portable training system has the accessories you need for an effective workout using just your body weight. The kit includes the TRX Home Suspension Trainer Straps, a door anchor (works on any door that closes with a lock, instructions for set up and a workout, and a mesh carry bag. The kit weighs 3 pounds and is easy to fit into your luggage.
[divider_line]
Travel Size Protein Powder
This slideshow requires JavaScript.
Whey protein powder is a great way to increase your daily protein intake. The travel size packets are single serving size and very convenient for travel. The SFH Whey protein is made from grass fed, free range cow's milk and is free of hormones, antibiotics, soy lecithin, gluten, GMO, and artificial flavors. The SFH protein also blends easily into milk or water and is absorbed very easily by your body. 
Travel Size Protein Powder, $29.99 for 10 packets
Available in Chocolate, Vanilla, Peach Mango and Natural
Each serving has 130 Calories / 25g Protein/ 2g Fat/ 2g Carbohydrates
[divider_line]
Loop Exercise Bands
This slideshow requires JavaScript.
Loop bands are a great resistance training tool. This Loop Tubing Set has one band of each resistance level: light (blue), medium(red) and heavy (yellow). The foam padded handles are easy to grip. These easily pack into your luggage and are very light weight. The loop tubing promotes better posture, increases muscular strength and mass, boosts metabolism and burns fat.
Loop Tubing Set, $13.75
[divider_line]
BlenderBottle Pro Stak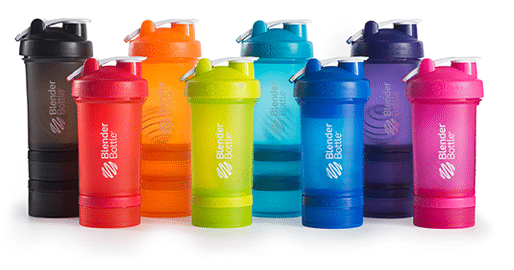 The Blender Bottle ProStak is a leak-proof container to mix lump-free protein shakes. The Twist N' Lock Jars that conveniently attach are the perfect size for snacks or pills. The BlenderBottle Pro Stak includes one of each: 22-oz cup,  150cc jar, 100cc jar, pill tray, BlenderBall® wire whisk. The BlenderBottle Pro Stak is BPA and Phthalate free. Blender Bottle ProStak, $9.99
Available in black, red, orange, light green, light blue, dark blue, purple, and pink.
[divider_line]
Travel Size Trigger Point Massage Kit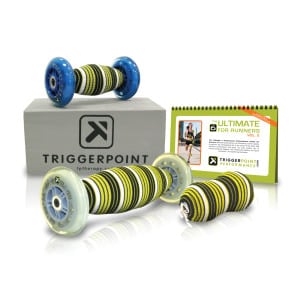 The
Ultimate 6 Travel Massage Kit
let's you give yourself a soothing and healing massage just about anywhere. This myofascial release and deep tissue massage kit provides you with all the tools you need, plus instruction and support for correctly focusing on self-massage of the entire body. The patented unique material mimics the touch of a human thumb for a safe and effective self-applied rubdown. The Ultimate 6 Kit contains 2 Massage Balls, a Footballer and Baller Block, a Quadballer, the 2-Ball Sleeve and "Ultimate 6 for Runners (Vol. 2)" – a 24-page illustrated guide featuring self-massage techniques to help you specifically target the 6 key problem areas of the body.  
Ultimate 6 Travel Massage Kit
, $139.99
[divider_line]
4 in 1 Travel Medicine Ball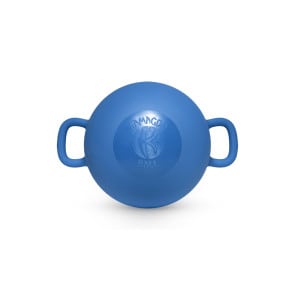 The Kamagon Medicine Ball is a 4 in 1 kettle bell, medicine ball, dumbbell and weight plate that uses water to create resistance. This water-filled ball adjusts from 10-50 pounds, depending on how much water you fill it with. There are two handles to provide a better grip. You can dump the water out when you are ready to pack it.
4 in 1 Medicine Ball, $89.99,  Available in blue, pink, and gray
[divider_line]
Business Travel Life
Providing nationwide nutrition and fitness concierge services, Business Travel Life seamlessly integrates a healthy lifestyle into corporate and business travel . We partner with our clients to provide nutrition plans and workouts that are achievable on the road. Our clients benefit from the customized level of service and ongoing support we provide. Check out our online store before your next trip to shop for healthy travel snacks, travel friendly workout tools, and accessories that make healthy travel easier.