Finding gifts for people who travel can be difficult. Our Travelin' Man gift guide is designed to find special gifts for men who travel.
Toiletries Bag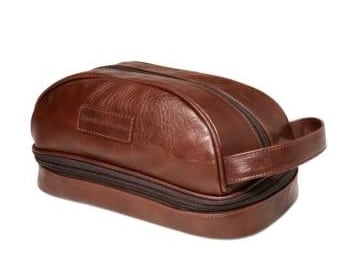 This masculine Perry Ellis Portfolio Bag is perfect for men's toiletries. There are two separate compartments and the bag is water resistant.
Perry Ellis Portfolio Bag, $39 (on sale for $16.99)
Tie Case
The tie case is designed to protect and organize ties during travel. The Tumi Tie Case holds up to eight ties and includes an interior pocket. Dimensions are 15.75″x 1″x 5.75″. For a more economical tie case, the Round Leather Tie Case
case holds three ties. Dimensions are 4″x 5.5″.
Tumi Tie Case, $175 | Round Leather Tie Case, $14.33
Jack Black Power Trip Travel Set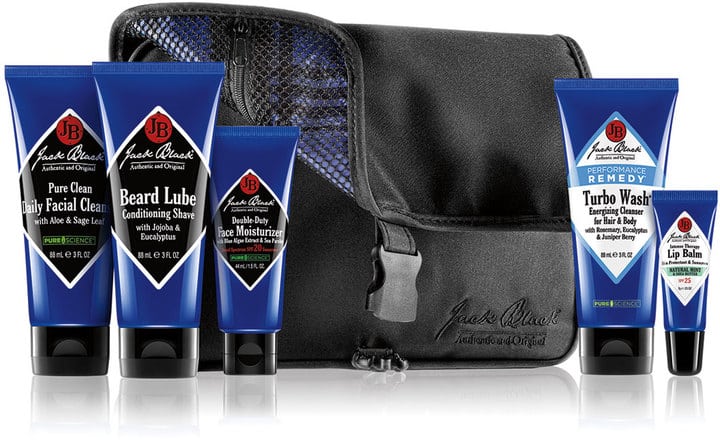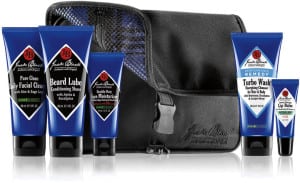 This Jack Black travel set is a well-rounded skin care kit set that includes everything you need for the face, beard, body, and lips in TSA approved travel sizes. Products in the kit include Pure Clean Daily Facial Cleanser (3 oz.), Beard Lube Conditioning Shave(3 oz.), Double – Duty Face Moisturizer (1.5 oz.), Turbo Wash Energizing Cleanser for Hair & Body (3 oz.), and Intense Therapy Lip Balm (.25 oz.). Jack Black Power Trip Travel Set, $52
KeySmart Compact Key Chain
The ultra strong Swiss Army style key holder can hold up to 22 keys and allows you to attach a USB. There is a loop at the end of the key chain to attach car alarm/unlock key chains. The KeySmart key is handmade in Chicago with Aircraft Aluminum.
KeySmart Compact Key Holder
, $19.99 -$31.00
Watch & Cuff Link Travel Case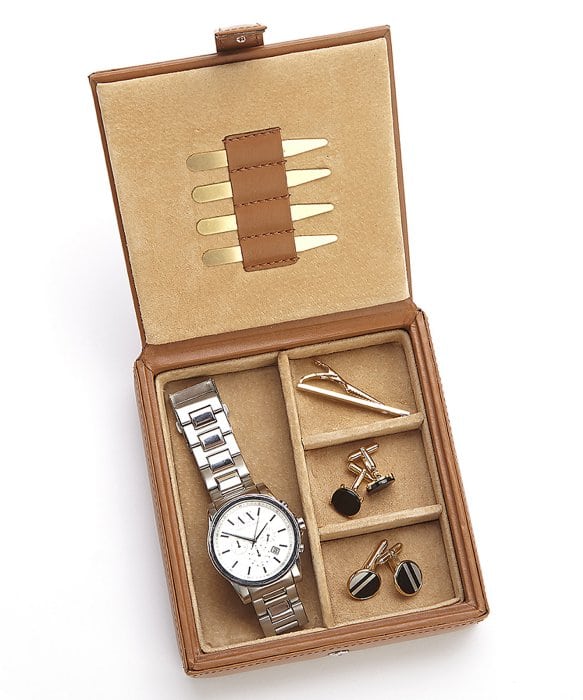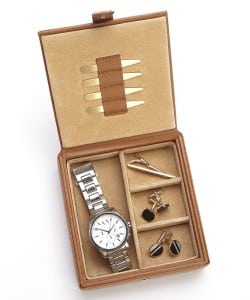 This luxury lined travel case is designed to hold cuff links, rings, and watches. This is fashionable enough to leave on the dresser at home and compact enough to pack for travel. The snap closure will be the top secure. Dimensions are 6″ x 5.75″ x 1.5″ and the travel case is made of Genuine Leather. Watch & Cuff Link Travel Case, $120 (on sale for $74.99)
Tumi ID Lock Wallet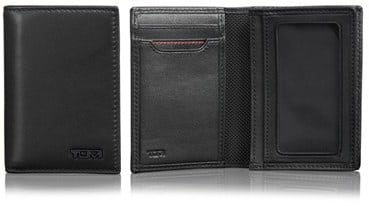 This ID Lock Wallet by Tumi uses built in technology to help protect personal data encoded on your cards from electronic theft. The nappa-leather wallet has multiple pockets and a ballistic-nylon spine adds durability, while red stitching and logo embossing lend signature style. Tumi ID Lock Wallet, $56.25
Perfect Shave Travel Kit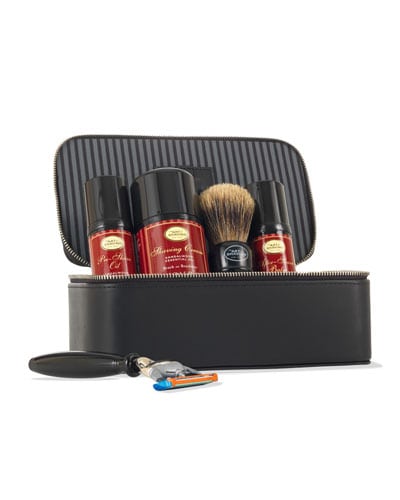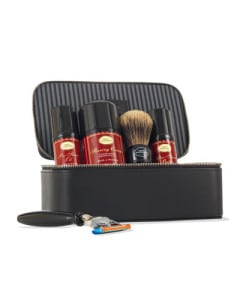 The Art of Shaving compact Travel Kit is a necessity for the man on the go. The kit will provide a close and comfortable shave from start to finish with the Pre-Shave Oil (1 oz), Shaving Cream (1.5 oz), After-Shave Balm (1 oz), Pure Badger Travel Shaving Brush, and Razor and cartridge. The Art of Shaving Perfect Shave Travel Kit, $175
Backpack with Laptop Compartment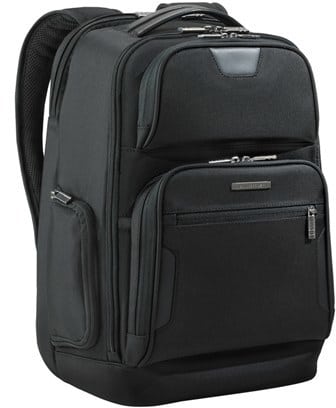 The Briggs & Riley Medium Ballistic Backpack is a great gift for men on the go. The backpack includes a 15″ padded laptop compartment and is designed with an Exterior SpeedThru™ pocket for quick storage of items at security checkpoints. The organizer has fleece-lined padded compartments for iPad and other tech gear, RFID-blocking pocket for credit cards, removable key keeper, pen loops and elastic pockets. The backpack also has padded shoulder straps and aerated mesh back padding allows air to circulate against the body, keeping back cool and providing lumbar support. Briggs & Riley Medium Ballistic Backpack, $279
The Professional
Listed on Esquire Magazine's 10 Essential Books for Life list and written in 1958, The Professional is a novel about boxer Eddie Brown and his big fight. The book reads like actual literature covering economical prose; beautifully nuanced characters; action that's fierce and true. The take away lesson is losers know more about life. The Professional
, $13.50 paperback, $9.99 Kindle
Business Travel Life
Business Travel Life is an online resource supporting the road warrior lifestyle. We give business travelers the tools they need to maintain their wellness and productivity when traveling. The topics we cover include business travel tips, travel workouts, healthy travel hacks, travel products, general travel tips, and industry trends. Our goal is to make business travel a healthier experience – and to make healthy travel practices more accessible to all road warriors.