Traveling can take a toll on your health.
Our goal is to make business travel healthy and healthy travel easy. We can help you make healthier choices when you dine out, find time to squeeze in exercise, and incorporate stress relief strategies into your trip. Whether you travel occasionally or weekly, we have a program that will meet your needs.
86% of travelers reported gaining an average of 1.5 pounds for each week they were away from home
A study conducted by Extended Stay Americain 2014 found 86% of travelers reported gaining an average of 1.5 pounds for each week they were away from home. If you fall into this statistic and spend even 50% of your time on the road, you are looking at potentially gaining 25 pounds over the course of a year.
We help you incorporate healthy eating and exercise seamlessly into your busy day, whether you are at home or on the road. Planning is the key to success- let us do the planning you need to reach your health goals.
Don't become a statistic. Invest in your wellness today.
Travel Wellness Programs
Online Workouts
You choose whether you want custom workouts or access to our workout database to pick your own workouts. Custom workout plans include a 30-minute phone call with your personal trainer Velvet Davis. She will create 4-6 workouts per week for you to use, taking your hotel or home gym, travel schedule, goals, and preferences into account. Our workout database is filled with a variety of travel workouts you can do in your hotel room, hotel gym, hotel pool or outside. Both options include access to our training app that allows you to track your progress, workouts, and even chat a trainer. The app also includes videos that demonstrate how to do specific exercises. After purchase is made, you will receive an email with a link to set up your account.
Travel Meal Plans
Let us help you eat healthier during your next business trip. We will create a custom meal plan based on your goals, preferences, and travel itinerary.  After researching  the area you are going to be traveling to, we will send you a meal plan with specific meal recommendations. Each client must order an initial evaluation with their first meal plan package. After a package is ordered, an introductory phone call will be scheduled and forms will be sent over.
One on One Wellness Consultation
Schedule a phone call with Travel Wellness Consultant, Kristina Portillo. The initial one-hour consultation will include an analysis of your current habits including nutrition, exercises, sleep, and stress. Following the call, you will receive a detailed document with recommendations and steps for incorporating changes to live a healthier business travel life. Follow up sessions are recommended to ensure your success.
Call us today at 888.552.5051 or you can complete our Contact form for a free consultation!
---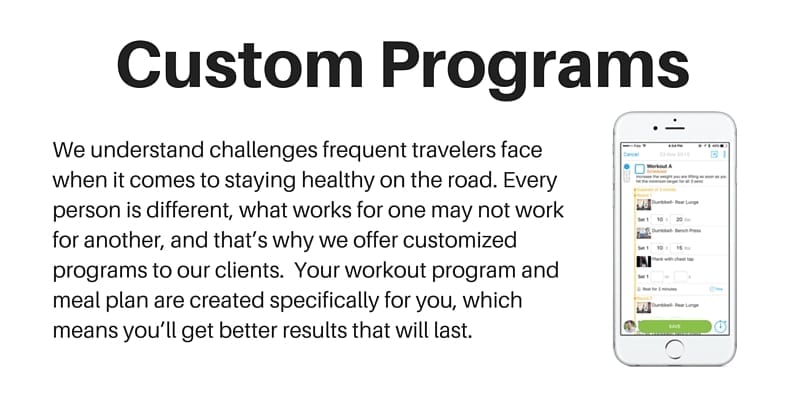 ---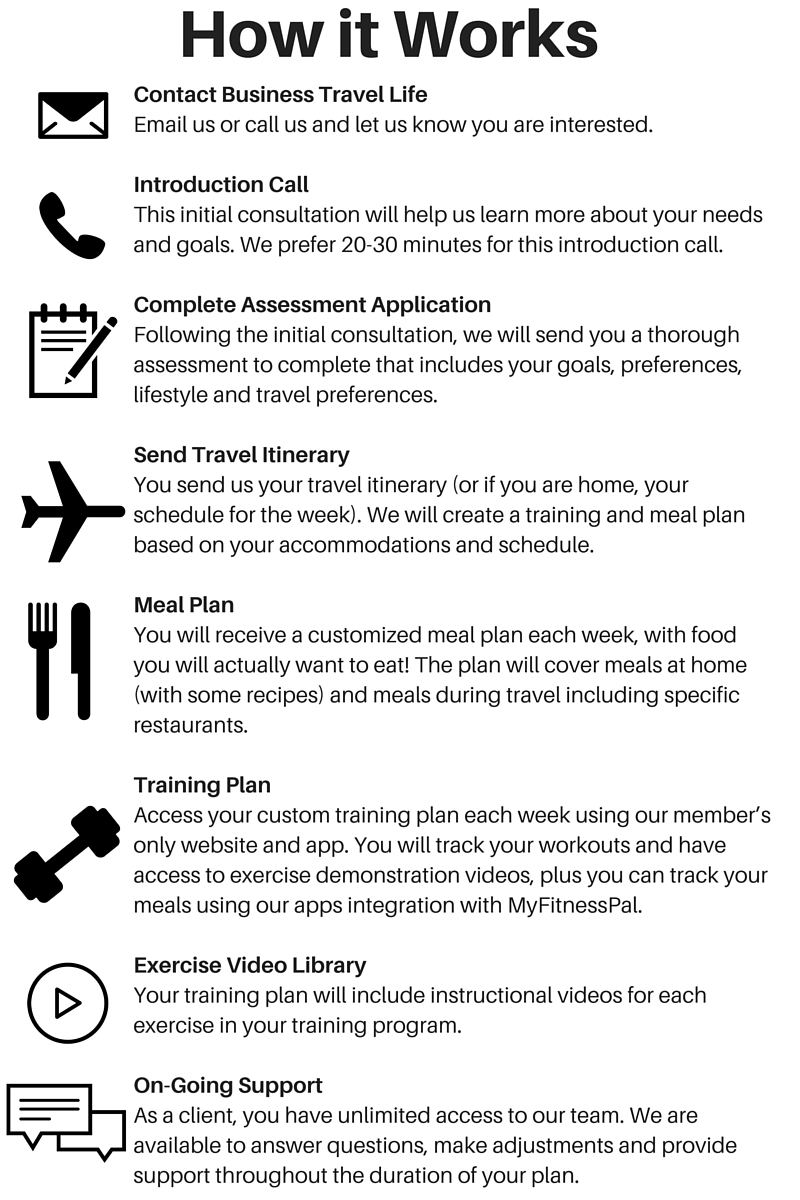 ---
I was fortunate enough to have a friend recommend Business Travel Life to me.  I have been using their nutrition and exercise program for the past six months and it has had a positive impact on my life.  I travel weekly and maintaining  a healthy lifestyle has been a challenge.  Kristina's weekly menu plans put me on the right track for eating right and making smart choices while on the run.  Velvet's daily work out routines and virtual training sessions challenged me and helped me gain strength and muscle tone.  I have more energy and am very happy with the results. All in all, this was the best choice I've made and the Business Travel Life team has helped me get back on track with a healthy, active life style.

Deb, Development Consultant
---
Don't wait any longer! Call us today at 888.552.5051. Or you can complete our Contact form to get started.

If you are interested in providing our services to your entire company, please call us to learn more about our corporate pricing.