With minimal charging requirements and a low profile, the FOREO ISSA Hybrid Toothbrush is an excellent travel companion.
Unlike many Americans, I love going to the dentist. I have never been able to replicate that clean feeling on my teeth when I leave the dentist office with, until now. I literally threw my other toothbrush away after trying the ISSA Hybrid toothbrush one time. The ISSA Hybrid does not just do an excellent job of cleaning my teeth, it has many features that make it an easy choice for a travel toothbrush.

It is hard to believe a company could take an everyday product that has been around for years and successfully redesign it, but Foreo really has reinvented the wheel toothbrush. The first thing I noticed about the FOREO ISSA Hybrid Toothbrush is the unique and modern design and color. While color has nothing to with functionality, I was excited to find a toothbrush in one of my favorite colors, bright cobalt blue.
The ISSA Hybrid Toothbrush is enclosed in silicone, including the bristles. The toothbrush has a low-profile compared to other electronic toothbrushes, which I found to take up less space in my toiletry bag. Thanks to the silicone and sealed charging port, the ISSA Hybrid Toothbrush is also water-proof.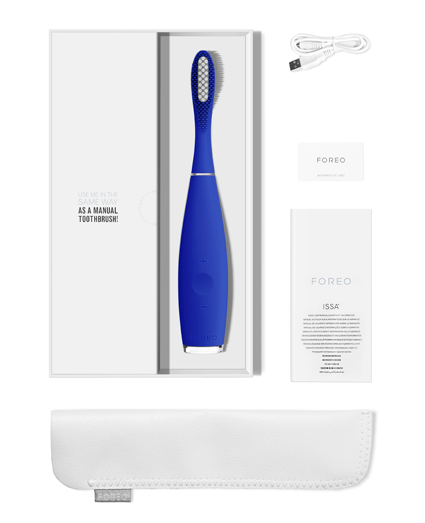 The other unique feature of this toothbrush, which I absolutely love, is the 100% silicone brush head. I have really sensitive gums and teeth, and the "PBT polymer" bristles do not bother my gums or teeth (and my teeth feel cleaner)! The brush head is also flexible and it was able to reach behind the teeth in the back of my mouth, which my former toothbrush did not do very well. I was a bit worried about how sanitary the silicone would be, however, I learned Silicone & PBT polymer materials harbor less bacteria thanks to their natural properties.
FOREO ISSA Hybrid Toothbrush features for travelers
Takes only one hour to charge, with one charge lasting 365 brushes (thanks to pre-programming, this is approximate).
Ability to lock/unlock (Preventing it from turning on if it gets bumped during travel.)
Automatically shuts off after 3 minutes (in case you forget to lock it).
USB-chargeable so it will be a snap to charge anywhere in the world.
Low Maintenance: Replace brush head every 6 months, compared to other brands that last about 3 months.
The ISSA Hybrid has a mini version (created for children over 5) that is perfect for travel (one charge on the mini lasts for 200 brushes).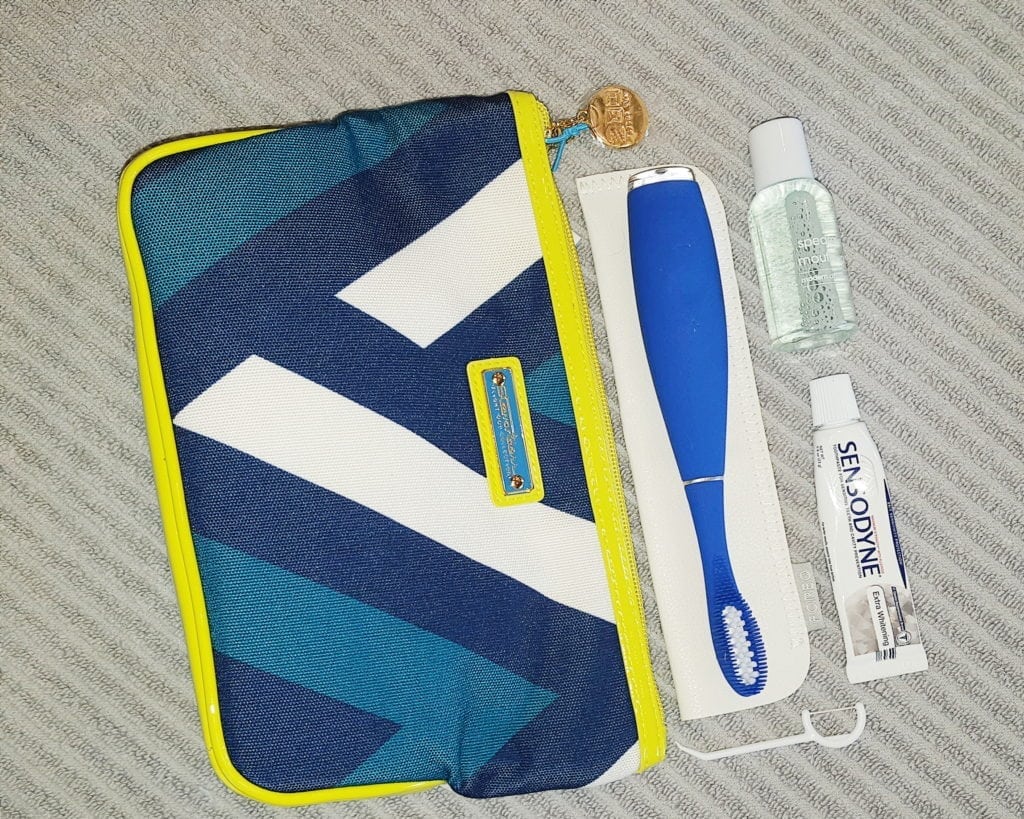 When is the last time you brushed your teeth for the recommended two minutes? The ISSA Hybrid has made this easy to do, thanks to its integrated two-minute program. After you turn the toothbrush on, the pulsations run for two minutes. Every 30-seconds, the toothbrush will pause, so you can re-position and brush in a new quadrant.
FOREO used the same sonic pulse technology from its highly popular LUNA face cleansing brush
in the ISSA Hybrid Toothbrush. That technology provides eight speeds (up to 11,000 high-intensity pulsations per minute) for you to choose from, depending on your teeth (for example, if you have veneers, you would choose a lower speed). And, the toothbrush will remember your speed preference, so you don't have to adjust it each time you use it.
After one use, my teeth felt cleaner than any other toothbrush I have ever used, almost comparable to how clean my teeth feel after a professional teeth cleaning at the dentist.
So, now let's discuss the price of $199. The ISSA Hybrid Toothbrush is truly a luxury toothbrush that offers a fool-proof way to brush your teeth. For someone like me, who never brushes for the full two minutes, and needs a brush is durable enough for travel; it is an investment worth making for your dental health.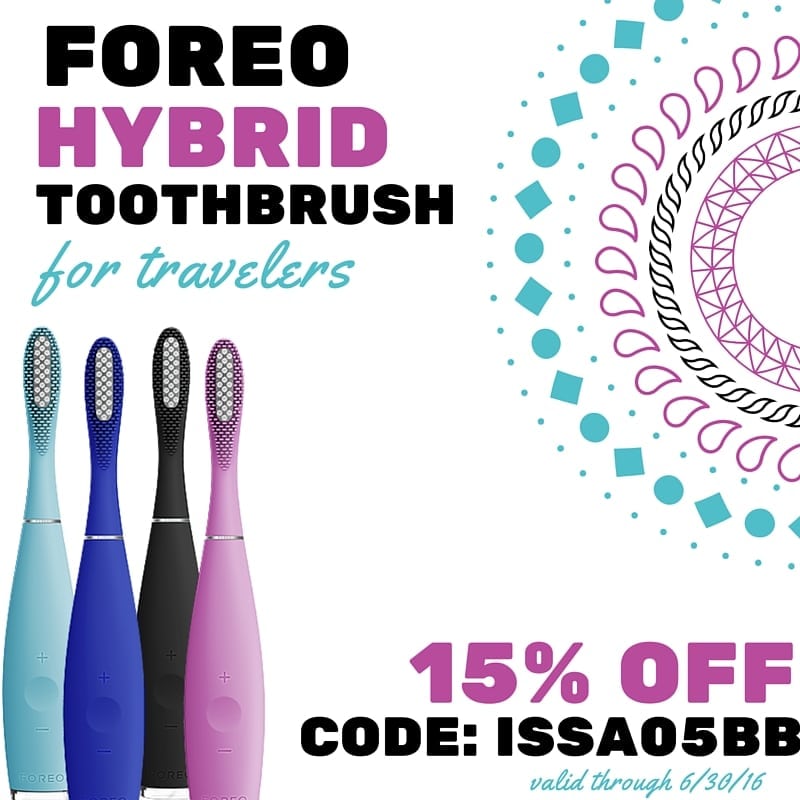 Free Shipping in US, Shop Now at FOREO.com.
Discloser: This blog post was written in exchange for the FOREO ISSA Hybrid Toothbrush.
Business Travel Life
Business Travel Life is an online resource supporting the road warrior lifestyle. We give business travelers the tools they need to maintain their wellness and productivity when traveling. The topics we cover include business travel tips, travel workouts, healthy travel hacks, travel products, general travel tips, and industry trends. Our goal is to make business travel a healthier experience – and to make healthy travel practices more accessible to all road warriors.