Travel-Friendly Workout
Many business travelers struggle to maintain an exercise program due to the inability to maintain a consistent schedule. At 6:30 am one day you are on commuting to work at 6:30 am the next day you are on a plane. It can be challenging to find the time to workout at home and even harder to workout while traveling.
We have created a beginner workout routine with busy people in mind. This workout routine that can be done at home or on the go. Whether you are new to working out or ready to start a new workout program, this beginner workout routine offers a full body workout. This is a great program for road warriors because it can easily be divided up between a home workout and a hotel room workout. Pack the jump rope, loop band, and resistance tubes to use in your hotel room. Complete the remaining exercises when you return home. Most hotel gyms have dumbbells and an exercise ball so you can even use this to get a hotel gym workout.
Alternatively, you could store the some of the workout equipment in your office and workout during your lunch break- assuming you have your own office- you may get some strange looks if you are doing this in your team meeting room.
Beginner Workout Routine
Warm up: Walk on treadmill or march in place for 5 minutes.
Cardio: Jump Rope for 1 minutes between each exercise.
Weighted Bar:
Loop Tubing:
Fusion Ball:
Resistance Band/ Tube:
Stability Ball:
Dumbbells:
Medicine Ball:
After you are finished don't forget to stretch!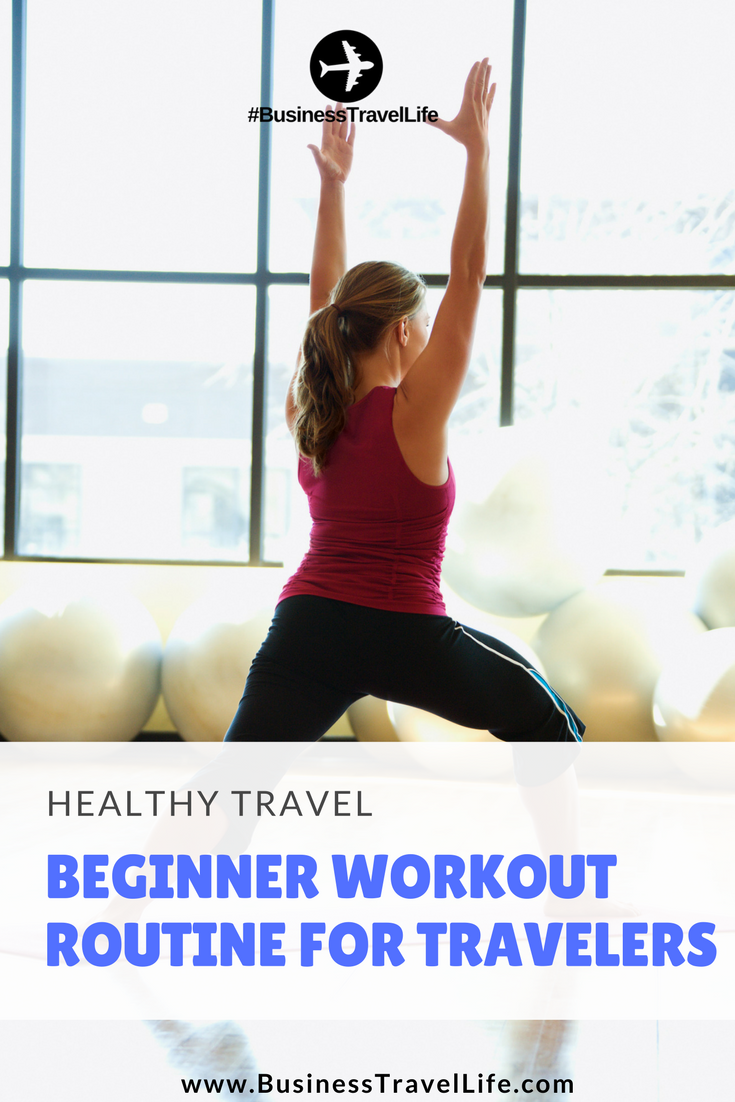 Are you looking for more workouts? Contact us to receive a workout plan that is based around your needs, goals, and schedule. We will customize a workout plan each week for you that can be used with the equipment you have available. We can help you get in the best shape of your life while maintaining your daily priorities. What are you waiting for, contact us today!
Business Travel Life strongly recommends you consult with your physician before engaging in a new exercise program. You should be in good physical condition and be able to participate in the exercise. Business Travel Life is not a licensed medical care provider and represents that it has no expertise in diagnosing, examining, or treating medical conditions of any kind, or in determining the effect of any specific exercise on a medical condition. You should understand that when participating in any exercise or exercise program, there is the possibility of physical injury. If you engage in this exercise or exercise program, you agree that you do so at your own risk, are voluntarily participating in these activities, assume all risk of injury to yourself, and agree to release and discharge Business Travel Life from any and all claims or causes of action, known or unknown, arising out of Business Travel Life's negligence.
Business Travel Life
Business Travel Life is an online resource supporting the road warrior lifestyle. We give business travelers the tools they need to maintain their wellness and productivity when traveling. The topics we cover include business travel tips, travel workouts, healthy travel hacks, travel products, general travel tips, and industry trends. Our goal is to make business travel a healthier experience – and to make healthy travel practices more accessible to all road warriors.