Your Hotel Breakfast Can Make (or Break) Your Day
Eating a healthy hotel breakfast can be challenging, whether you are staying at a two-star motel or a five-star luxury hotel.
Continental breakfasts often overload on sugary carbohydrates (like pastries & muffins) and lack fresh food, breakfast buffets can easily lead to overeating and made to order breakfasts are not guaranteed to be healthy.
The purpose of breakfast is literally to break the fast that occurs when your body is sleeping. Consumerreports.org states, "Eating within 2 hours of waking can make a difference in the way you metabolize glucose, or blood sugar, all day." So, for all the naysayers, you can skip breakfast but you will likely be hungrier later and are more susceptible to sugar cravings.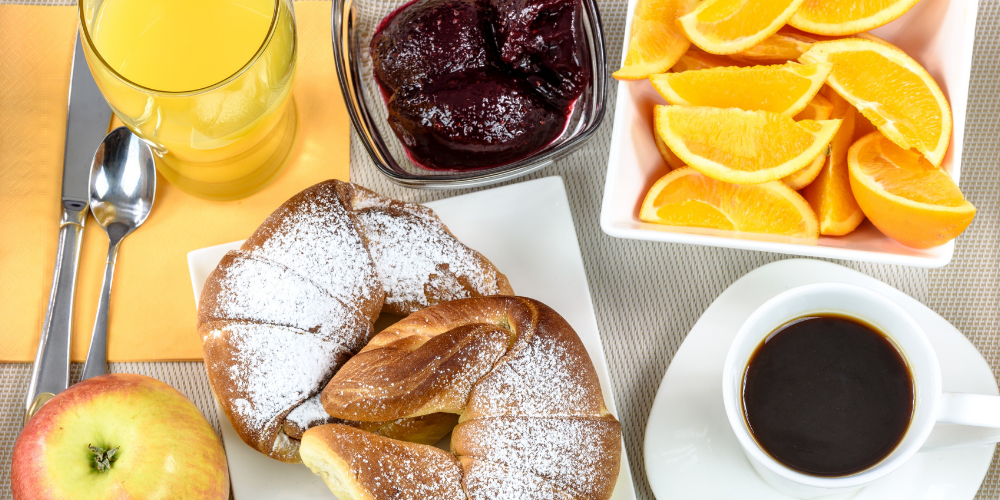 If you care about stabilizing your metabolism, staying focused throughout your morning tasks and staying full until lunch (thus skipping the doughnuts in the break room at 10 am when you suddenly feel starving), you need to enjoy a healthy breakfast before leaving for work.
Ten tips for eating a healthy hotel breakfast
1. Watch the liquid calories- Sometimes it is easy to forget that liquids have calories (and often sugar). Black coffee and unsweetened herbal or caffeinated tea are free of calories. If you enjoy juice with your breakfast, be picky. Whether you are drinking fresh-squeezed juice or juice from concentrate, you can expect over 100 calories per glass, though fresh-squeezed juice does have a nutritional edge over juice from concentrate.
If you love food as much as I do, skip the juice and save those calories for whole food. If you must have juice with breakfast, try having 4 oz. instead of 8 oz. Another great drink to have with your breakfast is hot water with lemon. There are many benefits to drinking hot water with lemon every morning.
2. Skip the 500 calorie coffee– A very common mistake is overloading coffee with cream and sugar. Simply adding 2 packets of sugar and 2 mini-creamers to your coffee adds 90 calories. Using real cream will add 50 calories per tablespoon. If you cannot drink your coffee black, try adding skim or 1% milk, as it only has 5-10 calories per tablespoon. If you are trying to cut back on the calories by using artificial sweeteners, you are not doing yourself any favors.
Unless your doctor advises you to use artificial sweetener, I would avoid it at all costs. This topic could be a book in itself, but the Mayo Clinic wrote a straightforward article about artificial sweeteners that discusses the good and the bad. If you are lucky enough to have a Starbucks in your hotel or a coffee shop that makes lattes, and you prefer to have a flavored latte, I suggest requesting one pump of syrup instead of the usual three to four or more that are typically added to flavored lattes.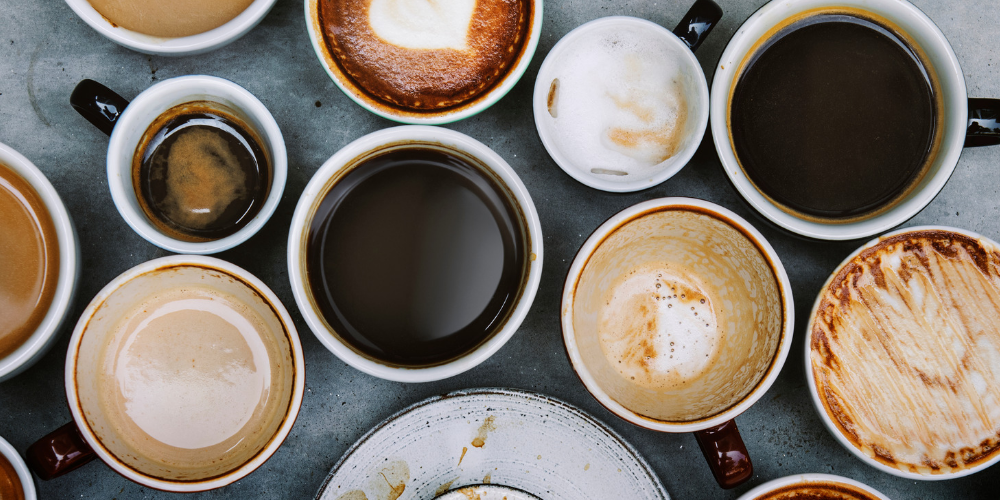 3. Do not try one of everything– It can often be tempting when you're eating at a breakfast buffet to load up your plate with one of everything, but this habit can lead to consuming thousands of calories during breakfast. If your hotel has a large breakfast buffet, do not go crazy. It is best to evaluate the entire buffet before you get a plate, so you know exactly what you want. Resist the temptation to add unhealthy items such as bacon, sausage, waffles, pastries, etc to your plate. As we like to remind you – this is a business trip, not a vacation. Traveling for work is not a reason to treat yourself at every meal.
4. Eat a balanced breakfast- The basic components of a balanced breakfast are complex carbohydrates, protein, and healthy fat. Breakfast is the best meal to load up on carbohydrates because you have all day to burn them off. Carbohydrates have gotten a bad reputation over the years, but complex carbohydrates such as whole grains are good for you and provide energy for your day.
Also, fruit and vegetables are carbohydrates that should be eaten every day. Protein is essential to keep you full until lunch and reduce cravings. Healthy fat is a must with your breakfast also! A balanced breakfast for the average adult should be 50% complex carbohydrates, 30% protein, and 20% fat. These ratios may vary a little based on your health goals.
5. Made-to-order is better– When available, a breakfast cooked-to-order is the best choice. A made-to-order breakfast is the best type of hotel breakfast for you because you can eat whatever you want, and you have selected the ingredients and how it is made.
Made-to-order means you can get the serving size you want, and the healthy modifications that you want (egg whites, no butter, etc.). A cooked-to-order breakfast also significantly increases your chance of getting real food instead of the processed food that is often set out for continental breakfasts.
A simple and healthy made to order breakfast would include a veggie omelet, one piece of whole-grain toast with nut butter, and fresh fruit. If time and your expense budget allow, I recommend leaving your hotel to find a cooked-to-order breakfast if your hotel does not offer one.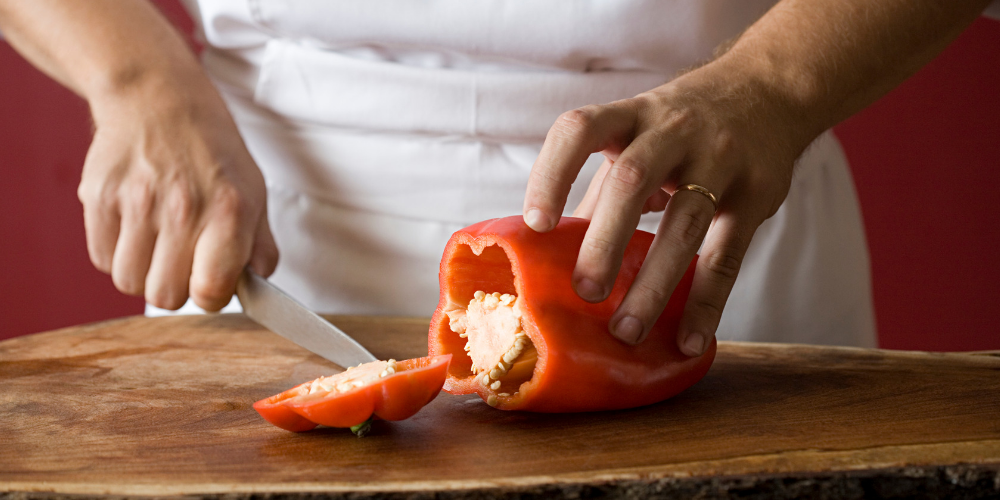 6. Eat bacon, just not the classic American kind-As you are likely aware, classic, American bacon is not good for you. It is full of fat (and not the healthy kind of fat) and sodium. On the other hand, Canadian bacon and Turkey bacon are a great choice for breakfast.
Canadian bacon and Turkey bacon have less sodium and higher protein content. This applies to sausage as well. Traditional sausage is not healthy, but alternatives like chicken apple sausage is a healthier alternative.
If you are one of the people who follow the "everything in moderation" ideology, I agree- but remember, this is a business trip, not Sunday brunch so skip the bacon when you travel for work.
7. You don't have to eat eggs– A common misconception about protein at breakfast is that it only comes from eggs. This is not the case!
In addition to eggs, you can get protein at breakfast from the common breakfast items:
8. Cereal is okay– If you do not have a hot breakfast available, low sugar cereal is okay for breakfast and a better choice than pastries. Avoid anything that is the color of a rainbow (like Fruit Loops) and stick with low-sugar cereal like Rice Krispies, plain Cheerios or corn flakes. Add fresh fruit and milk.
You can also mix your choice of cereal into yogurt, Greek yogurt is the best bet. If you find granola, use sparingly to top fruit or yogurt. Granola is typically high in sugar and calories (oatmeal is always a better choice).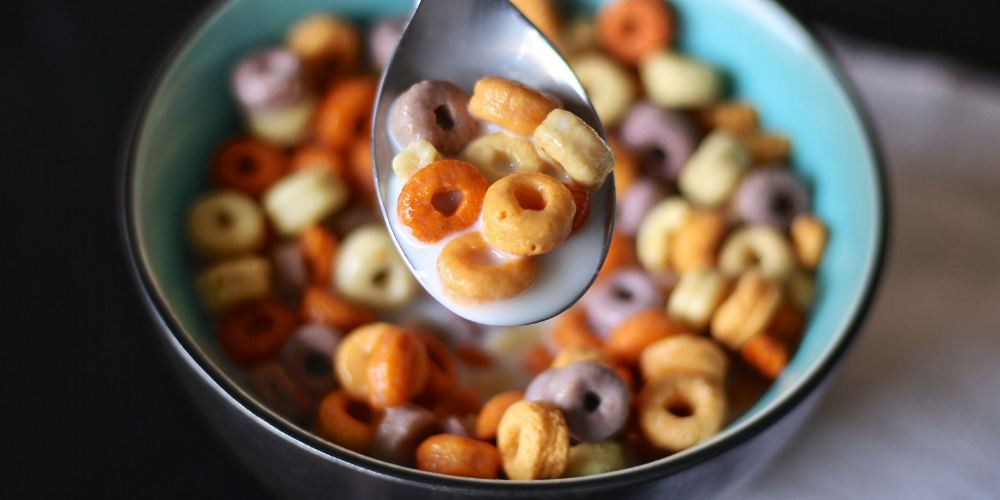 9. Just say no– Some breakfast foods should be avoided during business travel. They will leave you filled with empty calories and many will lead to a sugar crash after breakfast. If one of these foods is your favorite, and you have to have it – fine- but not on a daily or weekly basis during business travel.
Just say no the following breakfast items:
fried hash brown cakes
biscuits and gravy
doughnuts
muffins
cinnamon rolls
anything with syrup such as pancakes, French toast or waffles
overly buttered toast
sugary cereal
10. Ask for nutritional information– Prior to eating breakfast, look up the nutritional information for the hotel's breakfast menu. This may be harder to find depending on the hotel brand.
A more common practice for made-to-order hotel breakfast menus is to list the calories for the "healthy" items. These items are not always healthy (for example a Hilton 600+ calorie granola/yogurt bowl is two servings, not one).
We found a great list of nutritional information for a hotel continental breakfast on the Country Inn & Suites website. The list covers the basics of any free hotel breakfast, so it is a good baseline if you cannot find the specific information for your hotel. Some hotels have breakfast items listed on MyFitnessPal.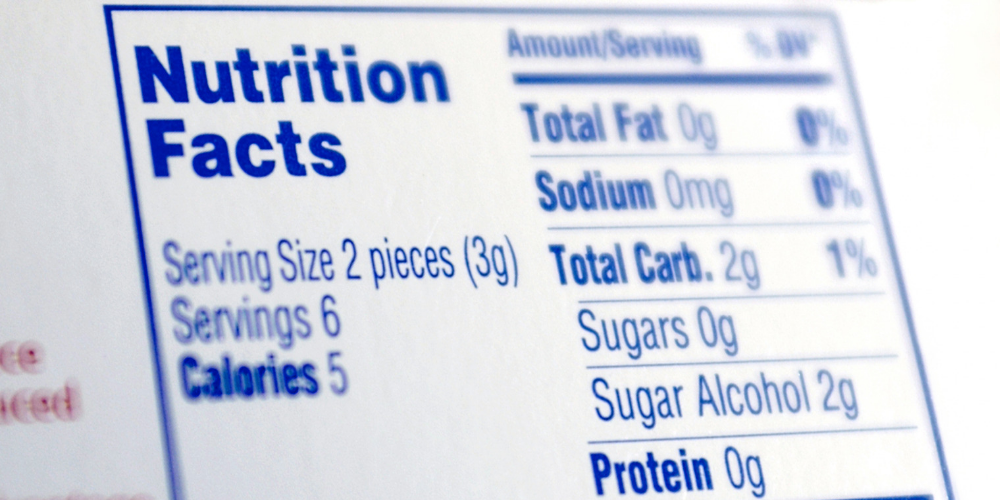 If your hotel is lacking in its options for a healthy breakfast, I suggest you find a nearby grocery store and get something healthy for breakfast. Or go to a restaurant that serves breakfast and get a healthy made-to-order breakfast.
Another suggestion is to bring your own protein powder and mix it with oatmeal, add it in a glass of milk or orange juice, or mix with a container of yogurt so you can get a higher-protein breakfast at your hotel.
If your hotel has nutritional information available for their made-to-order breakfast be sure to check the nutrition so you know how many calories you are consuming with breakfast. While there are many different philosophies on how many calories you should eat for breakfast, it is still wise to know how many calories you want to eat, and then find a breakfast that will meet those needs.
We would love to know what your favorite healthy hotel breakfast is. Please leave a comment below!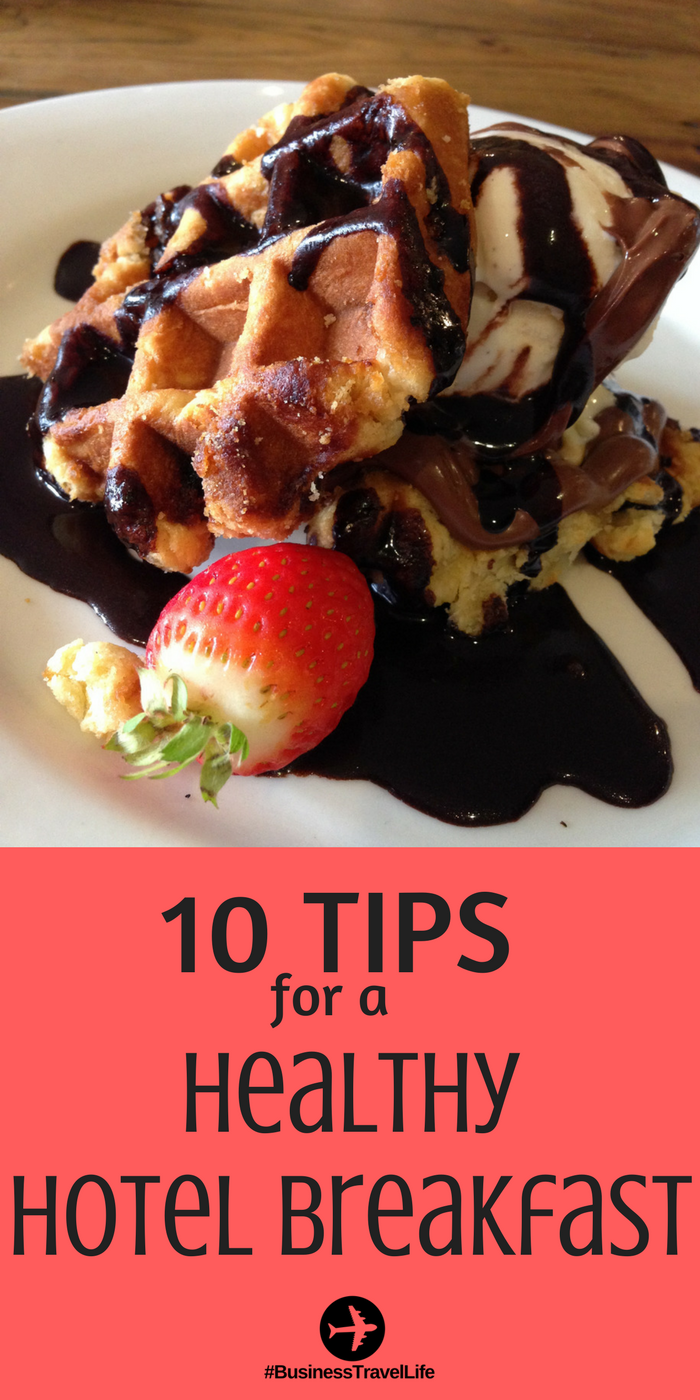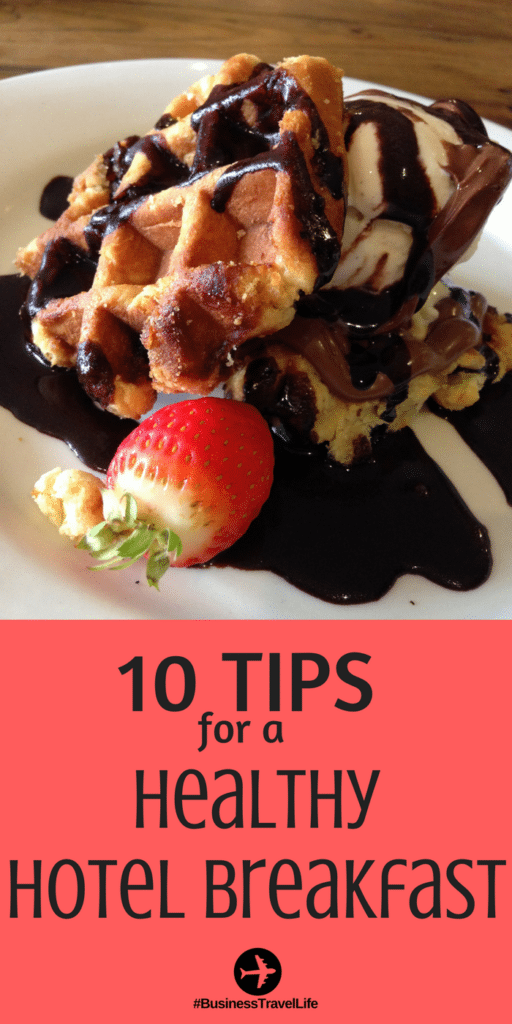 Business Travel Life
Business Travel Life is an online resource supporting the road warrior lifestyle. We give business travelers the tools they need to maintain their wellness and productivity when traveling. The topics we cover include business travel tips, travel workouts, healthy travel hacks, travel products, general travel tips, and industry trends. Our goal is to make business travel a healthier experience – and to make healthy travel practices more accessible to all road warriors.