Over the years, seasoned road warrior Kim Okimura has mastered the art of holistic travel. Now, she shares tips and tricks to help other travelers.
When we travel, we tend to condense everything — our wardrobe so it fits into a suitcase, our workouts so they fit into a hotel room, and our wellness routine so it fits into a strict schedule. Unfortunately, sometimes we sacrifice too much, and it comes back to bite us later.
For veteran road warrior Kim Okimura, however, there's no cutting corners when it comes to one's well-being, even when traveling. Knowing that health is about more than vegetables and exercise, she's become an expert in holistic travel over her years of jetting around the world for work. From herbal teas to a strict skin care regime, she has a wealth of knowledge to share with other travelers.
Recently, we were lucky enough to connect with her to pick her brain on the subject of holistic travel. Read on to find out more about her recommended travel products, routines, and more tips.
An Interview with Kim Okimura
To start out, how did you become interested in health and wellness?

Because I fly quite often for work, I am exposed to many more germs and bacteria from being around different environments, objects, and people. Also, watching my mum go through aging and health problems — there's a trend I'm seeing with older people telling me that health starts at a young age if you really want to prevent problems when you're older.
Looking at your Instagram feed, it looks like you travel quite a lot. Do you have any go-to products or routines that you always use to stay well on the road?
I always have a packet of Wet-Naps/baby wipes with me. They work well as tissues and as wipes for anything. It doesn't have to be a name brand, generic brands are just as great. I've learned from my mom friends that baby wipes are life savers — I've started to buy more generic baby wipes and use them for many purposes: makeup wipes, face wash cloth, hand wipes, etc.
Also, vitamins! Take vitamins people!
And always wash your hands and be mindful of germs (simple common sense, I'd think).
Earlier this fall, you shared an Instagram story featuring a tea that helps you stay healthy during cold season. Can you tell me a bit more about this product and how it's been effective with the change in season?
I am not a coffee drinker as most people are — I typically drink tons of herbal tea in general. Since I'm a tea lover, I drink it all day (8-10 cups) and water on top of that. I grew up drinking a lot of ginger as it's good for overall health (digestion, skin, cholesterol, etc). In addition to ginger tea, I drink plenty of other herbal teas. Around cold season, I would drink more teas like: Throat Coat, ginger, Breathe Easy, Immunity, Cold Season.
The brands I typically buy would be Yogi and Traditional Medicinals. Lately, I've added the Trader Joe's brand of Ginger/Turmeric Tea into the mix. I've run into a few times where I'm out of tea and no time for the store. I'd find alternatives by having hot water plus lemon/lime/orange (anything citrus-like, as citrus fruits have high Vitamin C properties).
When I travel, I head out to a grocery store to buy these teas and pack them in my bag. I don't trust airplane hot water — instead, I grab hot water at the airport (in lounges or places that serve hot drinks, you can ask for hot water or bring your own tumbler/mug to fill with hot water) and throw in my own tea. I like to double or triple up in one cup sometimes. 

I've noticed that people will drink some teas around cold season, but I always encourage people to drink tea in general, as you should be maintaining health every day as opposed to a few days of the year. Obviously, not only will tea help prevent sickness, but it is also a factor in many things we all should do for our everyday health.
When most people think of "wellness," they probably think about exercising or eating healthy. I saw in one of your recent Instagram posts that you visited a Korean jjimjilbang. How do experiences like this also benefit the well-being of frequent travelers?
I think it's important to have a mental health day to yourself at least once a month — self care is important. Our bodies keep us going; when it fails or breaks down, we can't do anything except to rest. The jjimjilbang (JJB) was a real treat. It's too bad that the states doesn't have it more readily available and at affordable rates. Korea was super cheap in that aspect.
After experiencing the JJB the first time, if one can afford, I'd like to make it a monthly habit of mine to fit it into my schedule as self care. If not, then at least every other month. Even if it's not the JJB, at least take a few hours during the month to have downtime. When we are on the go so much and don't sleep consistently, our body might get sick due to lack of attention. It's important to slow down from a busy life every now and then to reset.
What tips would you give a fellow traveler for staying well on the road?  
Sleep

: It is very important for our mental and physical health

Stay Clean

: Wash your hands and be mindful of germs (you don't have to be germophobic, but exercise common sense)

Stay Active

: Walk as often as you can. Hate the stairs? At least take them going down if you hate going up. Desk jobs are hard, but it's possible to get steps in throughout the day.

Stand and Stretch Often

: Deep Vein Thrombosis (DVT) is not friendly or pretty! Blood circulation is important throughout body.

Stay hydrated

: Drink tons of water. Planes are way more arid than the desert, so drinking anything besides water only makes it worse.

Don't Overlook Skin Care

: Besides health and wellness, I am a big advocate on skin care as well. Traveling on planes/trains/metros, other than our bodies going through environmental changes, our skin is most exposed. People age faster through neglect of care. I turn to Korean beauty and skin care routines for myself. But that's another topic for another day.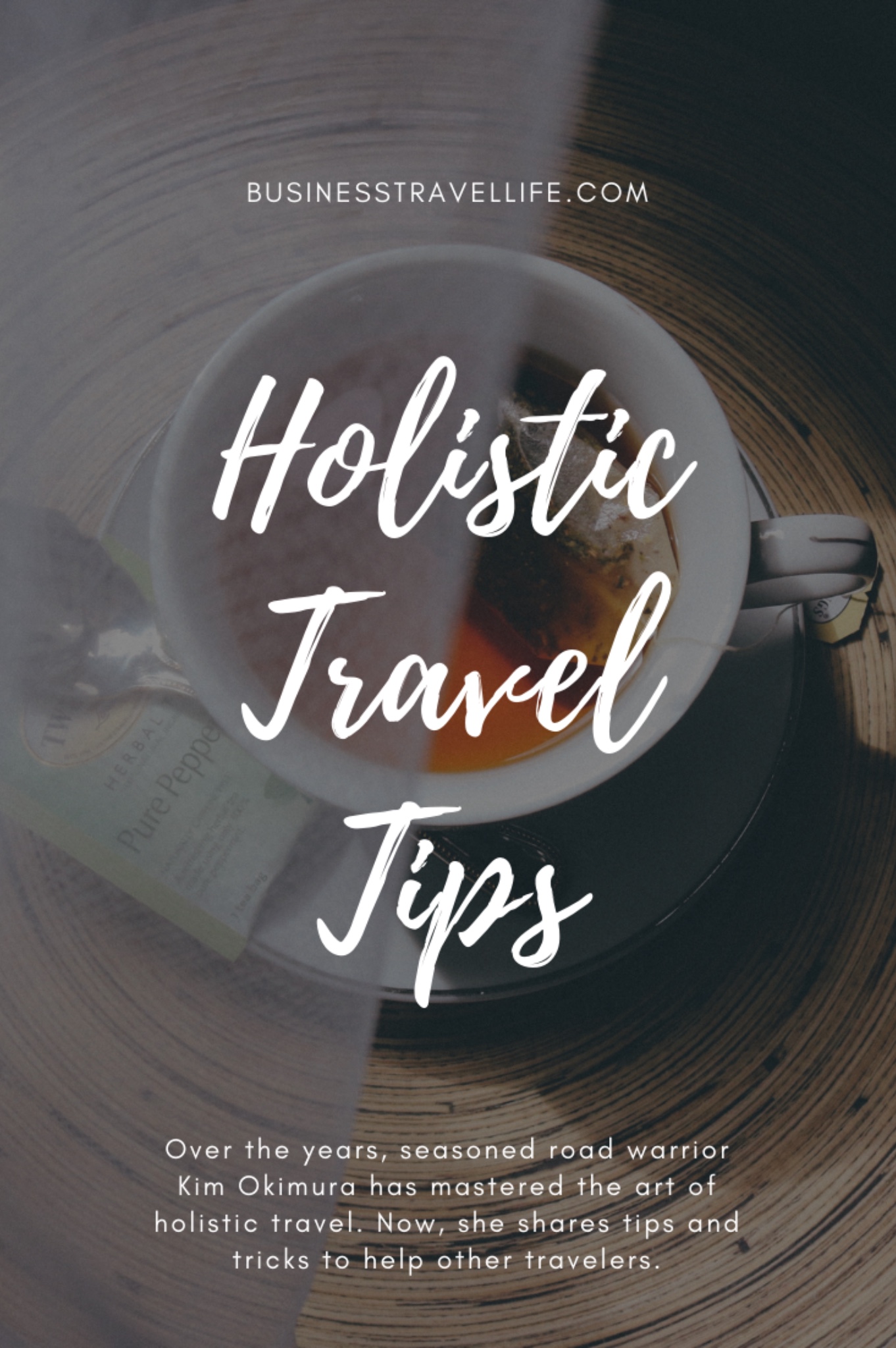 Which of these holistic travel tips will you be trying on your next business trip? Tell us in the comments below.
Business Travel Life
Business Travel Life is an online resource supporting the road warrior lifestyle. We give business travelers the tools they need to maintain their wellness and productivity when traveling. The topics we cover include business travel tips, travel workouts, healthy travel hacks, travel products, general travel tips, and industry trends. Our goal is to make business travel a healthier experience – and to make healthy travel practices more accessible to all road warriors.