In the past decade, Nashville has certainly grown in a big way.
In the outlying suburb town of Mount Juliet, what used to be a quiet little village with only a Shell station and a Cracker Barrell to its name has exploded into a sprawling area complete with shopping centers, a movie theater, fitness clubs, and a countless array of restaurants.
Residential areas like Spring Hill have boomed as people from California, Florida, Texas, New York, New Jersey, and many more have made Nashville their home. On the business side, traditional big names in the music industry like Sun Entertainment and Capitol Records continue to flourish, while the healthcare industry has grown to the point that Nashville has almost become its de facto capital.
If you'll be traveling to Nashville at any point in the future, either for business or for leisure, you're in for quite a treat. All this growth means that there's ample opportunity for you to have a productive trip, while at the same time, enjoying the courtesies and respect for others that have made 'Southern hospitality' so well known.
That being said, for the health-conscious traveler, Nashville can present a bit of a challenge, especially when it comes to dining. Many of the best restaurants in Nashville specialize in making some of the most delicious meals you can find anywhere; however since many are based in the traditional staples of Southern-style cooking, you can expect that plenty of salt, fats, and other less-healthy ingredients will feature prominently.
To help you get the most out of your trip to Nashville while keeping yourself on whatever healthy regime you find works best for you, I've put together this list of three effective tips that you can consider during your stay in Nashville.

Consider Restaurants with a Great Selection of Salads
While the majority of traditional Southern dishes are fried or baked and dripping with grease, for some restaurants, salads can play just as important a role in a meal as the entree.
The South has always been an agricultural epicenter in the United States, and it isn't unusual at all to find many residents who continue to grow their own vegetable gardens. Many of these same growers own or operate in restaurants in Nashville, and they source their produce locally.
Because they take so much pride in not only their cooking but their gardening abilities, many restaurants create their own unique arrangements of delicious salads. Some of these are so packed with vegetables that they can serve as a meal unto themselves!
The best restaurants to get a salad, that can serve as a meal by itself, include Burger Up, Pinewood Social, Epice, and the Butcher and Bee. These are only a few choices but don't worry – there are plenty of other great options, depending on where you're staying.

Take Advantage of the Great Assortment of Outdoor Activites
We all know that exercise is essential for good health – the main problem for businesses travelers is finding the time and room to do it. Fortunately, Nashville offers some great options to get you out of your hotel room and keep you active when you're done with your business for the day.
Downtown Nashville and the parks that surround it are incredibly beautiful vistas, with plenty of paved, well-lit walking paths that you can take a take a stroll through in the evenings. While you want to be careful about being out after dark anywhere you go, Metro Nashville is considered a very safe place, even at nighttime. Bicycling is also very popular in Nashville, and there are plenty of bike trails and lanes for you to travel on.
If you're lucky enough to get more free time on your hands, Nashville is surrounded by an assortment of rivers and lakes. Boating, kayaking, and canoeing are plentiful, and there are plenty of devoted swimming areas. If you enjoy fishing, Pearcy Priest Lake and Old Hickory Lake are both full of catfish and bass, just waiting for you to cast your line. Nightcrawlers and crickets work especially well as bait for these two species, so buy yourself a small bait pale, load your tackle box with the right gear, and relax by the lake!

Walk or Cycle Wherever you Can
Now – there is one element of Nashville that has even its most devoted residents screaming at the top of their lungs in rage, and that's the traffic. On a good day, average commute times in and around the Nashville Metro range between 45 minutes to one hour; that's a long time to be stuck in a car achieving nothing. Plus, there's a good chance you'll be delayed even further if there's an accident, and for business, being late is never acceptable, no matter the circumstances.
To save yourself that headache, and get in some good exercise at the same time, walk or bike your way around Nashville, whenever you can. Most businesses reserve hotel rooms for their employees near where they'll be working anyway, and the downtown area is so packed that you'll never have to go very far anyway.
But if you're on a tight schedule, and don't have much room to work out for the rest of the day, walking to your place of business can be a great way to get at least something in.
This post was sponsored.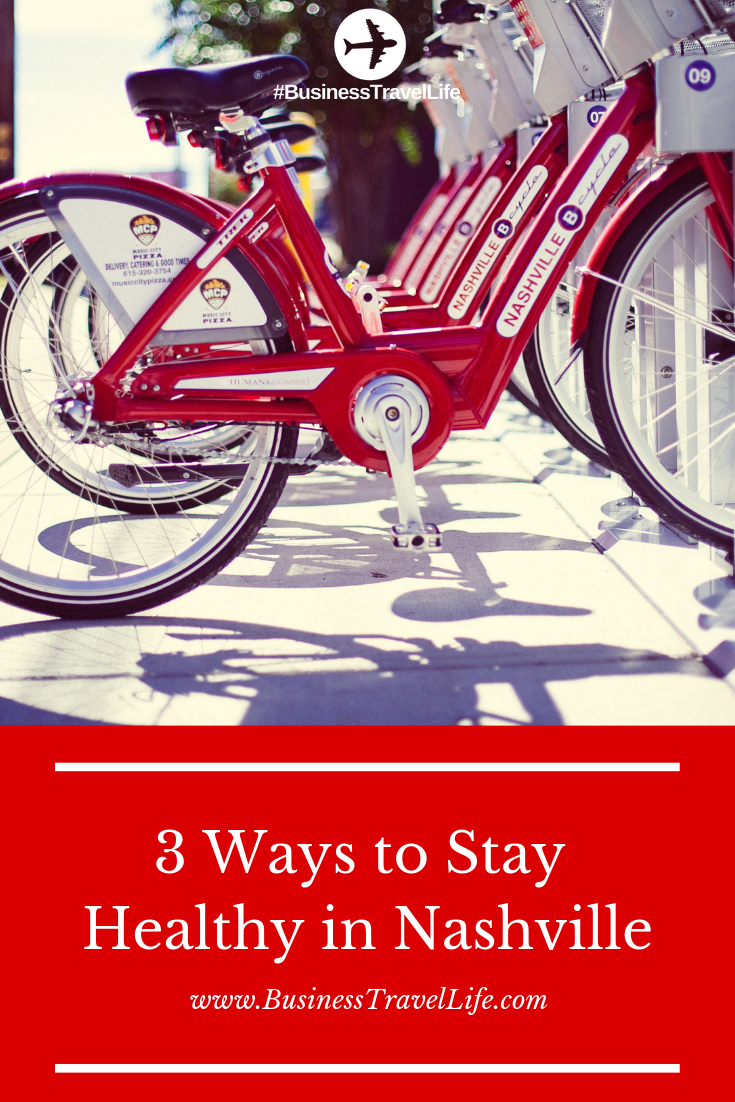 Business Travel Life
Business Travel Life is an online resource supporting the road warrior lifestyle. We give business travelers the tools they need to maintain their wellness and productivity when traveling. The topics we cover include business travel tips, travel workouts, healthy travel hacks, travel products, general travel tips, and industry trends. Our goal is to make business travel a healthier experience – and to make healthy travel practices more accessible to all road warriors.