Data reveals which hotel business travels expense the most.
After a long day of travel or working on the road, a top priority for business travelers is a comfortable bed in a quiet hotel room. While most travelers would prefer to stay in a higher end, full-service hotel, the reality of business travel is that most hotels are located in close proximity to an interstate or in the city limits of a small to medium size town. Recent data released by Certify, a company that provides expense-reporting software, shows that business travelers are staying in hotels that are smaller in size (think one or two stories), offer basic amenities, and have a breakfast option available.
In the first half of 2016, the most popular hotel chain for business travel is Hampton Inn. Marriott came in second. It is worth noting Marriott was expensed the most frequently by business travelers in every quarter of 2015, however, usage has steadily decreased from 9.7% in the first quarter of 2015 to 8.5% in the second quarter of 2016. The average room rate for the top five most expensed hotels in the second quarter of 2016 is $204.03.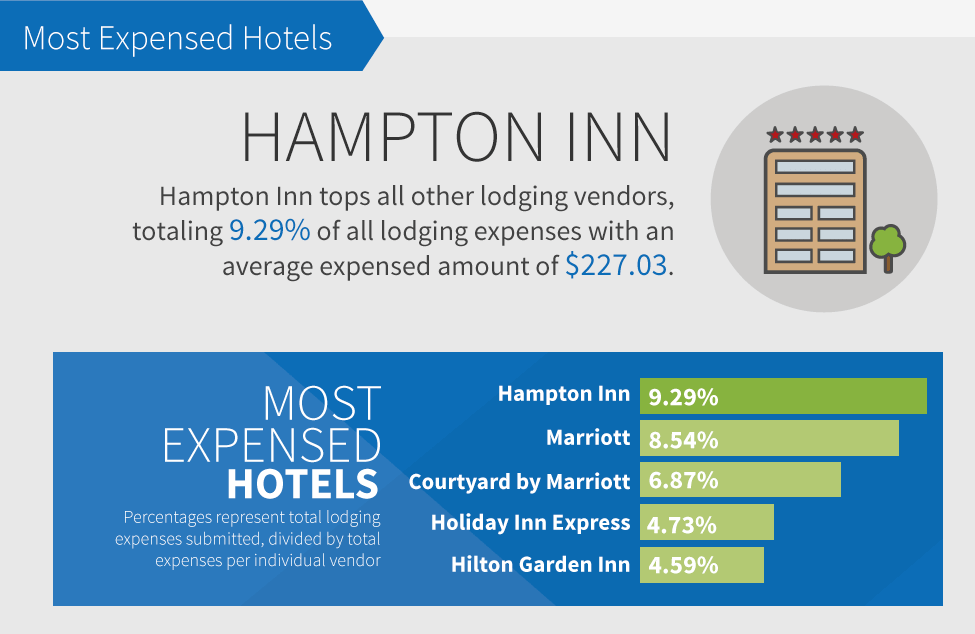 When looking at the top 10 most expensed hotel, only four offer free breakfast. Four of the hotels (who coincidentally do not offer free breakfast) are known for having the best hotel beds, which is perhaps more important than a free breakfast.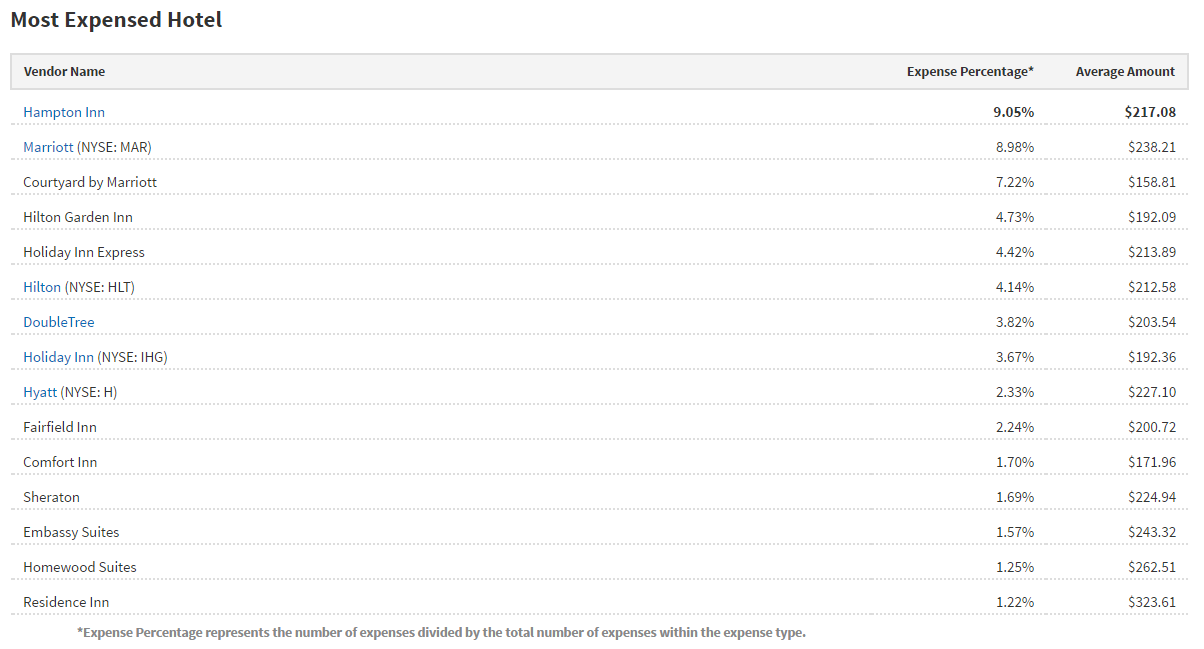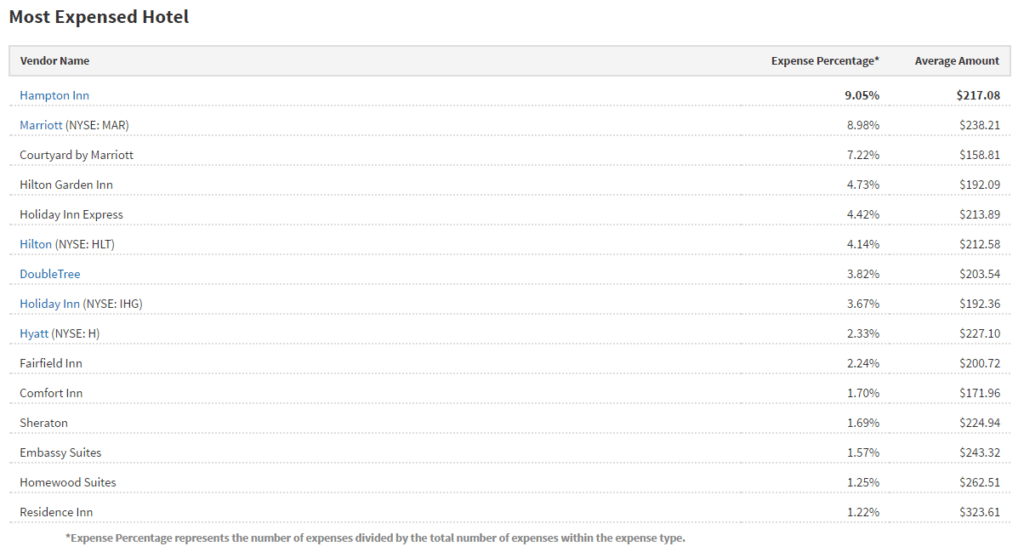 It appears the most used hotels and the highest rated hotel do not match. In the second quarter of 2016, Hilton was expensed 4.14%, with an average room rate of $212.58. Full-service Hilton Hotels do not offer free breakfast, but do have the well-known Serenity Bed that was designed by Serta to provide a "restful slumber". Also interesting, Westin did not even make the list of the most frequently expensed, yet managed to rank number three with business travelers in satisfaction. It is worth noting that in the second quarter of 2015, Hyatt ranked number one among business travelers at 4.4 stars.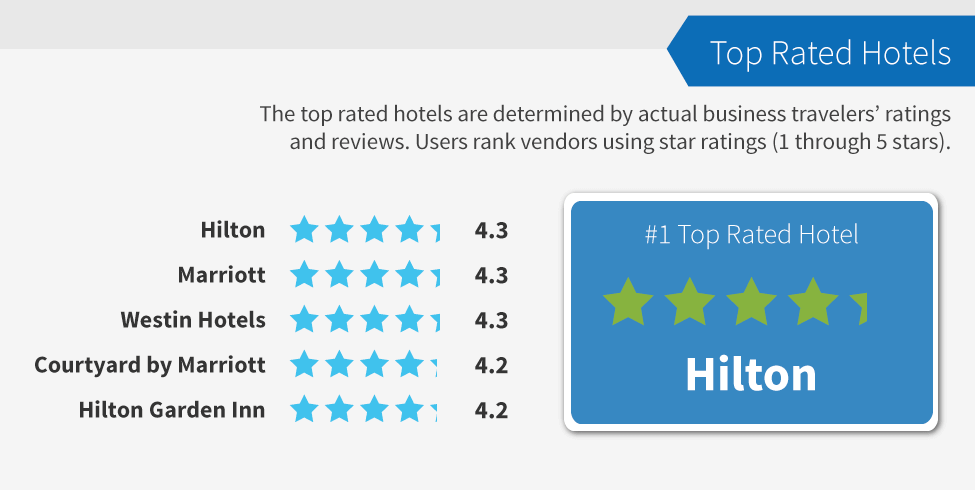 In summary, it appears Hampton Inn has overtaken Marriott in usage among business travelers, but not in traveler's ratings. It will interesting to see how the Marriott Starwood merger will affect the usage of hotel brands for both Marriott and Starwood. When it comes to travel preferences, convenience may be the driving factor when it comes to the most expensed hotel for business travelers.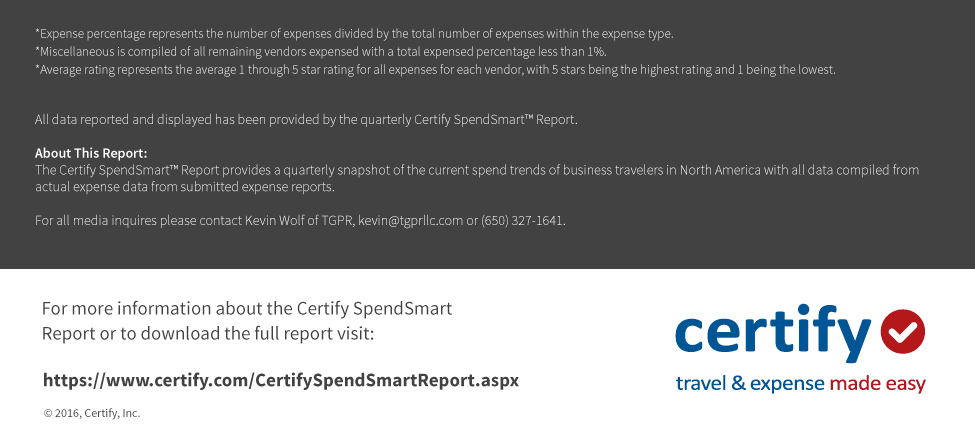 Business Travel Life
Business Travel Life is an online resource supporting the road warrior lifestyle. We give business travelers the tools they need to maintain their wellness and productivity when traveling. The topics we cover include business travel tips, travel workouts, healthy travel hacks, travel products, general travel tips, and industry trends. Our goal is to make business travel a healthier experience – and to make healthy travel practices more accessible to all road warriors.