There's one question that almost always arises when it comes to business travel etiquette: can I put that on the company card?
One of the more nuanced aspects of work travel is spending. What luxuries are consistent with proper business travel etiquette, and what's going overboard? AppZen, an automated expense software, has some ideas of how to answer that. In a January 2019 report, they look beyond accommodation and transportation, featuring unusual expenses from the last quarter and how company policies can affect road warrior habits.
What NOT to charge
AppZen studied the spending reports of close to 1,000 companies, concentrating their efforts to the previous quarter. One aspect of their findings reveals what they call "high risk" expenses. Essentially, these receipts aren't suitable for the company card, highlighting why corporate travel managers might need to be extra careful when skimming down expense reports. Most of us wouldn't even dream of trying to get reimbursed for a tattoo, yet this is on the list along with things like:
Strip Clubs

Cigarettes

Gambling

Dog kennels

And "payments to politically exposed people"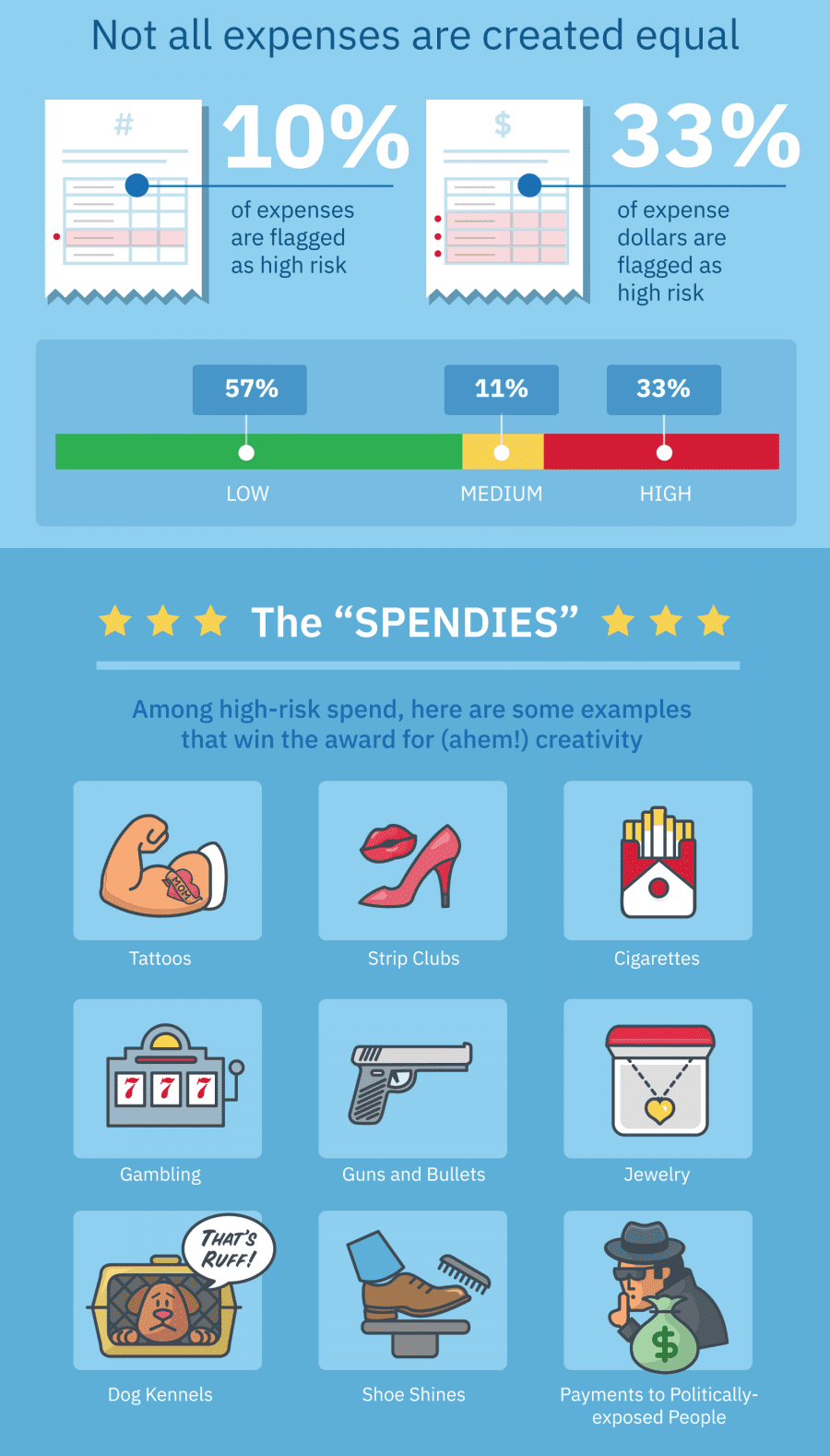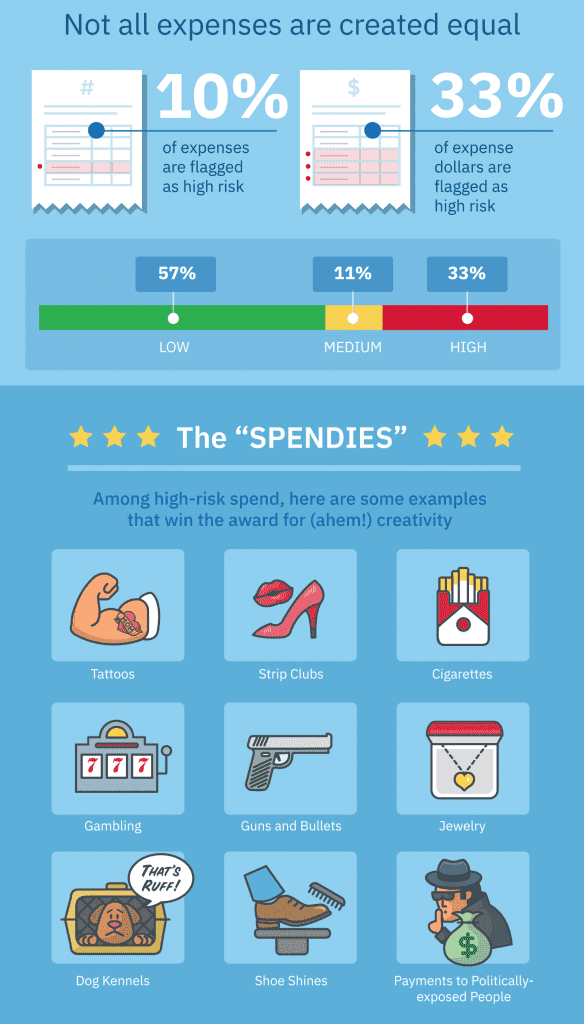 Yikes! What were those employees thinking? While it's unlikely that your company will fund bribes or personal addictive habits, other expenses are not so clear-cut. In the end, it all comes down to company policy.
What's more likely to be approved
For approved expenses, AppZen gathered some interesting data in regards to company policies. Here, we'll break down those findings by category:
Productivity: Unsurprisingly, companies are willing to cough up more dough to give business travelers the tools they need to stay productive. As such, 41% and 37% of employers cover mobile and Internet charges, respectively. While we'd expect that latter number to be a bit higher, the presence of complimentary Wifi at most accommodations might deem paid Internet unnecessary (though we'd encourage it in the name of Internet security).
Health: It seems that you'll have better luck working out at your hotel and paying for laundry services than you would exercising at a health club. Laundry expenses and health club visits were reimbursed by 39% and 11% of employers, respectively.
Insurance: Insurance reimbursement numbers came in pretty low in AppZen's report. Roadside assistance insurance was covered by just 3% of employers while personal accident insurance was covered by 16%. Granted, many corporate credit cards actually include some insurance options for business travel, making it less urgent for employers to invest in paid coverage.
Food: In regards to business travel etiquette, food is where some road warriors might find a reason to pause and think. While it's as necessary as transportation and accommodation, there are certain luxuries that companies would prefer to see work travelers pare down on. AppZen reported that less than 20% of employers were willing to cover charges for room service and the mini bar.
Interestingly, a Dinova study found that road warriors take things like authenticity and nutritional value into consideration when dining on the go, so it's possible that preferences are shifting along with policies. After all, why stay in when you can go out?
Luxuries: Think you can expense golf outings, sports tickets, and movies? At some companies, you can. Each of the above was approved by a handful of employers in AppZen's study. Of course, if client entertaining is involved, you should be able to get reimbursed almost all the time.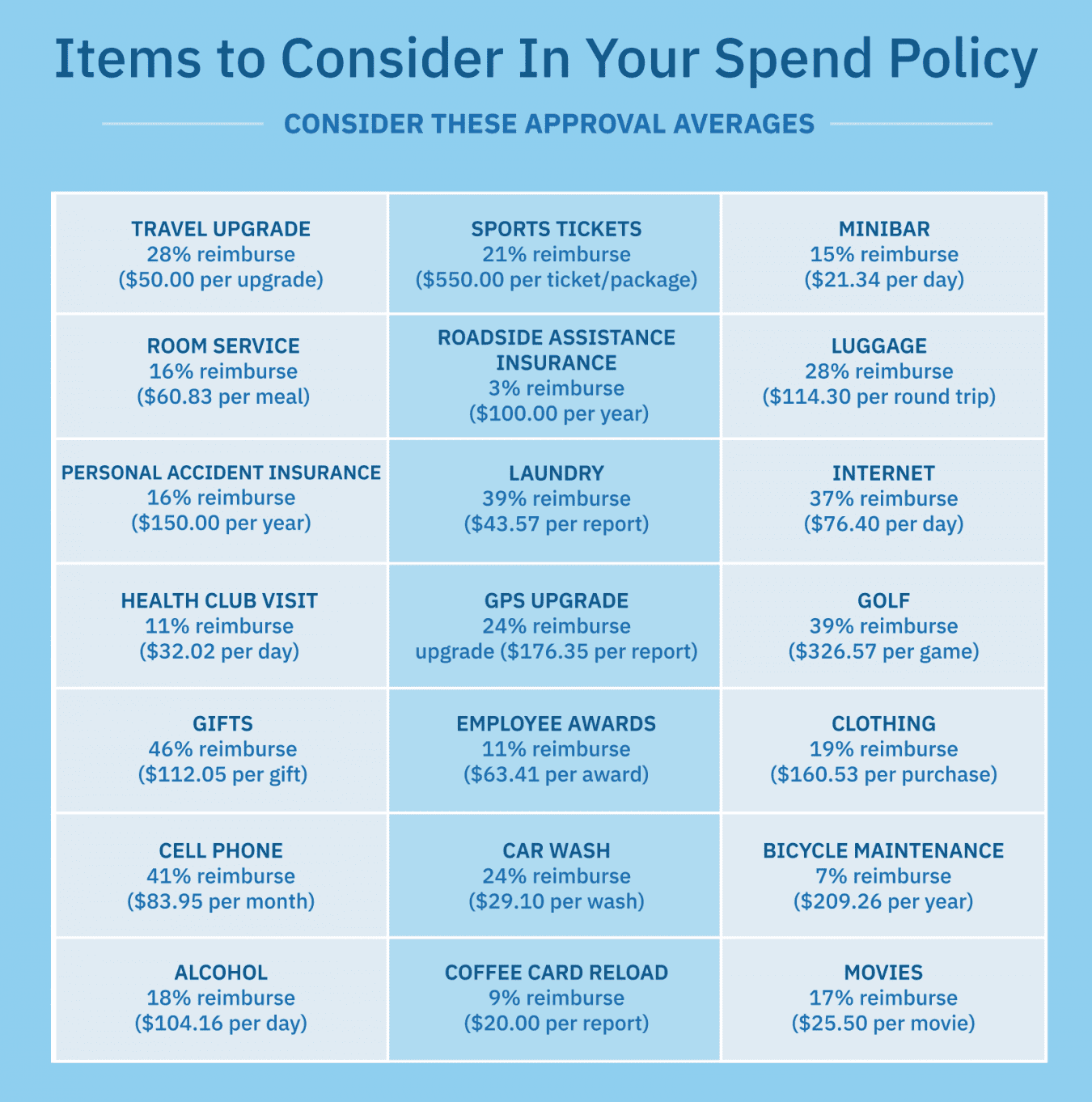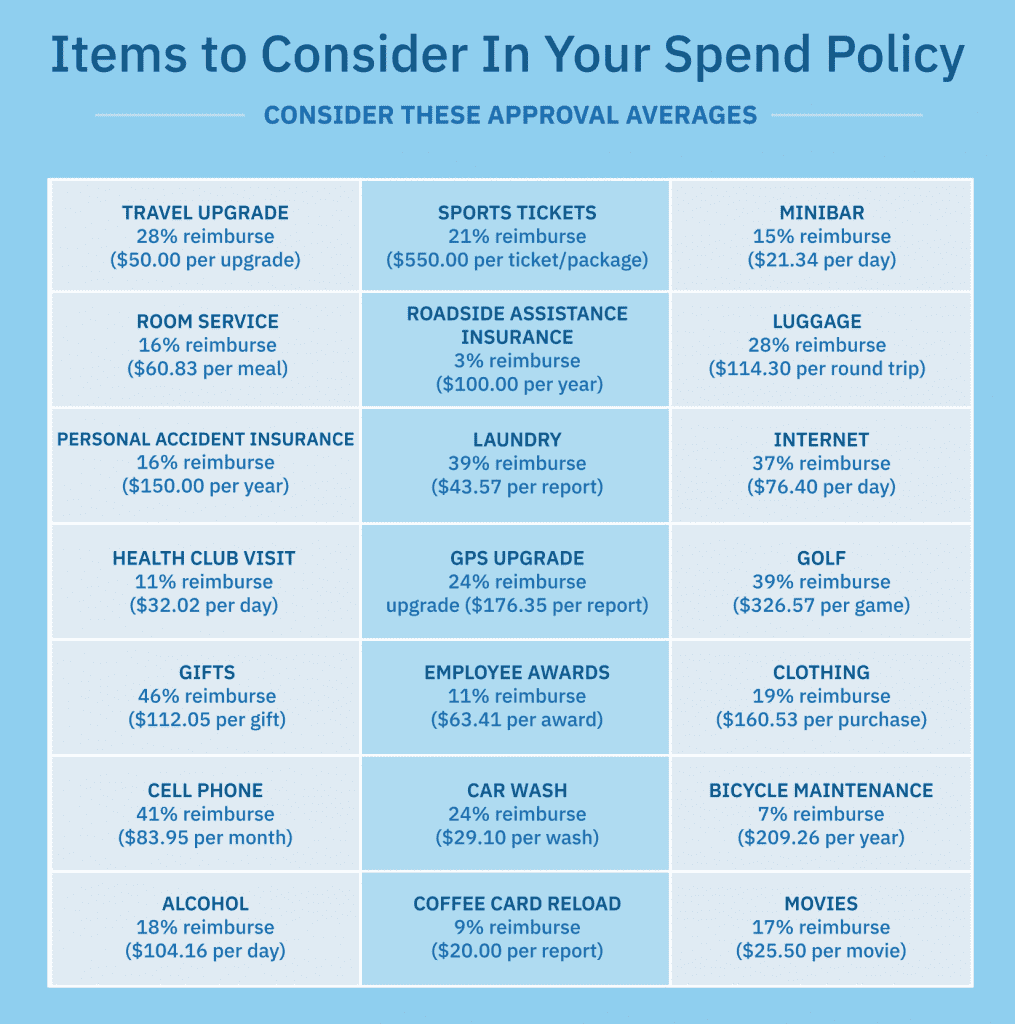 Final thoughts
At the end of the day, it's up to your company to outline what business travel etiquette is appropriate when it comes to spending, and your responsibility to ask ahead of time if you're unsure. Smaller companies might appreciate a more conservative approach from their road warriors, while corporate teams might have more resources to fund things like client meals.
"A well-defined spend policy clearly conveys a company's expectations for what business activities can be reimbursed." – Anant Kale, Co-founder and CEO of AppZen
Be sure to take a look at the full infographic from AppZen at the bottom of this article, and if you have any thoughts on business travel etiquette and spending, please share in the comments.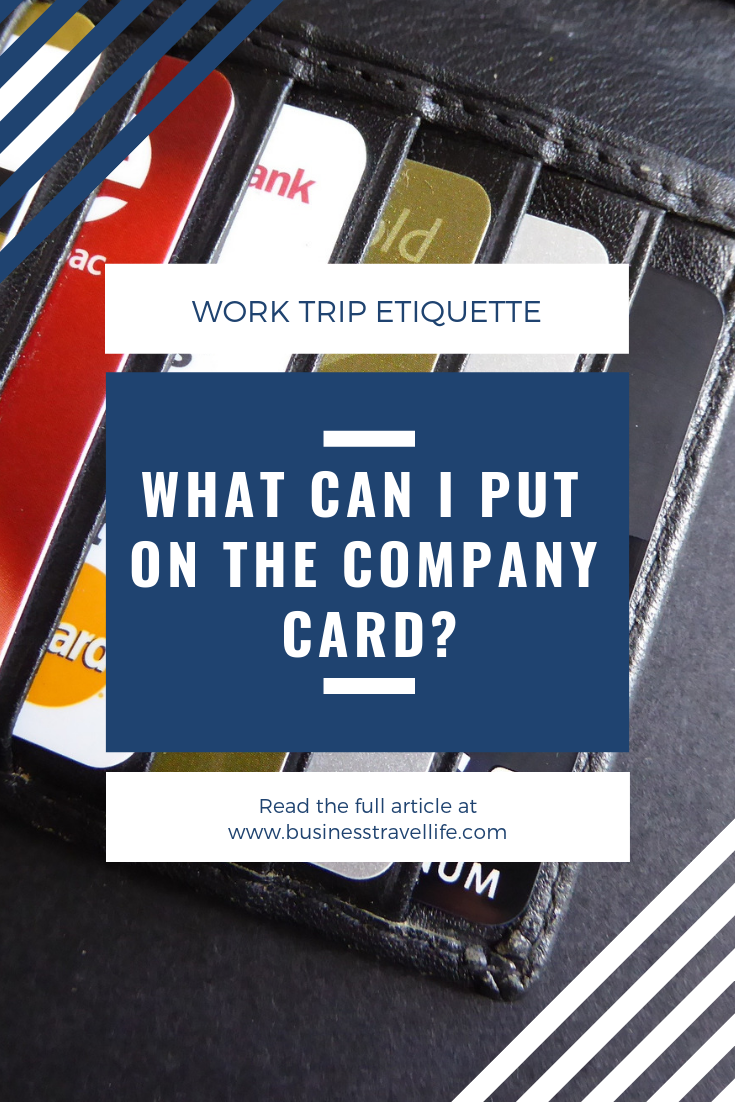 Business Travel Life
Business Travel Life is an online resource supporting the road warrior lifestyle. We give business travelers the tools they need to maintain their wellness and productivity when traveling. The topics we cover include business travel tips, travel workouts, healthy travel hacks, travel products, general travel tips, and industry trends. Our goal is to make business travel a healthier experience – and to make healthy travel practices more accessible to all road warriors.