Make the most of the your next business trip with these ingenious productivity tips.
Staying productive at work is challenging for everyone. The emails, the phone calls, the meetings, the reports, the never ending to do list.  If it was easy to stay on task, there would not be so many books, articles, and podcasts loaded with productivity tips.
Add business travel into the productivity equation and the challenge seems to increase exponentially- or does it? One expert estimated people waste between 40 and 60 percent of the time they spend at work. If that is true, the average worker in an office may only do actual work four or five hours a day.  While it may be tempting to catch up Netflix while you wait to board your flight or watch a movie during your flight, you can actually be more productive during business travel than you can be in the office.
Productivity Tips For Business Travelers

Make a List And Check It Twice
Whether you believe in Santa Claus or not, making a list is the tried and true method for getting things done. According to Daniel Levitin at neuroscience profession at McGill University,
Most people can only hold about four things in their mind at a time.
This means if you want to remember where you parked your car, which terminal you fly out of, your gate number, your boarding time, and what you need to do for work after you get to the airport, you better start making a list.
Set clear goals and write them down before your trip. Whether you need to finish a power point, catch up on emails, or finalize a report; figure it out before you leave and plan ahead when and where you will work on it (For example: Inbox Management: Airport Lounge; Power point clean-up: In-flight).
Prioritize. "Create a to-do list with the tasks that are most crucial and focus on those things first. I usually plan to work on writing projects while flying because I know I'll have an uninterrupted chunk of time to focus, and it's generally not a task reliant on Wi-Fi. Experiment with long and short tasks to find out what format works well for you." Angela Feher, TripIt
Complete Mindless Work In Public Places:  James Pollard suggests completing mindless work in places like airport lounges. "Try to batch together a bunch of easy tasks you can do without much thought. These are tasks like scheduling appointments, sending follow-up emails, and getting to inbox zero."
Don't Lose Track Of Time. "Set an alarm on your phone or laptop so you know when you need go catch your plane. " Julia Beyer, New Generation Sunscreen 
Stay Focused. In the world of constant distraction that we live in, it is challenging to stay focused when you are working. Use an app like Forest to avoid distraction from your phone. Forest encourages you to not use your phone for a specific amount of time.
Use A Packing List: Speaking of lists, use a packing list. Nothing will slow you down more than forgetting a phone charger, running out of the hotel to buy a tie, or realizing as you are getting ready in your hotel room that you forgot to pack your makeup bag.

Travel Smarter To Be More Productive
Seasoned business travelers know the value of packing correctly, strategically booking travel and making the most of time in the airport and in the air. The smarter you travel, the more productive you will be.
Pack Less: 'Save time, stress, and often money by bringing only
carry-on baggage. Make everything fit! That way you can exit the plane and
leave the airport as soon as possible."  Charles McCool, Travel Happiness Advocate 
Try Clothing Rental: "Use a clothing rental service like LeTote or Gwynnie Bee to change up your wardrobe and decrease dry cleaning costs. I wear them during
my travel and ship them back from the hotel in the self-addressed stamped
envelope. Less to take home and unpack." Marcey Rader, Work Well Play More
Be Loyal: Traveling with the same airlines, hotels, transportation brands has many perks. Loyalty members often have access to direct customer service lines, the ability to check in with an app instead of waiting in line and receive upgrades (everyone is more productive in first class right?). Two million miler David J. Decker reminded us:
Membership has its privileges and consistency of experience is critical to efficient travel.
Fly Early: If you want to avoid travel delays, fly early. Bureau of Transportation data reported by Readers Digest indicates the best time to fly to avoid delays is between 6 and 7 a.m.
Book Direct Flights: When possible, fly direct. Connecting takes more time and leaves you vulnerable for flight delays. A direct flight saves you hours of time that you can be in one place working.
Choose An Airline With WiFi: "Choose an airline and flights with WiFi. Look into purchasing a WiFi subscription since the individual flight fees start to add up. I can complete all of my emails and most clients have iPhones so I can receive their texts through imessaging. Our corporate phone system also transcribes and emails voicemails so I am never off the grid. " David J. Decker, Royal Neighbors of America 
Be Aware Of Where Your Flight Connects:  You can't always control where you change planes, but if you have a few options, be strategic. Why connect in Chicago in January if you can connect in Houston?
Lounge Life Is The Best Life: Joining an airport lounge is the best investment you can make when it comes to being more productive during business travel. "An airport lounge membership gives travelers access to an oasis in the airport, to get work done, relax, freshen up, sustain with quality food, imbibe in drinks. All for free! I prefer Priority Pass (free benefit through my Chase credit card) but there are many lounge programs so people should determine which is best for them."  Charles McCool, Travel Happiness Advocate
Fly Comfortably: Do what you need to in order to be in a comfortable when you fly. Some people get cold and need a blanket, others need a neck pillow, others need an eye mask. Whatever you need to be comfortable, pack it.  My husband has a rule on flights over three hours, he will not sit in an economy seat. He is over six feet tall and is super uncomfortable when he can't stretch out. We pay extra or use miles for him to upgrade to an exit row, economy plus or first, depending on airline. If that extra fifty or hundred dollars means he is more comfortable and can arrive well rested and free of knee pain, it is worth it.
Make The Most Of Your Layover: "I've gotten my nails done, scheduled conference calls, and challenged myself to see how many steps I can get between flight. Staying busy keeps you from being bored and help you keep up with life." Hope Robinson (@hopeontherun)
Have An Open Mind On Working Anywhere: Whether you are experiencing travel delays, waiting for someone who is running late or get out of a meeting early; be prepared to dive in and get some work done.
Most people kill time by checking social media, but if you manage your inbox for ten minutes three times a day instead of checking Facebook, you may actually be caught up on email by the end of your trip.
Proactively Beat Jet Lag: Jet lag takes a huge toll on your productivity. There are many things you can do to beat jag. One of the most popular things you can do is acclimate to the new time zone. "Setting my watch to the time in the destination that I am traveling to helps my body clock to adjust on the flight. I arrive with little to no jet lag, allowing me to work at normal productivity." Joni Casey (@joni_casey )  
If You Take A Red-Eye Be Ready To Sleep: "If the flight is during normal sleep hours as measured by the time zone of your destination city, splurging on some extra legroom in order to get some rest on-board is a worthwhile investment. If that's not in the budget, be sure to opt for a window seat. Bring a pillow, comfortable clothes, and sound-blocking headphones. Also, be sure to keep your buckle visible — strapped over your blanket perhaps — so you don't get woken up by flight attendants following safety guidelines."  Kelly Soderlund, Hipmunk 
ATWNCH: Okay that is not really a thing, but is should be. Always Travel With Noise Canceling Headphones (ATWNCH). Any frequent traveler will agree, noise canceling headphones are the one thing you absolutely need to pack in order to be productive. "Whether on a plane, train, or another crowded area, put them on to literally get rid of any distracting noise." Kelly Soderlund, Hipmunk
Choose Your Hotel Location Wisely: "Picking a hotel can be crucial for your productivity. Consider things such as public transportation, travel time to the airport as well as the locations of your meetings (Google Maps is the perfect tool to map it all out). This will not only make traveling to and from meetings stress-free, it hopefully frees up some extra time for you to go on short walks to get a glimpse of the city you're visiting to also get a feel for local life." Silke Wolf, Local-Insiders.com
Stay In The Same Hotel Chain: "Because as human beings, we get poor quality sleep whenever we're in a novel environment. By staying in a similar hotel again and again, you will find yourself getting better quality sleep." James Pollard, The Advisor Coach 
Use Ride Sharing: How many hours of your life have been wasted trying to find a parking spot? In addition to the convenience of not dealing with a rental car, ride sharing saves time parking. Frequent traveler and podcast host Steve Frick told us,
"Use Uber, it's much easier than trying to find parking spots."
Use Multiple Map Apps. With so many apps offering maps and directions, it can be difficult to sort through the features.  Business Coach and Keynote Speaker Lindsay Anvik recommends using City Mapper, Waze and Google Maps. "The City Mapper app is fantastic. No matter what major city I'm in, I can figure how to get around by bus, subway, train, rideshare/uber/lyft, bike and more. It helps when I'm planning out meetings across town, and allows me to save on cabs or Lyfts if possible using public transportation. It also works on my apple watch, so I can easily see directions
from it without having to have my phone out all the time.  Waze and Google Maps are also lifesavers. I can put in the time I need to leave for a meeting or the airport and based on past traffic patterns I can see how long it might take me to get there. This way I'll know if I need to really leave for the airport super early, or if it's
close enough that I can spend more time with a client or at a meeting."
Get Up At The Same Time Every Day: "I travel frequently and work in different locations, and I've found setting a schedule where I get up at the same time each day and force myself out of the house into a coffee shop or other setting to work helps me dedicate myself with 100% focus and get large chunks of work done each day even when in a new environment." Stacy Caprio, Growth Marketing 

Take Care Of Yourself
After I had my son, frequently others reminded about the importance of self care. Prior to that, no one ever seemed to worry about my level of self care. It can be easy to become so focused on work, travel, and managing life at home that we lose track of our health.   If you are feeling well, you will be more productive, period.
Stay Balanced: "Staying productive during business travel means staying balanced. Mind (work), Body (working out), and Soul (play)." Kim Ryan (@kim_a_ryan)
Prioritize Your Health: "To be the most productive, make sure to take care of yourself. Get plenty of rest, drink water, eat healthy, do light exercise, call a friend, and maybe get a massage in the airport." John Crossman, Crossman & Company
"By caring for yourself, you will have more energy and clarity so that you can be highly productive. "
Eat Healthier: As the old saying goes, "Food is fuel." Most of us are fueled by caffeine, but make sure to eat healthy throughout the day. Don't skip breakfast and make sure you have a healthy travel snack in your bag.
Two simple tips for eating healthier on the road:  don't skip meals and avoid sugary foods.
When you're sleep-deprived, you'll have more trouble refocusing on the task at hand after a disruption, compared with someone who is well rested.
How do you make the most of your time on the road? Please share your business travel productivity tips below!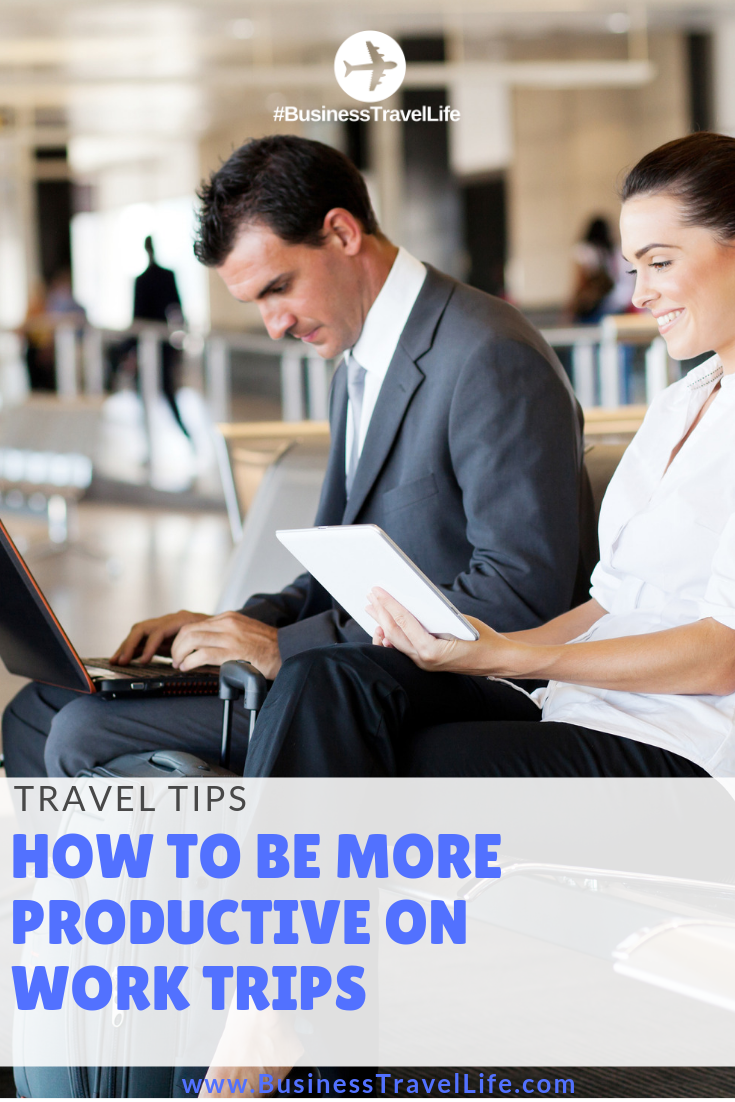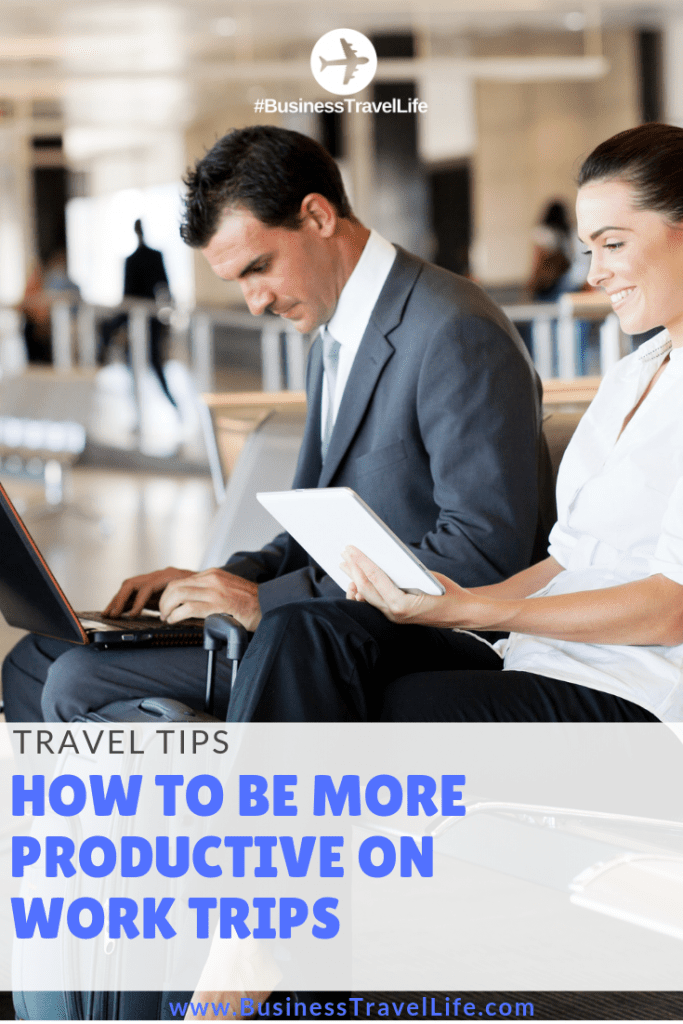 Business Travel Life
Business Travel Life is an online resource supporting the road warrior lifestyle. We give business travelers the tools they need to maintain their wellness and productivity when traveling. The topics we cover include business travel tips, travel workouts, healthy travel hacks, travel products, general travel tips, and industry trends. Our goal is to make business travel a healthier experience – and to make healthy travel practices more accessible to all road warriors.