September is National Yoga Month. It is a great reason to learn more about yoga and the benefits of yoga during travel.
A recent article published by researchers in Sweden shared the very real negative side effects of frequent travel; which included physiological, physical, emotional and social consequences. As a road warrior, you can likely relate to often unspoken but highly common side effects: anxiety (blame the inbox overload), the sleepless nights (blame the jet lag), the stress (blame the work deadlines), the loneliness (blame the nights alone in your hotel room), the exhaustion (blame the late flights and early meetings), the weight gain (blame the lack of physical activity), the ongoing back/ neck/ knee (blame the constant sitting and screen time) and the forgetfulness (blame the over-congested calendar). These are all unfortunate side effects of frequent travel. The good news is that yoga may offer a solution to the management of some of these undesirable issues.
According to the Yoga Health Foundation, yoga is "is a scientific system designed to generate greater clarity and harmony in life." Clarity and harmony on a daily basis are two qualities any road warrior would love experience, in addition to many of the other benefits yoga has to offer.
Benefits of yoga for business travelers include:
Anxiety Reduction– Practicing yoga transfers your focus and attention to your body and breath (instead of your inbox), which can help to temper anxiety and refresh your mind.
Less sleepless nights– Jet lag often leads to travel insomnia and yoga is one way to treat insomnia naturally and easily during travel. A study found yoga can improve not just sleep quality, but sleep quantity as well.
Stress management-Yoga encourages relaxation, which helps to lower the cortisol (the stress hormone), and reduces overall stress levels.
Increased happiness– A study found that a consistent yoga led to decreased depression and led to a significant increase in serotonin levels, a decrease in the levels of monoamine oxidase (an enzyme that breaks down neurotransmitters) and cortisol.
Energy boost– According to the Huffington Post, active yoga "poses that stimulate the blood flow through the body — particularly those that gently stretch the spine — can help combat fatigue and boost feelings of vitality, and might also help to counter some of the effects of long periods of sitting."
Weight loss– Yoga reduces your cortisol levels and burns calories, which can both lead to weight loss.
Reduction of chronic back pain– Many yoga postures gently strengthen the muscles in the back, as well as the abdominal muscles. The back and abdominal muscles are essential to helping the body maintain proper upright posture and movement. When the back and abdominal muscles are well conditioned, back pain can be greatly reduced or avoided.
Increased strength & flexibility– Yoga postures use every muscle in the body, which strengthens the muscle while relieving tension at the same time. Yoga also improves flexibility over time as the range of motion increases.
Improve mental sharpness– The goal of yoga is to focus on the present and create mind-body awareness. Studies have found practicing yoga on a regular basis can improve memory and even increase IQ scores. Meditation has also been known to improve problem solving ability and information recall.
Relaxed sense of self– Yoga involves slow breathing and focusing on the present, which shifts your balance from the sympathetic nervous systems (fight-or-flight response) or what Herbert Benson, M.D., calls the relaxation response (a calming and restorative state).
Reduces Blood Pressure– The British medical journal The Lancet, conducted two studies of people with hypertension and compared the effects of Savasana (Corpse Pose) with simply lying on a couch. After three months, Savasana was associated with a 26-point drop in systolic blood pressure (the top number) and a 15-point drop in diastolic blood pressure (the bottom number—and the higher the initial blood pressure, the bigger the drop.
Travel Friendly Hotel Yoga Accessories
Here are three tools you can pack along on your next trip (and use at home or in your office) to start practicing yoga.
Natural Grip Socks– No need to pack a yoga mag if you have these socks. The grip on the bottom will prevent you from sliding around on the carpet (or towel) in your hotel room.
Super Light Travel Yoga Mat– This yoga mat folds up easily into your luggage. It is highly rated on Amazon and lightweight!
Everything Fits Yoga Bag– If you want to pack your yoga mat along with shoes and other items, this is the bag for you. It has straps on the bottom to attach your mat and it is large enough to travel with as a carry-on. It even has a separate mesh section in the front to store your workout shoes!
Try yoga anywhere!
Are you interested in attending a yoga class or trying some postures on your own? Great news. In honor of National Yoga Month, the Yoga Health Foundation is offering a free week of yoga here.
Here are some other yoga workouts:
There are many benefits of yoga for business travelers. Give it a try during your next trip!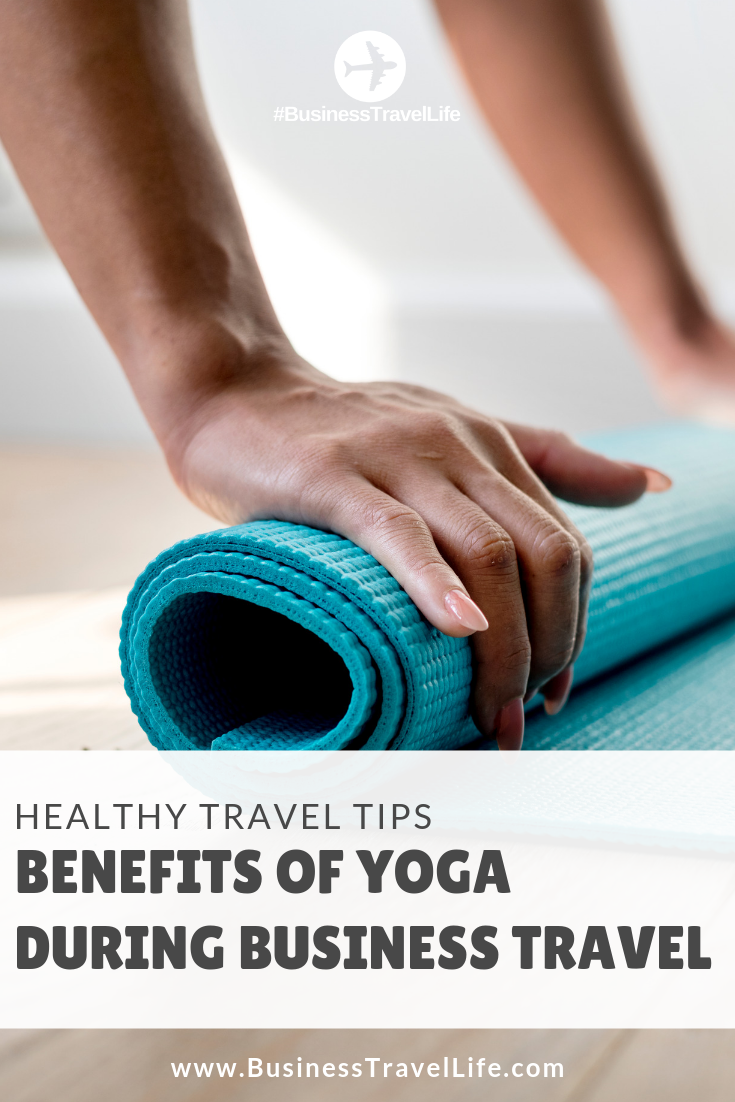 Business Travel Life
Business Travel Life is an online resource supporting the road warrior lifestyle. We give business travelers the tools they need to maintain their wellness and productivity when traveling. The topics we cover include business travel tips, travel workouts, healthy travel hacks, travel products, general travel tips, and industry trends. Our goal is to make business travel a healthier experience – and to make healthy travel practices more accessible to all road warriors.
Business Travel Life is not a licensed medical care provider and represents that it has no expertise in diagnosing, examining, or treating medical conditions of any kind, or in determining the effect of any specific exercise on a medical condition. You should understand that when participating in any exercise or exercise program, there is the possibility of physical injury. If you engage in this exercise or exercise program, you agree that you do so at your own risk, are voluntarily participating in these activities, assume all risk of injury to yourself, and agree to release and discharge Business Travel Life from any and all claims or causes of action, known or unknown, arising out of Business Travel Life's negligence.