Everything You Need to Pack For Your Next Business Trip
Preparing for your a business trip can be exciting and somewhat confusing. You don't want to forget anything, but you also don't want to overpack. When packing for a business trip, it is important to ensure you have all the essential items necessary to make a good impression. Our business travel packing list will ensure you have thought of everything!
Before you start packing, find a suitcase that will meet your needs. Many business travelers believe in the carry-0n principle. Packing everything into a carry-on has many benefits including:
Reduced risk of lost luggage
Faster to get in and out of the airport
Smaller baggage to handle (your back will thank you after the fourth or fifth time in one week you are lifting your luggage in and out of a car)
Less space to pack means you will pack less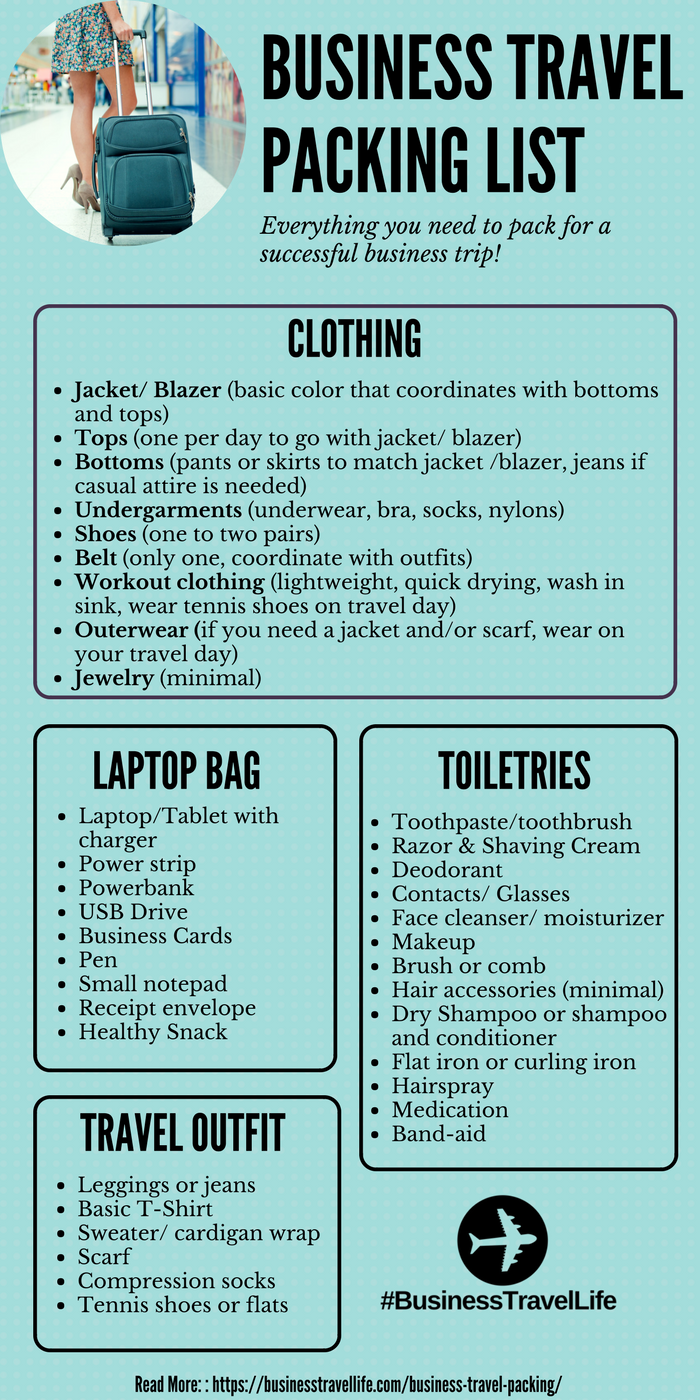 Business Travel Packing List Tips
Business Travel Packing: Clothing
When you start packing your outfits, be mindful of what you can mix and match. For women, many stores sell matching pieces you can mix and match such as a blazer jacket with matching skirt, pants, and dress. For men, pick a multi-tasking jacket and match your pants, shirts, and ties accordingly. Dark colors are the best for pants and jackets to hide spills.
Don't forget to pack underwear, socks, and nylons (how every many days you will be gone plus one in case you are delayed). Also, for ladies, coordinate your shirt colors and bra (nude or black) and only pack one bra, plus a sports bra if you plan to workout. Pack whatever you are comfortable sleeping in, but plan to wear multiple nights.
If you plan to workout (and we hope you do!) during your trip, pack minimal workout clothing. Workout shorts and pants can usually be re-worn. Avoid working out in cotton shirts and choose lighter, quick-drying material. If you really get sweaty, use a travel-size laundry detergent, wash in your sink, and hang dry.
Business Travel Packing: Shoes
This is an area most people over pack. Plan your outfits around one pair of shoes (at most two). Ladies, it can be tempting to go overboard here with flats, and heels, and boots. But, be practical. Just like you will pack your shirts to match one color of bra, do the same for shoes. If your trip will involve daytime and nighttime activities, it may make sense to pack a pair of flats and a pair of heels, but do your best to be practical here. Shoes take up a lot of space in your bag.
If you plan to workout, consider wearing your tennis shoes on your travel day. This will not only save space in your bag, but your feet will be more comfortable. And, if you are feeling frisky, you can walk around more at the airport instead of sitting because your feet hurt.
Business Travel Packing: Toiletries
When you start to pack your toiletries, focus on essentials. Keep the TSA 3-1-1 rules in mind and minimize the liquids that you need to pack. Invest in travel size toiletries and toiletry bag that holds everything you need.
Pack a razor, but you can save space by skipping the shaving cream (unless you have sensitive skin). Most hotels sell travel size shaving cream or use the conditioner in your room. Check before you arrive to ensure your hotel has shaving cream.
For ladies, minimize the amount of makeup you pack. Bring one of each item you need (not three eyeshadow pallets). Face wipes are also a great way to reduce the liquids that you pack. Also, focus on hair accessories that are travel-friendly. If your hair can tolerate it, use dry shampoo to keep your hair fresh during your trip instead of packing shampoo, conditioner, heat spray and a hairdryer. If you need to wash your trip, invest in a travel size dryer (or use the hotel's) and travel size flat iron or curling iron.
Business Travel Packing: Accessories
Don't go overboard on the accessories that you pack. You likely have everything you need to bring already in your laptop bag. Pack your laptop or tablet (not both!) and the appropriate charger. Don't forget to pack a phone charger- better yet, have an extra one designated for travel only that has USB ports also. A power bank is also a good item to have in your bag to charge your on the go (or on an airplane that does not have electrical outlets). Always keep a pen (or two) in your bag and a small notepad or notebook. Travel with a few business cards (unless you are going to a networking event, then pack more).
A great way to organize and customize your business travel packing list is to create a running checklist on your phone and keep it updated. This will ensure you don't forget any essentials when packing and provide a place to document items you want to pack for your next trip! What essential items are on your business travel packing list? Please share below!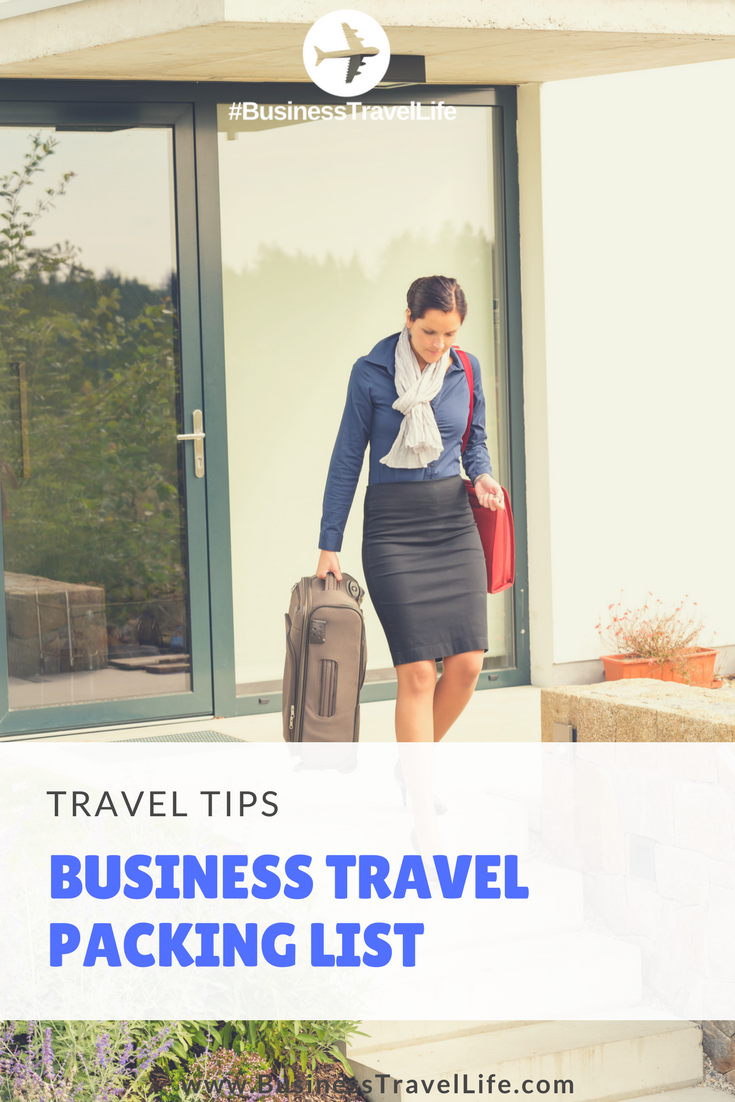 Business Travel Life
Business Travel Life is an online resource supporting the road warrior lifestyle. We give business travelers the tools they need to maintain their wellness and productivity when traveling. The topics we cover include business travel tips, travel workouts, healthy travel hacks, travel products, general travel tips, and industry trends. Our goal is to make business travel a healthier experience – and to make healthy travel practices more accessible to all road warriors.