REAL ID Compliant Identification Requirements Are Coming For Travelers
No matter how many times you have flown, most travelers dread airport security. One way to make your airport security experience as smooth as possible is knowing exactly what the Transportation Security Administration (TSA) requires to confirm your identity so you can make it to your gate. The TSA is enacting a new requirement for REAL ID compliant forms for identification which impacts travelers passing through airport security.
Beginning October 1, 2020 all travelers over the age of 18 will need a REAL ID compliant form of ID to fly in the United States. These IDs are easily acquired from your local BMV and can be identified with a star in the corner.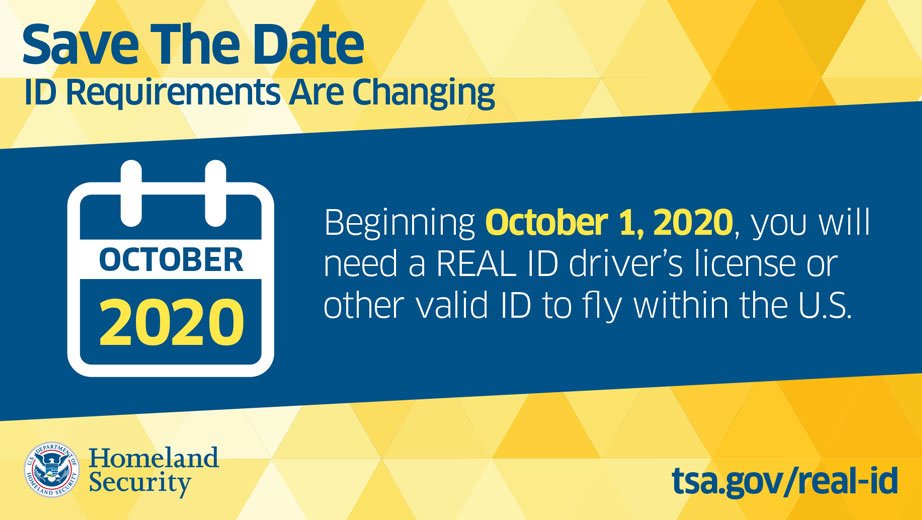 Why Is The REAL ID Compliant Change Being Made?
It all comes down to security. After the events in 2001, the 9/11 Commission recommended stronger, more standardized regulations for identity verification which was then enacted in 2005. The REAL ID is a secure standard to make sure that every person boarding the plane has been properly identified.
Is My Driver's License REAL ID Compliant?
It is easy to see if your driver's license is REAL ID compliant. A star will appear in the upper portion of a REAL ID compliant driver's licence. This star makes it easy for you to identify if you already have a driver's licence that is REAL ID compliant. If you are not sure if your state issued identification card is REAL ID compliant, a quick call to your local driver's license agency will clear it up.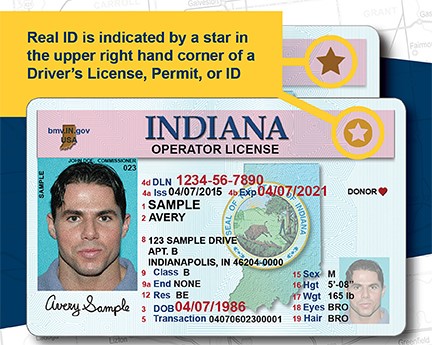 Almost all states are issuing REAL ID compliant driver's licenses. However, there are a few who have extensions, meaning they have a longer period before they must begin issuing all residents a REAL ID compliant driver's license. As of June 2019, these states that have an extension are:
American Samoa
Kentucky
New Jersey
Oklahoma
Oregon
Maine
How To Get a REAL ID
While it may seem inconvenient to update your driver's license, it is necessary if you plan to travel after October 1, 2020. You can get an updated driver's license at your Department of Motor Vehicle office. Many states allow you to update your driver's license online or through the mail.
If you are applying for a state issued form of identification for the first time or renewing an expired ID, you will need to go in person and bring proper documentation (like a social security card and proof of residency). It is a good idea to call first to verify required documentation.
What Other Forms Of ID Will TSA Accept?
TSA will accept other forms of ID. If you do not have time to get a REAL ID compliant driver's licence or identification card before October 20, 2020, here are the other forms of ID that TSA will accept:
U.S. passport
U.S. passport card
DHS trusted traveler cards (Global Entry, NEXUS, SENTRI, FAST)
U.S. Department of Defense ID, including IDs issued to dependents
Permanent resident card
Border crossing card
DHS-designated enhanced driver's license
Federally recognized, tribal-issued photo ID
HSPD-12 PIV card
Foreign government-issued passport
Canadian provincial driver's license or Indian and Northern Affairs Canada card
Transportation worker identification credential
U.S. Citizenship and Immigration Services Employment Authorization Card (I-766)
U.S. Merchant Mariner Credential
What If You Forget Your REAL ID?
If you forget or do not have the your new REAL ID with you while going through airport security before October 1, 2020 you may still be able to fly if TSA can properly verify your identify. After October 1, 2020, a REAL ID compliant form of identification will be mandatory in order to fly. According to TSA's website:
Starting October 1, 2020, every state and territory resident will need to present a REAL ID compliant license/ID, or another acceptable form of identification, for accessing Federal facilities, entering nuclear power plants, and boarding commercial aircraft.  This is what we call "card-based" enforcement.  The card, itself, must be REAL ID compliant unless the resident is using an alternative acceptable document such as a passport.

REAL ID Frequently Asked Questions for the Public
How Does This Affect Business Travelers?
Using a driver's license as a form of identification is one of the most convenient forms of identification to show at security. Business travelers should make time before October of 2020 to ensure they have are traveling with a REAL ID compliant driver's license. Alternatively, business travelers can travel with their passport or global entry card instead of the REAL ID.
The REAL ID compliant license will maintain a higher level of security, benefiting every air traveler in the long run. The most important things to remember are looking for the star in the upper corner of your driver's license, having a different form of identification for the TSA if you do not have a REAL ID card, and that the law will not  be fully enacted until October 2020; so there is plenty of time to get everything in order even for the busiest traveler.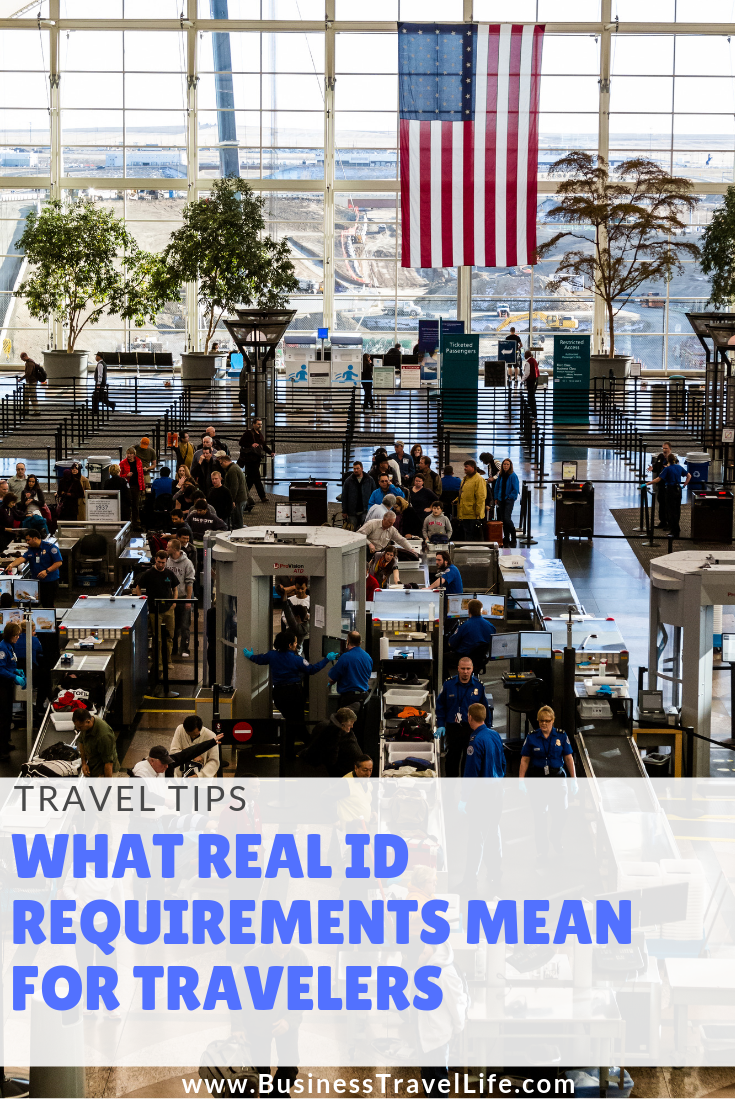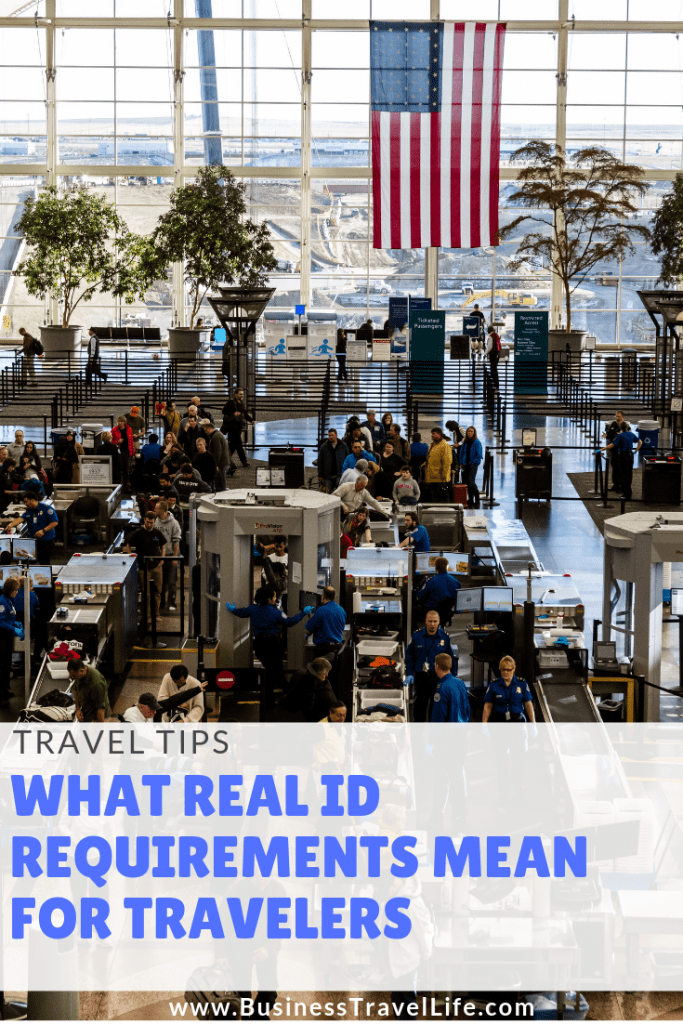 Business Travel Life
Business Travel Life is an online resource supporting the road warrior lifestyle. We give business travelers the tools they need to maintain their wellness and productivity when traveling. The topics we cover include business travel tips, travel workouts, healthy travel hacks, travel products, general travel tips, and industry trends. Our goal is to make business travel a healthier experience – and to make healthy travel practices more accessible to all road warriors.