From burning calories to sightseeing, the jogging benefits for business travelers are plentiful.
To jog or not to jog. We vote, jog! Requiring minimal workout gear and equipment, jogging is one of the most compact forms of travel fitness, and you should definitely work it into your exercise agenda. Sneakers and workout apparel are really all you need, and even if you forget to pack appropriately, hotels like Westin have convenient gear rental programs that you can utilize. There are so many reasons you should try jogging on the road (except the sidewalk would be preferable), and even more ways you can work running into your business travel schedule:
Escape: Often times, hotel gyms are borderline claustrophobic. By opting instead to go for a jog outside, you can enjoy some much-needed fresh air after being trapped indoors for business meetings.
Explore: Fitness organizations like The Sweat Social offer running tours for travelers. Complete with an official tour guide and local sites, these guided running tours are perfect for exploring your destination.
Meet new people: Running tours are not only great for sightseeing, but they also provide opportunities to make new friends and meet your fellow travelers.
Improve your memory: No lie. According to a recent study, aerobic workouts such as jogging improve your memory in ways that anaerobic exercises cannot do.
Reduce stress: If you are traveling for business, chances are both the travel and the business have stressed you out at some point. By going for a run, you can release your negative energy and decrease the stress of work travel.
Increase productivity: Research conducted at the University of Georgia proves that consistent physical activity keeps you energized, and energy is key for staying alert and focused while working.
Feel awesome: Jogging can help you make friends, reduce stress, and conquer work. What else do you need to feel awesome about yourself?
Burn calories: At its most basic function, running helps you stay fit, and that can make you feel terrific.
Now that you've been inspired to become a world-class runner, let's talk about how you can work this commitment into your business travel schedule. Spoiler alert: it's easy to do.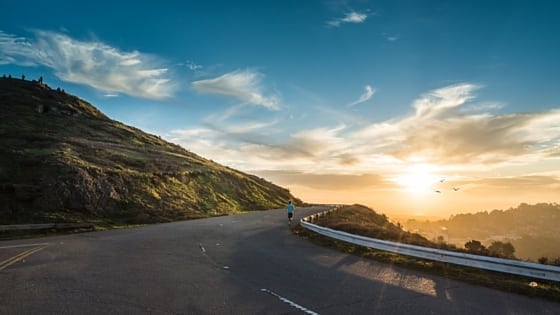 How Business Travelers Can Plan to Run
Nowadays, travelers have so many resources available to them for planning an on-the-road fitness agenda. By conducting a bit of research in advance of your trip, you might find that your destination has unique running opportunities for travelers. At the Hyatt Regency San Francisco, you can join their running club, the HyMilers, for a jog guided by a Hyatt associate. If find yourself in New Orleans for a business trip, you can take one of those running tours with The Sweat Social. Because these tours happen early in the morning or late in the afternoon, they are easy to work into your schedule. All you need to do is plan ahead.
Don't feel like scouring the world wide web for running tours? Not a problem. Several popular hotels can provide you with all of the information you could need. Westin's running maps are designed by their expert Running Concierge to satisfy both beginner and experienced joggers as well as hit key local sites. Other hotels that offer running maps include select locations for La Quinta, Four Seasons, Walt Disney World Resorts, and Hyatt.
Keep in mind that you do not necessarily need a tour guide or a map to run. That's what makes it so awesome. Jog wherever your heart tells you to go, and if you get lost, you probably have a phone that can map a way back to your hotel. As long as the area is safe, there's no reason to deny your internal compass the chance to shine.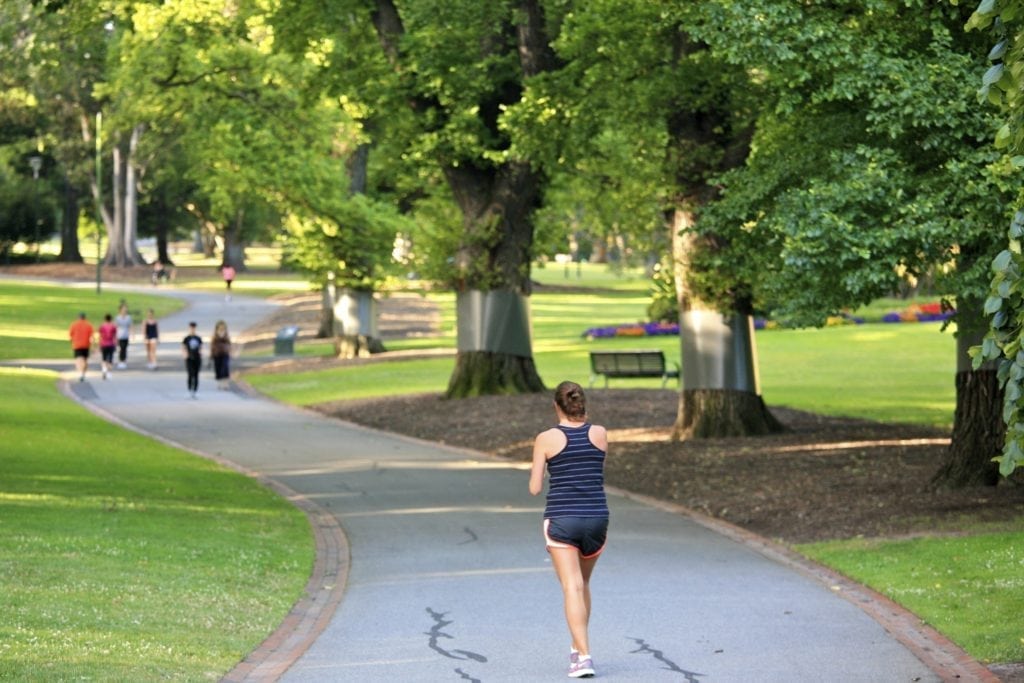 "But I'm Not a Runner"
We can't all be Forrest Gump. If you're not the type to get up and go for 3 years, 2 months, 14 days, and 16 hours, there are still ways you can motivate yourself. Number one: make a playlist, and pick music that gets you energized. Listening to tunes that you love not only makes for a fun run, but it is a better way to manage your workout as well. Obsessing over your time and distance is super uninspiring, but gauging your workout by running for three songs and walking for one is infinitely more exciting.
However, finding the inspiration to run is half the battle. Committing to your new workout schedule can be just as grueling. You don't have to run every single day, but whatever agenda you create for yourself, make sure you stick to it. Allow yourself a certain amount of "sick days" per month, and find a few fit alternatives for rainy days, such as an indoor pilates exercise, to ensure that you do not fall behind with your workout.
If running truly isn't your thing, know that walking still has fit value. A 160-pound person can burn 100 calories for each mile he or she walks, so walk whenever you possibly can. Instead of taking a cab or public transportation from your hotel to your meetings, see if they are within reasonable walking distance. You can also grab a running map from your hotel and opt to stroll at a leisurely pace. It may not burn as many calories as running, but walking is better than completely hiding from fitness in your hotel room. To find out how many calories you can burn walking, Map My Walk is a terrific resource.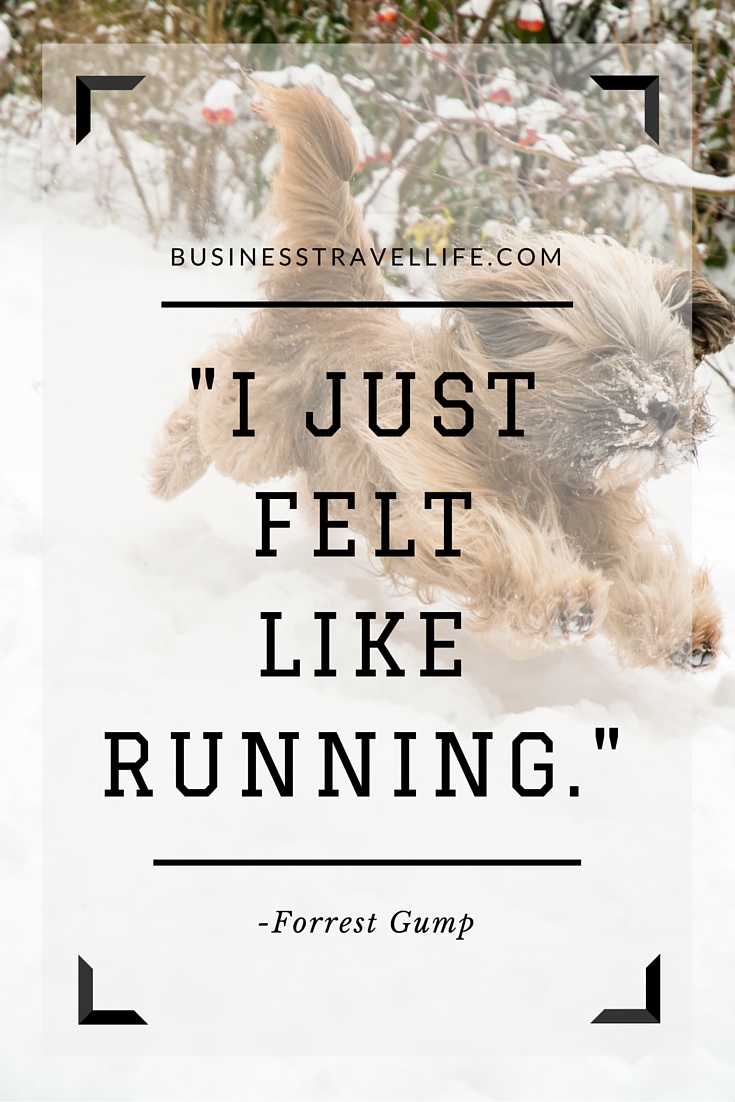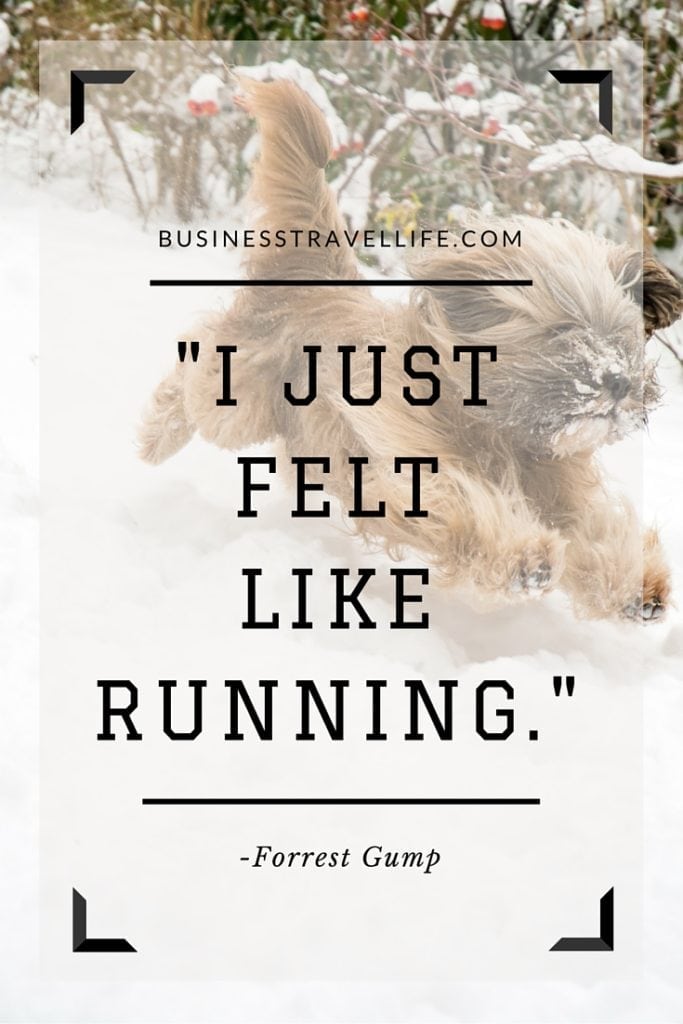 Walking or jogging is the perfect workout for adventurous business travelers looking to become more acquainted with their new surroundings and stay fit during their work trip. For more information on jogging benefits for travelers or specialized running maps for your business travel destination, you can contact Business Travel Life.
Business Travel Life
Business Travel Life is an online resource supporting the road warrior lifestyle. We give business travelers the tools they need to maintain their wellness and productivity when traveling. The topics we cover include business travel tips, travel workouts, healthy travel hacks, travel products, general travel tips, and industry trends. Our goal is to make business travel a healthier experience – and to make healthy travel practices more accessible to all road warriors.