Eating well at Dunkin' Donuts may be hard, but it isn't impossible. You can order a healthy(ish) breakfast with these tips.
Sleepless nights on unfamiliar hotel beds, waking up early for meetings, and navigating a new terrain. Managing mornings during your business trip can be tough, making familiar fast food chains like Dunkin' Donuts an inviting choice for a convenient breakfast. It is evident that Dunkin' is a favorite among road warriors. We recently reported about the most commonly expensed restaurants by business travelers. Dunkin' Donuts is the fifth most-expensed restaurant for travelers, and we understand why. With cheap coffee and quick breakfast foods to go, Dunkin' is a paradise for busy travelers in need of a simple meal en route to work. Since so many road warriors seem to find themselves at Dunkin' Donuts, we have examined the regular and DDSMART menus and handpicked the best and worst options for breakfast.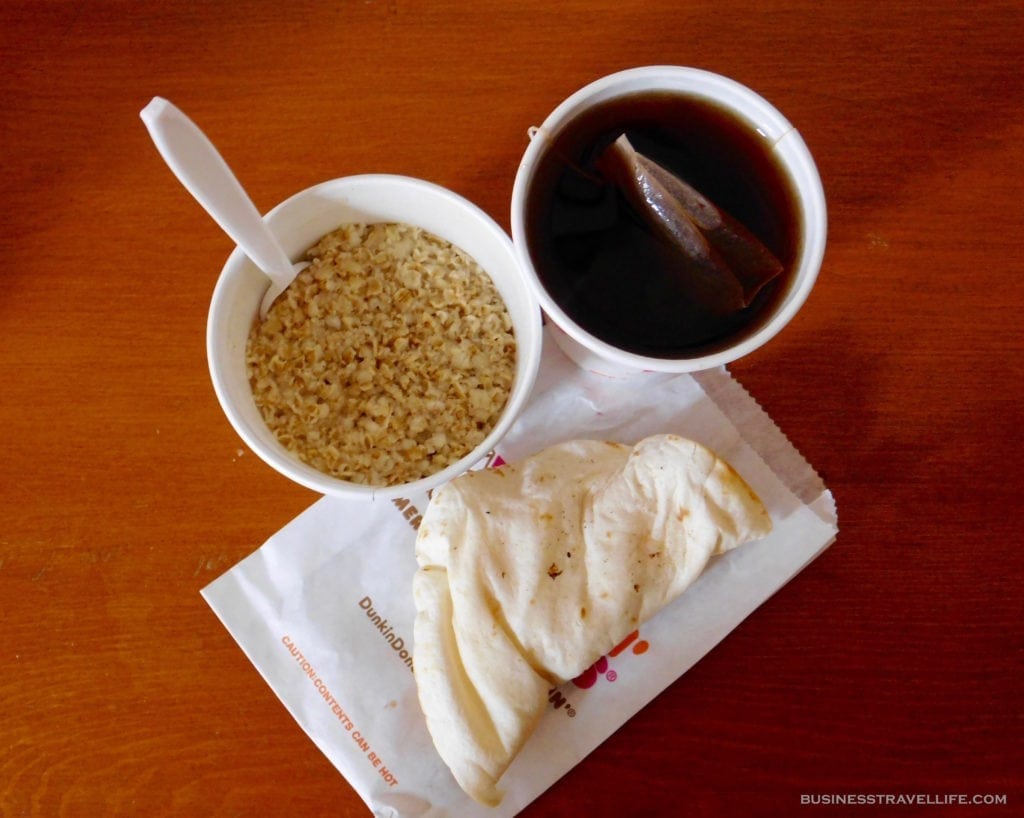 What to Eat*
At a glance, a fast food restaurant riddled with donuts does not seem like it would serve anything health-conscious, and, for the most part, it doesn't. However, Dunkin' does offer reduced-calorie options designated as DDSMART foods, and with its Smart Swap choices, diners can enjoy signature dishes without destroying their health. If you find yourself starting the day at Dunkin' Donuts, we recommend these foods from their DDSMART menu to avoid negatively affecting your well-being:
Egg White Veggie Flatbread: This sandwich is served on a multigrain flatbread, and you can ask for two fillings of egg whites to stock up on protein. This dish comes with 320 calories, 13 grams of fat, 33 grams of carbohydrates, and 17 grams of protein.
Ham, Egg & Cheese Wake-Up Wrap: This dish is tasty and nutritional, but isn't very filling. We recommend ordering two for a more wholesome breakfast. One wrap has 170 calories, 8 grams of fat, 14 grams of carbohydrates, and 10 grams of protein.
Original Oatmeal: Oatmeal is usually a sure choice for a healthy breakfast, as long as you avoid extra ornamentation. Dunkin's oatmeal comes with brown sugar and fruit toppings, but if you skip the sugar you will be consuming 270 calories, 4 grams fat, 54 grams of carbohydrates, and 7 grams of protein. You can also request not to have fruit included to lower that calorie count even more.
Ham, Egg & Cheese on an English Muffin: With a 25% reduction in calories and fat, this dish is a healthier alternative to the sausage, egg & cheese on a croissant from Dunkin's regular menu. This Smart Swap sandwich comes with 270 calories, 8 grams of fat, 33 grams of carbohydrates, and 17 grams of protein.
Medium Hot Tea, Black: Pair this beverage with a protein packed dish to balance out your meal. No calories, fat, carbohydrates, or protein.
Medium hot coffee, no sugar or dairy: In general, all coffees will be healthier sans the sugar and milk. But if you must have these things, you can request sucralose sweetener and skim milk. If you can manage straight coffee without extra ornamentation, then you will be consuming 10 calories, 0 grams of fat, 1 gram of carbohydrates, and 1 gram of protein.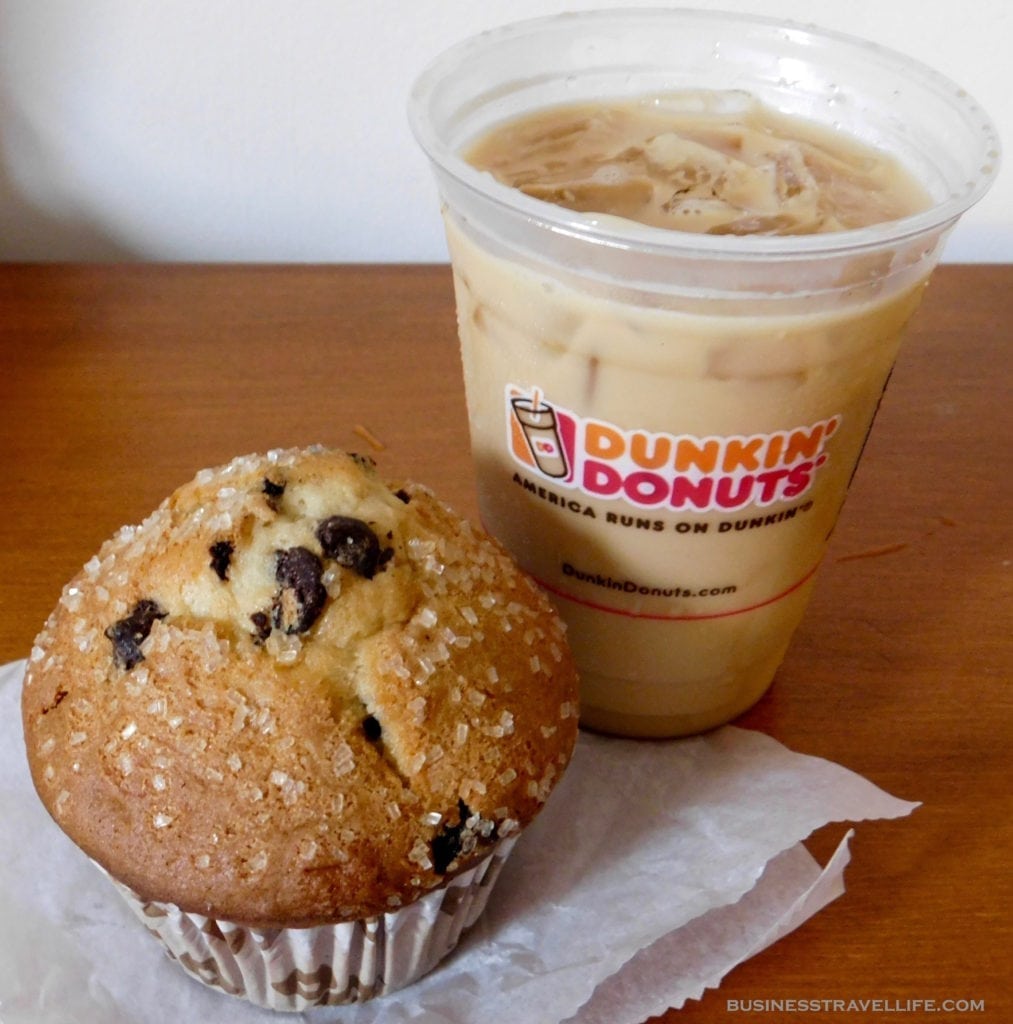 What NOT to Eat
Warning: if you are a fiercely loyal Dunkin' customer, this part might sting.
Unfortunately, pretty much everything not included on the DDSMART menu is not recommended for healthy eating. For example, Dunkin's reduced fat blueberry muffin has the lowest calorie count of all their muffins, but that calorie count happens to be a whopping 410, not to mention the 39 grams of sugar you will be consuming. Other foods to avoid include:
Danishes: Tiny and sugary, these treats are not worth a starting count of 400 calories. Avoid this unfulfilling start to your day.
Donuts: Do we even have to warn you about donuts? There are a plethora of calories and sugar packed into these increasingly shrinking breakfast delicacies. You will not be fulfilled.
Muffins: If you are looking to consume 410 calories or more in one small treat, go ahead and have a Dunkin' Donuts Muffin. Yikes!
Big N' Toasted: Of the breakfast sandwich selection, travelers should avoid the Big N' Toasted Sandwich as well as other high-sodium choices. It would be best to stick to the three we recommended earlier to avoid fried foods and calories from fat in your meal.
Sausage: If you have to choose between turkey, sausage, and ham to go on your breakfast sandwich, ham is your healthiest option.
Hash browns: Most sandwich meals will come with hash browns, but do avoid adding them. An unwholesome side dish, they are not a necessary addition to your breakfast.
Cream and sugar in your coffee: We have said it before, but is super important. If sucralose sweetener and skim milk pack calories in your coffee, imagine the effects of real sugar and cream. Dunkin's iced coffee with cream and sugar is legendary, but do your best to resist this temptation the next time you walk into Dunkin' on a business trip.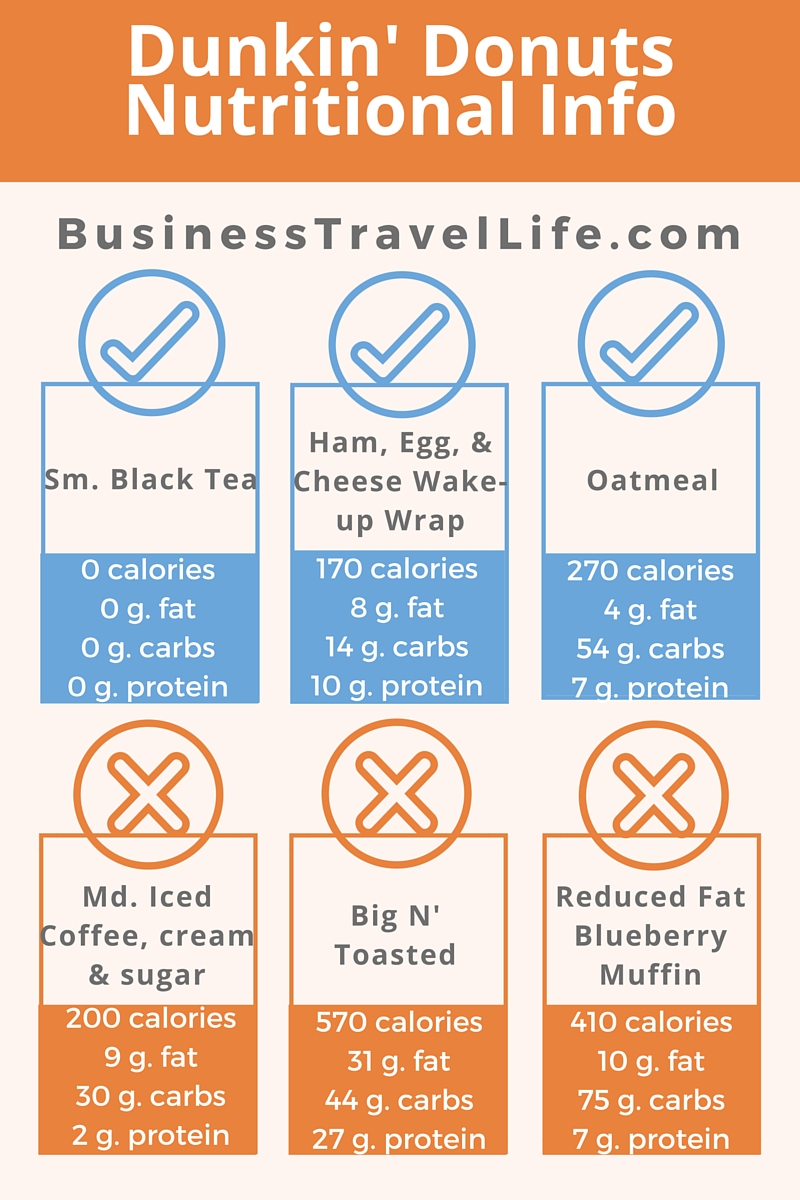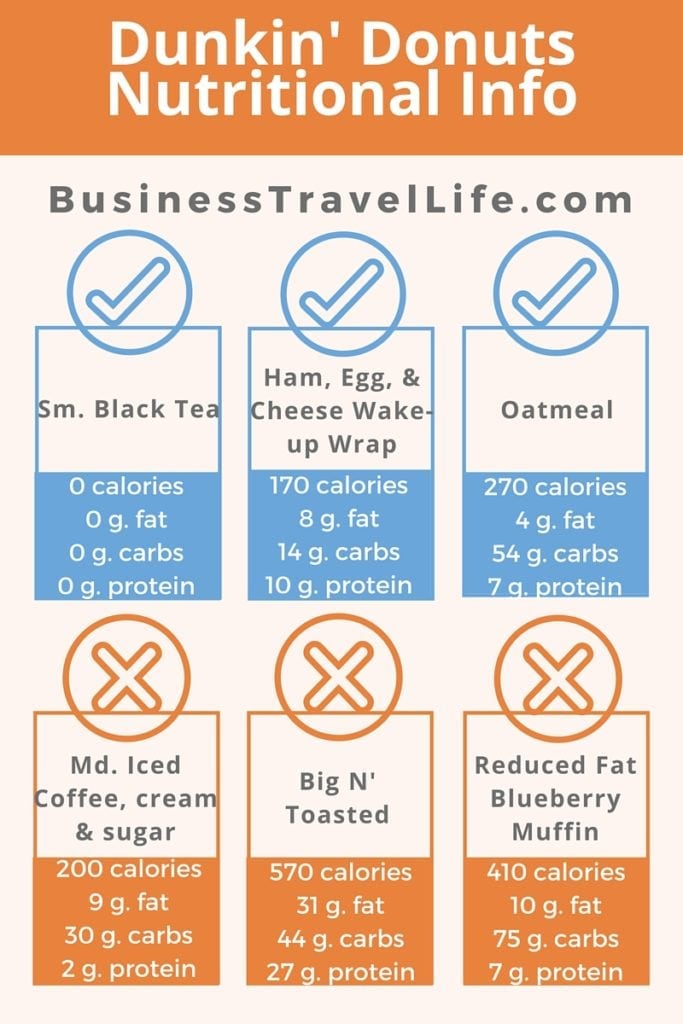 All things considered, we probably do not have to tell you that eating a Dunkin' Donuts, as with all fast food chains, will not have a positive impact on your well-being. Breakfast is the most important meal of the day, and a sugary donut isn't going to be a wholesome dish to start out with. If you frequently rely on Dunkin' Donuts as a business traveler, be sure to eat from their DDSMART menu and use these tips in order to salvage your health.
What tips do you have for eating well at Dunkin' Donuts? Comment and share!
*All nutrition info in this category courtesy of the DDSMART Nutritional Catalog.
Business Travel Life
Business Travel Life is an online resource supporting the road warrior lifestyle. We give business travelers the tools they need to maintain their wellness and productivity when traveling. The topics we cover include business travel tips, travel workouts, healthy travel hacks, travel products, general travel tips, and industry trends. Our goal is to make business travel a healthier experience – and to make healthy travel practices more accessible to all road warriors.