With more work travelers finding exercise a productive way to kill time before a flight, we went on a hunt for the country's best airport fitness amenities.
Airports across the U.S. are getting creative in the amenity department. Yoga studios, walking routes, and other unique exercise amenities are popping up seemingly everywhere, meeting a growing need for convenient airport fitness options for healthier travel. In this guide, we'll take a look at some of the coolest workout facilities available in popular U.S. airports to help you stay fit while you wait for your flight.
Baltimore/Washington International Airport (BWI)
At BWI, road warriors can drop in at ROAM Fitness, a workout studio revolutionizing how travelers stay fit. It's got all the essentials, from cardio equipment and weights to cool down space and showers, plus the stuff you need to make exercising on the go less of a drag (i.e. lockers with charging outlets and clothing/sneakers available to rent). ROAM is located in Terminals D and E past security, and travelers can purchase a day pass or annual membership.
"We've created a space in terminals so people can care for their bodies in whatever way best suits their needs. For some people that might be light stretching in our yoga space, for others it's a half-hour interval session on the treadmill, and for people getting off of red-eye flights it might just mean taking a warm shower before changing into their suit and heading to their morning meeting." — ROAM Fitness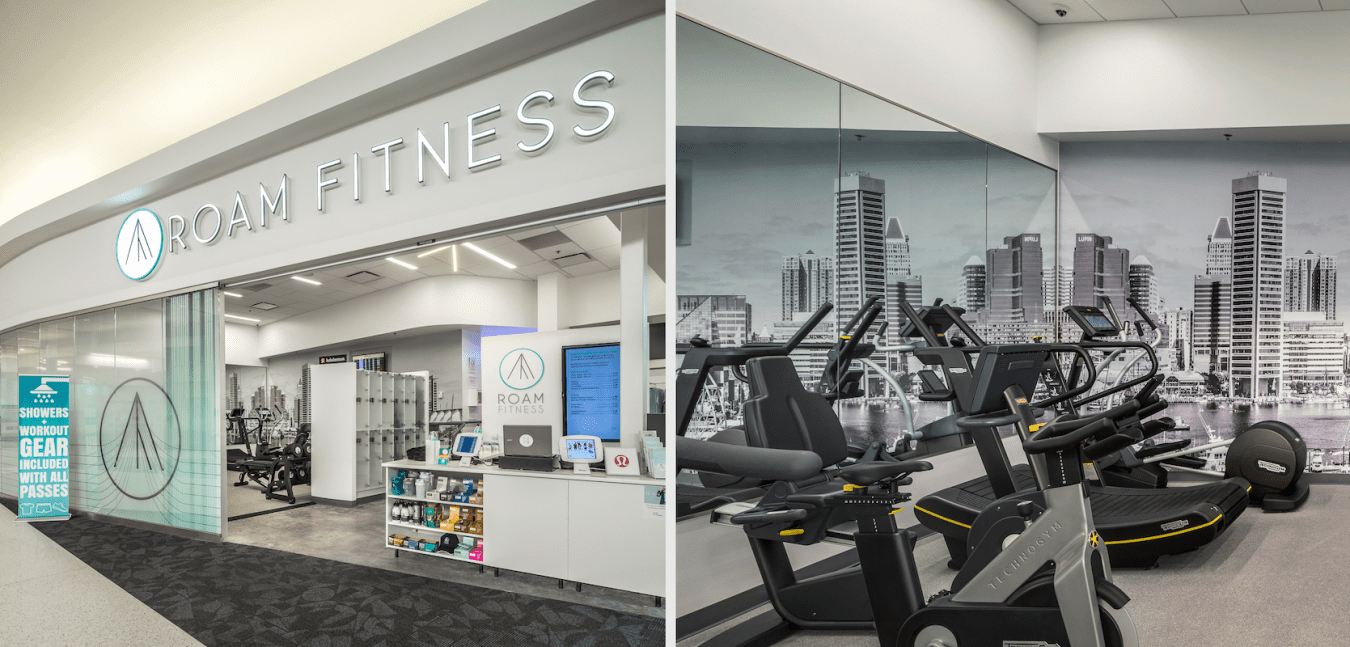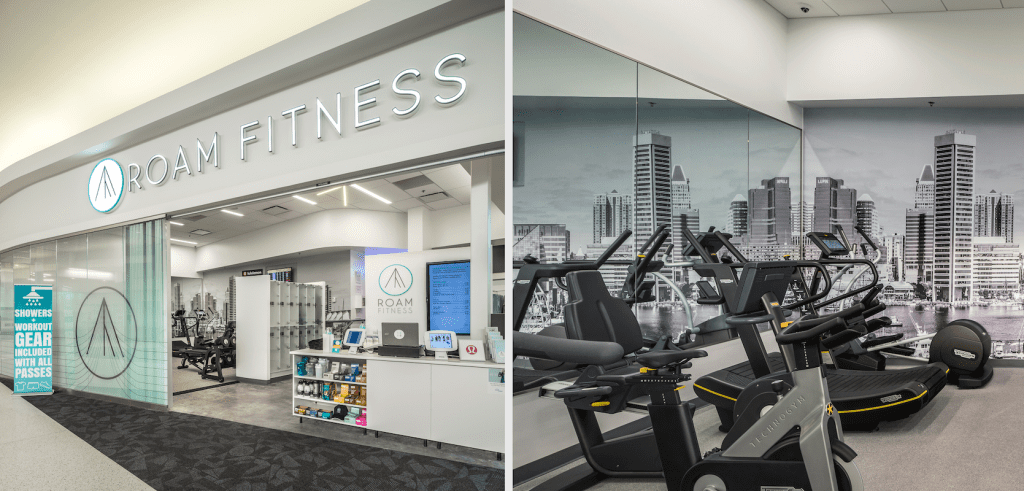 Dallas Fort Worth International Airport (DFW)
At DFW, there are two free yoga studios for road warriors to take advantage of. Stocked with yoga mats, exercise balls, and stretch bands, travelers can take charge of their own workout or choose from an array of videos for some guidance. Both studios are conveniently located past security checkpoints in Terminal B (between gates D40 and B1) and Terminal E (near gate E31).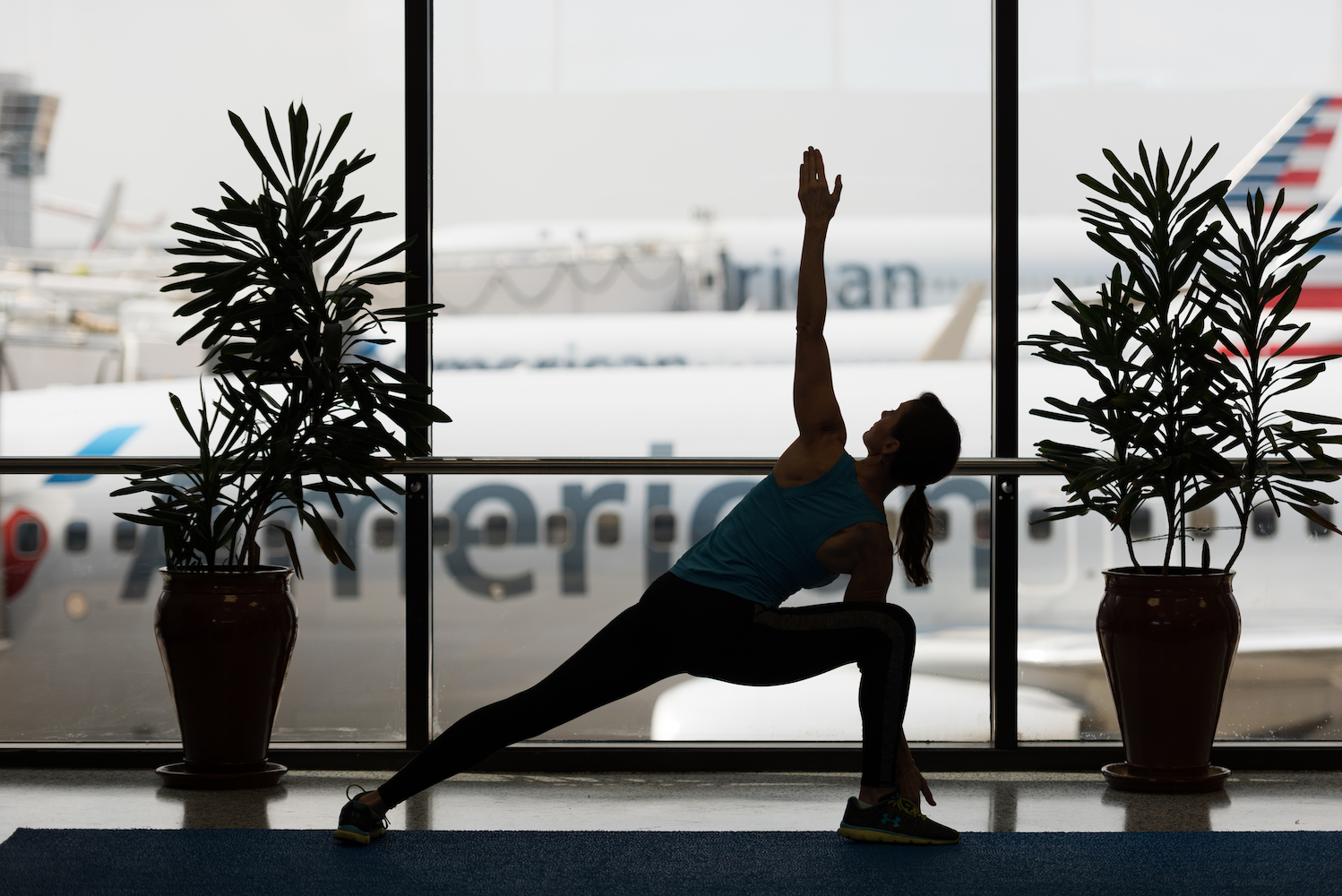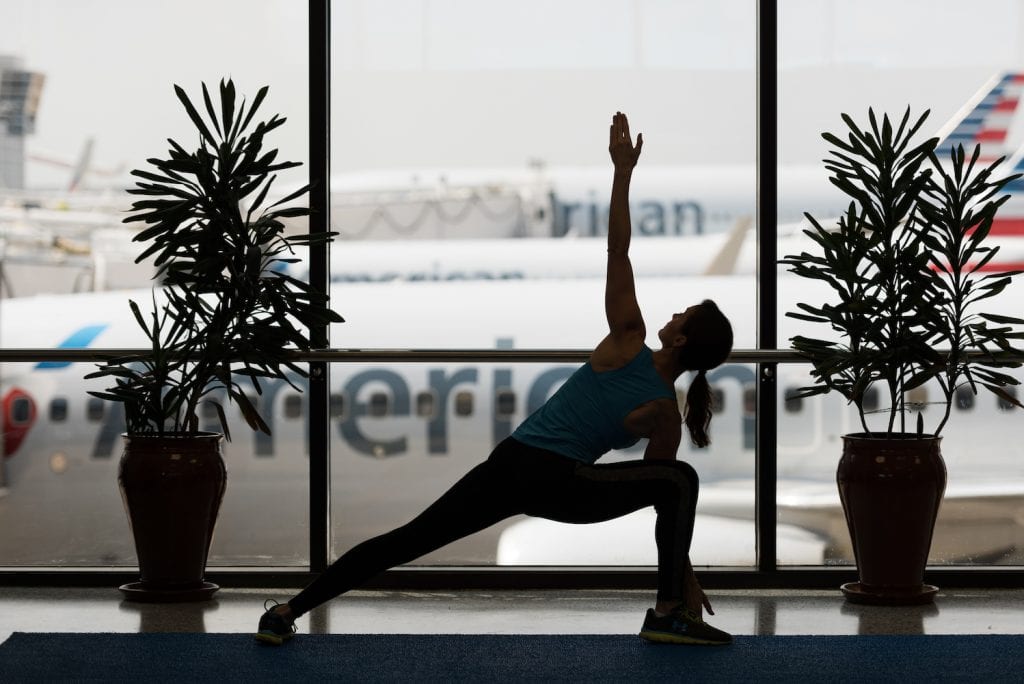 Miami International Airport (MIA)
Yoga-friendly airports are certainly increasing in number! All passengers traveling through MIA can stop at the yoga studio near Terminal H, before security. With free access and 9am-9pm hours every day of the week, road warriors can easily drop in and stretch out pre- or post-flight.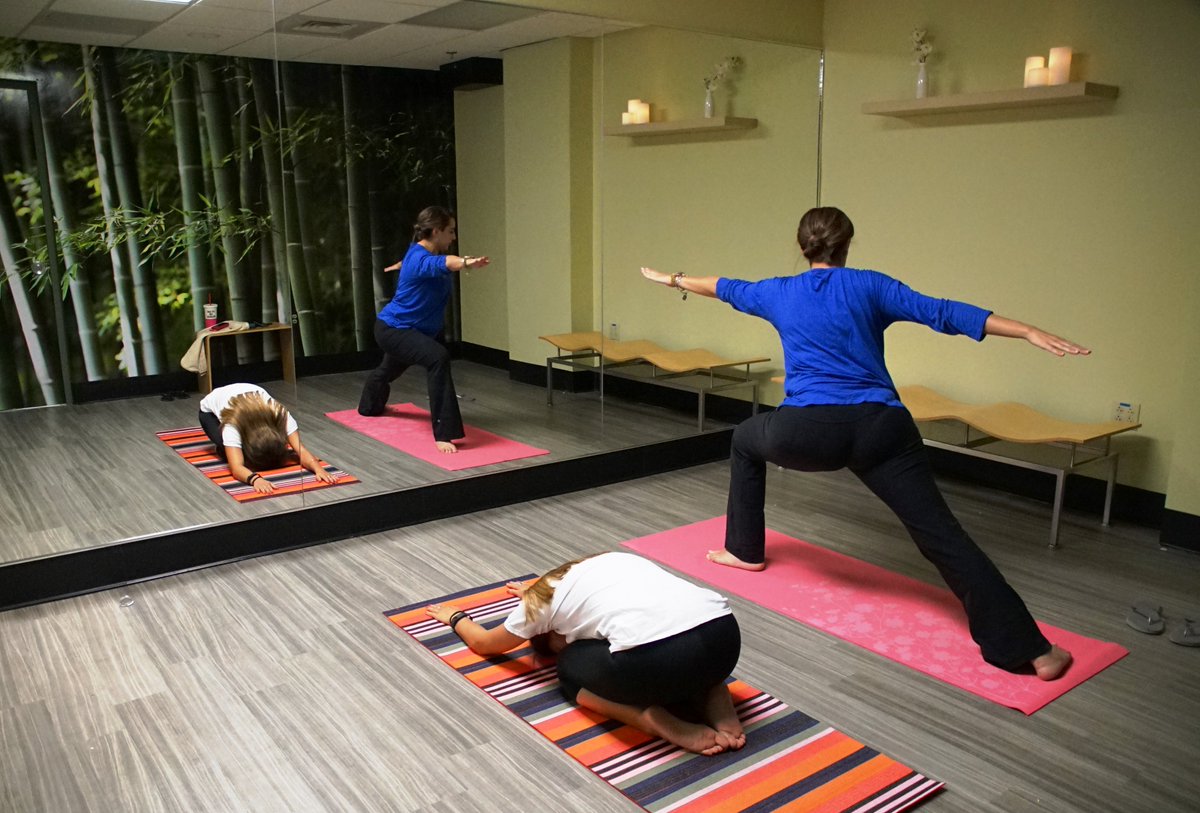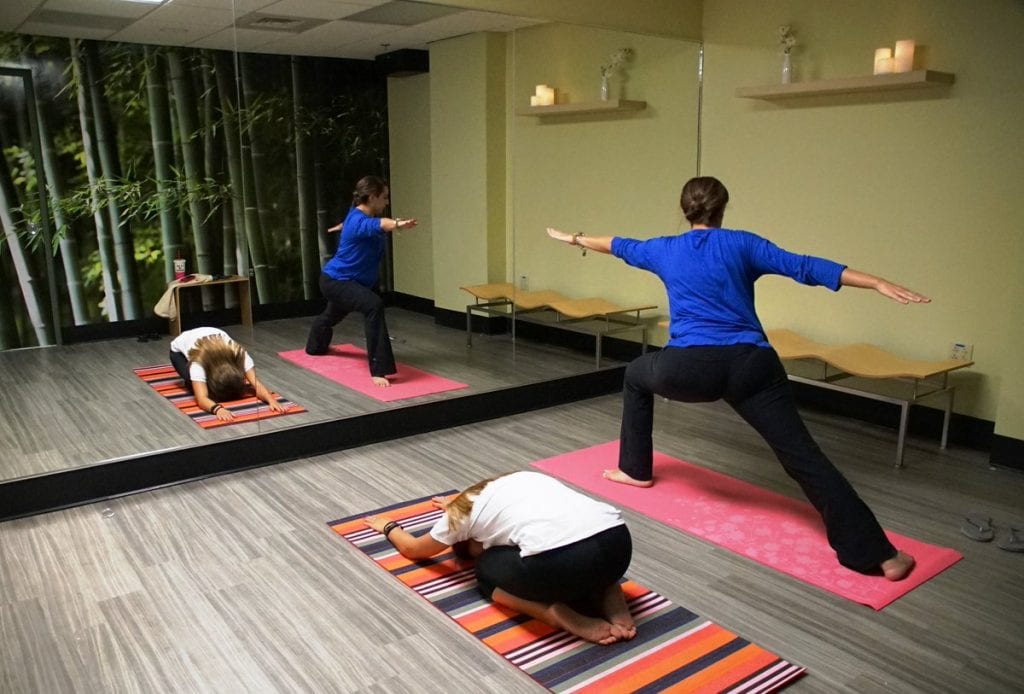 Minneapolis St. Paul International Airport (MSP)
If walking and jogging are your preferred modes of exercise, then I hope you get a chance to travel through MSP. With treadmills and a walkway, this airport fitness program encourages using your legs before you're squeezed into a plane seat. Located at Terminal 1, the American Heart Association-inspired Start! Walking Path will keep you moving for 1.4 miles, or you can jog on one of the available treadmills while charging up your devices.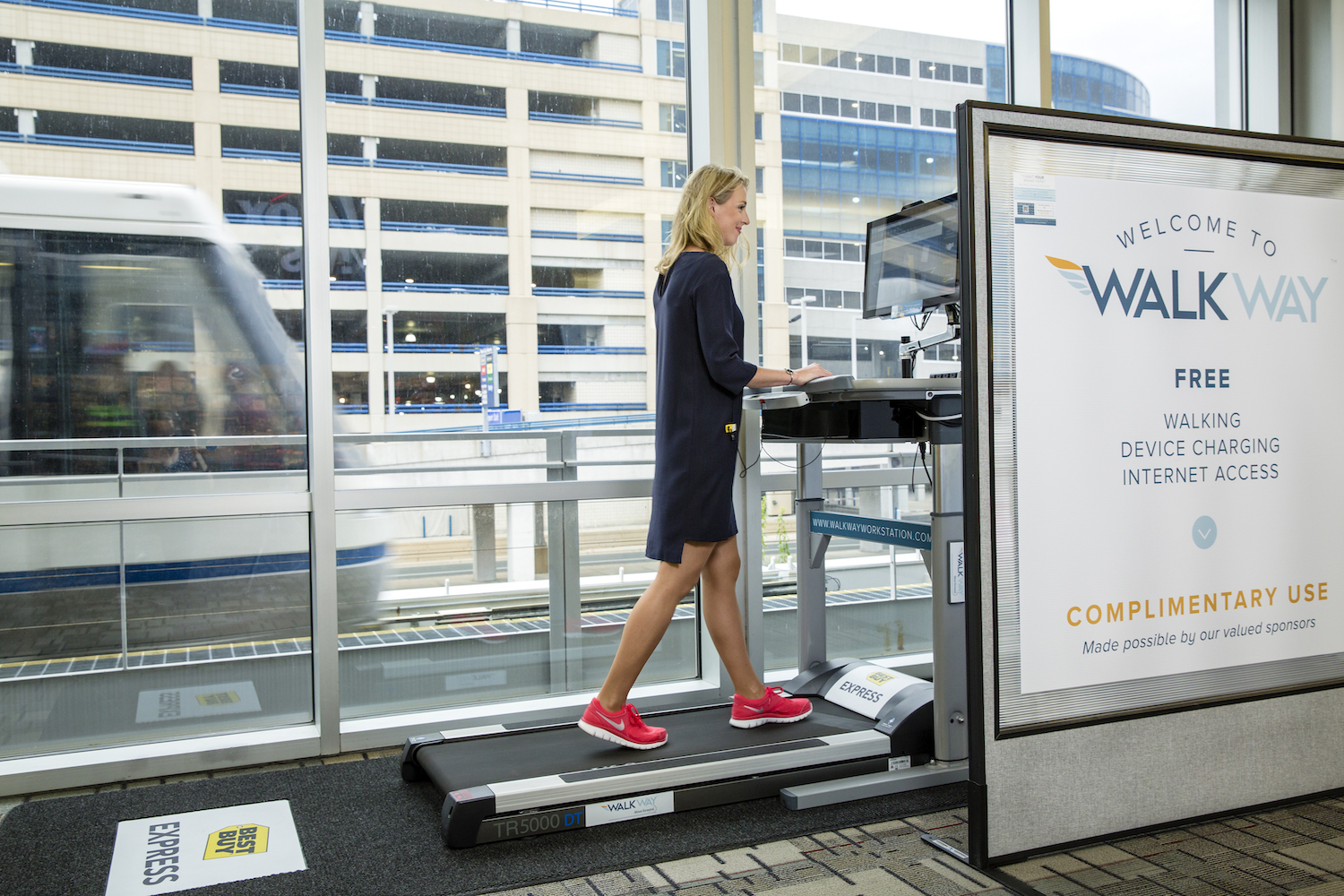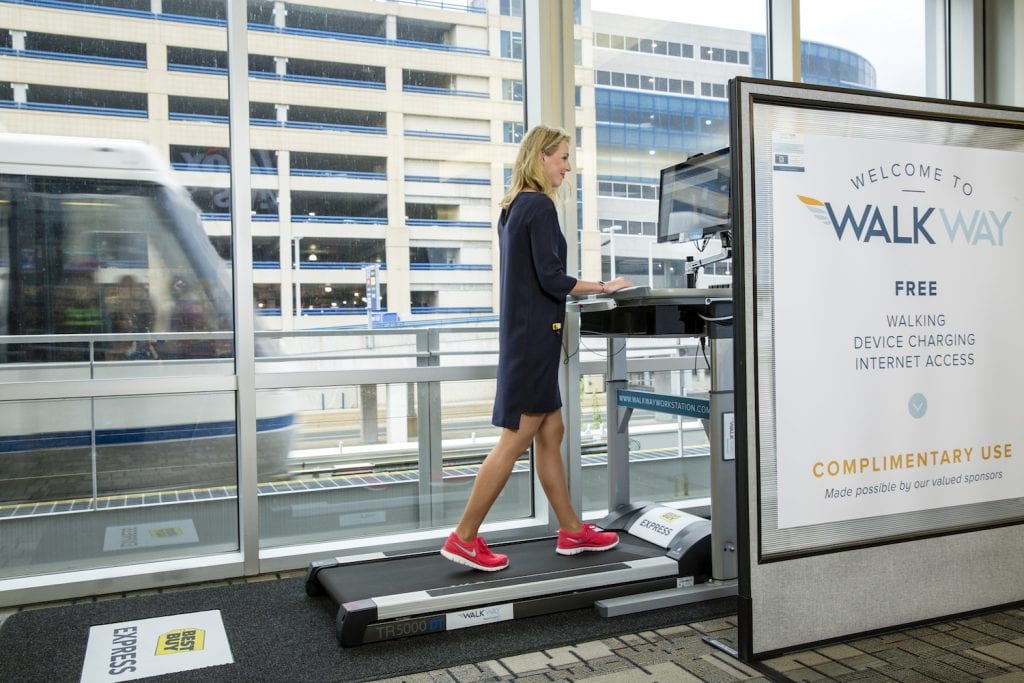 Denver International Airport (DEN-DIA)
This year at DEN, a pop-up park in DEN Plaza will provide weekly airport fitness classes. Dubbed Wellness Wednesdays, a variety of workout sessions will be available from 11 am to 1 pm covering Zumba, yoga, and more. While this perk is only temporarily available, the Westin is always there and always fit-friendly.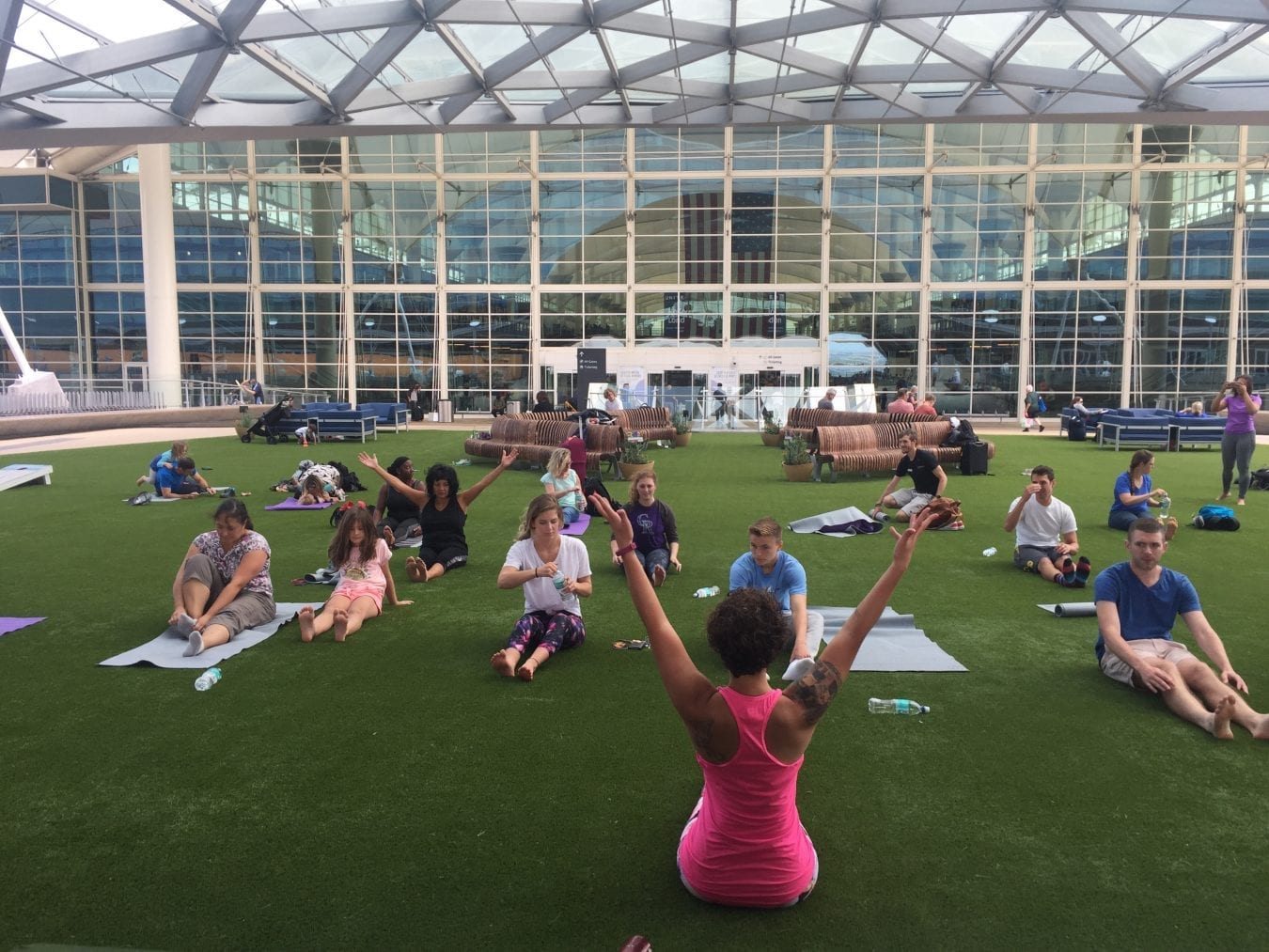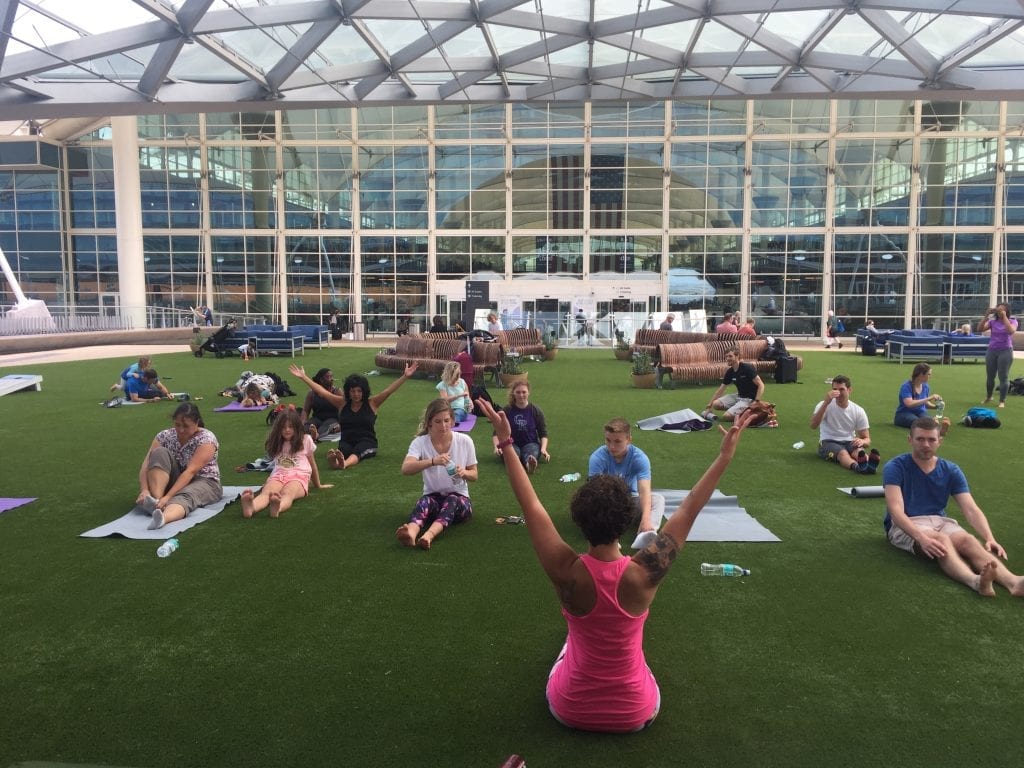 Phoenix Sky Harbor Airport (PHX)
"Visitors to Phoenix Sky Harbor can spend time before their flight or between flights walking the Sky Harbor Fitness Trail. The trail, a little more than a mile long, takes travelers around Sky Harbor's busiest terminal where they can see a variety of Phoenix landmarks." — Phoenix Sky Harbor International Airport
The walking trail at PHX isn't just a workout — it's scenic too! From Camelback Mountain to unique sandstone buttes, the Sky Harbor Fitness Trail is dotted with cool natural sites all of which are visible from the airport terminal. Bookended by gates A30 and D8, the track reaches just over a mile in length, providing road warriors with a light workout during their travels.
Video credit: Phoenix Sky Harbor International Airport
Los Angeles International Airport (LAX)
Admittedly, we're cheating a bit with this one as our next airport fitness amenity isn't technically attached to an airport. But since LAX is one of the busiest airports in the country, we'd like to include a workout option for all the business travelers that pass through its doors every day: LAX Crossfit. It looks to be about a ten-minute Lyft or Uber ride from the airport, and they welcome drop-ins. If a high-intensity workout is what you need, it'll be easy to stop by this location on your way to or from LAX.
Indianapolis International Airport (IND)
IND has one of the most inventive airport fitness amenities we've seen thus far: award-winning cycling stations that charge your devices, but only if you keep pedaling. Yes, their one-of-a-kind exercise bikes act as an energy source, allowing you to power up your electronics with your own feet. It's certainly a motivating way of helping travelers stay active.
"We've had airport guests tell us 'it's like fitting in a SoulCycle class while scrolling through Instagram'.'' — Mario Rodriguez, Indianapolis Airport Authority Executive Director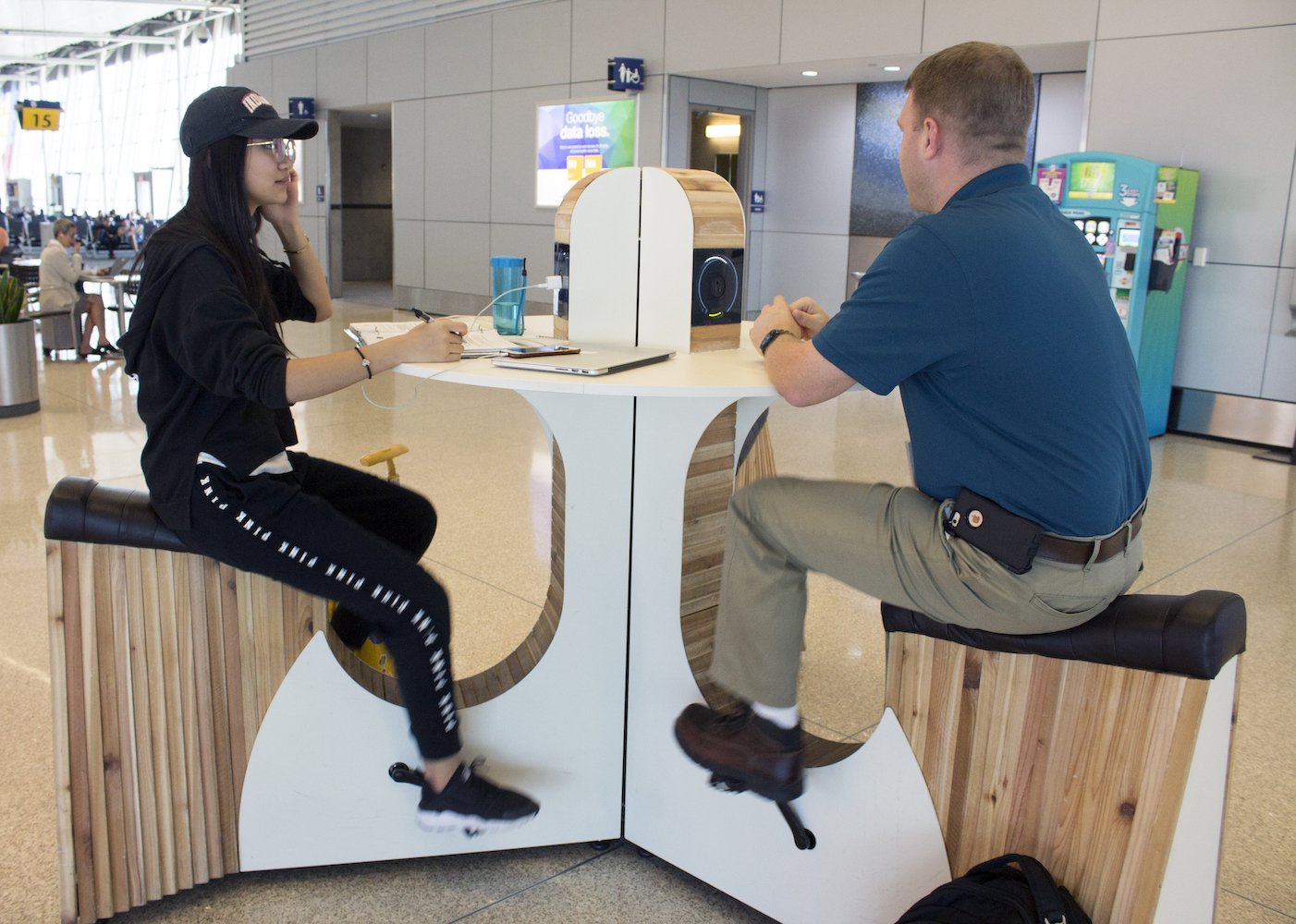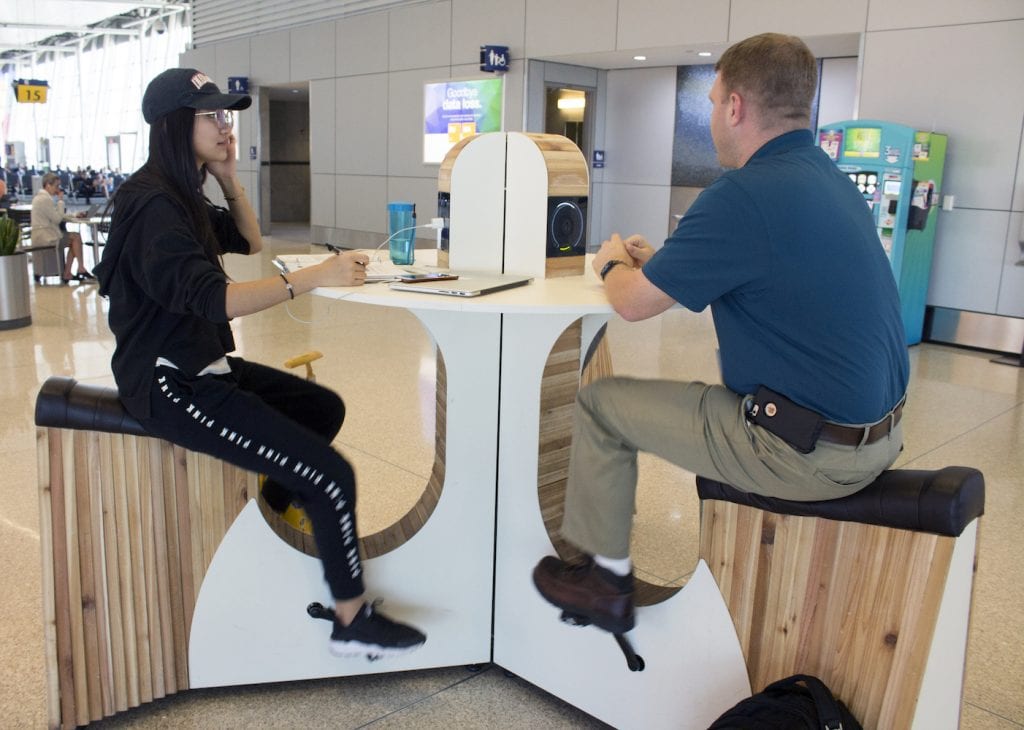 McCarran International Airport (LAS)
In Las Vegas' airport, Terminal 1 passengers can purchase day passes to ZEROlevel Fitness. This travel-sized gym packs strength and cardio equipment, lockers, and showers. Road warriors can even take advantage of personal training services for a more catered workout. With 24-hour weekday access and generous weekend hours, travelers should have no problem accessing this airport fitness center.
Tampa International Airport (TPA)
TPA joins the list of airports with walking paths. Unlike PHX, they don't advertise any accompanying sightseeing opportunities, but their downloadable maps do have helpful distance notes for each route. Every little bit of activity helps with your overall well-being, and following these paths will be a welcome alternative to waiting it out at yet another airport gate.
Related Article: Walking Routes Enroute
San Francisco International Airport (SFO)
Another yoga studio is available to road warriors at SFO. Located in Terminal 2 past the security checkpoint, this free room is the ideal place to roll out a mat and sweat out the stress of travel. Plus, the airport fitness amenities as SFO will soon expand with the addition of a ROAM Fitness, also in Terminal 2. We're excited to see everything we love about their BWI facilities available at a major west coast hub.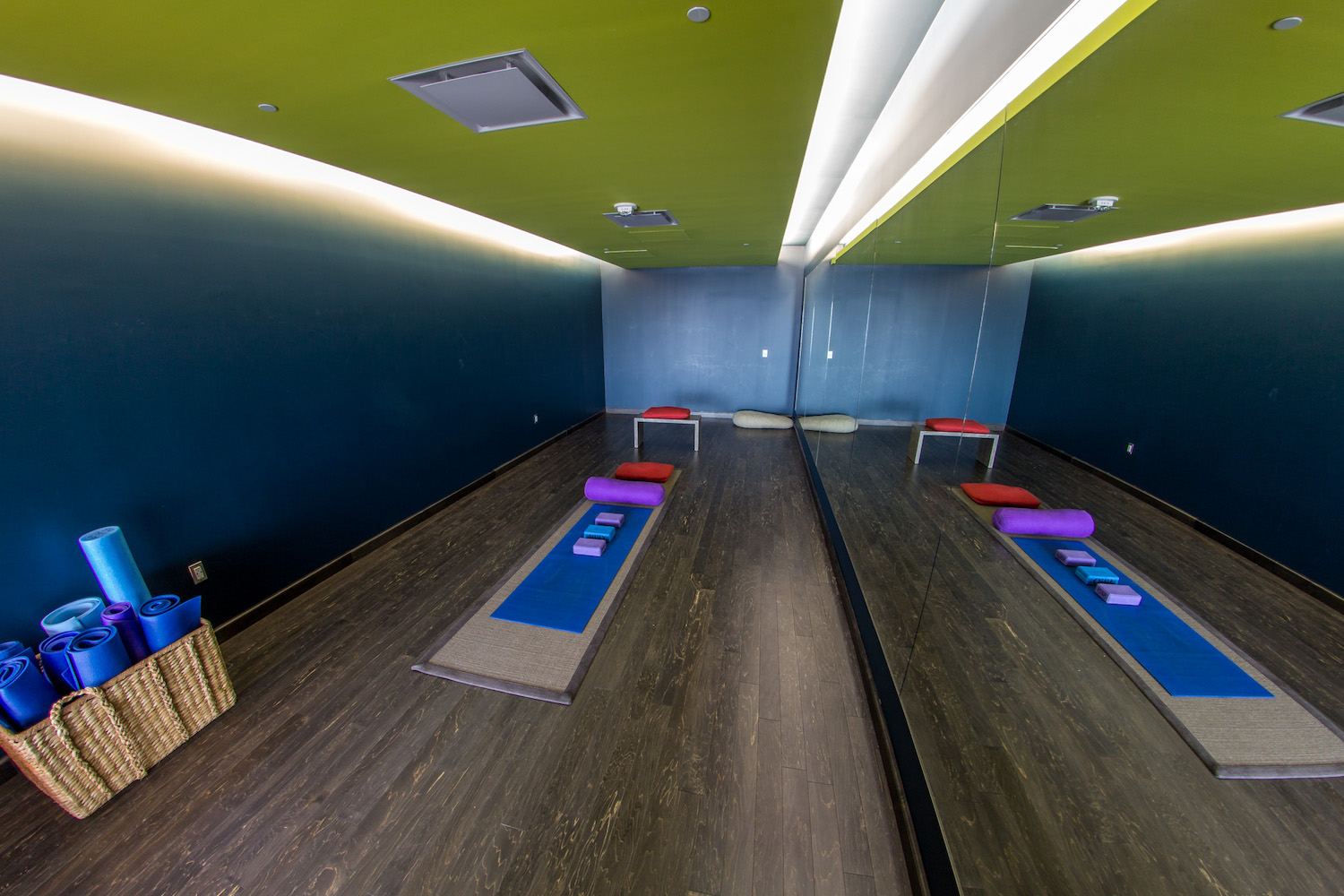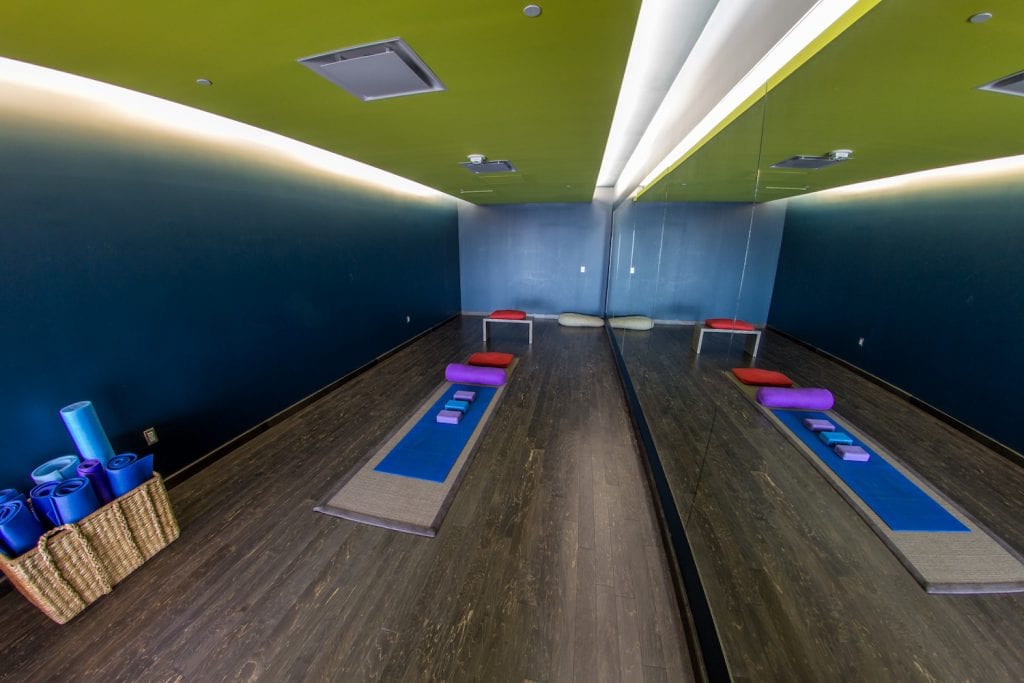 Pittsburgh International Airport (PIT)
While airport fitness amenities are growing, not every airport comes outfitted with workout options for its travelers. In cases like this, it's helpful to book at nearby hotels that offer gyms or look into purchasing day passes for access. For example, road warriors headed to Pittsburgh can fill the time between meetings and air travel with a stop at the nearby Hilton Garden Inn's exercise center and pool (most of today's accommodations come with gyms, but you can see our hotel guide for more unique fitness amenities).
Airport fitness options are expanding fast! Where else would you like to see more amenities like this? Share your thoughts in the comments below.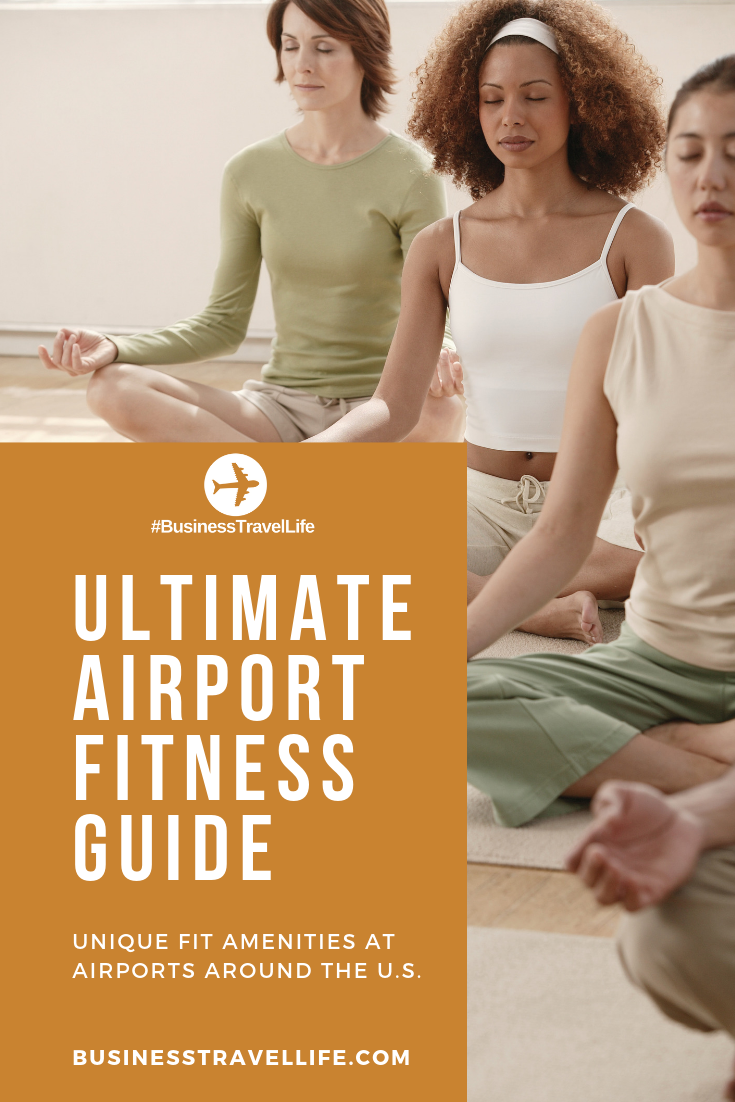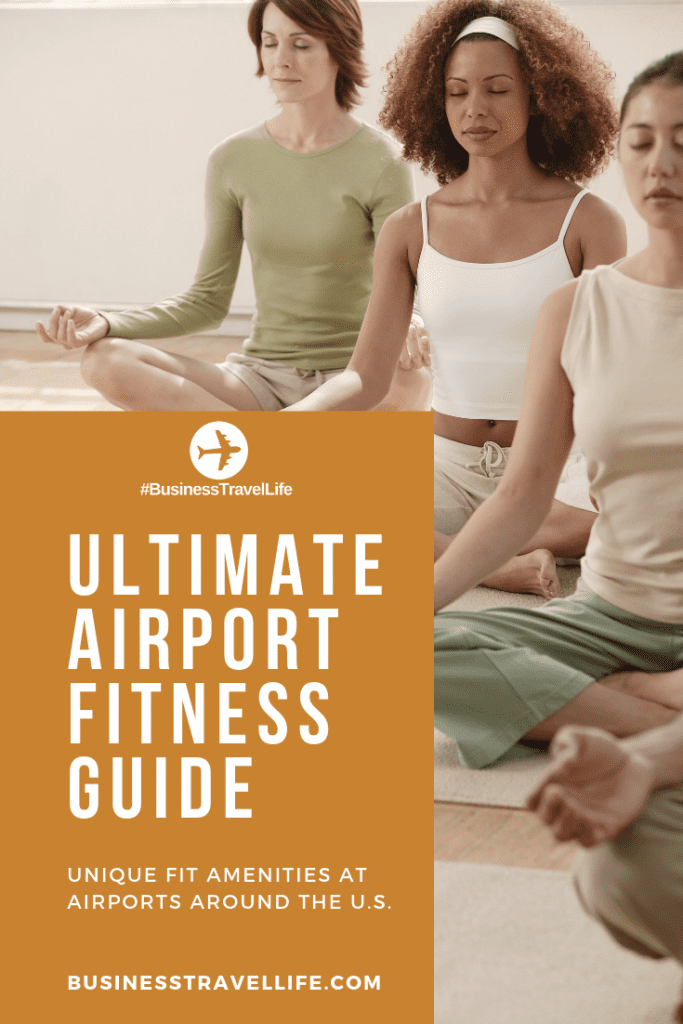 Business Travel Life
Business Travel Life is an online resource supporting the road warrior lifestyle. We give business travelers the tools they need to maintain their wellness and productivity when traveling. The topics we cover include business travel tips, travel workouts, healthy travel hacks, travel products, general travel tips, and industry trends. Our goal is to make business travel a healthier experience – and to make healthy travel practices more accessible to all road warriors.