Taking advantage of exercise opportunities while you are at the airport is a great way to incorporate fit travel into your business life
There are a lot of business travelers that struggle to stay fit while on the road and airport walking routes can make it easier to incorporate fit travel into your business life. With packed schedules, lack of free time and time spent enroute, it is understandable why there may not be an opportunity to fit a work out in. Most travelers find themselves waiting around for flights and see that time at the airport as a window of productivity. The following airports have made it possible to utilize that productivity in a healthy, heart-happy way. Check out the airports that have teamed up with The American Heart Association and other health conscious groups to create walking routes for ticketed passengers. Remember, there doesn't need to be a designated walking path to incorporate fit travel into your busy schedule!
 Minneapolis-St. Paul International Airport (MSP)
Beginning at the intersection of the C and D concourses in the Lindbergh Terminal, you can walk about a mile and a half. Look for a green mile marker that says, "start!" to see how far you've gone. Do this course more than once if time allows!
Indianapolis International Airport (IND)
Just throughout the ticketing area you can knock out .75 miles, and within each concourse there are 2.5 miles tracks.
 Cleveland Hopkins International Airport (CLE)
Cleveland is another airport with the Start! Walking paths and it is located in every concourse!
Lambert-St. Louis (STL)
The main walking path in STL starts just after the C/D security checkpoint in the Main Terminal. Another path is located after security in the East Terminal as well.
Baltimore/Washington International Thurgood Marshall Airport (BWI)
The cardio trail at BWI is located in the terminal as well as in Concourse A/B. The loops each take about 20 minutes at a normal pace, and there are designated cardio trail logos to guide you throughout your walk.
Hartsfield-Jackson Atlanta International Airport (ATL)
Get in nearly a mile by walking from Concourse A to Concourse E!
Dallas/Fort Worth (DFW)
There is a designated walking path starting at gate D6 and ending at D40. Its about 1.75 miles and if you are feeling like you need an extra boost at the end, there are 55 stairs you can climb!
Seattle-Tacoma International Airport (SEA)
The walk from the Central Terminal to the very end of Concourse A is a half-mile. See how many times you can do it before boarding your flight!
 McCarran International Airport (LAS)
Although this airport on site gym recently closed, there is still an opportunity to stay active during your time at LAS. The official Facebook page posted this map to guide you through your aim at fit travel.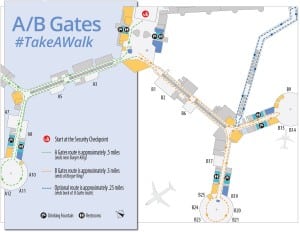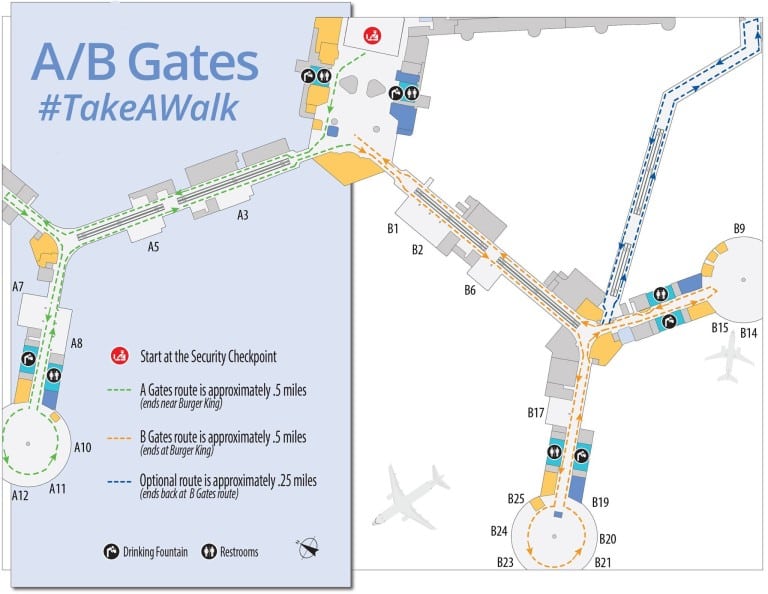 [divider_line]
Business Travel Life
Providing nationwide nutrition and fitness concierge services, Business Travel Life seamlessly integrates a healthy lifestyle into corporate and business travel. We partner with our clients to provide nutrition plans and workouts that are achievable on the road. Our clients benefit from the customized level of service and ongoing support we provide. Check out our online store before your next trip to shop for healthy travel snacks, travel friendly workout tools, and accessories that make healthy travel easier.
[divider_line]