Airport gyms are becoming more and more popular, find out if the airport you're traveling through has a place for you to get your exercise in.
An airport is a key ingredient in the life of a business traveler; over half of them see the airport as a place of productivity. What if that productivity could be focused on fit travel instead of just more work? A lot of airports are starting to implement ways for travelers to stay active while waiting for their flights. Check out the airport gyms listed below to see if your next layover could be that gap of time you've been searching for to fit your exercise in!
Chicago O'Hare (ORD)
For $20 a day, head over to the Hilton Athletic Club, located in terminal 2 on the arcade level of the hotel. In addition to the traditional exercise equipment and machines, there's a sauna, steam room, and pool.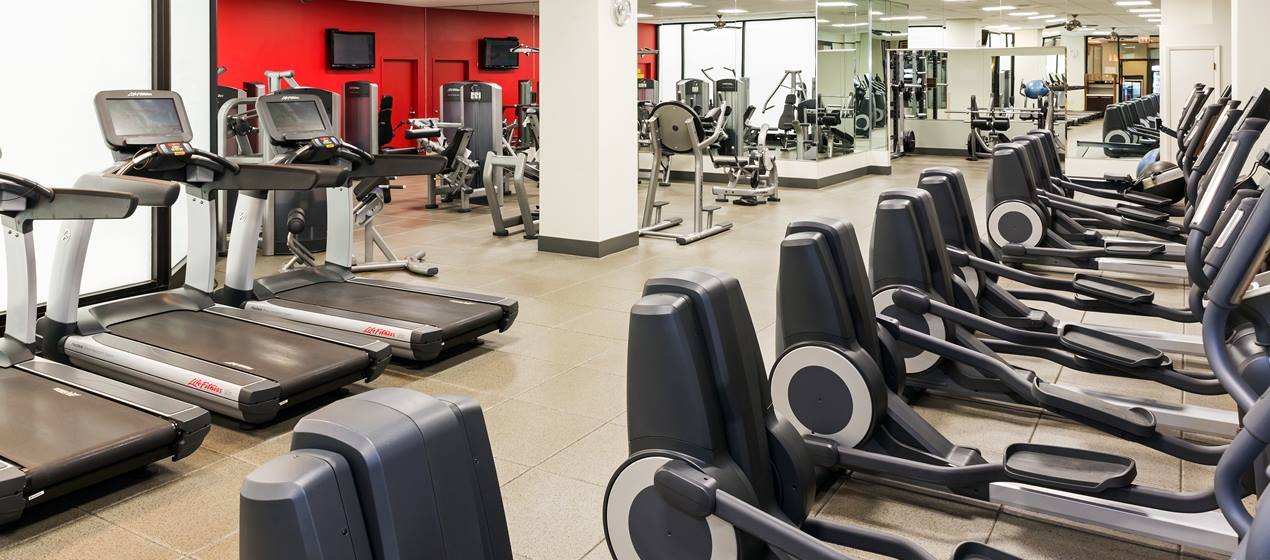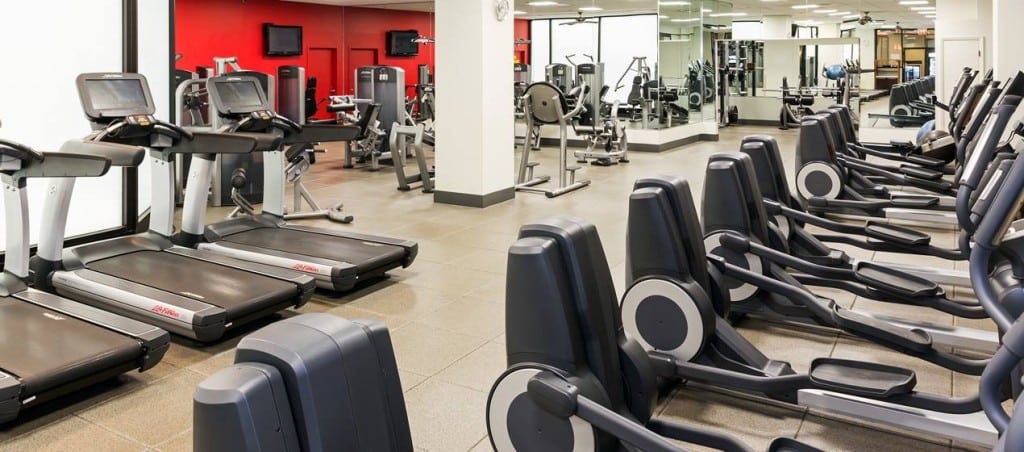 Dallas/Fort Worth (DFW)
The Grand Hyatt is located in terminal D; it costs $30 to get into the gym for a day. There is also an outdoor pool that is heated, a sauna, and locker rooms.
Detroit Metropolitan Wayne County Airport (DTW)
Located in the World Gateway Terminal is the Westin Hotel (and fitness center). It costs $15 to get in, and for another $5 you are able to rent workout clothes and shoes. There's really no excuse not to visit the Westin on your next stop in Detroit!
Logan International Airport (BOS)
The Health Club and Spa at The Hilton is located in Terminal E (can be accessed by shuttle or foot for an extra bit of cardio). There is swim gear available for rent if you want to use the pool, and the staff will store your luggage. Entry is $10, and $5 for Hilton elite members. Update: A traveler reported this deal was not honored, please call before you go to inquire.
Miami International Airport (MIA)
The MIA Hotel health club is on the 8th floor of the hotel, in concourse E. There is a rooftop pool with a walking/jogging track surrounding it. It costs $8 to get in and is open from 6-10.
Philadelphia International Airport (PHL)
Last year, PHL opened fitness zones for passengers where they can cycle on stationary bikes while waiting for their flights. The fitness zone is located in Terminal D but other bikes can be found throughout the terminals.
Toronto Pearson International Airport (YYZ)
Terminal 1 in Toronto has a GoodLife gym that is free for members and $15 for non-members. There are cardio machines, free weights, and a lounge area with massage chairs. After working out, you can shower in the locker rooms and use their complimentary towels. This is another airport gym that has workout attire for rent!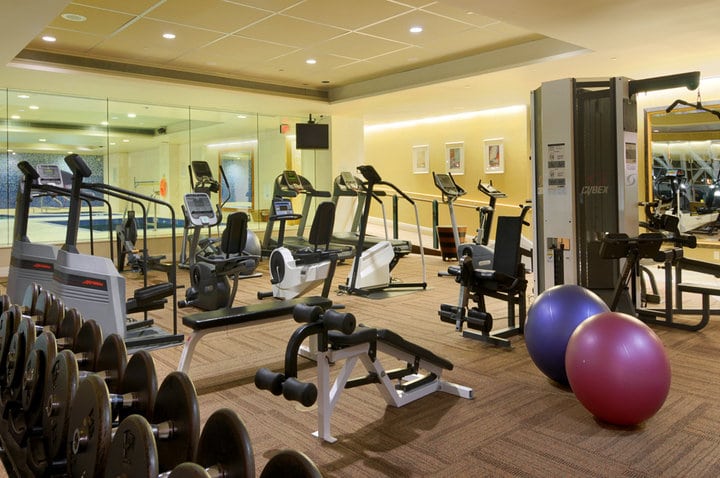 Vancouver International Airport (YVR)
The Fairmont Vancouver Airport Hotel fitness facility is located above the U.S. departures check-in desk on the East side of the terminal. They have treadmills, ellipticals, bikes, rowing machines, and weight machines. For $18 you have access to the gym, pool, and showers (plus towels). If you are staying overnight at the hotel the gym access if free. Workout clothing available for rent!
Dubai International Airport (DXB)
Dubai has more than one gym to choose from, would you expect any less? The G-Force health club has locations in Terminal 1 and 3. It's open 24 hours and costs $13 an hour. It includes showers, designated steam rooms, saunas, and Jacuzzi's. Massages are also available if you really need to loosen up!
Singapore Changi Airport (SIN)
All three terminals in Singapore have fitness lounges that can be utilized for $11. They include free weights, bikes, cross trainers, and showers. You can even get a massage if time allows!
Munich Airport (MUC)
Munich is a great airport to be at during a long layover. The Kempinski Hotel Fit and Fly Spa is located here with high-class exercise and spa facilities. A day pass costs €30 (this includes a bathrobe and towel). For €20 you can have access for 2 hours. Another option at MUC is to hike! Yes, you can hike at Munich Airport; there is a man made hill that leads to an observatory of the airport.
Zurich Airport (ZRH)
For those business travelers passing through Switzerland that want to get active outdoors in between flights, ZRH is the perfect place. Here, you can rent roller blades, bikes, and Nordic walking poles by the hour and head outside to use them. There is a designated path around the airport where passengers can utilize their item of choice while they wait for their next flight! Items range from $12-$45 depending on the duration of use.
ROAM Fitness
Keep an eye out for ROAM Fitness at BWI this coming November. What the creators behind ROAM Fitness envision is an opportunity to work fitness into your travel schedule. They will offer cardio equipment, showers, stretching space, weights, clothing for sale or to rent, as well as TV, WiFi, and power outlets. Also, make sure to download the app where you can purchase your membership, reserve a shower, pre-order clothing rentals, order food to be delivered at the front desk, check your flight status, and locate stores. BWI isn't the only airport that ROAM Fitness will be at in the future, they are also looking to open stores in Seattle, San Francisco, Los Angeles, Atlanta, Chicago, Denver, Boston, and much more.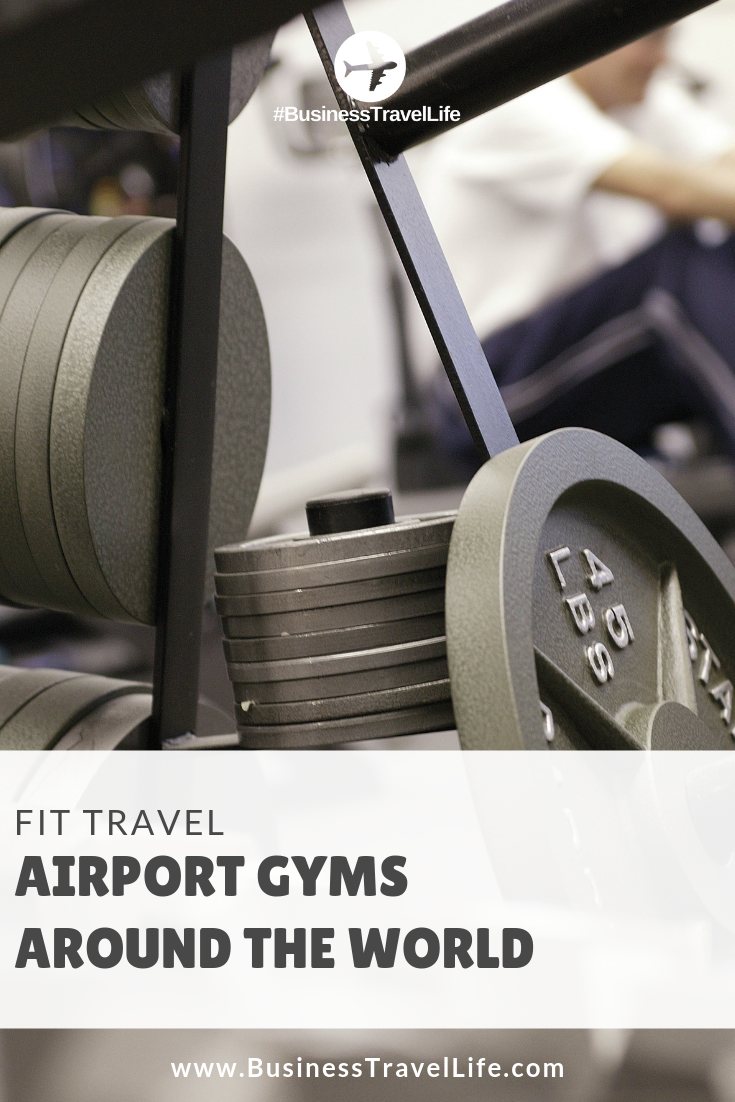 Business Travel Life
Business Travel Life is an online resource supporting the road warrior lifestyle. We give business travelers the tools they need to maintain their wellness and productivity when traveling. The topics we cover include business travel tips, travel workouts, healthy travel hacks, travel products, general travel tips, and industry trends. Our goal is to make business travel a healthier experience – and to make healthy travel practices more accessible to all road warriors.