Looking for a healthy travel snack? BOY-Nut butter
I am obsessed with nut butter. Before we get into the delicious travel size nut butter that I found, I would like to briefly discuss nut butter. Recently, I found out I have a peanut allergy (not life-threatening), so I have been doing my best to avoid peanut base products. Prior to learning of my peanut allergy, peanut butter was an essential healthy travel snack for me, because it is so easy to find on the road. After learning of my peanut allergy, I went into a natural food store and discovered the array of other types of nut butter.
There are eight types of nut butters you can find (not to be confused with seed butters), thought not all are available in single serving, travel sizes. See the infographic at the bottom of the page for the nutritional information of each type.
Almond Butter
Brazil Nut Butter
Cashew Butter
Coconut Butter (fun fact- coconut is classified as a nut, seed, & fruit!)
Hazelnut Butter
Peanut Butter
Pistachio Butter
Walnut Butter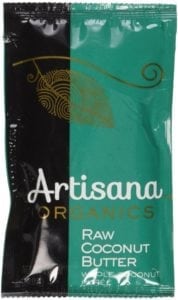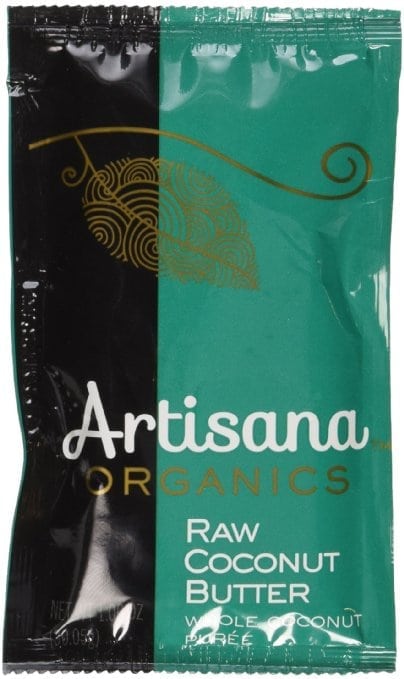 Raw Coconut Butter
Why we love it: Raw coconut butter is similar to coconut oil, but it is extracted from the flesh and contains fiber (unlike coconut oil).
The Artisana Raw Coconut Butter is 100% organic raw coconut. The butter is made from whole coconut flesh puree and spreads easily. Other nut butter available in travel size packs from Artisana are Almond, Walnut, and Cashew . Raw Coconut Butter is $20.75 for 10 packets, Artisana
Vanilla Bean & Espresso Almond Butter
Why we love it: Vanilla Bean & Espresso!
The Barney Butter Vanilla Bean & Espresso is made in an almond only (no peanut) facility. It is also GMO-free. Other flavors available. $9.84 for 6 packets, Barney Butter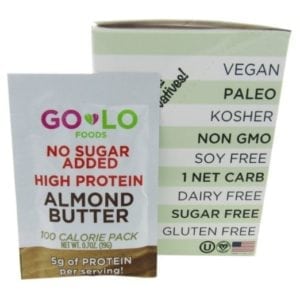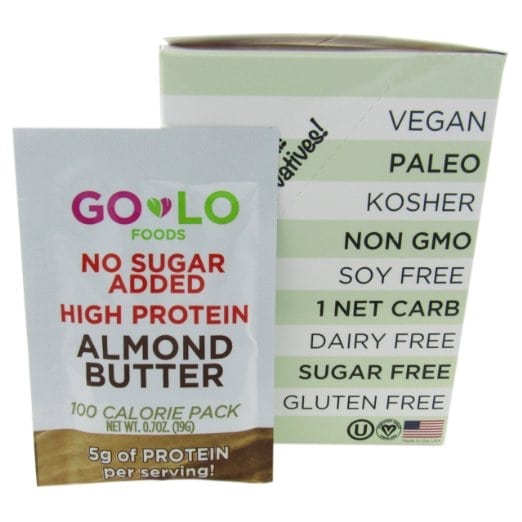 Go Lo Almond Butter Spread
Why we love it: 100 calories per packet with 5g of protein and 4g of fiber!
The Go Lo Almond Butter is a blend of almond butter, hemp protein, pea protein and chicory root (natural sweetener). $17.99 for 10 packets, Go Lo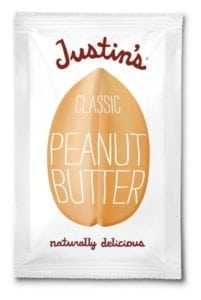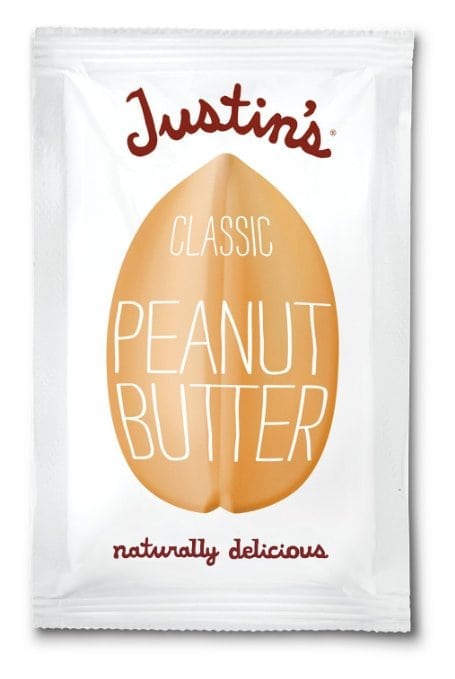 Classic Peanut Butter
Why we love it: Peanut butter is a classic!
The Justin's Classic Peanut Butter packs 8g of protein per serving. The peanut butter is also GMO-free and made in smaller batches for higher quality. Justin's also has almond butter and hazelnut butter in travel size packets! $5.18 for 10 packets, Justin's Nut Butter
Buff Bake Protein Butter
Why we love it: A tasty blend of nut butter, chia, flax and whey protein!
Buff Bake is the healthy travel snack you need when you are craving something sweet. With the flavors like Snickerdoodle and Chocolate Chip, you can satisfy your sweettooth without overdoing it. Low in sugar and high in protein! $14.59 for 9 packets(3 of each flavor), Buff Bake
When packing nut butter, remember that TSA considers it a liquid. You may be lucky enough to get it through security in your normal bag, but don't say I didn't warn you! Lastly, when flavor is added, typically sugar is added, so the nutritional value may change if you prefer a flavored nut butter.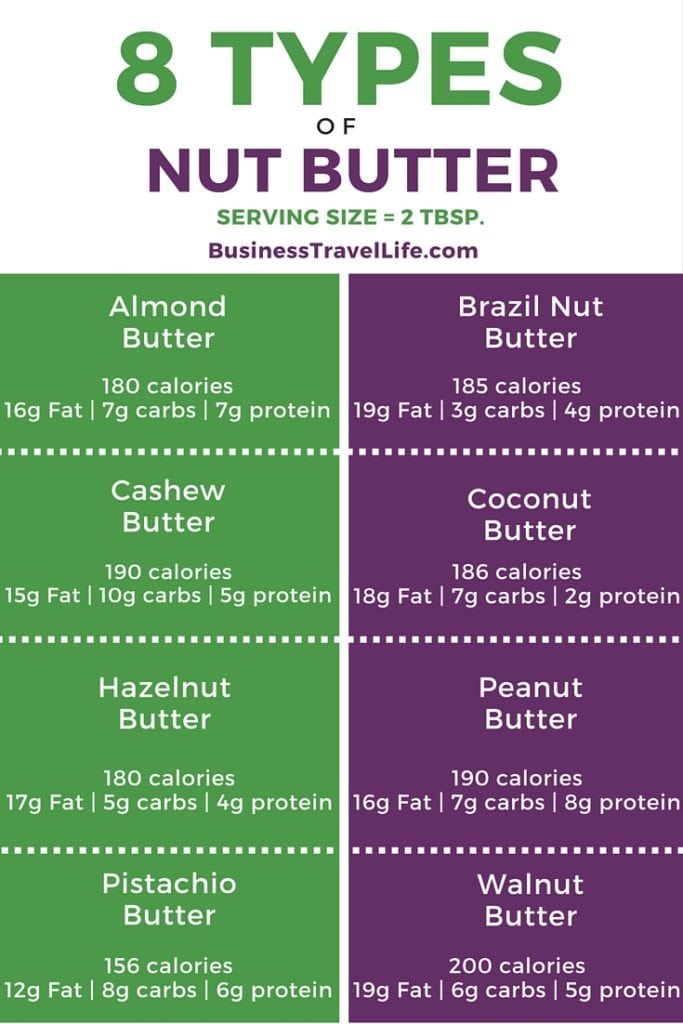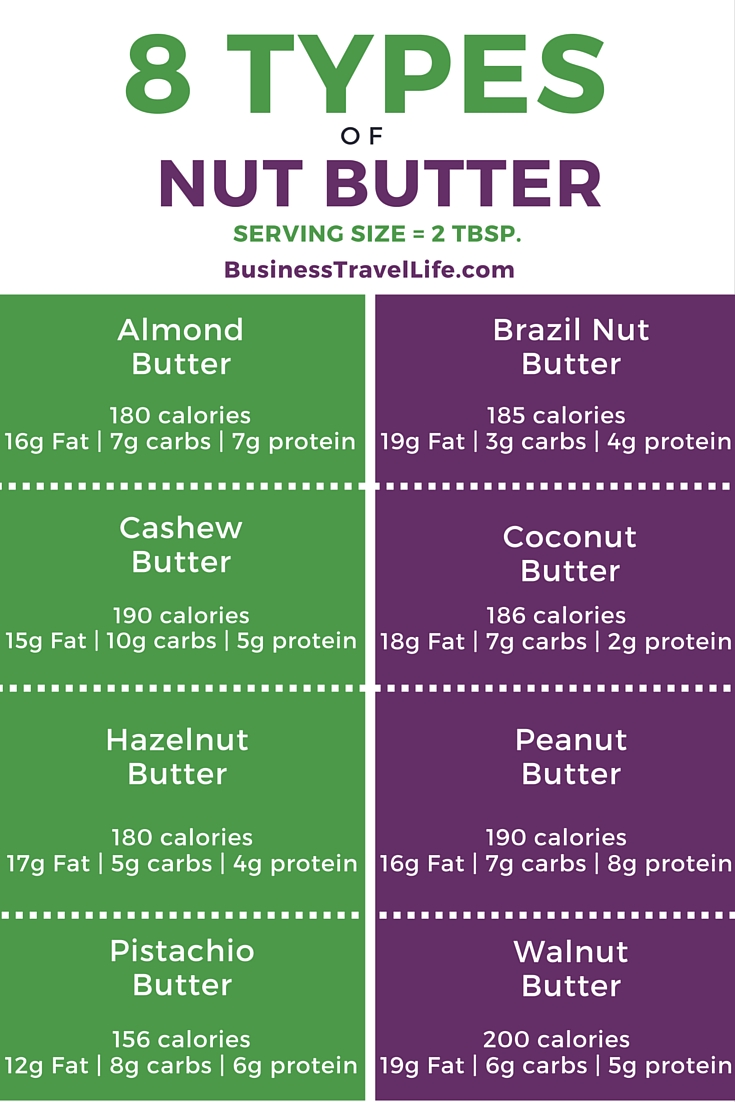 What is your favorite travel snack? Please comment below!
Business Travel Life
Business Travel Life is an online resource supporting the road warrior lifestyle. We give business travelers the tools they need to maintain their wellness and productivity when traveling. The topics we cover include business travel tips, travel workouts, healthy travel hacks, travel products, general travel tips, and industry trends. Our goal is to make business travel a healthier experience – and to make healthy travel practices more accessible to all road warriors.