Looking for a healthy travel snack? Try packing travel size nut butter for your next trip.
I am obsessed with nut butter. It makes a great travel snack and it is easy to pack. Before we get into the delicious travel size nut butter that I found, I would like to briefly discuss nut butter. A few years back, I found out I have a peanut allergy (not life-threatening), so I have been doing my best to avoid peanut base products.
Prior to learning of my peanut allergy, peanut butter was an essential healthy travel snack for me, because it is so easy to find on the road. After learning of my peanut allergy, I went into a natural food store and discovered the array of other types of nut butter.
Types of Nut Butter
There are eight types of nut butters you can find (not to be confused with seed butters), thought not all are available in single serving, travel sizes. See the infographic at the bottom of the page for the nutritional information of each type. 
Almond Butter
Brazil Nut Butter
Cashew Butter
Coconut Butter (fun fact- coconut is classified as a nut, seed, & fruit!)
Hazelnut Butter
Peanut Butter
Pistachio Butter
Walnut Butter
Travel Size Nut Butters
RX Nut Butter
Why we love it: Nine grams of protein!
The RX Nut Butter is made from real ingredients and has nine grams of protein. Choose between three flavors of peanut butter squeeze packs or three flavors of almond butter squeeze packs. Either option has real ingredients and protein. Try a variety pack or order a pack of 10 squeeze packs.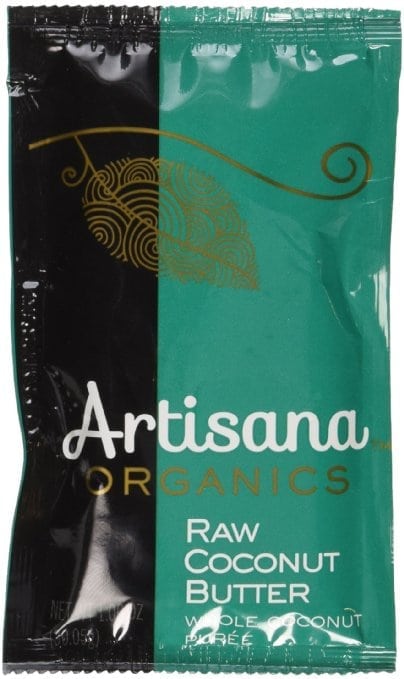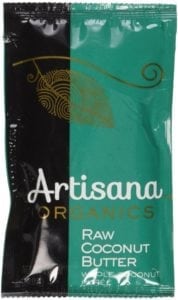 Raw Coconut Butter
Why we love it: Raw coconut butter is similar to coconut oil, but it is extracted from the flesh and contains fiber (unlike coconut oil).
The Artisana Raw Coconut Butter is 100% organic raw coconut. The butter is made from whole coconut flesh puree and spreads easily. Other nut butter available in travel size packs from Artisana are Almond, Walnut, and Cashew . Raw Coconut Butter is $20.75 for 10 packets, Artisana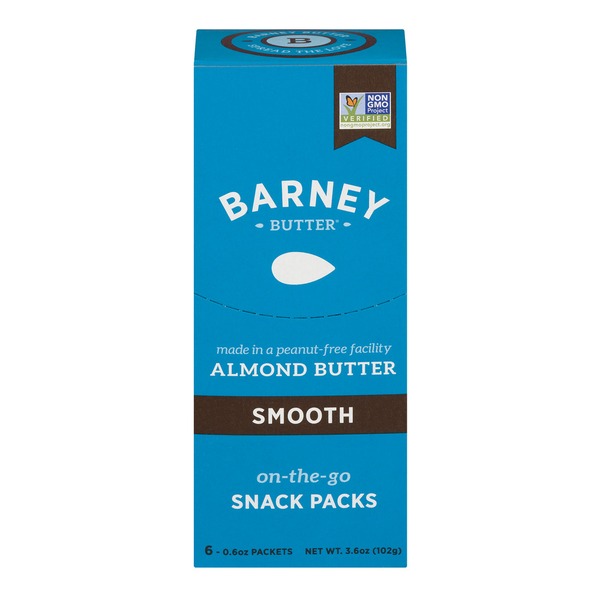 Barney Butter Almond Butter
Why we love it: 3 Types Of Travel Size Nut Butters
Barney Butter Nut Butter packages their nut butter in three different travel friendly ways. First, Barney Butter has on the snack packs. Available in multiple flavors, these almond butter squeeze packs are the perfect travel snack nut butter to fit in even the smallest of bags. For those that prefer to dip other snacks (like apples) into almond butter, Barney Butter offers 1 oz. travel size snack cups. Finally, healthy travelers can pack Barney Butter's single serving powder almond butter. These are awesome to mix into oatmeal, smoothies or mix with water to make almond butter on the go. 
Barney Butter is made in an almond only (no peanut) facility, making it safe for someone with peanut allergies. It is also GMO-free. Find Barney Butter On Amazon.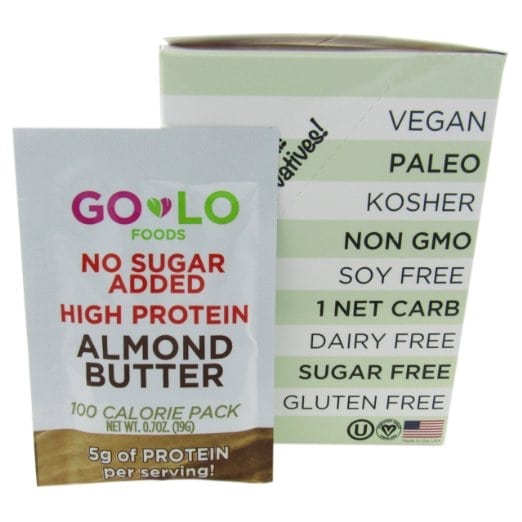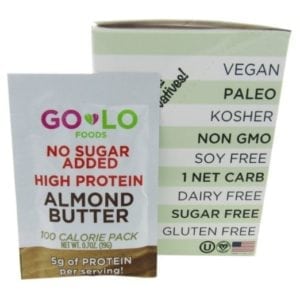 Go Lo Almond Butter Spread
Why we love it: 100 calories per packet with 5g of protein and 4g of fiber!
The Go Lo Almond Butter is a blend of almond butter, hemp protein, pea protein and chicory root (natural sweetener). $17.99 for 10 packets, Go Lo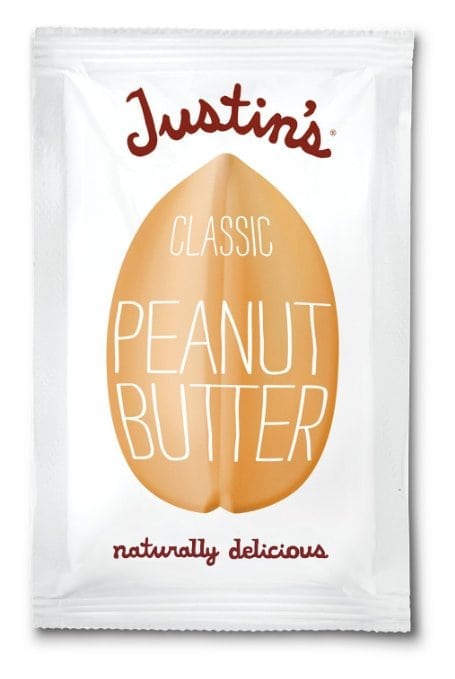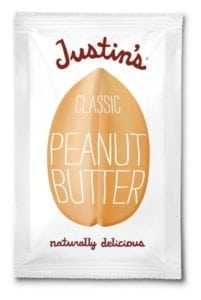 Justin's Nut Butter
Why we love it: So many types of nut butter and flavor options in travel size!
Justin's is one of most well-known brands when it comes to all-natural nut butter. Justin's offers travel size cashew butter, peanut butter, hazelnut butter, and almond butter. Each contains at least 8g of protein per serving. The nut butter is also GMO-free and made in smaller batches for higher quality. $5.18 for 10 packets, Justin's Nut Butter
Noosh Keto Almond Butter
Why we love it: Keto Friendly Almond butter with MCT-Oil 
Noosh is the healthy travel snack you need when you are craving something sweet. With the flavors like Birthday Cake and Mint Chocolate Chip, you can satisfy your sweet tooth without overdoing it. Noosh offers regular almond butter (shown above) and keto friendly almond butter. Low in sugar and high in protein! Find it on Amazon.
How To Pack Travel Size Nut Butter
When packing nut butter, remember that TSA considers it a liquid and it must be 3oz. or less. As long as the squeeze pack is under 3 oz., you should not have any trouble getting it through security. If you are concerned, throw the squeeze pack in the fridge before your trip so it is cooler when you go through airport security. 
Powered nut butter can also go through security. Be aware if you are traveling with powered peanut butter that you may not be able to open it in-flight if you have anyone with a peanut allergy on your flight.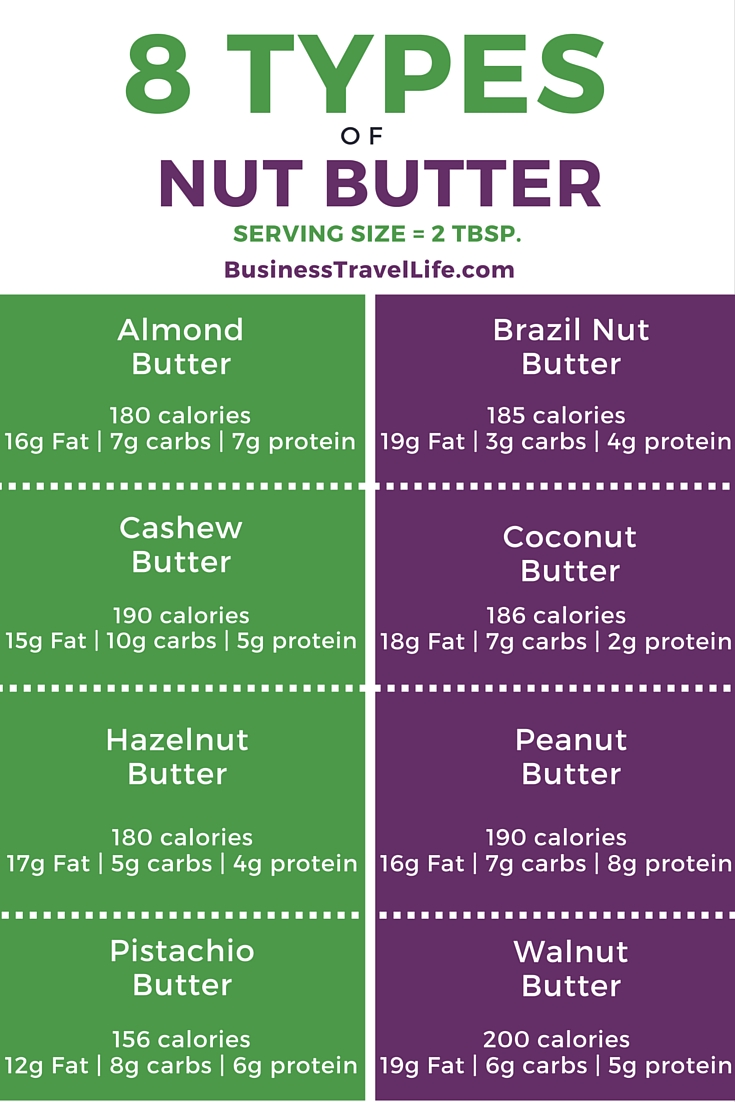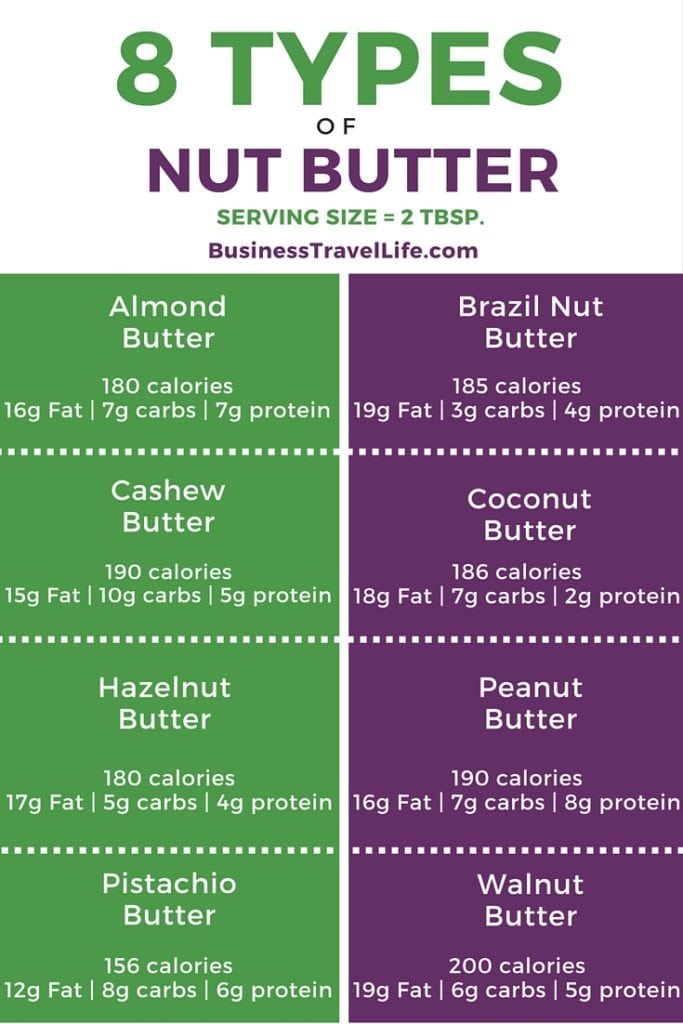 What is your favorite travel size nut butter? Please comment below!
Article updated: July 19th, 2019
Business Travel Life
Business Travel Life is an online resource supporting the road warrior lifestyle. We give business travelers the tools they need to maintain their wellness and productivity when traveling. The topics we cover include business travel tips, travel workouts, healthy travel hacks, travel products, general travel tips, and industry trends. Our goal is to make business travel a healthier experience – and to make healthy travel practices more accessible to all road warriors.