In this 101 article, we'll take a look at how Thrifty Blue Chip Rewards can benefit business travelers.
We haven't written much about Thrifty here on Business Travel Life, so we figured it's about time this top rental car company got its own dedicated post. For road warriors that need a vehicle when traveling for work, Thrifty's loyalty program, Thrifty Blue Chip Rewards, helps business travelers move through the rental process more efficiently and earn towards free rental days. Below, we're going to break down the ins and outs of a Blue Chip membership and the accompanying rewards opportunities for work travelers.
Benefits Overview
Joining Thrifty Blue Chip Rewards first requires that you become a Blue Chip member. As a member, you receive benefits that help streamline your rentals through:
An exclusive

VIP line

at the Thrifty counter

Saved info

to help you make reservations more quickly
These perks are common for car rental rewards programs, with speed and efficiency being top priorities for frequent renters and road warriors. Once you've become a Blue Chip member, you can opt into the additional rewards program when making a Thrifty rental booking. Doing so gets you points that can be applied towards free rental days. In the next section, we'll go over how you can earn points with Thrifty Blue Chip Rewards.
How to Earn Points
Earning points involves making a Thrifty rental booking, and there are two kinds of points you can garner as a Thrifty Blue Chip Rewards member (no matter which option you go with, you have to indicate your preferred program on your profile when making a Thrifty booking). The first and most obvious type is Thrifty points, earned at the current rate of one point per one (qualifying) U.S. dollar.
Thrifty is also partnered with other companies operating in the travel industry, allowing Blue Chip members to earn points towards those partnered loyalty programs instead when making a Thrifty booking. If you're a member of the following partnered loyalty programs, this perk is available to you:
Airlines
Hotels
(These are just a few examples of Thrifty's many partners — for a complete, updated list, please visit their website.)
How to Spend Points
As mentioned above, Thrifty Blue Chip Rewards points can be earned on partnered loyalty memberships, allowing you to spend as you please within the constraints of those programs. Of course, one of the primary reasons to join a car rental loyalty program specifically is to get free rental days, which Thrifty certainly delivers on. At the moment, at least 500 points for weekends and 625 for weekdays is required, and this is limited to the U.S. and Canada.
Thrifty Blue Chip Rewards fulfills many needs when it comes to car rental loyalty. Road warriors will love earning points towards free rental days plus the flexibility of being able to switch between partnered programs, not to mention the smoother rental process thanks to Blue Chip's basic benefits. If you're already a Blue Chip member, let us know if you've opted into the points program and how you've used your rewards as a loyal Thrifty renter in the comments below.
More Car Rental Tips and Resources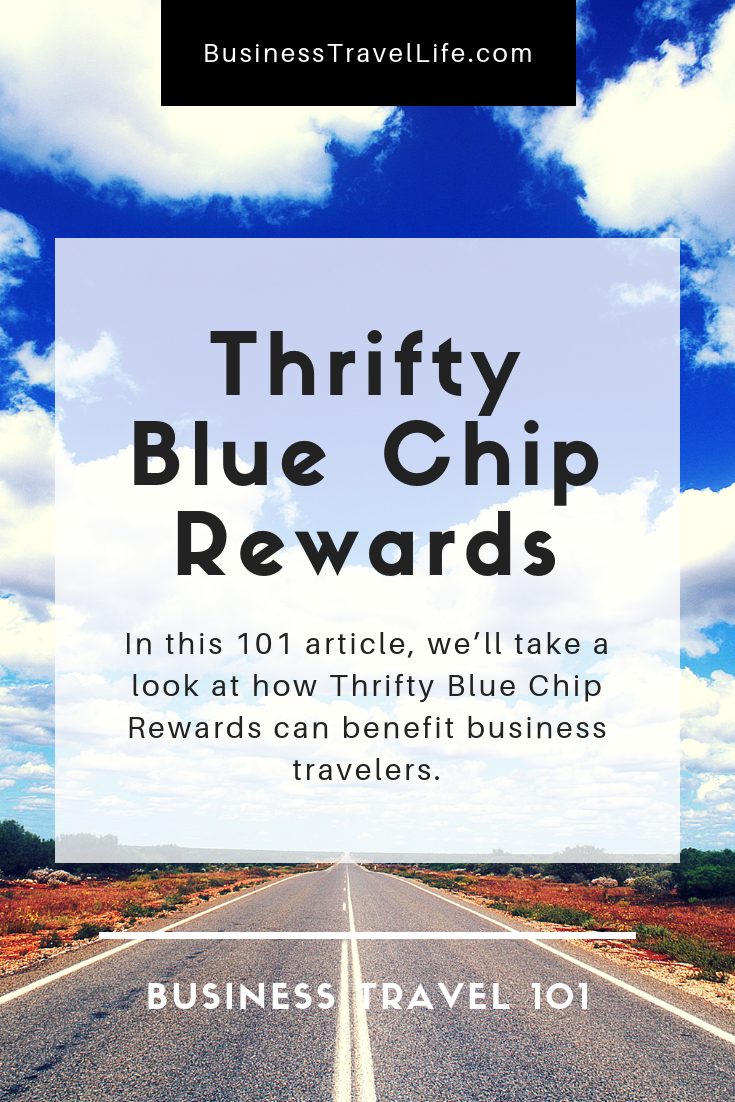 Business Travel Life
Business Travel Life is an online resource supporting the road warrior lifestyle. We give business travelers the tools they need to maintain their wellness and productivity when traveling. The topics we cover include business travel tips, travel workouts, healthy travel hacks, travel products, general travel tips, and industry trends. Our goal is to make business travel a healthier experience – and to make healthy travel practices more accessible to all road warriors.