Work travelers can earn rewards on their travel expenses when they enroll in loyalty programs like Avis Preferred.
While Lyft and Uber been steadily overtaking the ground transport industry in major U.S. cities, car rentals do still make their way into business traveler expense reports. In 2017, Avis Rent a Car came in fourth on Certify's summary of the most expensed car rental companies by work travelers, taking 11.97% of the market. As a whole, car rentals made up 25% of ground transport receipts that year.
While Avis' slice of the pie may seem modest, if you're hauling around presentation materials for conferences and meetings, or if a remote destination has you struggling to hail a ride, having your own vehicle makes things much smoother. In cases like this, it might be in your best interest to join a car rental loyalty program, such as Avis Preferred, to earn back on your rentals.
Benefits Overview
At a glance, the benefits of an Avis Preferred membership make for a streamlined rental process, something that agenda-driven work travelers will appreciate. When you arrive at select destinations, you're able to immediately retrieve your vehicle, essentially bypassing the line. Plus, Avis offers an exclusive app for its loyalty members – Avis Now.
The app provides a host of amenities, like making a booking, exchanging your car, or extending your current rental. Since every business trip can be full of its own surprises, this type of flexibility is integral for successful work travel. One cool feature is the extra assistance you'll get locating your rental – you can flash your car's lights from the app!
Avis Preferred is the basic tier that everyone enrolls in. Once you've reached a minimum amount of rentals or annual expenses on Avis services, you can be upgraded to Avis Preferred Plus. Some additional benefits include free upgrades, a separate number to call for service, and, as we'll see next, more points earned back on your rentals.
How to Earn Points
Of course, the premier aspect of any travel loyalty program is the rewards system. With Avis Preferred, you can earn points on rentals as well as on accessories, which are extras like SiriusXM or a GPS system. As the chart below depicts from the Avis website, you'll get one point per rental dollar, and 2 points per accessory dollar.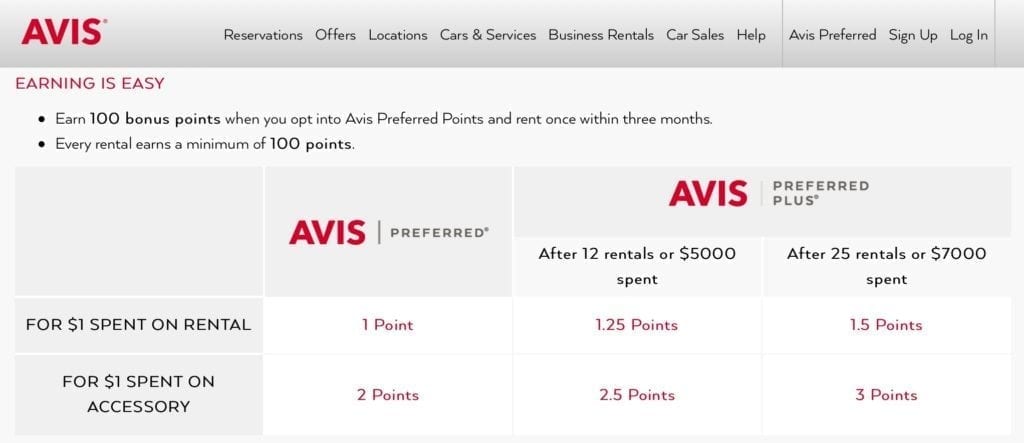 As you can probably tell, Preferred Plus members get a bit of a bonus in the points department. They're able to increase points garnered by 25% or 50% per dollar. For frequent car renters, this type of tiered earning allows you to enjoy more rewards for your greater spending.
Avis also has its share of partners in the travel industry, like airlines and hotels, through which you can transfer and accumulate more rewards. Below are a sample of the numerous names associated with Avis:
Airlines
British Airways

Emirates

Frontier Airlines

Southwest Airlines

Spirit Airlines

Virgin
Hotels
Best Western

Hyatt

La Quinta

Starwood

Wyndham
Additional partners include Eurostar, Fairfield Resorts, Aeroplan, and more.
How to Spend Points
Once you've accumulated a fair amount of points, you can start using them on reward days and accessories. For reward days, you'll need at least 700 points, and accessories require 250.
Because daily rates for car rentals can vary, Avis has a few different tiers of rewards days. At the lowest amount, 700 points is required for daily rates valued at up to $50. At the higher end of the spectrum, 3500 points are required for daily rates valued from $125.01-$225. So you'll have to do a lot of saving if you want to rent that convertible.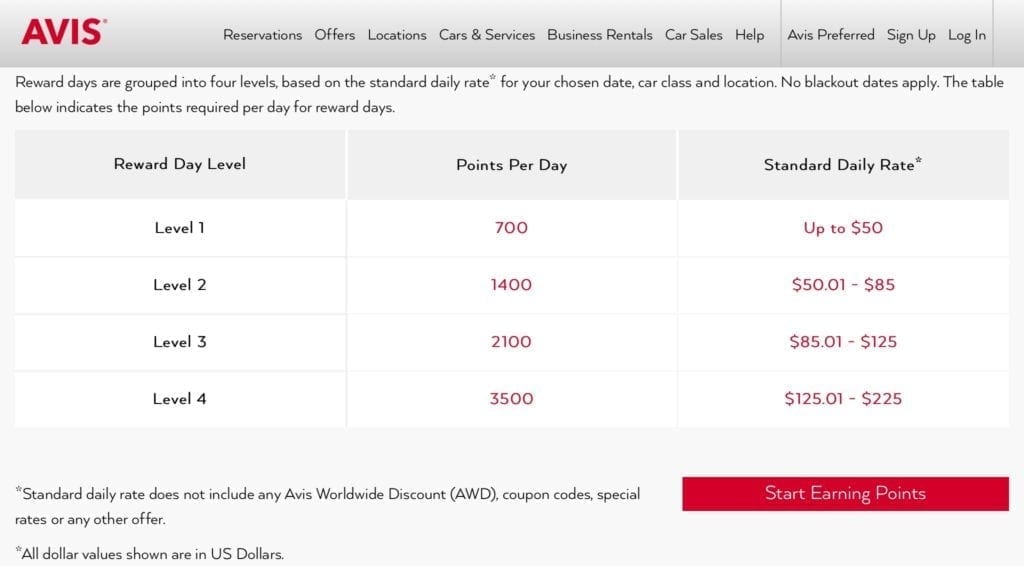 Car rentals may not be what they used to, but they're still integral to certain types of business trips. If your company frequently sends you on those excursions, it's probably time to join up with a loyalty program like Avis Preferred. Plus, it's not all about work! Use your rewards on leisure travel, like long road trips in faraway places.
Do you tend to rent a vehicle during business travel? Comment and share why you prefer car rental over other modes of transport.
More Car Rental Tips and Resources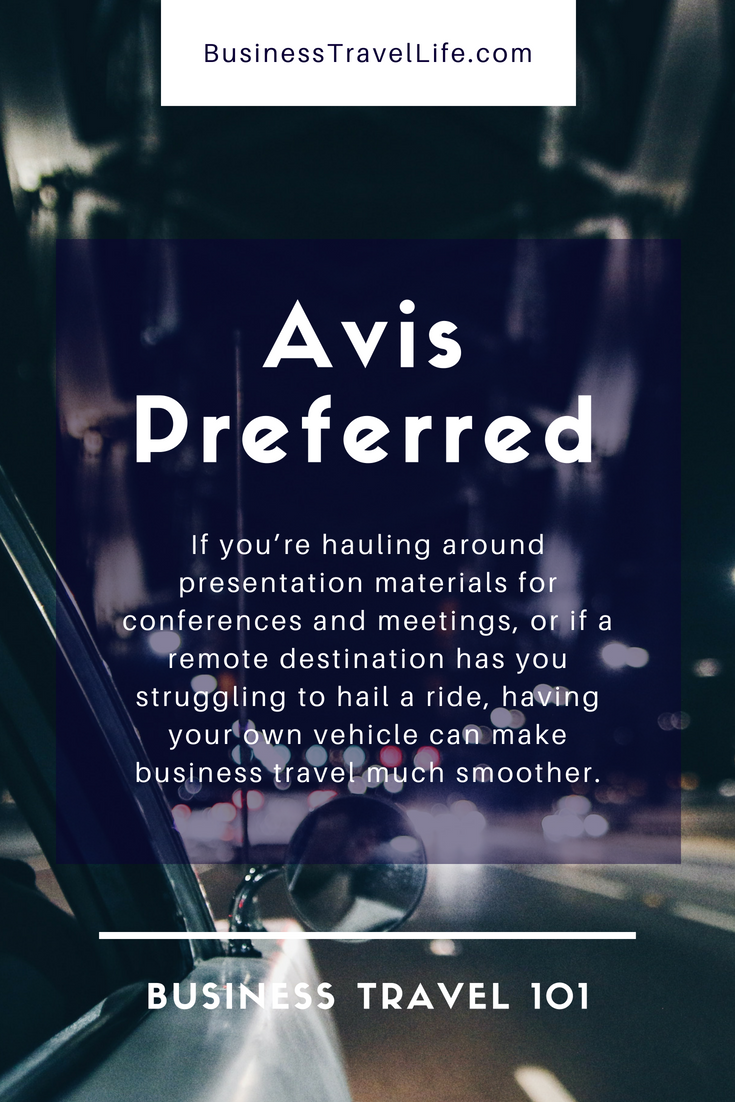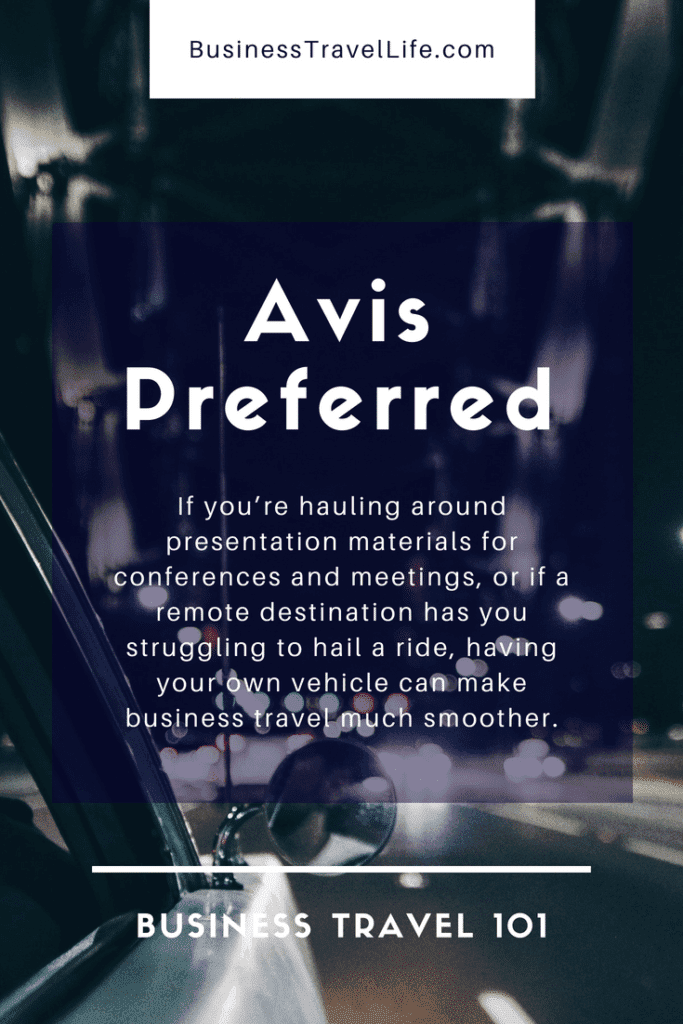 Business Travel Life
Business Travel Life is an online resource supporting the road warrior lifestyle. We give business travelers the tools they need to maintain their wellness and productivity when traveling. The topics we cover include business travel tips, travel workouts, healthy travel hacks, travel products, general travel tips, and industry trends. Our goal is to make business travel a healthier experience – and to make healthy travel practices more accessible to all road warriors.