Car rental tips to save time and money during your next trip!
A rental car is often the most practical means of transportation during travel. Whether you are renting a car to take a road trip or renting a car at the airport after you fly in, these car rental tips will save you time and money. While it seems like a simple and straight forward task, renting a car can turn into a major headache.
Renting a car includes paperwork, questions and rental options that can lead to confusion, and end up costing even the most savvy travelers extra money. Avoid the confusion and take note of these tips prior to your next trip. The 3 car rental tips below will make the process of renting a car easier during your next trip.

Car Rental Tips For Booking
Make your reservation in advance. Rental car companies have a limited number of cars, and can run out, even at large airports. Do not assume you will be able to get a rental car without making a reservation in advance.
If you are looking for the best deal, and are not concerned about sticking to a specific rental car company for loyalty reasons, use a third party site such as Kayak to compare prices. You may also notice a price change from one day to another, so if you have time, compare prices on a few separate occasions prior to booking.
Book the car directly through the rental car company to ensure you will not be stuck if you need to cancel the reservation or have an issue during booking.
Age matters and you may pay more based on yours. Rental cars are typically more expensive for renters under 25 and over 70.
Unless you are 110% sure that your trip will not be cancelled, do not pre-pay the rental car. Most major rental car companies let you cancel your reservation without any type of penalty or fee, with the exception of Budget, which will charge you a no show fee.
If you call to make your reservation, you may be able to negotiate to get an even lower rate than you found online.
Review mileage caps. The best scenario is to get a rental with unlimited miles.
Be sure to include your flight information on the reservation form. This is the only way the company will know to hold your reservation if you are delayed.
Before you finalize your rental, make sure you review the FINAL price (after taxes and fees), not the price per day. Often companies show a price per day, but then add significant fees and taxes and your final price will be much higher.

The advertised rate was $60 per day, but after taxes & fees the rate is closer to $88 per day.

Picking up the Rental
If your arrival time is extremely early or late (or if you have a flight delay) call your rental company to make sure their desk will be open. Most large airport locations are open 24 hours, but don't make any assumptions.
Review the rental agreement. Yes it is long and you are in a hurry, but make sure you understand what you are signing. Make sure there are no unexpected add-ons to the agreement that could impact your final cost or rental experience.
Understand if you need car rental insurance or not. This is often one of the most confusing aspects of car rental. Many credit cards offer coverage for rental car insurance, so check with your credit card company that you use to pay for the rental car prior to booking. Your car insurance may offer coverage as well. Do your homework before you pick up your car to understand if you need additional car rental insurance coverage.
Review the add-ons such as GPS and satellite radio. Some companies may add these extra charges automatically unless you decline. The other add-on to be aware of is a refueling fee.

Make sure you are the rental options. If you have an account with your rental car company, you can save your preferences.

If you are in a city with a toll road, ask about how the company handles tolls and what the toll charges are, and what the extra costs may be to use the toll way. Some rental car companies will give you a pass to put into vehicle. If you skip the toll pass, make sure to set your GPS to skip routes that use the toll road.
Confirm the rental return time. Rentals are made in 24 hour blocks. If you return 15 minutes late (therefore starting a new 24 hour block) you may be charged for an extra day. If you do happened to be charged for returning your car a few minutes late, be sure to call the customer service number immediately to
Inspect the interior of the car. Make sure the car does not smell like it has been smoked it or has anything rotting in it. Also, thoroughly check the car to make sure it has actually been cleaned. Often the turnaround time for rental cars is really tight and they are not always cleaned. If you are picking up your car at night, turn the interior lights on and check the front and back seats. If the car has an odor, or is still dirty inside (crumbs, sticky, etc.) request a different vehicle.
Check for the spare tire. If there is no spare, request a different car with a spare.
Inspect the exterior of the car. If there are any marks, scratches or dings that you are concerned about, be sure to take a photo and ask the attendant to document any issues prior to leaving the lot. If it is dark, use a flashlight (or your phone) to inspect the exterior.
If you rent GPS, test it before you leave the lot. The companies often have to reset them for each customer and that is not always done correctly.
Make a note of the fuel gauge, or better yet take a photo of it. If the gas tank is not completely full, make sure the attendant documents the fuel reading on your contract, so you can return it at the same level and avoid the extra charge.
Understand what you do if your car breaks down. Find the rental company contact information and process for reporting a breakdown or flat tire. Make sure you keep that information in the vehicle at all times.

Returning the Rental
Return your car on-time. As mentioned above, you may be charged for an extra day if your car is returned late.
Give yourself extra time to return the rental. If you are like most frequent travelers and head to the airport pretty close to your departure time, give yourself extra time to drop off the car. It may take up to 30 minutes to return the car, wait for the shuttle and get dropped off. If you are traveling around a holiday, give yourself even more time.
Fill the car up with gas before you arrive at the airport. It may be helpful to add a reminder in your phone so you do not forget. Use the GPS in your rental car or phone to help you locate a fueling option nearest to the airport.

Use an app such as Gas Buddy, Gas Guru, or even Waze to find nearby gas stations and compare prices.

When you pull in, make sure an employee scans your car and give you a receipt. If you are set up for email, be sure to review the receipt when you receive it to make sure the charges are correct.
Double check the seat pockets, door pockets, center console, back seat and trunk for personal items.
See Related: 6 Rental Car Return Reminders

Money Saving Tips Car Rental Tips
Book a smaller car. Not only will the car be less expensive, you will likely spend less on fuel. If you are a member of the rental car company's reward program, you may get an upgrade, without having to pay for it.
If you do a little research, you should be able to find some type of promo code or offer to get 5-25% off your rental. Check the rental car website or third party websites (like Kayak.com, shown below). If you are an airline loyalty member, you can also get discounts through your airlines. Typically, you can get a discount by signing up for their newsletter or car rental loyalty program. If you are a member of AAA or AARP you can also use your card to get up to 30% off from rental company partners.

Based on your browsing history, you may get extra offers or promo codes (you can thank Google Ads!).

Return and pick up your vehicle at the same location when possible. You will be charged an extra fee if you return and pick up at different locations, even when the locations are in the same city.
Only use one driver. You may be charged more to register additional drivers. If you truly need to add more than one drive, check with various rental car companies to see which offer the lowest rates for multi-driver car rentals.
Decline extras like GPS (use your phone) and satellite radio (use your phone).
If you are arriving late at night and staying near the airport, make your car reservation for an early morning pick up and take the shuttle to your hotel when you arrive (or vice versa- return the car and stay overnight at an airport hotel). This could save you the cost of a full day on your reservation.
Avoid getting fuel near the airport. The cost per gallon is typically much higher near the airport.
More Car Rental Tips and Resources
Do you have any car rental tips to share? We would love to discuss in the comments section below.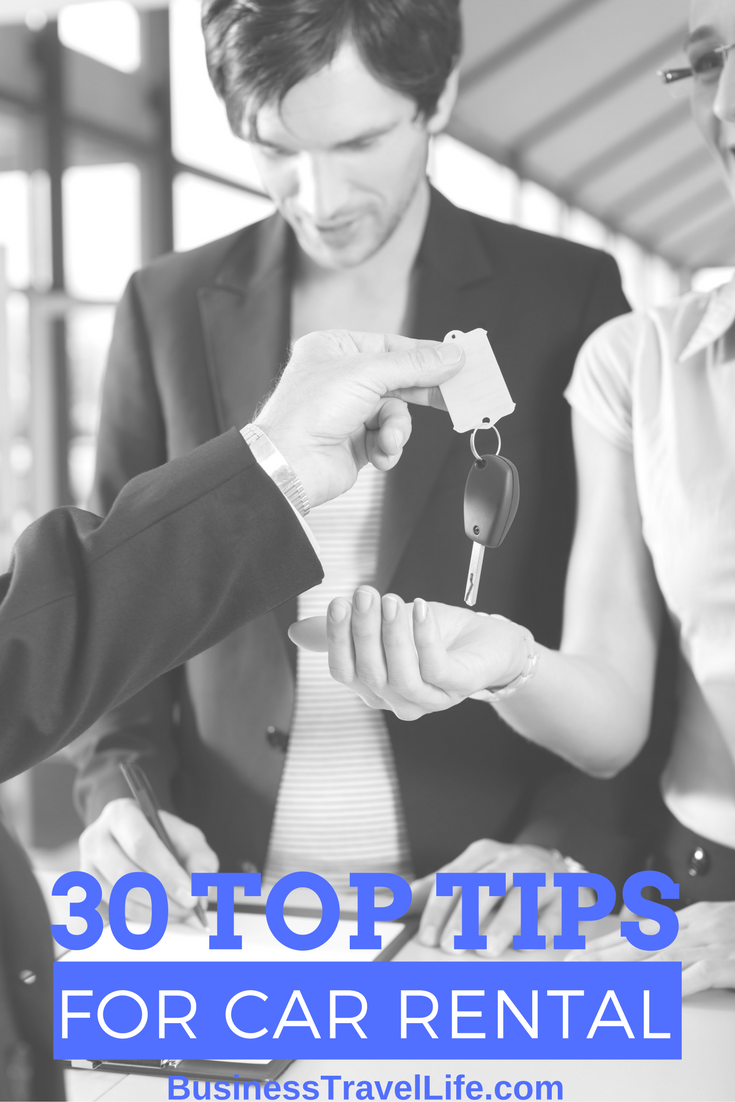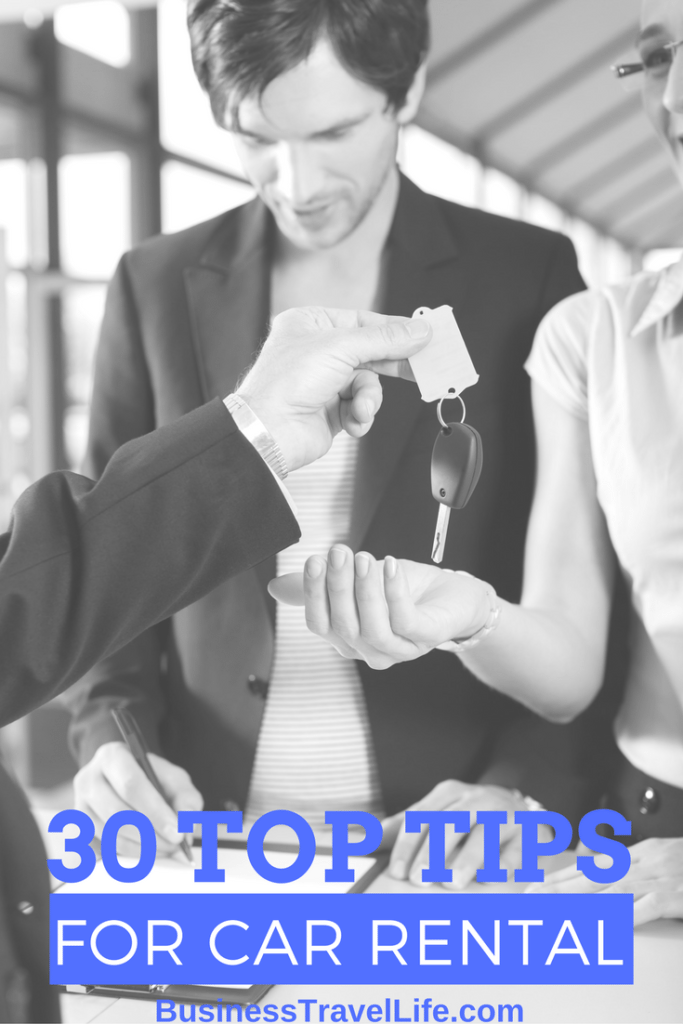 Business Travel Life
Business Travel Life is an online resource supporting the road warrior lifestyle. We give business travelers the tools they need to maintain their wellness and productivity when traveling. The topics we cover include business travel tips, travel workouts, healthy travel hacks, travel products, general travel tips, and industry trends. Our goal is to make business travel a healthier experience – and to make healthy travel practices more accessible to all road warriors.