If you find yourself frequently renting cars during your business travel, joining a loyalty program like National's Emerald Club will help you earn rewards on your expenses.
When it comes to car rental, National is one of the top players in the industry. Last year, National was the most expensed car rental service by business travelers as well as the top rated car rental company, according to data reported by Certify. It goes to show that even with the advent of ride-sharing apps, sometimes renting a car is the most practical option for getting around, especially if your destination is more remote and less filled with eager Uber and Lyft drivers. So if you're one of those road warrior that often relies on having your own means of transport during work trips, then a loyalty program like Emerald Club is the best way to make the most of your numerous car rentals.
Benefits Overview
The Emerald Club Loyalty Program caters to the needs and desires of independent travelers. Often, work travelers don't necessarily want to be responsible for a car rental, but they may have to be if they can't depend on public transit or taxi availability to make their meetings on time. So Emerald Club helps out business travelers with a tight agenda to keep to by providing a myriad of benefits for loyalty members:
Skip the line! There's no waiting for car pickup.
Skip the line again! When returning, you can leave the car and look out for an email receipt later.
Choose any vehicle from the Emerald Club Aisle when you make a midsize booking.
Free additional drivers (so you can finally embark on that coworker road trip you've always wanted to do).
Earn rewards and spend them on free car rentals (more on that in a bit).
With Priority Service, the car rental process for locations outside the U.S. is streamlined for Emerald Club members.
Naturally, the more you rent, the more benefits you'll see coming back to you. When you reach a certain amount of rentals, you can become an Emerald Club Executive® or Executive Elite® member. There's plenty to be excited over reaching either status:
Choose your car on the spot from the Executive Area when you make a midsize booking.
Exclusive costs for National's Premier Selection of vehicles.
More rewards! Less points are required to earn a free car rental.
For Executive Elite® only, you can select your car with as little as 24 hours notice and have it waiting for you at your arrival airport. Have a look at National's website for full details on Emerald Club benefits.
How to Earn & Spend Credits
With an Emerald Club membership, you can earn credits on your bookings, and those credits can later be turned into free rental days. Each car rental booked with National will earn you 1 credit. Plus, you can garner even more credits when you book at select Enterprise Rent-A-Cars.
Once you've amassed enough credits, you can start cashing in on free rental days. Regular members need 7 credits to earn a free rental day, Executive® members need 6, and Executive Elite® members need just 5.
You can also opt to transfer your rewards to other travel programs that you participate in. Once you've enrolled in Emerald Club, you can ask about their various partner programs and where you can transfer your credits to or from.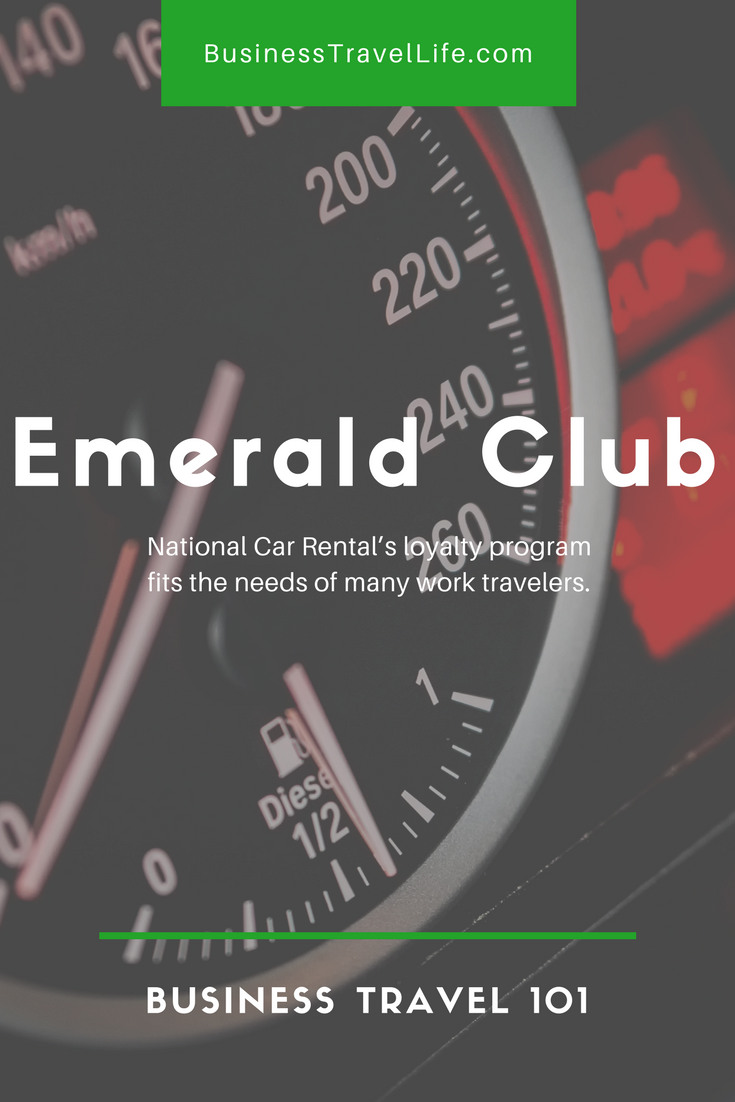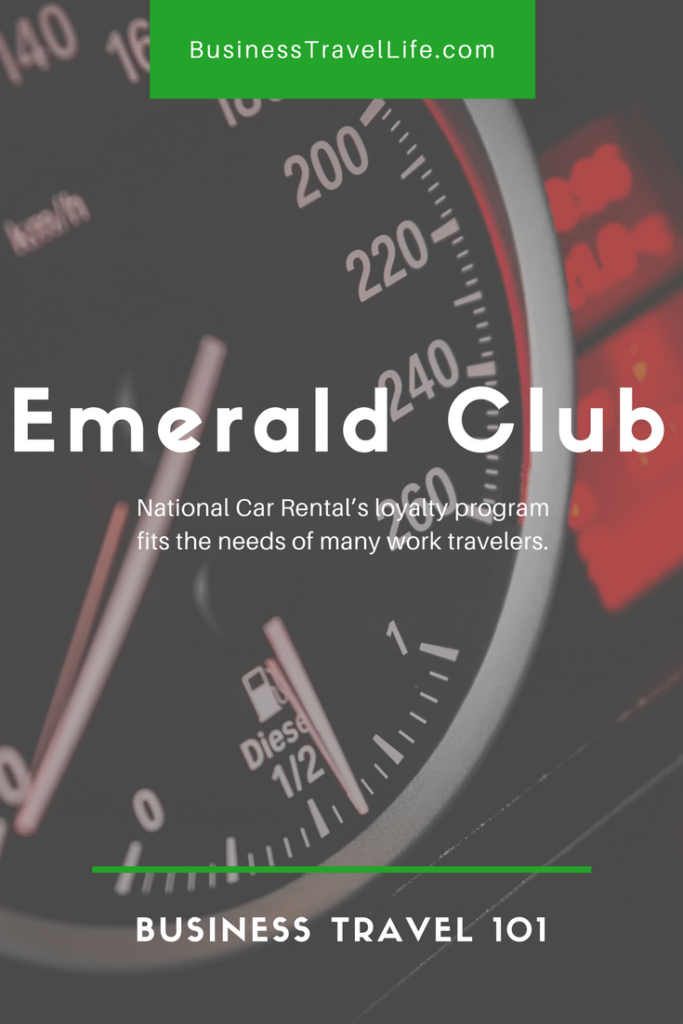 Chances are, if you're a business traveler, you're automatically a frequent traveler too. And since you're going to be on the road quite a bit, you might as well earn something from it. That's why loyalty programs like Emerald Club are perfect for work travelers. You'll love the added flexibility and benefits of being a rewards member during your travels.
More Car Rental Tips and Resources
Business Travel Life
Business Travel Life is an online resource supporting the road warrior lifestyle. We give business travelers the tools they need to maintain their wellness and productivity when traveling. The topics we cover include business travel tips, travel workouts, healthy travel hacks, travel products, general travel tips, and industry trends. Our goal is to make business travel a healthier experience – and to make healthy travel practices more accessible to all road warriors.