In Queenstown on a business trip? Turn it into a bleisure trip. Once your meetings have wrapped, find out why Queenstown is known as the adventure capital of the world.
Even if you aren't employed in one of Queenstown's top industries – tourism and hospitality – you could very well one day find yourself in New Zealand's adventure capital on business. While on a bus to Glenorchy, I met a nurse from Christchurch who took shifts in Queenstown a few days every month. She had always meant to take a day trip to Glenorchy, and, finally in Queenstown over a holiday (Anzac Day), she was able to make the journey.
But whether you have one day to spare or you've managed to tack on some PTO for an extended vacation, Queenstown is the perfect place for a bleisure trip, or one that combines business and leisure. Since your travel expenses are partly covered, you should take advantage of Queenstown's many sites and attractions, and plan to work a few of the following into your downtime.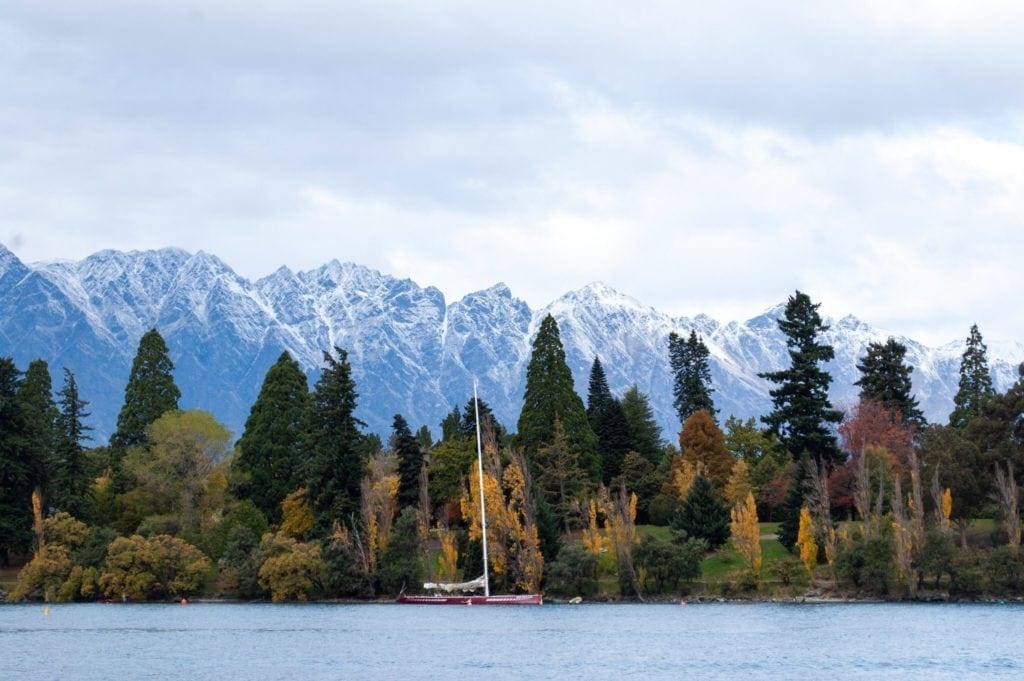 Adventure Activities
While you're in the adventure capital, you have to do at least one "adventurous" thing. Short of jumping in a rocket and vacationing on Mars, you can pretty much do anything in Queenstown.
Skydiving, Bungy Jumping, or Ziplining
Time to get your feet off the ground! Skydiving and bungy jumping are two of the most popular Queenstown activities. You can jump out of a plane over Queenstown, Glenorchy, or Wanaka, enjoying mountain and lake views as you float back down to earth. Or, take the plunge off Kawarau Bridge, where Queenstown bungy jumping all began. For a shorter drop, you can also try this activity at the top of Skyline Gondola. If you want to take a massive leap into the air, but skydiving and bungy jumping sound a bit ambitious, then try out ziplining instead.
Rafting, Jet Boating, or…Shark Riding?
Nearby, Shotover River is famous for whitewater rafting or jet boating through narrow canyon walls. Queenstown itself is situated on the shores of Lake Wakatipu, the site of additional jet boat rides connecting with Kawarau River. Also on the lake is Hydro Attack, an above and below water excursion in a shark-shaped submarine. It looks pretty intense, but people always seem to emerge intact and smiling.
Mountain Biking, Off-Roading, and Skiing
Queenstown's landscape makes for great terrain for biking, off-roading, and, in the winter, skiing. You can rent a mountain bike, strap it to a gondola car, and ride to the top of Bob's Peak. From there, enjoy a downhill bike excursion back to town. To explore deeper in nature, off-roading tours are also available. During the winter, avid skiers from around the globe flock to the Remarkables to hit the slopes, making Queenstown a year-round adventure paradise.
This list doesn't even begin to cover all of the air, water, and land things to do in Queenstown. Parasailing, paragliding, canyon swinging, hang gliding…ugh, we're getting a little nauseous just typing all this out. Long story short, make time to adventure if you find yourself in Queenstown for work.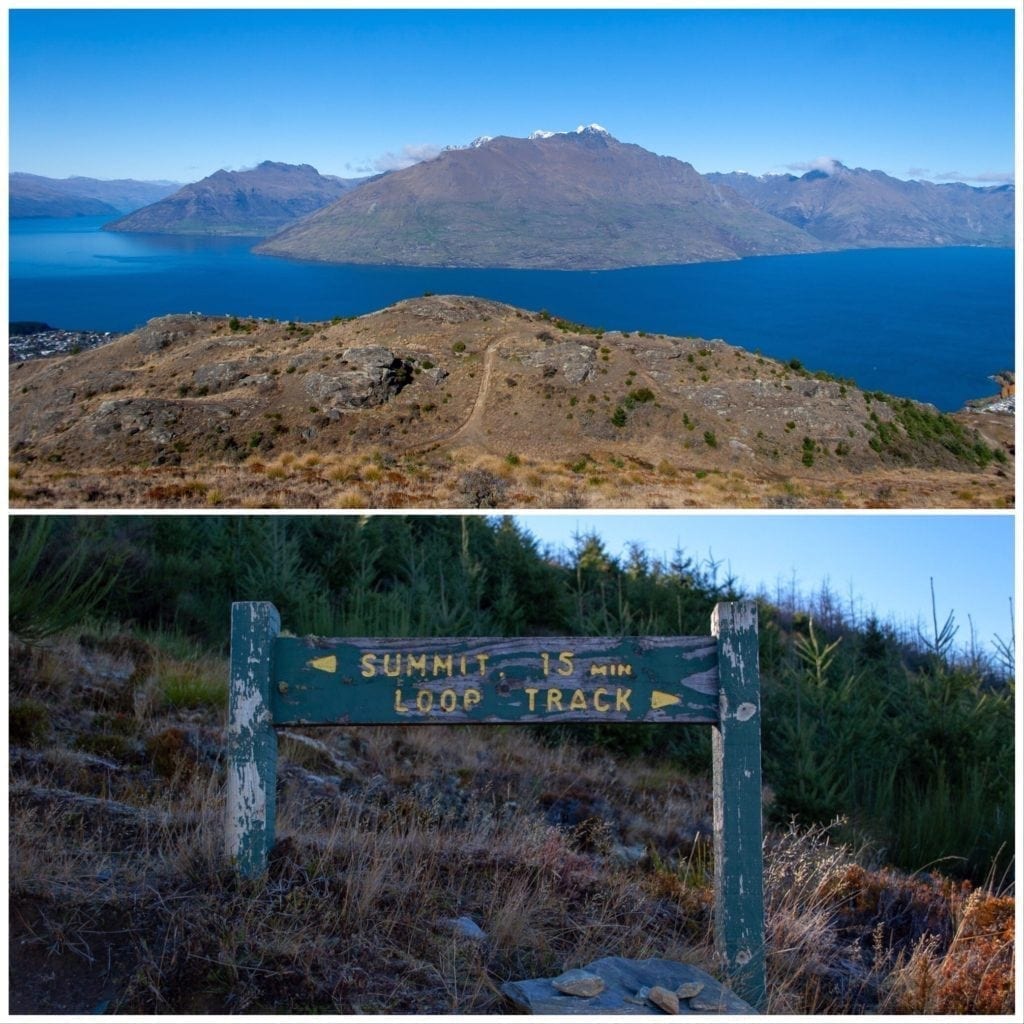 Local Walks
Doing nothing but adventure attractions will quickly eat up your personal travel budget. Luckily, Queenstown, like most New Zealand towns, is graced with a choice of local walks to satisfy your need for outdoor activity. So as a fitness-savvy business traveler, go and hit the following trails.
Queenstown Hill
This compact trail is perfect for a challenging morning run or late afternoon walk. Ascending Queenstown Hill, you can read information plaques along the way depicting the region's history. At the top, take in panoramic views of the area surrounding Queenstown before completing the loop back down. Walking, this track takes about two hours roundtrip.
Ben Lomond
From Queenstown gondola on Bob's Peak, you can take a day walk on Ben Lomond Track. The Department of Conservation website, which is a wonderful resource for information on New Zealand's network of walking trails, recommends allowing 6-8 hours to reach the summit. So pack a lunch and enjoy escaping the city for a day.
Frankton Arm Walkway
Beginning near Queenstown Gardens, this trail hugs the lakeshore as it winds around to the suburb of Frankton. Going one way, you can easily hop on a bus back, or you can make a (half) day of it with a return trek as well. There's more walks than we have space to list, but the good news is you can't really go wrong with New Zealand trails.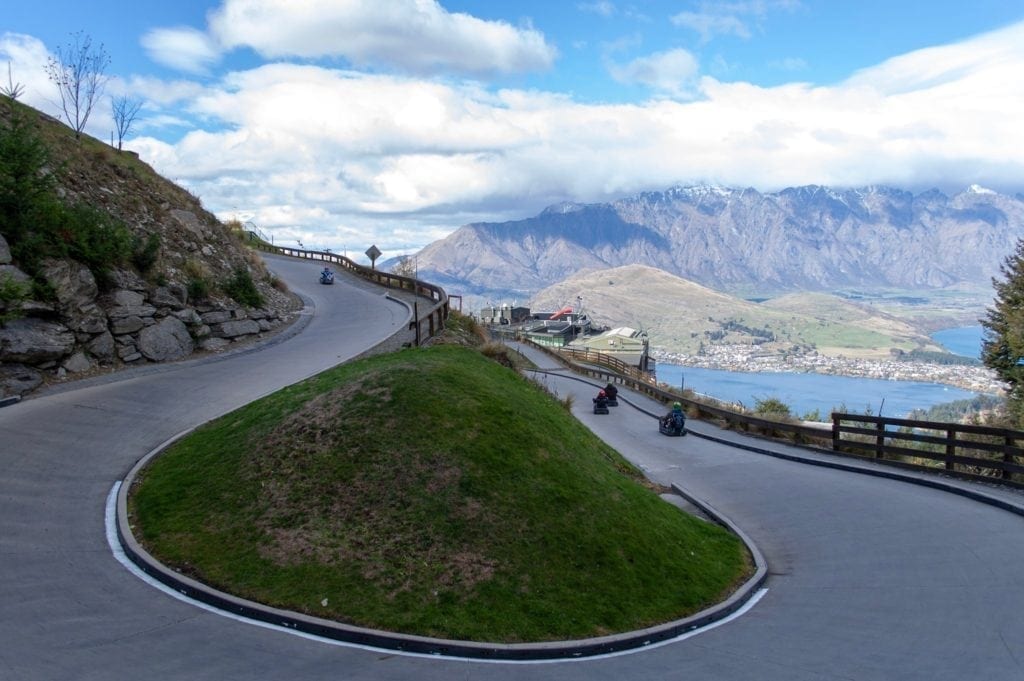 Family-Friendly Attractions
Bringing a family on a business trip? It happens more often than you think. If your work frequently takes you away from your family, you might be able to make a case for bringing your loved ones along for big trips.
Kiwi Birdlife Park
So this is a pretty valuable experience whether or not you have kids. As you'll learn at the park, several of New Zealand's native bird species have become endangered or threatened since European settlers introduced predatory mammals to the once isolated island. Sanctuaries like Queenstown's Kiwi Birdlife Park are integral for maintaining the well-being of kiwis, blue ducks, and more species. Plus, they give visitors an opportunity to learn about wildlife conservation while observing some cool critters.
Regular feeding times and shows give you and your family the opportunity to talk with park specialists about the bird species. As a bonus, the sanctuary even has some tuatara, endangered lizard-like reptiles that outlived the dinosaurs (also, they have a hidden third eye). If you're an animal lover (or have kids), you'll love this mini zoo tucked in the middle of Queenstown.
Gondola
We've mentioned the gondola quite a few times at this point. It's a gateway for adventure activities, like ziplining, bungy jumping, and paragliding, as well as a transport option for hiking Ben Lomond and biking down Bob's Peak. But if your family is looking for something more low-key, there are other options.
After a scenic ride up, you can browse at the souvenir shop, munch on some grub from the well-stocked cafe, and snap pictures of the awesome view. During the day, you can cruise down a luge track, and in the evening, you can attend a traditional Haka show. If you're feeling fancy, make a dinner reservation at the restaurant and go on a stargazing tour later on. There's plenty to ensure that your kids sleep through the night from total exhaustion.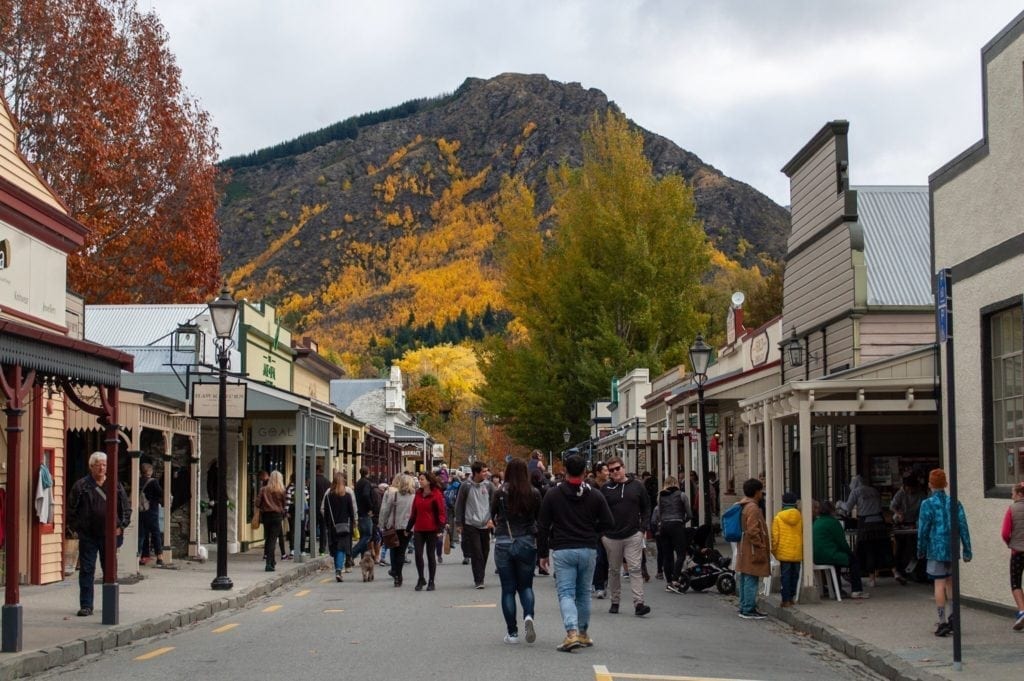 Day Excursions
With so many things to do in Queenstown, you might never want to leave. But if you're taking some vacation days, then you have time to explore beyond the adventure capital. Embark on side excursions to the south island's picturesque towns or trek through New Zealand's world famous national parks. As Rihanna once said, "This is what you came for."
Nearby Towns
With a scenic drive along Lake Wakatipu and filming locations for Lord of the Rings, the journey northwest to Glenorchy is a popular day trip. Just northeast of the city, quaint and mellow Arrowtown is perfect for escaping the craze of Queenstown. And on the southern tip of Lake Wakatipu, Kingston is a terrific spot for kayaking or embarking on other water activities in a less bustling environment.
While these towns are all accessible by bus, having a car is the most convenient way to get around New Zealand. After all, the ride there is almost always as gorgeous as the destination. You'll appreciate having the flexibility to pull over and take some pictures along the way.
Fiordland and Mount Aspiring National Parks
We started this article talking about adventure, and we'll end it that way too. Queenstown is a natural gateway to a couple of popular south island national parks, Fiordland and Mount Aspiring. In Fiordland, you can cruise Doubtful Sound or Milford Sound, admiring cascading waterfalls and dramatic mountains. Day treks on Great Walks like Kepler, Routeburn, and Milford Tracks are perfect for getting a taste of how early explorers first encountered New Zealand.
Mount Aspiring too has its share of challenging hikes. Part of Routeburn Track also lies in Mount Aspiring, beginning in Glenorchy. Near the town of Wanaka, you can ascend Roy's Peak or Isthmus Peak, both full-day trips, or take a half-day walk to Rob Roy Glacier. Once you're on the ground in Queenstown, feel free to ask around to see what other travelers have tried. New Zealand has more hidden gems than we can map out.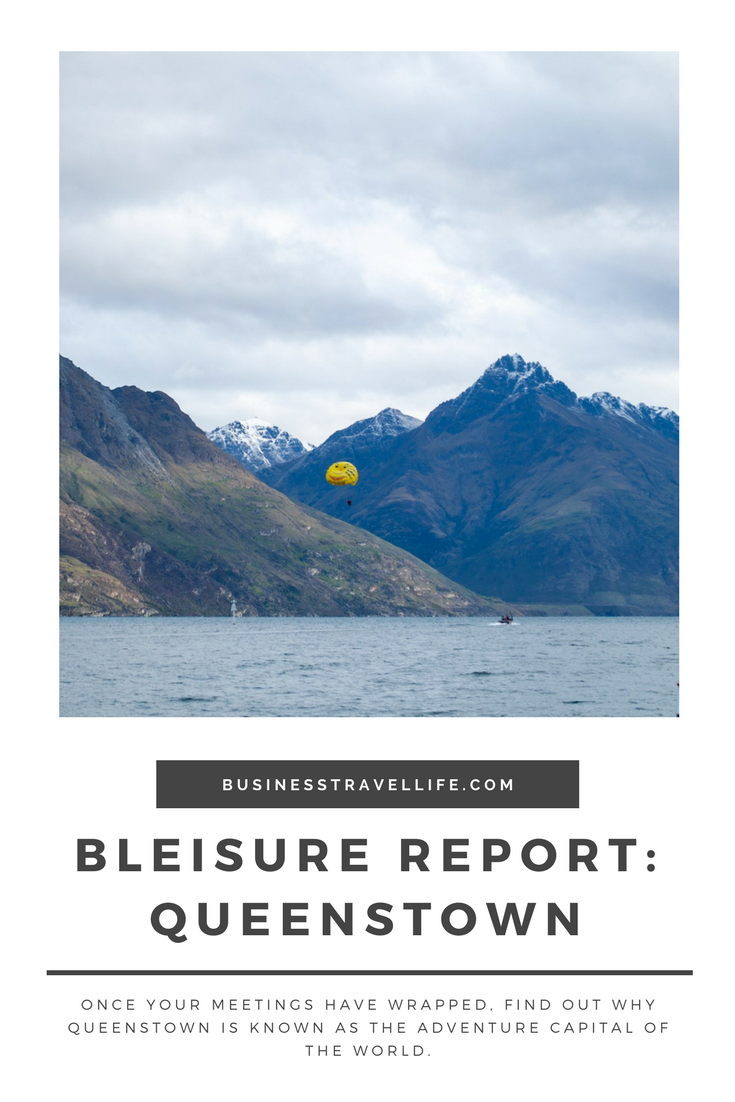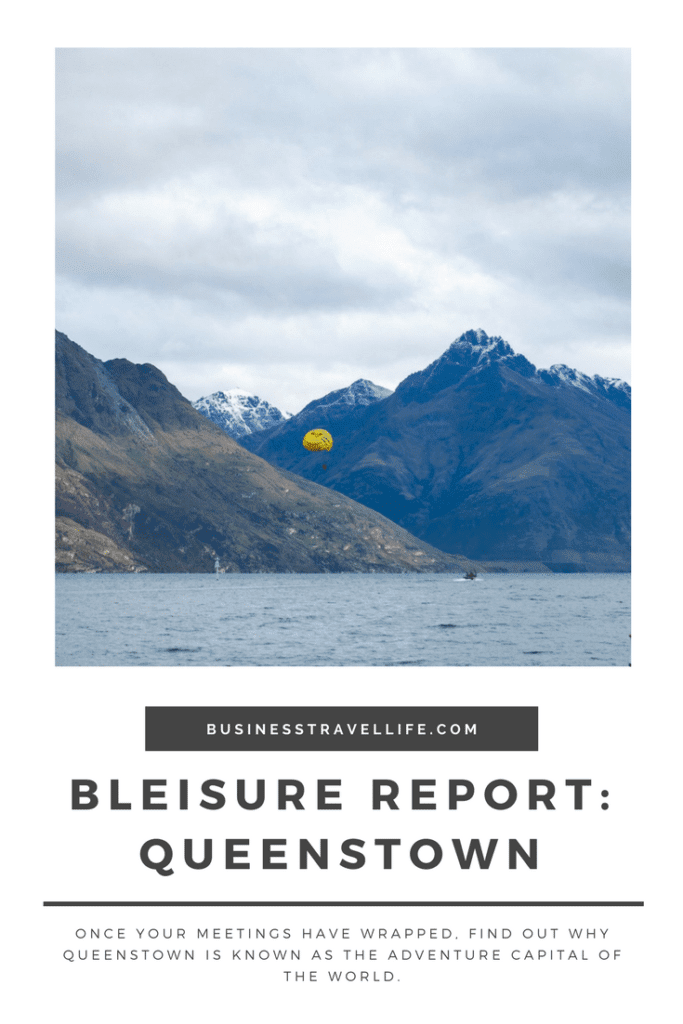 Have you ever taken a bleisure trip to the adventure capital? Comment and share your favorite things to do in Queenstown!
Business Travel Life
Business Travel Life is an online resource supporting the road warrior lifestyle. We give business travelers the tools they need to maintain their wellness and productivity when traveling. The topics we cover include business travel tips, travel workouts, healthy travel hacks, travel products, general travel tips, and industry trends. Our goal is to make business travel a healthier experience – and to make healthy travel practices more accessible to all road warriors.