Holiday Travel Tips
This year a record breaking number of travelers will be hitting the road for the holidays. AAA.com reported an estimated 100.5 million will be driving to their holiday destination. Marshall Doney, AAA President and CEO credited lower gas prices and rising income to an increase in travel this holiday season. This year holiday gas prices are lower than they have been since 2010.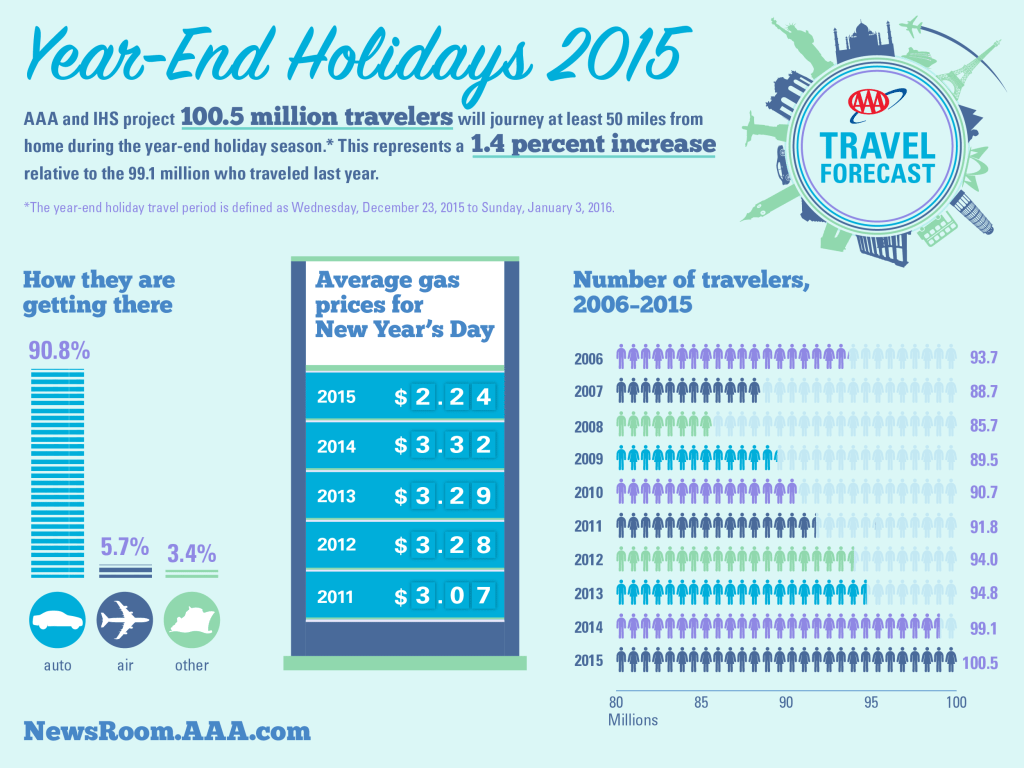 An estimated 38 million travelers will be flying this year. Airlines for America anticipates 1.9 million to 2.4 million passengers will be flying each day between December 18th and January 3rd (up to 10% more traffic than average). Despite the increase in airport traffic, Airlines for America Vice President and Chief Economist, John Heimlich stated, "U.S. airlines are well positioned to serve the higher demand by adding flights and seats, deploying new and larger aircraft and boosting staffing."
The holidays are stressful enough. Follow these holiday travel tips to enjoy smooth sailing (or flying or driving) to your holiday destination.
Air Travel Tips
Be Prepared– Save time at the airport by checking in online and downloading or printing your boarding pass. It is also a good idea to have an easily accessible copy of your travel itinerary with confirmation numbers and contact information in case you experience a delay. It is a good idea to save the information in your phone as well as have a printed back up copy (in case your phone is run over by an airplane, okay that is unlikely, but you never know when your phone could die or accidentally take a swim).
Pack Healthy Snacks– Not all airlines offer snacks (free or for purchase) and not all airports have healthy food available. It is a good idea to pack a few of your own snacks for the flight. You can bring your own snacks on the plane if you follow TSA's food regulations.
Arrive Early– If you are a frequent flyer, likely you show up at the airport with just enough time to go through priority screening and head to your gate. Do not do this during the holidays! Follow the recommended TSA guidelines this time of year and give yourself at least two hours (or three for international flights). TSA has a wait time estimator on their website that allows you to check wait times; however, remember this is not 100% accurate. Be sure to check the time the wait was reported. When I viewed the TSA site, the most recent wait time was 48 hours old.
Treat yourself– After you have cleared security, take advantage of airport amenities you might skip when you are passing through during a business trip. Stop into Xpress Spa or BeRelax for a quick shoulder massage or even hunker down into a SmartCarte massage chair for 15 minutes. Another treat is hanging out in an airport lounge where you will enjoy complimentary snacks, beverages, cocktails and an overall calm environment. LoungeBuddy is a great app to find a lounge in your terminal.
Pack Smarter–Packing lighter during holiday travel will reduce your chance of lost luggage and get you to your destination faster. You can and should carry-on only. Prior to packing, make a list of activities you will be doing during your trip and plan your outfits accordingly. Pack items that are neutral in color and that can be worn in multiple ways. If you are staying longer than four days, think about doing laundry during your trip to avoid packing so much. Also, do not go overboard on shoes (you likely need three pairs- tennis shoes, sandals/high heels/boots, and loafers/flats).

These flats will even fit into a clutch! Enter code BUSINESSTRAVEL at checkout to get free shipping!

Wrapped Presents & Gifts– If you prefer to travel with wrapped presents, TSA wants you to know they may have to open them. A better idea is to use a gift bag or wrap the gift when you reach your destination.
Road Tripping
Plan your route in advance- Prior to leaving for your trip, check your route on Google maps and print out the directions (yes-on paper). As mentioned earlier, you never know when your phone may have an accident.
Pack snacks- It is always a good idea to travel with food (especially healthy food!). Taking some healthy travel snacks will make your drive go faster (less stops for food) and if you eat healthy and skip the drive-through you will feel more energized when you reach your destination.
Check the weather- Prior to leaving be sure you check the weather along your route. It is also a good idea to use a weather app with location based push notifications so you are aware of any serve weather as you drive. A great app for this is the NOAA.
Prepare your entertainment– Make the drive go faster with a road trip playlist, DVD (not for the driver of course!) or book on tape.Have not tried books on tape before? Now is your chance! For a limited time you can Try Audible and Get Two Free Audiobooks!
Thoroughly check your vehicle– Whether your vehicle is brand new or older than you, do a thorough inspection before you hit the road. Check your tire pressure, spare tires, oil levels, wipers, lights, etc. It is also a good idea to make sure you have jumper cables.
Pack an emergency kit– If you do not already keep one in your car, it is a good idea to pack one prior to your trip. It is best to purchase an emergency kit so you have all the essentials in one location. Also, if you expect to encounter cold weather, remember to pack winter clothing in case you have an unexpected stop.
Keep an eye on traffic– Avoid getting stuck in traffic jams or construction by using Waze during your drive.
Do you have holiday travel tips? We would love to hear them! Please share in the comments section!
Safe travels and Happy Holidays!
Business Travel Life
Business Travel Life is an online resource supporting the road warrior lifestyle. We give business travelers the tools they need to maintain their wellness and productivity when traveling. The topics we cover include business travel tips, travel workouts, healthy travel hacks, travel products, general travel tips, and industry trends. Our goal is to make business travel a healthier experience – and to make healthy travel practices more accessible to all road warriors.