If you are on the road and trying to stay connected, Wi-Fi can become much more than a hotel amenity, it is a necessity. While having an internet connection is likely more important to you than having a telephone in your room, not every hotel offers it for free. Unfortunately, some hotels have realized that many hotel guests need internet access, and will charge for it- sometimes up to $20 per night!
It is hard to believe that hotels are getting away with charging for Wi-Fi. A survey conducted by Hotels.com in May of 2015, found free Wi-Fi is the most desired hotel amenity. In fact, 30% of leisure travelers reported it was a top factors in choosing a hotel and 50% of business travelers said free Wi-Fi is their "must have" amenity. The survey also shared that 60% of respondents chose Free Wi-Fi as the tech amenity that they would like to see standardized in all hotels.
Here are six ways to stay connected for free during your next trip.
Join the hotel loyalty program. Many hotel chains such as Hilton offer their loyalty program member's access to free Wi-Fi. Read the small print to understand the rules around receiving free Wi-Fi. For example, at Hilton you are eligible for free Wi-Fi with a brand new Hilton Honor's membership (Blue level), but you must book your room directly though Hilton or an approved travel agency to get this perk. As another example, Marriott only offers free Wi-Fi to members who have achieved a minimum of Silver Status (stayed 10 nights or more). You can also gain access to free hotel Wi-Fi when you stay at Kimpton by joining the free Kimpton Karma Rewards.

Join the Hilton Honors & book directly through Hilton to get Free Wi-Fi.

Include "free Wi-Fi" as a search filter. You can actually filter your hotel search results on Hotels.com and TripAdisor.com by selecting Free Wi-Fi as an amenity in your search results.

You can easily choose "free wifi" as a filter when searching for a hotel on Hotels.com.

Book with a no-strings attached free Wi-Fi brand. If you want to simplify this, plan on staying at a hotel brand such as Hyatt or Best Western. Both hotel brand have made finding free Wi-Fi really easy- it is included with every guest room. Some specific hotel properties will also offer free Wi-Fi, but you must check the small print prior to booking.

Hyatt literally calls their free Wi-Fi program "no strings attached" and offers free, in-room Wi-Fi at every Hyatt hotel world wide.

Use a public space. Nearly every hotel offers free Wi-Fi in their lobby or café. This means you cannot use the Wi-Fi to check your Twitter feed in the bathtub, but at least you can access Wi-Fi for free if you need it.
Ask nicely upon check-in. Depending on the hotel, you may be able to get access to the Wi-Fi for free if you just ask nicely. This will be a more difficult task at larger hotels, but it never hurts to ask. You may also inquire if you joined the loyalty program if you would receive the free Wi-Fi benefit.

Sometimes all you have to do is ask.

Choose a hotel with a resort fee. At the first mention of resort fee, many will immediately cringe, and to be fair, this option is not completely free. That said, some resorts do bundle useful amenities into the resort fee with the Wi-Fi access including valet parking, fitness center and spa access, and copy and printing services. When staying someplace like Las Vegas, where resort fees are unavoidable, do a little research to see what else you can get in addition to free internet access.
After you connect, don't forget that you are sharing Wi-Fi with other hotel guests. Your information is not necessarily secure. Many travelers (wrongly) assume the hotel has some type of security to protect their connection, but that is not the case. Make sure you are not checking any financial or other sensitive data while connected to public Wi-Fi. See more tips on TomsGuide.com to keep your devices safe.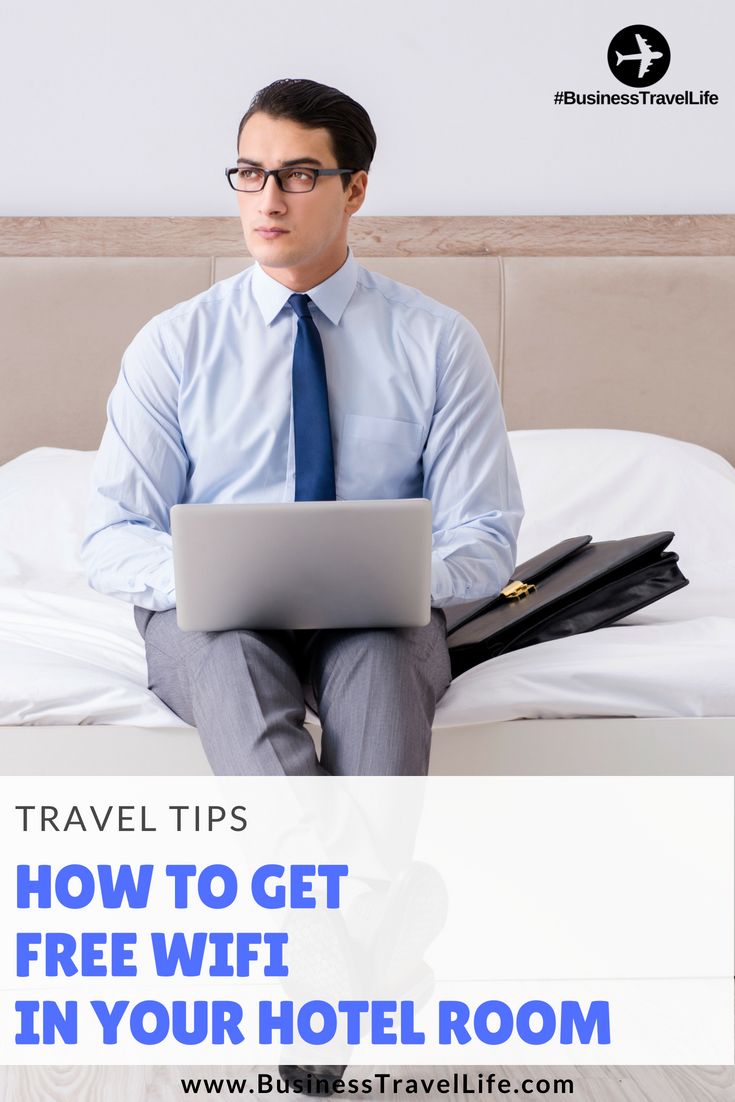 Business Travel Life
Business Travel Life is an online resource supporting the road warrior lifestyle. We give business travelers the tools they need to maintain their wellness and productivity when traveling. The topics we cover include business travel tips, travel workouts, healthy travel hacks, travel products, general travel tips, and industry trends. Our goal is to make business travel a healthier experience – and to make healthy travel practices more accessible to all road warriors.