Don't Forget To Do These Things Before You Return Your Rental Car
Have you ever forgotten something in a rental car? Received an unexpected charge after you returned the car? You are not alone. Returning your rental car can be a stressful event. Whether you are running late, stuck in traffic or taking a conference call on the way to the airport, it can be easy to leave something in the rental car or forget to fill up the tank.
Here are six rental car return reminders to keep in mind for your next trip.

Give Yourself Plenty Of Time To Return The Car
As the saying goes, "time is money". And, when it comes to rental car return, this could not be more true. One time I returned my rental car 45 minutes past the return time and was charged for an extra day! Give yourself plenty of time to get to airport. When traveling in an unfamiliar city, you never known when a traffic jam or construction traffic could cause a delay.

Take Photos Of The Things You Could Be Charged Extra For
If you rented your car without unlimited mileage, be sure to snap a photo of the odometer when you return it. It is also a good idea to snap a photos of the fuel gauge. If your car had any damage when you checked it out, be sure to photograph the rental agreement that documented the damage (and take a photo) to show you did not make the damage any worse.

Check For Your Belongings In The Car
Check and double check the inside of the car and trunk to make sure you did not leave anything behind. People commonly leave cell phones and paperwork with personal information behind in rental cars. Make sure you have your phone in hand when you turn in the keys. It may not seem like a big deal to leave the rental car paperwork behind, but that paperwork likely has your drivers licences information and address, among other personal information that leave you vulnerable for identify theft or personal theft if it was in the wrong hands.

Watch Your Mileage
If you rented from a company that has limitation on mileage, be sure to keep an eye on your odometer. This is more common with luxury rentals or international rentals. Be aware of the fine print to avoid any surprise fees when you return the car.

Fill The Gas Tank
This is a must! I recently returned a rental that needed about 3 gallons of gas. I figured I would pay the extra high per gallon rate but was shocked to learn it was going to cost me a flat rate of $75. WHAT?! I pulled the car back out and took it to the nearest gas station. Another thing to keep in mind when it comes to filling up your rental car before your return it- the gas stations near the airport usually charge significantly more per gallon for gas. The lesson here is to fill up the rental car tank on the way to the airport, not when you get the airport.

Drop The Car Off In The Right Area
Some airports have very confusing rental car areas. Make sure you read and follow the signs carefully to ensure you drop off your car at the correct location. In some airports going to the car rental pick up area instead of drop off area could mean having to loop all the way around the airport again to get to the right place.
See Related: 33 Tips For Renting A Car
Do you have any other rental car reminders? Please comment below!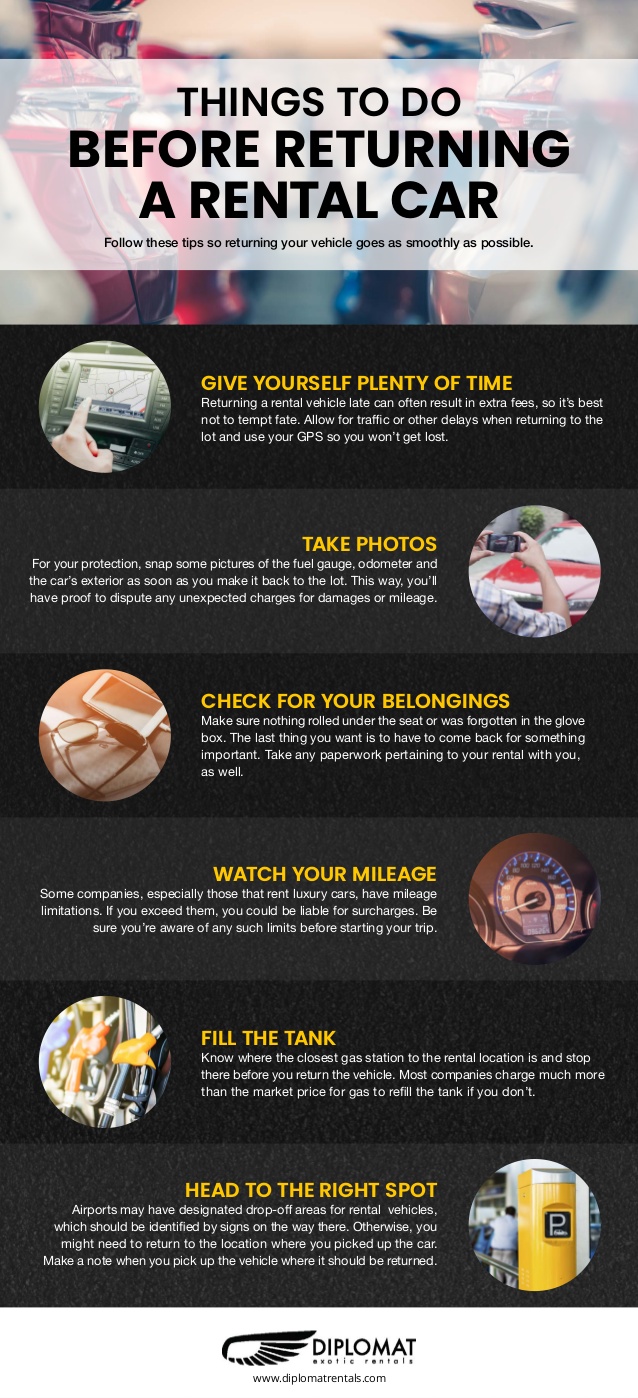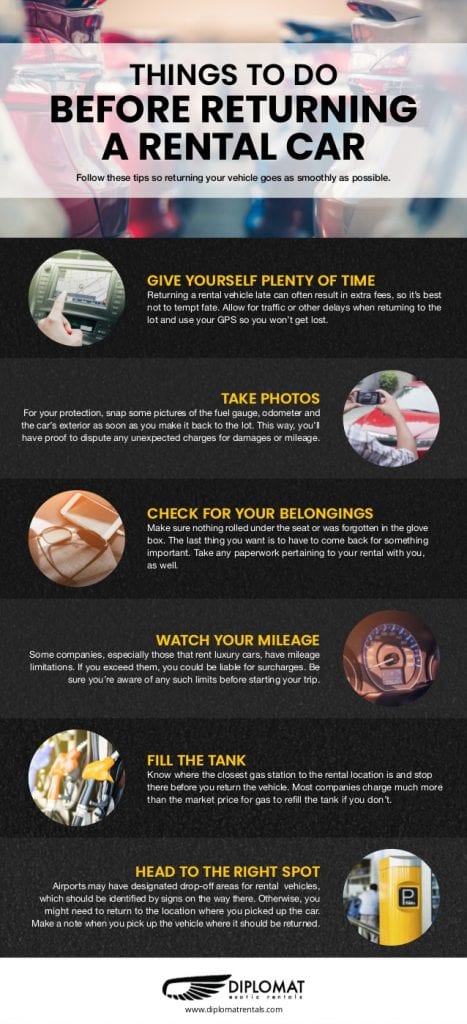 ---
Business Travel Life
Business Travel Life is an online resource supporting the road warrior lifestyle. We give business travelers the tools they need to maintain their wellness and productivity when traveling. The topics we cover include business travel tips, travel workouts, healthy travel hacks, travel products, general travel tips, and industry trends. Our goal is to make business travel a healthier experience – and to make healthy travel practices more accessible to all road warriors.