If travel loyalty programs had a Dean's List, Hilton Honors would be on it. The hotel brand gets an A+ in ease of earning points and ways to spend them.
Business travel expense receipts revealed that Hilton was one of the top ten most-expensed hotels of 2017, according to data gathered by Certify. And not only was the hotel raking in corporate traveler dollars, but gold stars as well; the same report indicated that Hilton Garden Inn, one of the chain's most popular brands, tied for the second top rated hotel of last year. With so many road warriors flocking to Hilton accommodations, we thought it was time to review their loyalty program, Hilton Honors, and examine how it fits the unique needs of work travelers.
Benefits Overview
Hilton Honors has four levels of loyalty status. When you first enlist in their program, you'll be a Member. Benefits include:
Complimentary Wifi
Late Checkout
Best Prices
Choose Your Room
Digital Key
Resort Fees Waived on Select Reward Stays
For business travelers, these should cover most of your needs. Free Wifi is a must-have for staying on top of work, lower prices are great for justifying future work trips to accounting, and the digital key system and late checkouts make coming and going more flexible than ever.
If traveling is a frequent requirement of your job, you can upgrade your Hilton Honors Member status to Silver, Gold, or Diamond once you've garnered a certain number of stays, nights, or points. Each level comes with its own set of additional benefits, some of which may be:
Room Upgrades (Contingent Upon Availability)
Continental Breakfast
Executive Lounge Access
Unlimited Milestone Bonuses
For a complete overview of what each Hilton Honors status has to offer, see the screenshot below. Of course, there is finer print associated with some benefits, (i.e. availability based on location), so be sure to visit the Hilton Honors website for the full scoop on their loyalty perks.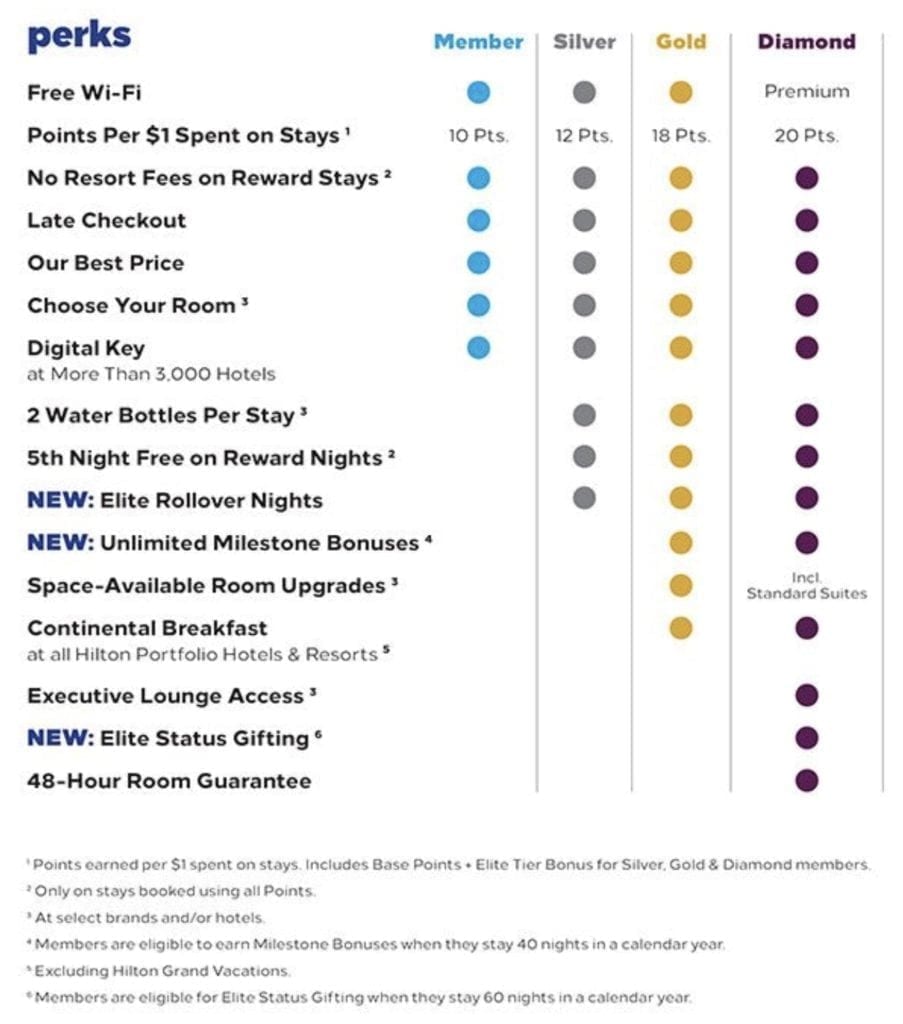 While Member Status will cover most of your immediate needs as a work traveler, it's worth jumping on the upgrades when they become available. Frequent business travel can be stressful, and many of the upper level perks, though they may seem geared towards leisure travel, will help ease your burden on the road. After all, room upgrades and continental breakfasts appeal to every type of traveler.
How to Earn Points
Each level of Hilton Honors loyalty status will garner points per dollar spent on a Hilton booking. Members will earn 10 points per dollar, Silver can earn 12, Gold 18, and Diamond 20. So you're always earning something on your Hilton stays, no matter how many nights you book.
The Milestone Bonuses introduced at Gold status provide a unique opportunity to maximize your rewards accumulation if you're a frequent Hilton guest. Once you've stayed 40 nights, you can start earning 10,000 points for every additional 10 nights. Sixty stays will reward you with 30,000 points.
But whether you're staying 60 nights in a year or just a few, you have a myriad of options for booking through Hilton to earn your rewards. The conglomerate possesses a number of brands in what they call the "Hilton Portfolio." We're not going to list them all here, but we'll include a few familiar ones to demonstrate the range of budget and style available through Hilton hotels:
Waldorf Astoria Hotels & Resorts
Conrad Hotels & Resorts
Curio
Doubletree
Hampton
And at select Hilton accommodations, you can earn more points not only on staying, but also on events as well. So if you're in charge of the next holiday party, or if your company sometimes hosts business meetings and conferences, consider Hilton as a venue.
As with many travel loyalty programs, Hilton Honors has a network of partners through which you can earn and spend points. This type of flexibility is useful for covering the many aspects of planning a business trip, such as transportation. Some of the names partnered with Hilton include:
Airlines
Hawaiian
Frontier
British Airways
Emirates
Ethiopian Airlines
Jet Airways
Air New Zealand
And many more around the globe!
Trains
Car Rentals
In addition to transportation, Hilton Honors can help you earn on meals as well. If you often find yourself treating clients to lunch or dinner, then you can take advantage of Hilton's network of restaurants. Whether you want budget-friendly or high dining, light cuisine or 3-course meals, sushi or salad, there's a food spot on Hilton's roster. Plus, if you enroll in Priority Pass (which we highly recommend for flexible access to a number of airport lounges), you can earn Hilton Honors points when you join.
Outside the typical work travel agenda of transport, meals, and airport perks, you can garner rewards points on regular activities as well. Shop online, ask for points as a birthday present, or swipe a Hilton Honors credit card. For business travelers, the Hilton Honors loyalty program helps you earn whether you're spending work or personal expenses.
How to Spend Points
Now that you've accumulated a mass of points, how should you spend them? For starters, on nearly all of the ways you've accumulated them. Turn your Hilton Honors points into Hilton stays, train tickets or plane rides, car rentals, restaurant meals, and more.
It should be noted that some of the terms on earning and spending your Hilton Honors points were recently altered ever so slightly. For instance, can't earn and spend frequent flyer miles directly. But, you can transfer your Hilton Honors points to select airline loyalty programs, and vice versa. Essentially, you can still use your Hilton bookings on airline miles, you just have to go about it in a different way.
If you're tired of spending your hard-earned points on work and feel that you've earned yourself a bleisure trip, then turn your rewards into a cruise package or resort stay. You can treat yourself further with some online retail therapy, spending your points on Amazon purchases. At the end of a hectic business trip, you've earned it.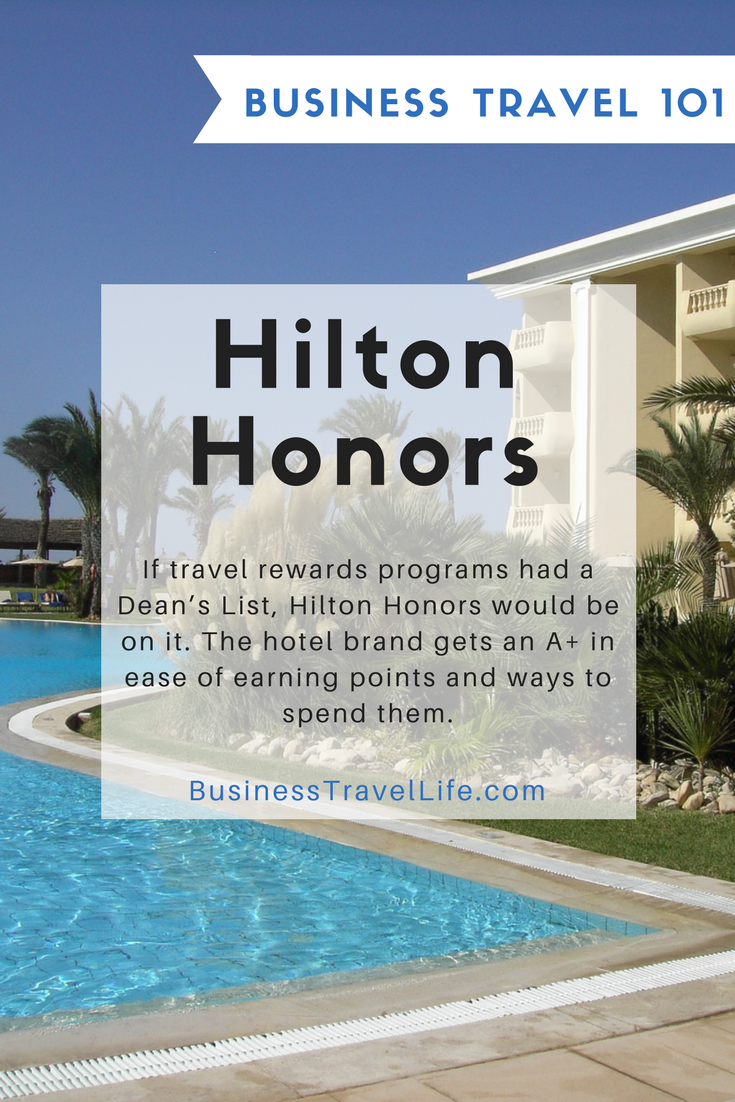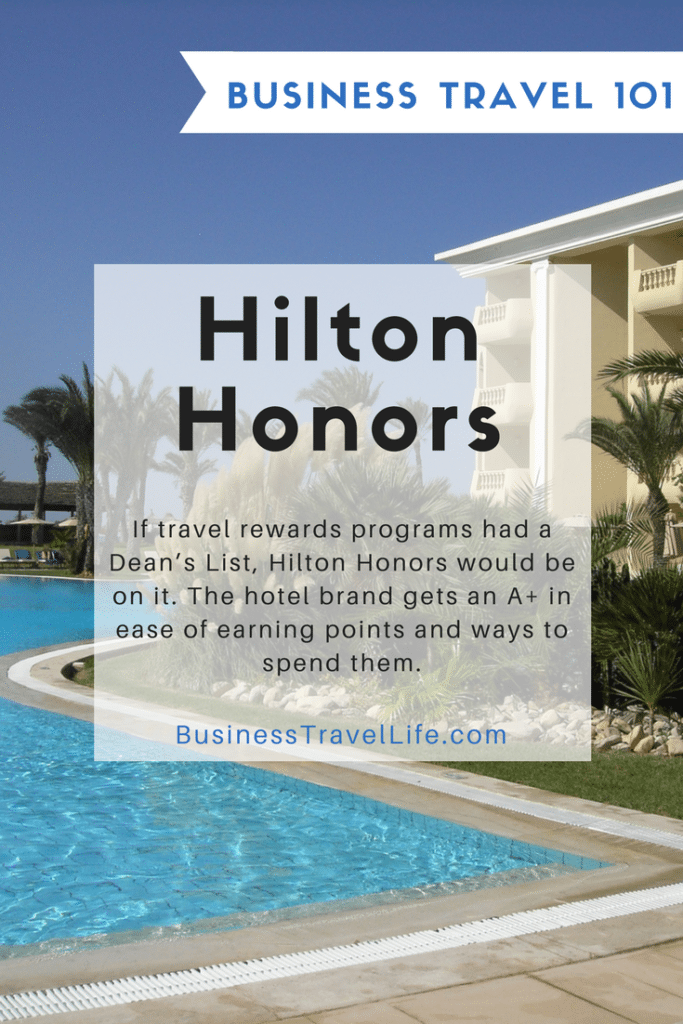 It's helpful when a loyalty program is able to don the many "hats" of business travel. Hilton Honors does more than reward you on accommodation; when you take advantage of their partner programs, you can do the same for car rentals, flights, and more. For frequent road warriors, a rewards system like Hilton Honors is your one-stop shop to loyal traveler paradise.
Business Travel Life
Business Travel Life is an online resource supporting the road warrior lifestyle. We give business travelers the tools they need to maintain their wellness and productivity when traveling. The topics we cover include business travel tips, travel workouts, healthy travel hacks, travel products, general travel tips, and industry trends. Our goal is to make business travel a healthier experience – and to make healthy travel practices more accessible to all road warriors.