What were the most popular business travel hotels last year? The 2017 Certify SpendSmart™ Report highlights the most expensed hotels for work travelers.
There are a host of amenities that road warriors look for when booking business travel hotels for their work trips. Internet access is a must for catching up on projects, fitness centers are nice for keeping up with healthy practices, and comfy beds make it possible to unwind at the end of a long day.
So where do business travelers end up booking their stay? The 2017 Certify SpendSmart™ report can offer some insight into that. We recently wrote about the corporate travel trends revealed in Certify's year end summary of travel and entertainment expenses, and now we're going to examine more closely the hotels highlighted in the report.
Hampton Inn
In 2017, Hampton Inn, a brand by Hilton, was the most expensed hotel for business travelers. It took up 9.20% of accommodation receipts for last year's work trips, and average spending was $248.13 per trip. It was not one of the 5 top rated hotels featured in Certify's report.
With free breakfast, free WiFi, and workout facilities at almost all of their hotels, Hampton Inn checks off the favorites when it comes to desired business travel amenities. But the hotel goes a step further with their complimentary On the Run™ Breakfast Bags, pre-packed meals for guests who don't have time to sit down and eat in the morning. Busy work travelers can appreciate the convenience of this added amenity, and the bag's contents (typically a muffin, fruit, granola bar, and bottled beverage) even provide a balanced meal, too.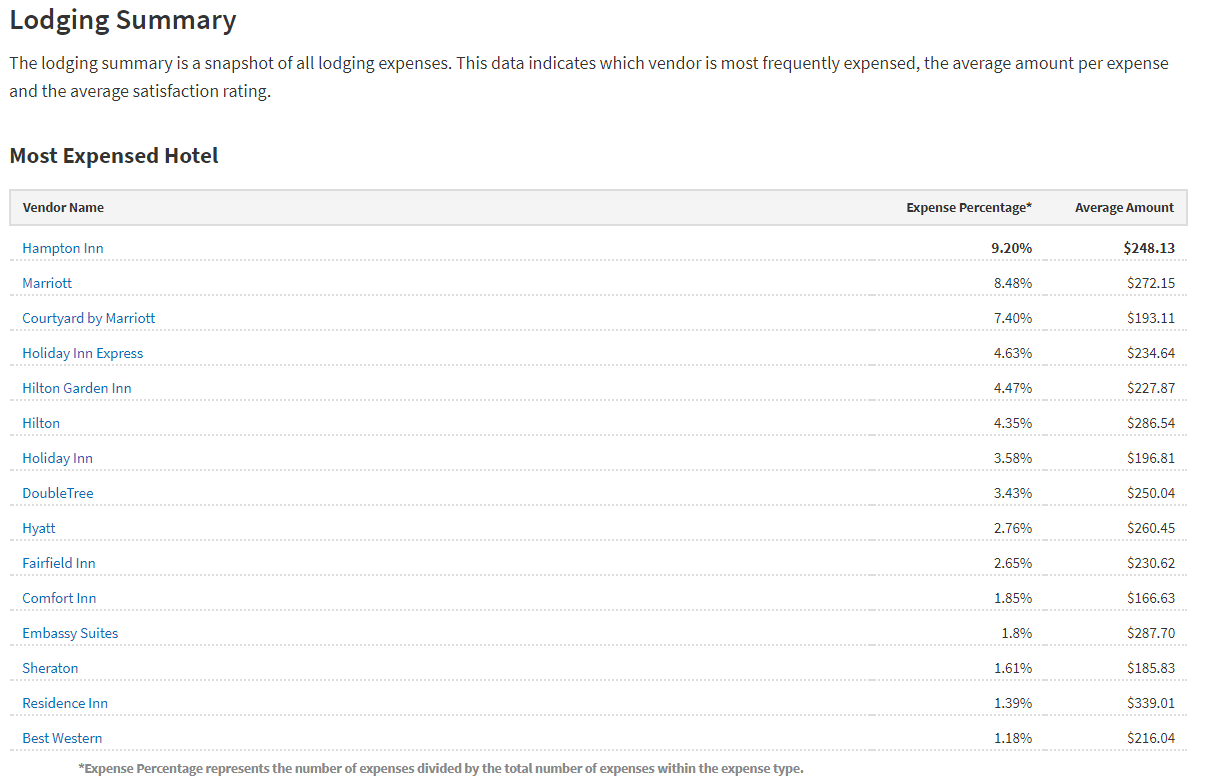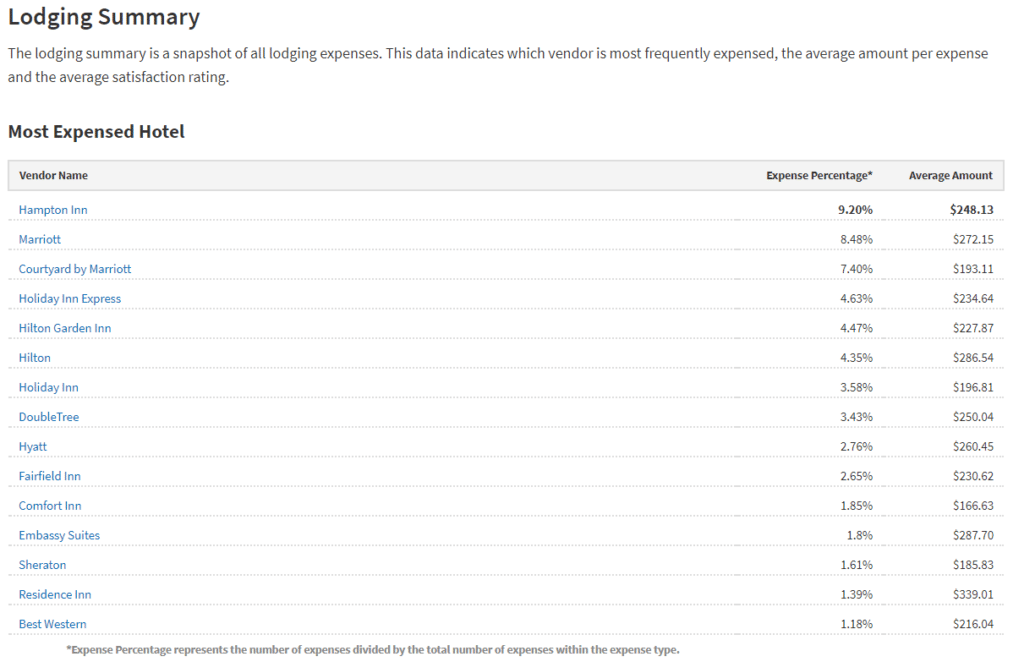 Marriott
Behind Hampton Inn, Marriott was the second most expensed hotel of 2017's work trips, with an expense percentage of 8.48% and average receipt amount of $272.15. On Certify's report for top rated hotels, Marriott pulled in an impressive 4.4 out of 5 stars, tying the hotel for first with Hyatt and Westin Hotels.
Marriott's sleek redesigns have appealed to travelers' desires for more comfortable and practical in-room amenities. Comfy beds, upgraded showers, and desks make it easier than ever for work travelers to either power down at the end of the day or power up when work needs to get done.

Courtyard by Marriott
Marriott continues to dominate Certify's report, with Courtyard by Marriott making up 7.40% of 2017's business travel hotel expenses. On average, road warriors spent $193.11 on bookings here. Unlike Marriott Hotels, Courtyard by Marriott did not make it in the top 5 best rated hotels.
Following in Marriott's footsteps, Courtyard by Marriott also strives to create an atmosphere that can accommodate the various needs of road warriors. The brand's hotel rooms come with a little personality, the Marriott decor being more artistic and bold than you're probably used to seeing in traditionally bland hotel rooms. Free WiFi, work spaces, and pools and fitness centers round out some of the top amenities available at Courtyard by Marriott locations.
Holiday Inn Express
Next up, Holiday Inn Express joins the expense report with 4.63% of last year's work travel receipts and roughly $234.64 per business travel trip. Like Hampton Inn and Courtyard by Marriott, Holiday Inn Express is absent from the report of top rated hotels.
Holiday Inn Express has long been a favorite for companies with mid-range travel budgets. There may not be a spa and fancy work spaces, but there's a comfy bed, complimentary breakfast and Internet, and exercise equipment. It has all the basics at an affordable price.
Hilton Garden Inn & Other Hotels
Hilton gets a second brand in the top 5 most expensed business travel hotels of 2017, thanks to Hilton Garden Inn's 4.47% of work travel receipts. On average, road warriors spent $227.87 per booking. And with 4.3 out of 5 stars, Hilton Garden Inn is tied for second with Homewood Suites on Certify's report of top rated hotels.
In all, brands by Hilton, Marriott, and Holiday Inn Express took the cake in business travel expenses. And though Hyatt and Westin were tied with Marriott for the top rated hotels, the former shows up ninth on Certify's expense report and the latter didn't even make the list.
It just goes to show that sometimes what business travelers prefer doesn't make the cut for corporate travel budgets. Luckily, we have some hotel tips to help you stay well no matter what business travel hotel you manage to book for your next work trip.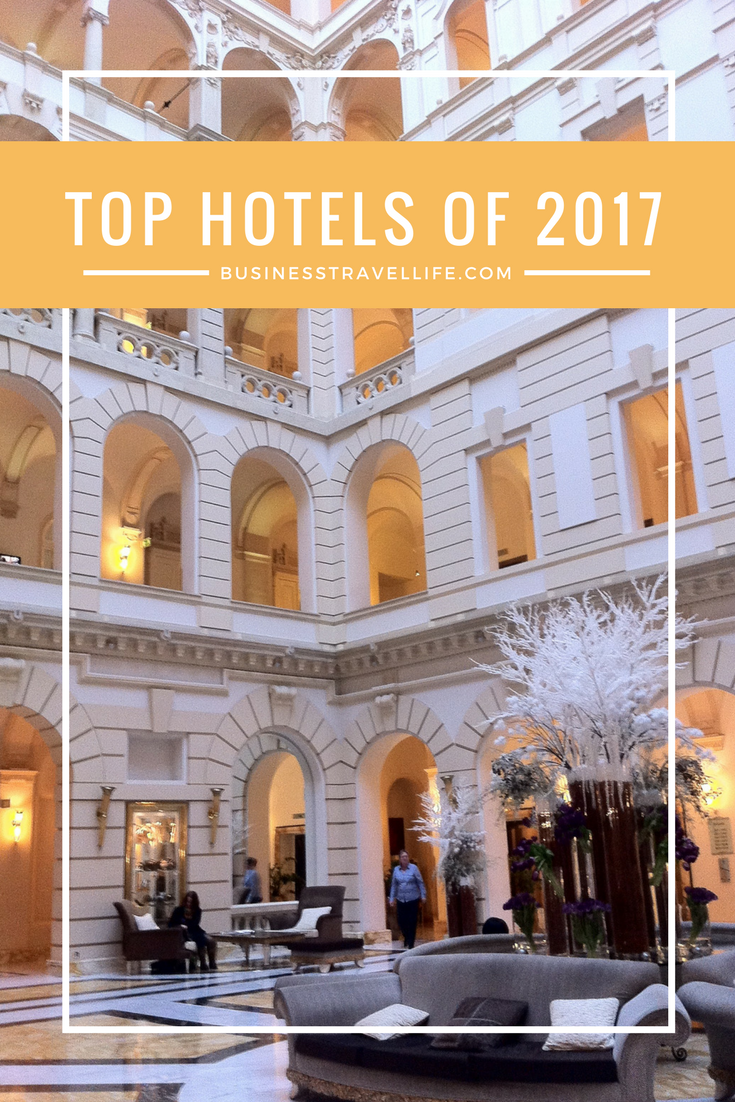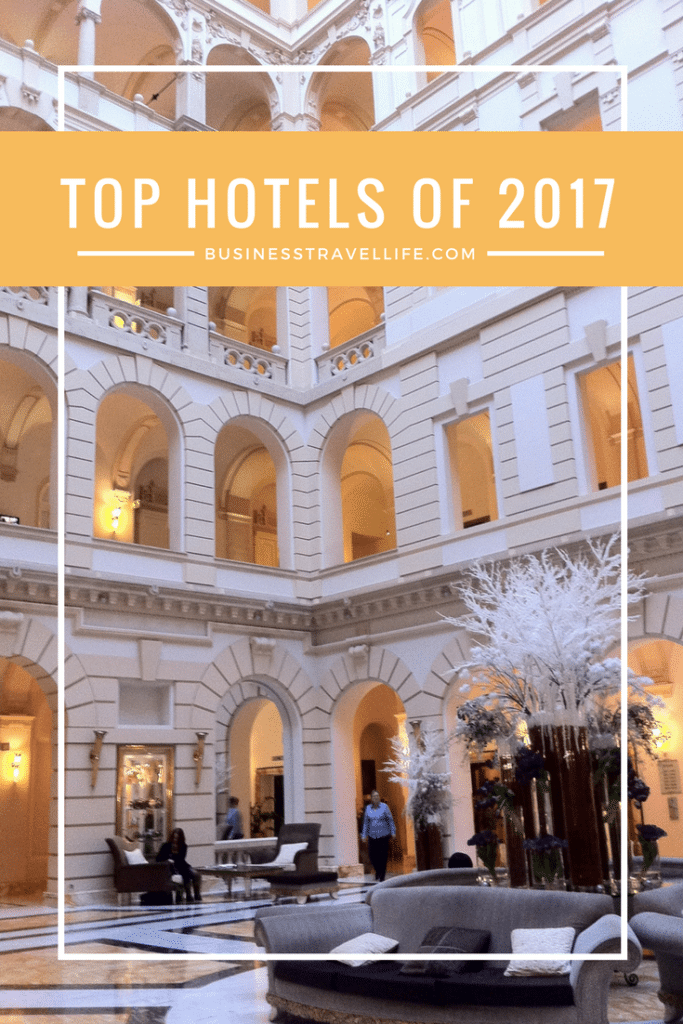 Business Travel Life
Business Travel Life is an online resource supporting the road warrior lifestyle. We give business travelers the tools they need to maintain their wellness and productivity when traveling. The topics we cover include business travel tips, travel workouts, healthy travel hacks, travel products, general travel tips, and industry trends. Our goal is to make business travel a healthier experience – and to make healthy travel practices more accessible to all road warriors.