A study by Dinova and the GBTA highlights how millennial travel trends differ from those of older generations when it comes to business travel dining.
Dining on the road looks pretty different depending on what generation you're from, as the results of a 2018 survey indicate. The survey, jointly conducted by the Global Business Travel Association (GBTA) and Dinova, a company driving connections between restaurants and business diners, sampled a pool of road warriors and picked their brains on everything from where they eat to how they pay. The findings reveal how millennial travel trends break the mold on traditional business travel dining habits.
Can we get you started with any apps?
It should come as no surprise that most of today's business travelers rely on mobile apps to commence their meals. Dinova's survey cites Yelp, TripAdvisor, and GrubHub as the most-used apps among road warriors, all reliable sources for pinpointing the best meal establishments nearby.
Certify too notes the rising popularity of dining apps, and more specifically, delivery apps, for work travelers. Their 2018 second quarter analysis of business traveler receipts found that GrubHub and Uber Eats are currently two of the most-expensed delivery apps.
While every business traveler seems to be turning to their phone for dining info, the generational split is evident in terms of what types of apps attract different age groups. Uber Eats is the top choice of app by many millennial road warriors, while Gen Xers and Baby Boomers turn to Yelp, according to the Dinova survey. Supporting this data is the fact that nearly 20% of those in the age group 18-34 also opt for delivery or takeout when it comes to dinner.
So will review sites and delivery apps dually be to the restaurant industry what Uber and Lyft are to ground transport, or will the scales gradually tip in favor of delivery apps as more millennials enter the business traveler workforce? It's a trend we'll have to wait and see.
Table Talk
When the grub is on the company, it's tempting to go wild. Yet, as the generations wind down, work travelers are becoming more modest in spending.
Let's start with Baby Boomers. Dinova found that 79% of this crowd go for "upscale casual dining," with high numbers also treating clients to meals and opting for the hotel breakfast spread. Gen Xers lose the "upscale" part but can be found dining with coworkers and clients alike.
Meanwhile, millennial travel trends mark a shift to solo dining and cheap meals. Interestingly, more than half go for fast food when on the road for work, and room service, snacks, and alcoholic beverages don't typically make an appearance on the expense report.
With less people on the bill and less dollars next to the items on the menu, it makes you wonder if companies are tightening their policies. Dinova, however, found that just 1 in 3 of the road warriors surveyed had a strict per diem, or daily allotted funds for business meals. More than half would be okayed for client or team dining, and few are restricted by prohibition policies when it comes to beverages. Either the conservative spending is self-inflicted, or millennials need to aim for more exciting companies.
Check, please!
When it's time to settle the bill, all age groups whip out the company card in most instances. The gap between card and cash usage does appear to be closing, with 42% of millennials opting for the latter compared to just 31% and 15% of Gen Xers and Baby Boomers.
Meals that don't hinder a business schedule and are respectful of company policies seem to be where millennial travel trends are heading in terms of dining. How do you feel your eating habits measure up to the survey's findings? Comment and share below!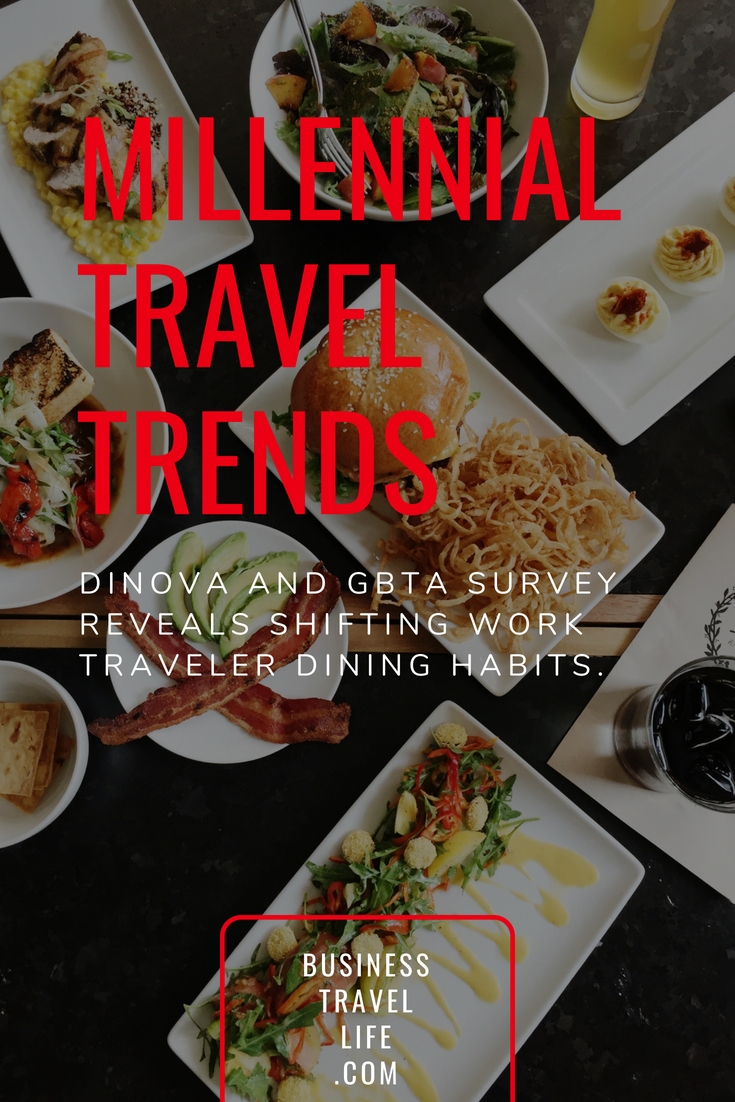 Business Travel Life
Business Travel Life is an online resource supporting the road warrior lifestyle. We give business travelers the tools they need to maintain their wellness and productivity when traveling. The topics we cover include business travel tips, travel workouts, healthy travel hacks, travel products, general travel tips, and industry trends. Our goal is to make business travel a healthier experience – and to make healthy travel practices more accessible to all road warriors.