Today's business travelers may find themselves weighing the pros and cons of Airbnb vs hotel stays when planning trips for work.
It's undeniable that Airbnb has made a notable impact on business travel itineraries. Certify, an automated travel and expense management software, has tracked Airbnb's exponential growth over time, noting in its 2017 report that work travel bookings on Airbnb have multiplied by two every year since 2014. Yet, while Airbnb is gaining traction in the road warrior community, hotels still dominate business travel expense reports. In fact, when it comes to pinning down what's so appealing about Airbnb vs hotel stays for business travelers, you'll find that one isn't necessarily better than the other. Rather, they each meet different and unique needs of work travel.
Airbnb Top Amenities
Airbnb's unique benefits check off a lot of boxes that business travelers may not have even known they needed, expanding the way we travel for business. These are just a few highlights of Airbnb stays:
Cozy spaces & additional facilities

Healthy Eating

Value for Money

Travel with coworkers or long-term
Cozy Spaces & Additional Facilities
Obviously, Airbnb gets a gold medal in the atmosphere department. More and more travelers are forgoing bland, one-room hotel accommodations for spacious and cozy Airbnbs. With home touches and additional facilities, like kitchen access and secluded work spaces, we understand why.
Healthy Eating
Since most Airbnbs provide guests with access to some type of cooking facilities, business travelers can stop eating out for every single meal. It will save the corporate card a few bucks, and will save the traveler a few calories. Instead of a quick fast-food stop between meetings or a heavy dinner from the hotel restaurant, road warriors can prepare everything from snacks to lunch as though they're in their own home.
Value for Money
In general, Airbnb will get you more bang for your buck, and often at lower prices. While budget hotel prices do rival those of Airbnbs, the expanded amenities available in the latter accommodation make the choice obvious. And so long as you aren't renting out an apartment with unnecessary extras, you should, for the most part, be saving money with Airbnb.
Travel with Coworkers or Long-Term
For single person, short-term trips, road warriors can comfortably weigh their options for Airbnb vs hotel accommodations. But when it comes to other types of business travel, like trips that require multiple team members or long-term stays, Airbnb is almost always the better option. Splitting an apartment with two or three bedrooms beats expensing multiple hotel rooms, and week-long conferences are better spent in a space where you can feel at home.
Tried & True Hotel Benefits
There's still much to love about hotel stays for business travel:
Rewards programs

Fitness

Guaranteed Privacy

Transport connections
Rewards Programs
One area of hotel amenities that Airbnb has yet to match is loyalty programs. While an Airbnb rewards system is slated to be introduced sometime in the future, it is unknown how connected their program will be compared to that of hotel brands.
Popular chains like Marriott and Hilton are partnered with top names across the travel industry. Rewards can be earned and transferred across bookings with partnered airlines, car rental companies, restaurants and more. For frequent travelers, this type of flexibility will be tough to match.
Fitness
Airbnb may own the food realm of a healthy travel lifestyle, but hotels have an edge when it comes to exercise. As most come equipped with fitness facilities, travelers have an opportunity to get in a holistic workout before or after a day of meetings. While running and packing lightweight fitness gear is always a good fallback, the range of equipment provided onsite by hotel gyms may simply be more convenient.
Privacy
With Airbnb, you can rent out a few types of accommodations, and business travelers will likely opt for entire apartments or a private room in a home shared with the host. For the latter option, private rooms may come with shared bathrooms and other facilities. You're not guaranteed privacy with every Airbnb booking, and sometimes the cost of your own apartment can mean hotel-level prices.
Transport Connections
From airport shuttles to nearby public transit options, accommodations built for travelers are generally better situated to connect guests with the surrounding area. With Airbnb, work travelers will have to make sure they're within walking distance of their meetings or that a bus stop is nearby. Regardless, both will likely require a few Lyft or Uber rides.
Where Both Airbnb & Hotels Make a Splash
For the moment, there's no huge Airbnb vs. hotel competition in regards to these amenities:
Wifi

Flexible check-in and check-out times

Overall Wellness
Wifi
Some hotels do still charge for Internet access in room, whereas most average humans have Wifi in their homes and are willing to extend that access to Airbnb guests. However, wherever Internet isn't available in a hotel, its loyalty program benefits will probably make up for it, providing members with unlimited access across the property.
Flexible Check-In/Out
When it comes to flexible check-in and check-out times, it's typically on a case by case basis for both accommodations. Airbnb hosts will occasionally let you in or out at your desired time, depending on when the previous guests have left. Some hosts may even designate a checkout time of noon, whereas most hotels will kick you out by 11. But again, hotel rewards systems will often provide additional benefits like flexible check-in/out, so for the moment, it's still pretty even.
Overall Wellness
In the end, when it comes to your well-being on the road, both Airbnbs and hotels have benefits and drawbacks that may simply come down to your personal preference. Whip up a healthy meal in your host's kitchen, or take advantage of the weights provided in the hotel gym. You can always compensate for missing amenities with a jog, healthy restaurant visit, and more.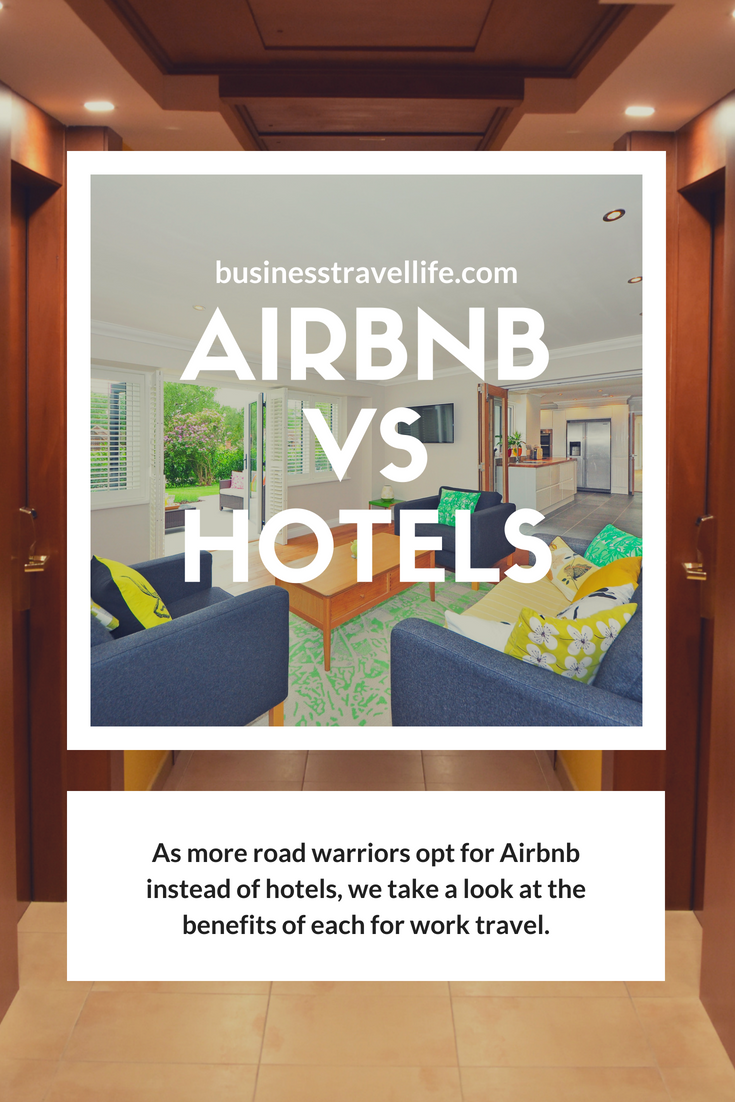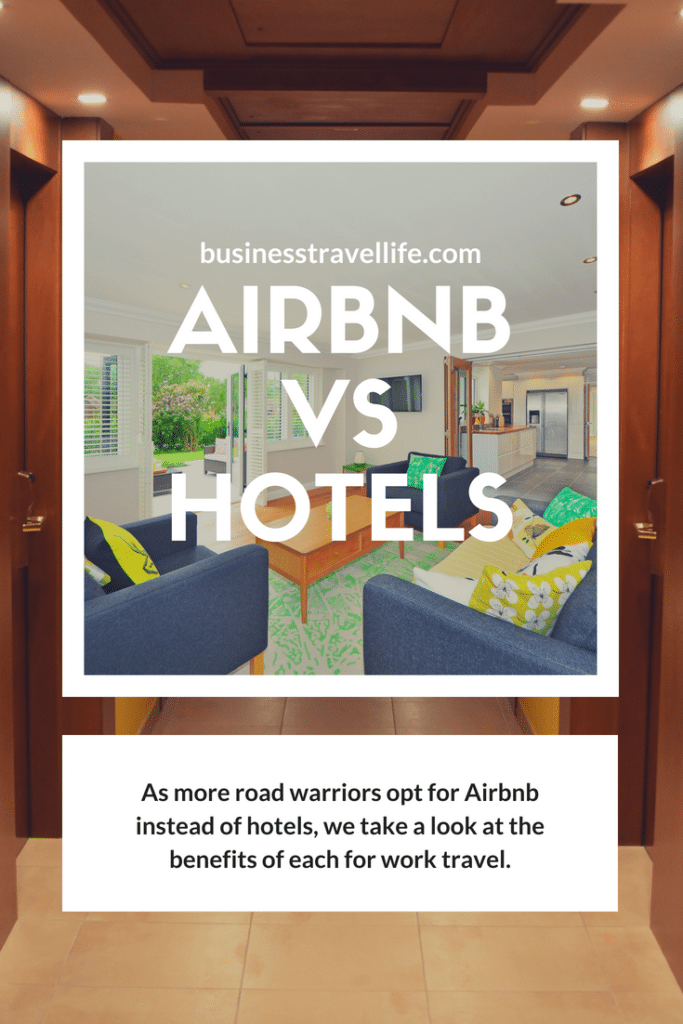 Have something to say about Airbnb vs hotel accommodations for business travel? Comment and share your experience with each!
Business Travel Life
Business Travel Life is an online resource supporting the road warrior lifestyle. We give business travelers the tools they need to maintain their wellness and productivity when traveling. The topics we cover include business travel tips, travel workouts, healthy travel hacks, travel products, general travel tips, and industry trends. Our goal is to make business travel a healthier experience – and to make healthy travel practices more accessible to all road warriors.