When it comes to airline loyalty programs, American Airlines AAdvantage® is one of the most popular and beneficial for business travelers.
Corporate travelers seem to be quite familiar with American Airlines. The 2017 Certify SpendSmart™ report reveals that American was the second most expensed airline last year, highlighting its popularity among travelers. If you're one of those road warriors that frequently relies on air transport to get to your business travel destinations, then you should consider joining a loyalty program like AAdvantage®. You'll enjoy added amenities, lower costs, and more rewards for your airline allegiance.
Benefits Overview
With AAdvantage®, you can earn frequent flyer miles on American flights and spend your rewards on future journeys. We will delve further into this, as well as American's extensive list of partner programs, later on. For now, let's take a look at the benefits of AAdvantage® Elite status.
There are four types of AAdvantage® Elite status members, and different benefits for each one:
AAdvantage® Gold

AAdvantage® Platinum

AAdvantage® Platinum Pro

AAdvantage® Executive Platinum
All of these include variations on the following:
Flight upgrades

Windows in which you can upgrade

Percentage off elite mileage bonus

Free preferred seats

Free checked bag(s)
For more detailed information on what each type of AAdvantage® Elite status entails, see below from American's website.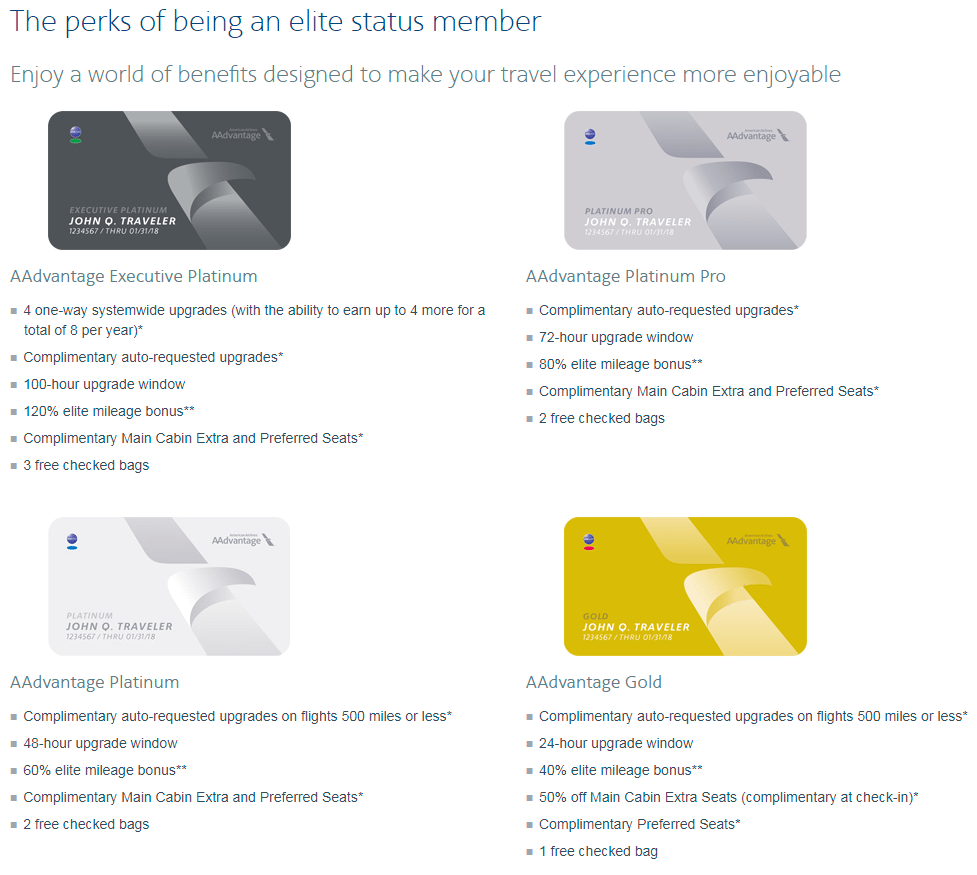 How to Earn Miles
As with typical airline loyalty programs, the more you fly, the more miles you earn! But AAdvantage® takes the idea a step further with a network of partners. As a participant in oneworld®, American allows you to earn miles from journeys on other airlines, such as British Airways, Finnair, LATAM, and more. Outside of oneworld®, American has separate partnerships with Hawaiian, Jet, and Alaska, among others.
Other partners include hotels, car rentals, cruise lines, and vacation packages. In the hotels department, American offers an impressive roster of accommodations at which you can maximize your miles earnings, including the following popular hotels for business travelers:
Luckily, most of the major players in car rental are also partnered with American:
If you're looking to spend your rewards on a getaway, then you'll have a lot of options from American's partnerships with cruise lines and vacations:
Royal Caribbean

Carnival

Norwegian Cruise Line

Celebrity Cruises
Other than spending in American's network of partners, you have opportunities to garner more miles when you buy Mileage Multiplier while booking a flight, transfer miles between friends, or make a purchase at Teleflora. The ways to earn AAdvantage® miles are plentiful, and doing so is typically a natural side task when planning your business travel.
How to Spend Miles
With partner programs, the ability to earn and spend miles usually works across the network, and AAdvantage® is no exception. In addition to accumulating miles when you spend on one of American's partners, you should also be able to apply your rewards to book at one of their partnered hotels, airlines, car rentals, and more. Transfering between partner programs makes it easy to use a specific service when you need it.
As an AAdvantage® member, you have the opportunity to put your miles towards an Admirals Club membership, which is a wonderful resource for business travelers. With this, you'll have access to airport lounges around the globe. While you wait for your flight to depart, you can enjoy exclusive meals in a comfortable, private area. Some locations also boast business centers for working and showers for freshening up, which busy work travelers should definitely be able to appreciate.
Of course, your miles can also be applied to American flights and upgrades, or they can be gifted to family and friends as well.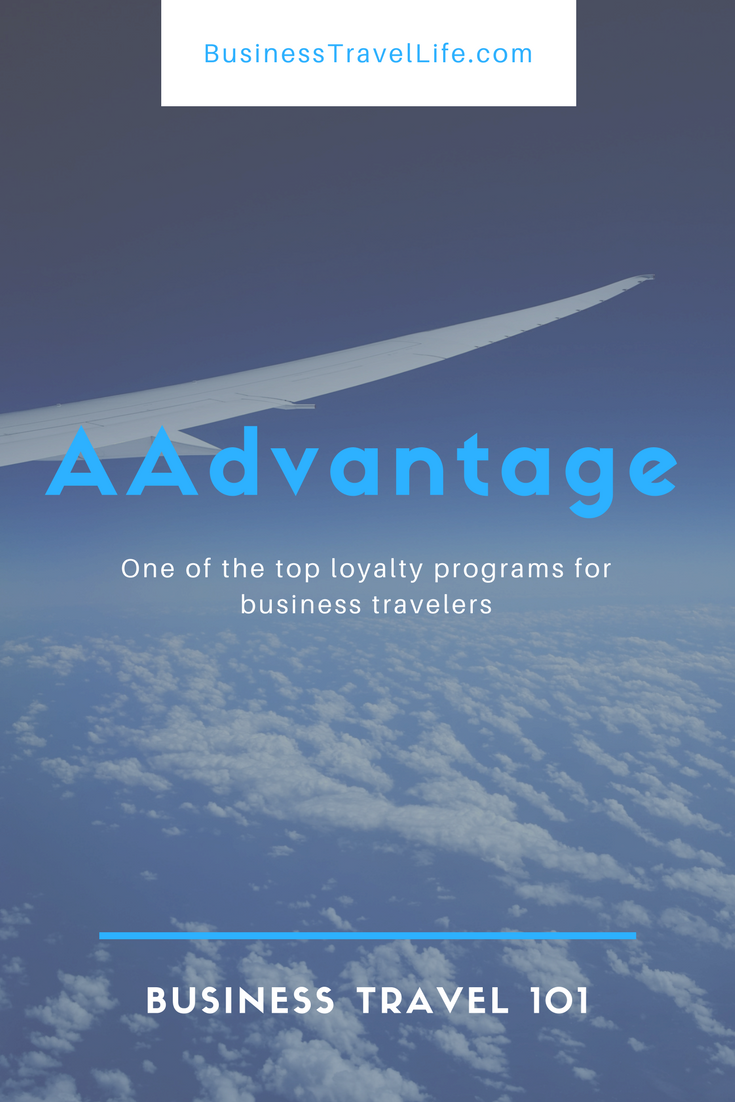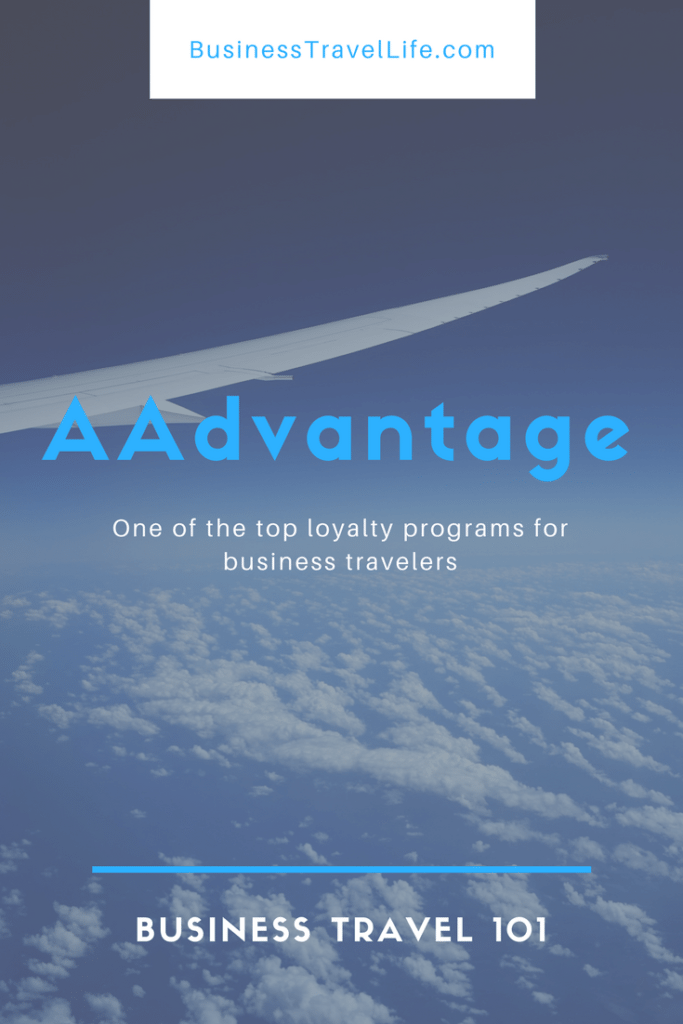 If you have to travel via plane often for work, joining an airline loyalty program makes a lot of sense. You can garner miles and apply them to future journeys, take advantage of airport lounges, and travel in comfort with free upgrades. And with American Airlines ranking as a top airline for business travelers, an AAdvantage® membership would probably go a long way.
Business Travel Life
Business Travel Life is an online resource supporting the road warrior lifestyle. We give business travelers the tools they need to maintain their wellness and productivity when traveling. The topics we cover include business travel tips, travel workouts, healthy travel hacks, travel products, general travel tips, and industry trends. Our goal is to make business travel a healthier experience – and to make healthy travel practices more accessible to all road warriors.