With opportunities to accumulate points across IHG hotels and within a network of partners, the IHG Rewards Club is a travel loyalty program worth having.
If you're a chronic work traveler, then chances are you've stayed in accommodations by InterContinental Hotels Group (IHG) at some point in your career. Holiday Inn Express, one of their most popular brands, was one of 2017's most-expensed hotels by business travelers, according to data released by Certify. As bookings at IHG properties are so prevalent in the road warrior community, their loyalty program, IHG Rewards Club, should be on every traveler's radar.
Benefits Overview
Often leading busy lives, work travelers don't hesitate to take advantage of the benefits commonly offered by hotel loyalty programs. Unlimited Internet access yields productive evenings, flexible check-in and check-out times won't interfere with a packed agenda, and lower room rates make it possible to organize work trips on less generous budgets.
For IHG Rewards Club members, the core benefits are spread out over four tiers of membership: Gold, Club Elite, Platinum Elite, and Spire Elite. The first, Gold, is the most basic level, and the available amenities are accessible by all. A few key ones that business travelers will appreciate include:
The ability to earn points

Special room rates

Zero blackout dates on rewards nights

Complimentary Wi-Fi
From there, the perks get a bit more exclusive as you climb the membership ladder. To earn a higher status, participants can stay a certain amount of days per year or apply points. With rewards nights counting towards the former option, acquiring elite status isn't as elusive as you might think.
Club Elite requires 10 nights or 10,000 points, and members of this caliber and above get showered with the following extras:
Priority check-in

Late check-out

No point expiration

The chance to earn a percentage of bonus points on top of your base ones
For Platinum Elite participants, who've stayed 40 nights or used 40,000 points, additional perks are:
Free upgrades

Guaranteed availability

Rollover nights
Benefits only available to Spire Elite members, those with 75 nights or 75,000 points, include:
Early check-in

Hertz Gold Plus Rewards Five Star upgrade

Choice of an additional exclusive benefit
For business travelers, IHG's vast hotel network provides plenty of opportunities to take advantage of loyalty benefits, regardless of your membership status. While most road warriors would be satisfied with a Gold membership, Club Elite provides additional flexibility that better accommodates a hectic schedule. Frequent work travelers should have little difficulty meeting the required minimum stays for this tier, and possibly even Platinum or Spire.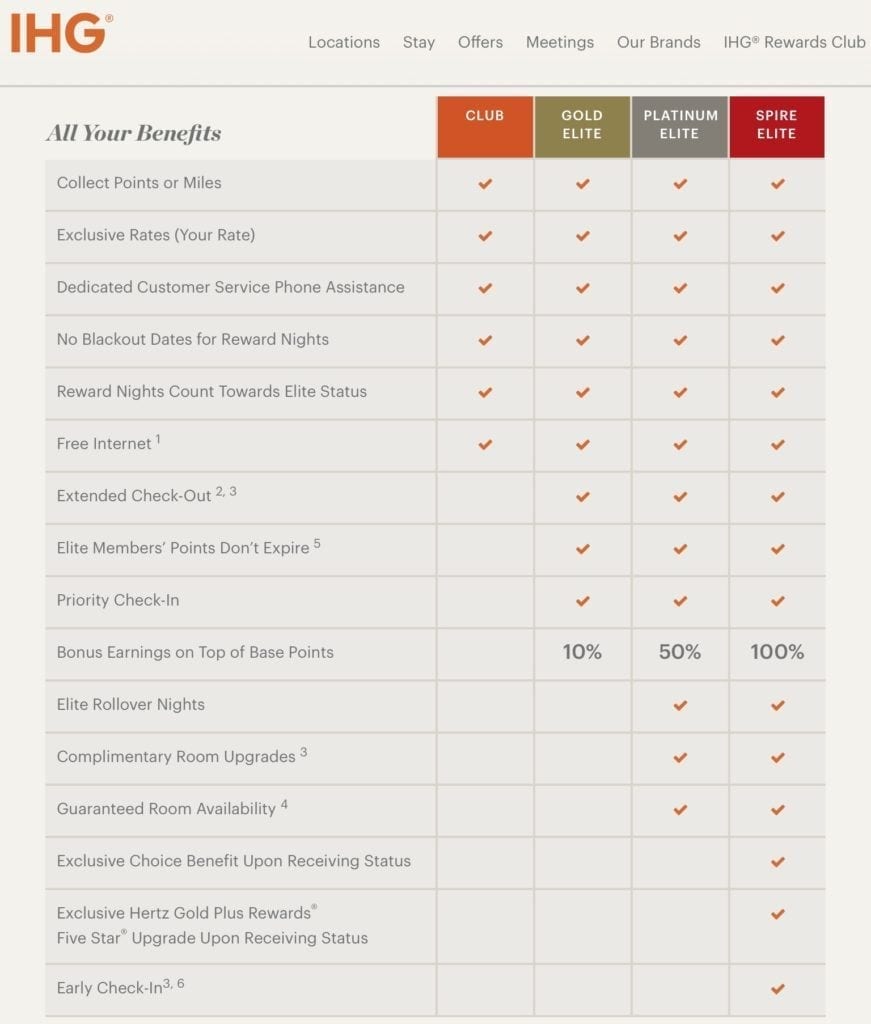 How to Earn Points
While the benefits alone satisfy many road warrior needs, it's usually the points system that piques a traveler's interest. After all, if you're booking that hotel room to attend an important conference anyway, you might as well earn additional rewards for it.
With IHG Rewards Club, the optimal method for acquiring points is to book with IHG or a partnered brand. Bookings at Staybridge and Candlewood can yield 5 points per dollar, while the following accommodations are just a sample of the hotels that will yield 10 points per dollar:
InterContinental (naturally)

Crowne Plaza

Holiday Inn & Holiday Inn Express, Resort, or Club Vacations

HUALUXE
As with many major hotel groups, IHG has a myriad of airlines from around the world within their network. Bookings made via the below popular airlines and others can further expand your collection of rewards points:
IHG Rewards Club members can also earn points or find additional benefits through various promotions, which may include things like complimentary breakfast. Earning points, however, is only half the fun of a rewards program.
How to Spend Points
There are lots of things that points can buy. IHG Rewards Club members can trade in points for a choice of road warrior-friendly perks or splurge on a leisure experience, such as the following:
Rewards Nights

Retail and gift card purchases

Flights

Car Rentals

Donations to charity
When it comes to travel loyalty, IHG Rewards club is a model program. Big companies mean big connections, and a plethora ways for you to benefit from a network of travel brands.
Already an IHG Rewards Club member? Comment and share your favorite way to spend points!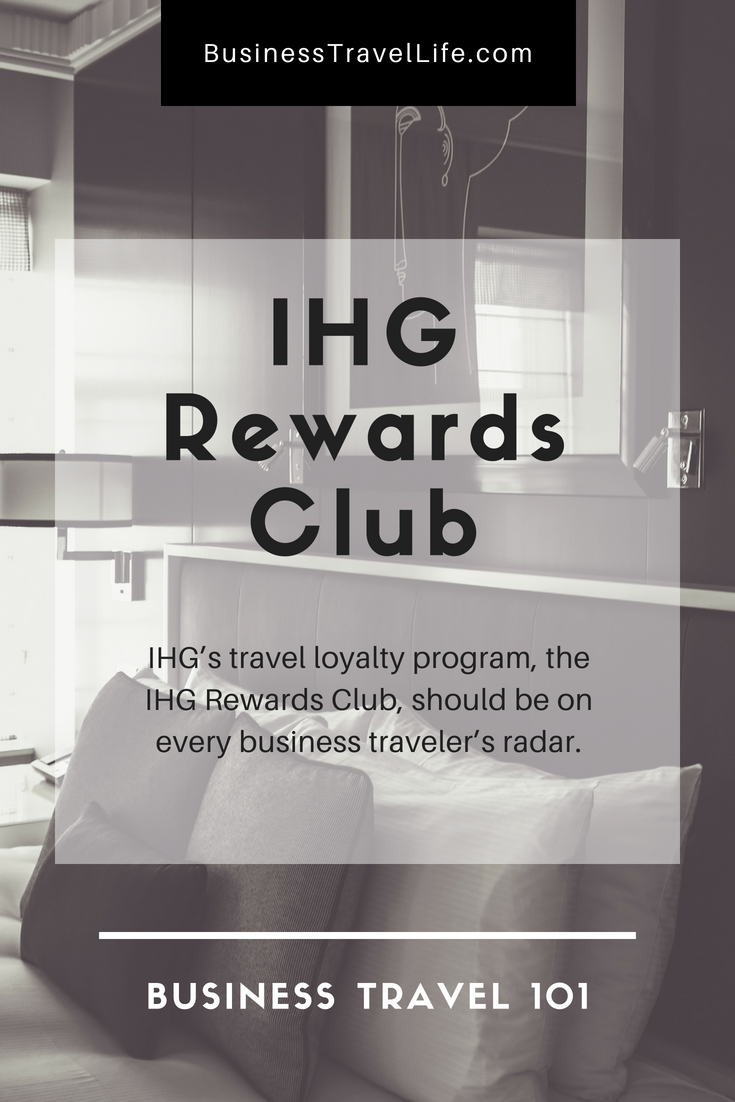 Business Travel Life
Business Travel Life is an online resource supporting the road warrior lifestyle. We give business travelers the tools they need to maintain their wellness and productivity when traveling. The topics we cover include business travel tips, travel workouts, healthy travel hacks, travel products, general travel tips, and industry trends. Our goal is to make business travel a healthier experience – and to make healthy travel practices more accessible to all road warriors.