Changing the face of healthy travel, EVEN Hotels offer several health and fitness options to help travelers stay well.
When you are traveling, where you stay can be the key to maintaining your health. The right accommodations will be have easily accessible food, opportunities for exercise, proximity to work spaces, or maybe all of this wrapped up in one amazing super-health hotel. Meet EVEN Hotels, a relatively new brand from IHG that covers all of its wellness bases. EVEN Hotels break down their health and wellness options into a few categories that frequent business travelers will find line up perfectly with their on-the-road needs.
Fitness 
EVEN Hotels offer a range of modern workout options, from exercise gyms, group fitness sessions, and in-room equipment. There is plenty of space in your room to go through a fitness routine, such as Pilates or yoga, or you can use the provided workout gear and EVEN's guide to exercise. If you are looking to get out and explore your surroundings, you can also hit the local jogging route with tips from the staff.
Food
Even if you have access to fitness opportunities, healthy food is an equally important wellness factor that frequent travelers might have trouble pinning down. Luckily, EVEN Hotels has grub for all diets. Travelers can get low-calorie food to-go or satisfy any sweet teeth with a healthy dessert. There are even options for special dietary needs, such as gluten-free.
Environment
EVEN Hotels insist that you will have a peaceful slumber, and the in-room amenities don't stop there. Well-lit and boasting natural touches, this modern hotel room setting will be sure to challenge what you thought you expected from your business travel accommodations.
They also foster positive indoor and outdoor environments for getting work done day and night. Outside, there is a lovely WiFi-equipped area so that you can get the job done in fresh air, or you can opt to work indoors or in-room. If you get caught laboring away into the wee hours of the morning, you can enjoy a cup of a tea. With its focus in a fitness- and work-friendly experience, EVEN Hotels committed to helping business travelers increase productivity all around.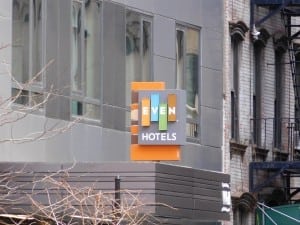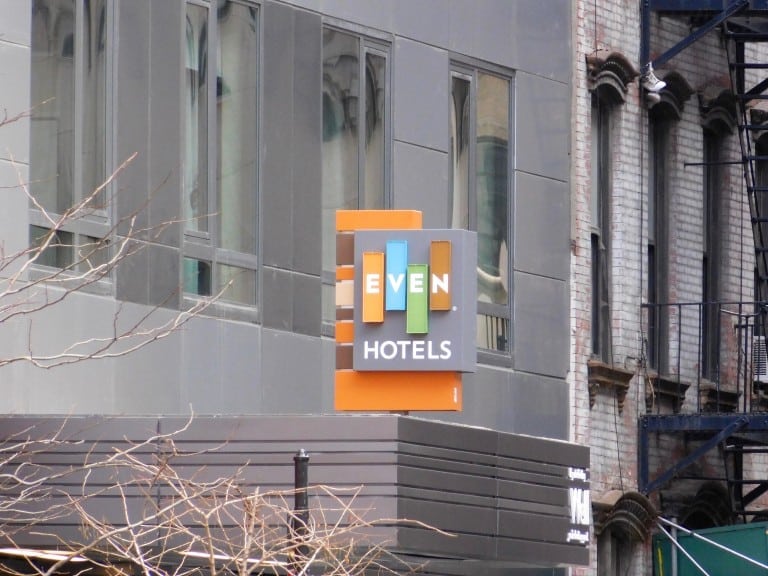 As EVEN Hotels are the newest addition to the world of healthy hotels, it would be best to visit their website to find out if they have a location at the destination of your next business trip. One of their two New York City sites is close to Penn Station and Times Square, so if this pattern continues, you might find yourself in a dream hotel in a dream location!
[divider_line]
Business Travel Life
Providing nationwide nutrition and fitness concierge services, Business Travel Life seamlessly integrates a healthy lifestyle into corporate and business travel. We partner with our clients to provide nutrition plans and workouts that are achievable on the road. Our clients benefit from the customized level of service and ongoing support we provide. Check out our online store before your next trip to shop for healthy travel snacks, travel friendly workout tools, and accessories that make healthy travel easier.