Oakland International Airport will be home to two American Heart Association Hands-Only CPR training kiosks
Interactive machine teaches life-saving skill to travelers in five minutes.
Oakland International Airport serves more than 13 million travelers annually. Thanks to the Chevron Corporation, a kiosk will be located near Terminal 2, Gate 27. Thanks to the Anthem Blue Cross Foundation, a kiosk will reside near Terminal 1, Gate 8.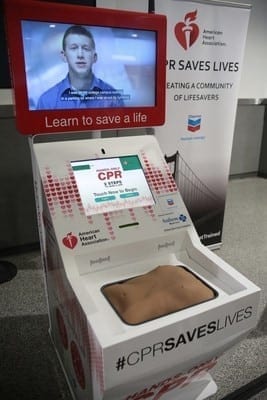 Each year, more than 350,000 cardiac arrests occur outside the hospital, and about 20 percent occur in public places such as airports. CPR, especially if performed immediately, can double or even triple a cardiac arrest victim's chance of survival. Yet less than half of out-of-hospital cardiac arrest victims receive CPR from a bystander.
"Every second counts when a person suffers a cardiac arrest, which is why bystander CPR must start immediately until professional help arrives," said Dan Smoot, American Heart Association, Bay Area Board Chairman. "But bystanders may be reluctant to perform CPR because of lack of training or they may be fearful. The kiosks will help the public acquire a comfort level with performing chest compressions without the stress of an actual medical emergency, so they'll feel empowered to spring into action if they witness a cardiac emergency."
Hands-Only CPR has two easy steps, performed in this order: when you see a teen or adult suddenly collapse, call 911. Then, push hard and fast in the center of the chest at a rate of 100 to 120 beats per minute until help arrives.
"Anthem Blue Cross Foundation is committed to supporting important initiatives that can have a positive impact on the health and wellbeing of the communities we serve," said Dr. Jacob Asher, Chief Medical Officer of Anthem Blue Cross. "Making the Hands-Only CPR training kiosks available at the airport enables travelers to make the most of an unanticipated layover by providing greater access to this valuable life-saving skill that can make a difference in the lives of Bay Area residents and beyond."
Each kiosk has a touch screen with a short video that provides an overview of Hands-Only CPR, followed by a practice session and a 30-second test. With the help of a practice manikin, or a rubber torso, the kiosk gives feedback about the depth and rate of compressions, as well as proper hand placement – factors that influence the effectiveness of CPR. Kiosk visitors can select to do the training in English or Spanish. The training also has closed captioning to make the instruction available to everyone.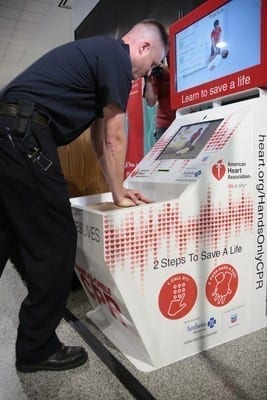 "Bystander CPR increases one's chance of survival by doubling and even tripling positive outcomes," said Dr. Huma Abbasi, Chevron's General Manager of Global Health and Medical. "At Chevron we believe in empowering our Bay Area residents to not only learn an invaluable skill such as Hands-Only CPR but also support them in putting the knowledge into action and possibly save a life."
"We strive to create a positive and safe experience for the millions who travel through our terminal facility each year. We're excited to partner with the American Heart Association to host two kiosks which will serve as resources for travelers to learn how they can make a difference and help others who experience a cardiac emergency," said Bryant L. Francis, Director of Aviation, Port of Oakland.
There are an additional 26 kiosks across the United States with 11 kiosks located at several U.S. airports. More than 91,000 people have been trained across all the kiosks.
About the American Heart Association
The American Heart Association is devoted to saving people from heart disease and stroke – the two leading causes of death in the world. We team with millions of volunteers to fund innovative research, fight for stronger public health policies and provide lifesaving tools and information to prevent and treat these diseases. The Dallas-based association is the nation's oldest and largest voluntary organization dedicated to fighting heart disease and stroke. To learn more or to get involved, call 1-800-AHA-USA1, visit heart.org or call any of our offices around the country. Follow us on Facebook and Twitter.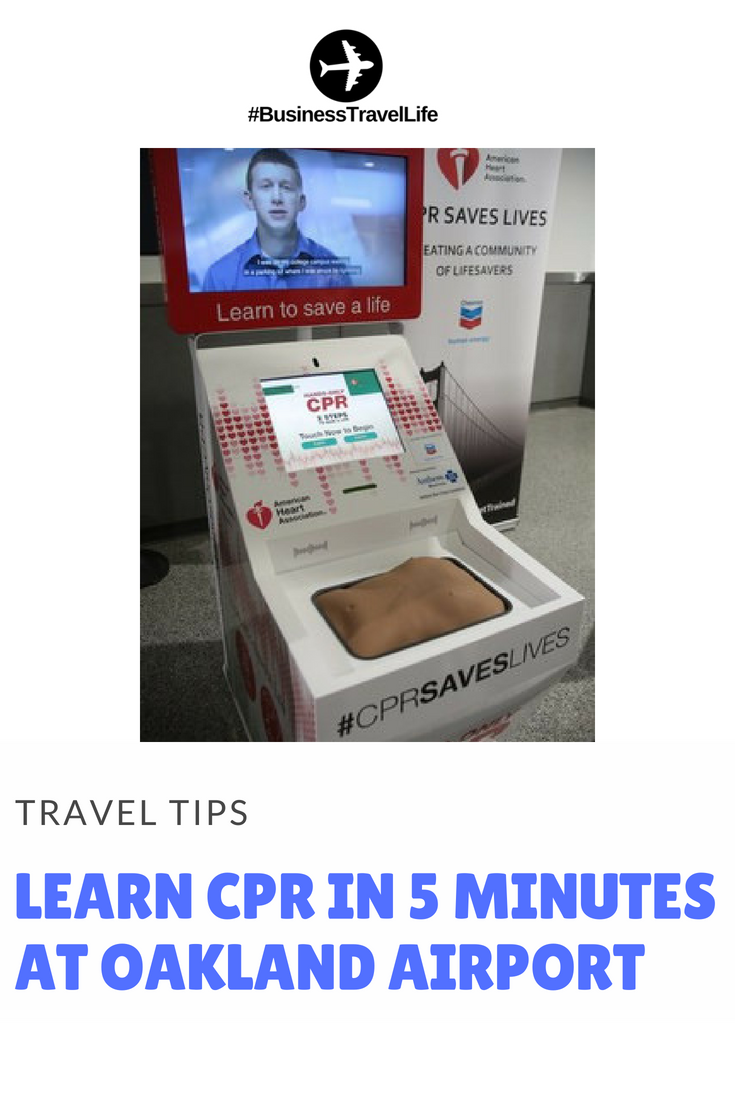 Business Travel Life
Business Travel Life is an online resource supporting the road warrior lifestyle. We give business travelers the tools they need to maintain their wellness and productivity when traveling. The topics we cover include business travel tips, travel workouts, healthy travel hacks, travel products, general travel tips, and industry trends. Our goal is to make business travel a healthier experience – and to make healthy travel practices more accessible to all road warriors.