Backpacks are a great option for commuting, travel days and conventions.
I recently attended the GBTA convention. Instead of handing out a reusable bag at check-in, the GBTA handed out a really nice backpack. I have not used a backpack in years, but admittedly it was a nice way to lug everything around without hurting my back. This inspired last week's Friday Finds, 5 Professional Backpacks for Women. This week, we featured 5 professional backpacks for men. What we realized while researching backpacks for men, is that there are a lot of options and we plan to revisit this subject in greater detail in the future!

[divider_line]
This slideshow requires JavaScript.
Tumi Alpha Bravo – Knox Backpack: This backpack is built with ballistic nylon construction for long-wearing durability. The bag has enough space for your daily commute but also has an add-a-bag sleeve so you can easily attach it to your roller bag at the airport. Size: 14″W x 16″H x 6″D. $365, Shop Now- Nordstrom
This slideshow requires JavaScript.
Briggs & Riley @work – Large Backpack: The durable backpack is built for business travel. The design offers easy access to the main compartment and includes small pockets on the side to store items while going through airport security. Size: 12 1/2″W x 18″H x 7 1/2″D. $269, Shop Now- Nordstrom
This slideshow requires JavaScript.
Tommy Bahama 'Surge' Backpack: This backpack is not built for frequent travel, but offers lightweight material for style and utility. The interior laptop sleeve will hold up to a 15″ laptop. Size: 12″W x 18 1/4″H x 8″D. $100, Shop Now- Nordstrom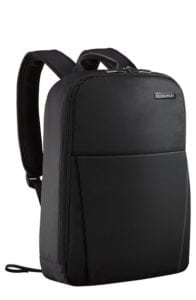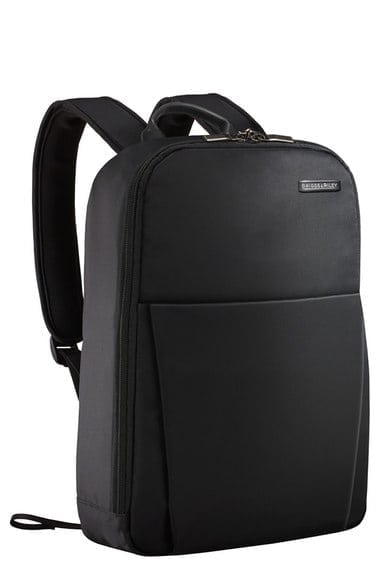 Briggs & Riley'Sympatico' Backpack:  The backpack is highly durable and light weight. The bag is designed to get you through the airport quickly with a SpeedThru pocket for easy access to travel documents and a slip-through back panel to slide over the handle of your luggage. Size: 11″W x 16″H x 5 1/2″D. $155, Shop Now- Nordstrom.
This slideshow requires JavaScript.
Tumi 'Alpha Bravo – Luke' Backpack: This unique backpack style is built with ballistic nylon for increased durability. The bag features lots of pockets to increase organization. The Add-a-Bag sleeve allows you to attach the backpack to your roller bag when going through the airport. Large enough to hold clothing and tech gear for a short business trip. Size:Size: 14″W x 26″H x 6″D   $545, Shop Now- Zappos
Do you carry a backpack during travel or use a backpack for your commute? 
[divider_line]
Business Travel Life
Providing nationwide nutrition and fitness concierge services, Business Travel Life seamlessly integrates a healthy lifestyle into corporate and business travel . We partner with our clients to provide nutrition plans and workouts that are achievable on the road. Our clients benefit from the customized level of service and ongoing support we provide. Check out our online store before your next trip to shop for travel accessories and travel-friendly workout tools that make healthy travel easier.