There are many unwritten rules when it comes to flying.
This summer you can expect airports and flights to be packed. Airlines for America predicted a record-breaking amount of travelers this summer, which means full flights, longer boarding times and more inexperienced travelers.
See Related: Passenger Shaming: Worst In-Flight Etiquette Violations
There are many unwritten rules when it comes to being a courteous passenger that you will not learn about in the preflight safety demonstration. Whether you are an occasional traveler or a regular jet setter, read through the following tips for flying to ensure you understand how to be a better seatmate during your next trip.
10 Tips to be a Better Seatmate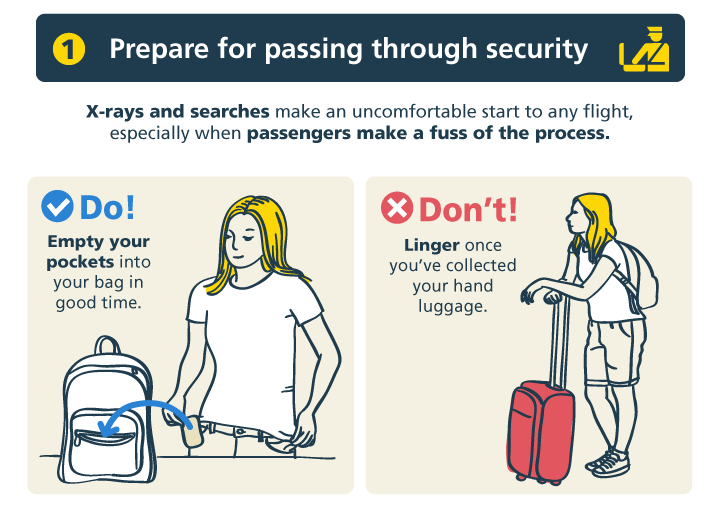 There is nothing more frustrating than waiting in line at security for upwards of 30 minutes, only to watch someone ahead of you approach the X-Ray machine unprepared. Remove your liquids, shoes and electronic devices as quickly as possible. And, after you pick up your personal items from the trays, do not repack your bag right there. Grab your belongings and move out of the way.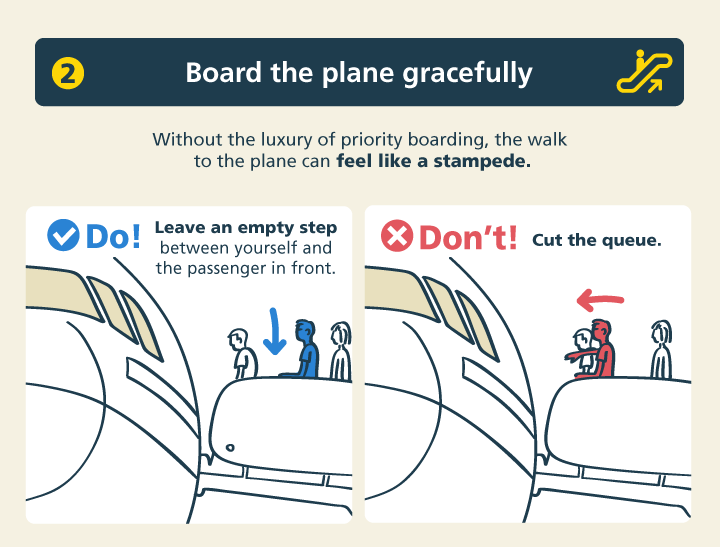 This sounds pretty obvious, but it happens all the time. Leave empty space between yourself and the passenger in front of you. Occasionally, an airline employee will deplane and the closer you are to the person in front of you, the less space that person will have to back up. Also, don't even think about cutting the line. Listen to boarding announcements and board in the correct zone.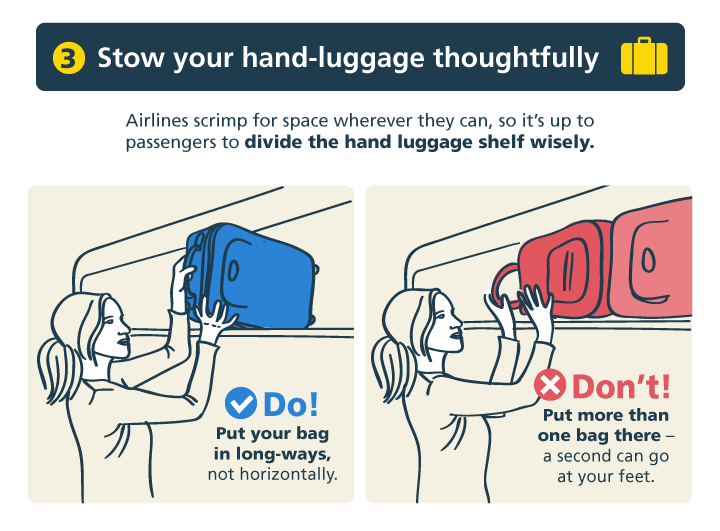 When you store your bag overhead, make sure you put the bag in the bin correctly. If you are unsure, double check with the flight attendant. If you need help, ask for help. Do not put your second bag up in the overhead until the other passengers have boarded. And, please, I beg you, do not even try to stuff you jacket up there until everyone else has had a chance to store their luggage.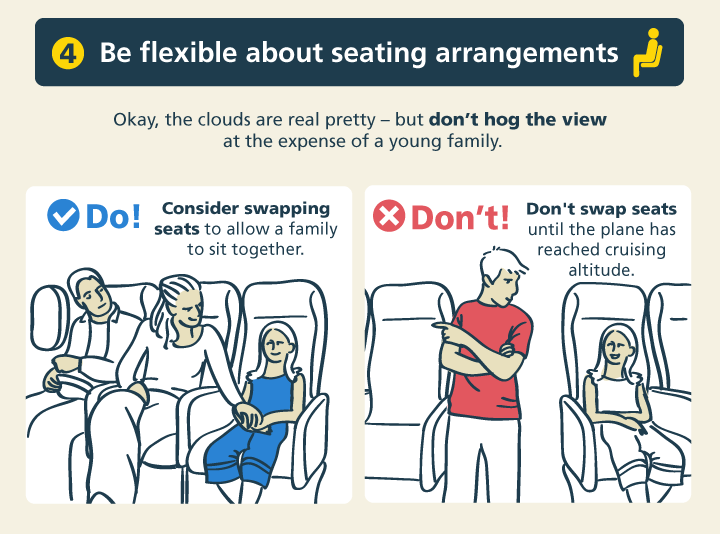 If you are traveling alone and someone asks you to move, so they can sit next to a child, consider switching. If you have paid for a premium seat and you will lose the seat when you swap, maybe it is not a good idea. If all seats are equal, be nice and switch. If you find an empty seat (or aisle- this does happen every once in a while), do not switch until the flight has taken off and you are safe to move around. If you are worried someone will take the seat, ask the flight attendant if you can switch seats after the plane has boarded, before take off.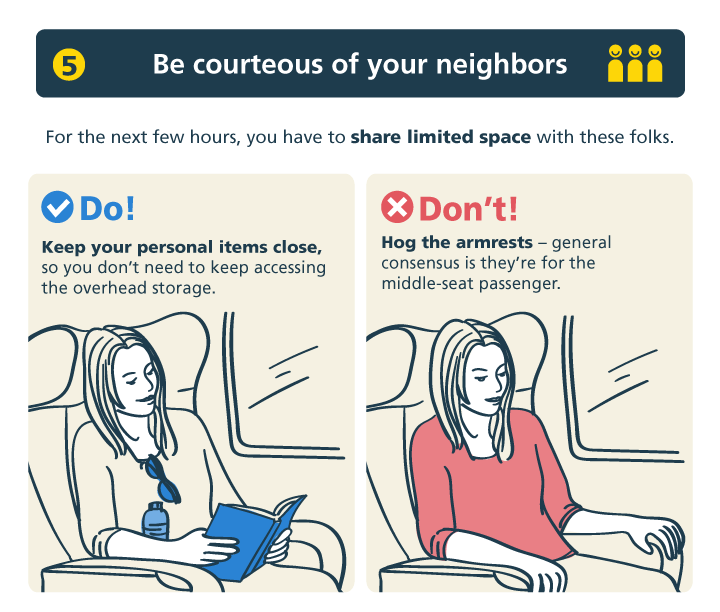 The person in the middle seat has dibs on the armrests. It is bad enough that person has to sit in the middle, let them use the arm rest. Keep your personal items contained.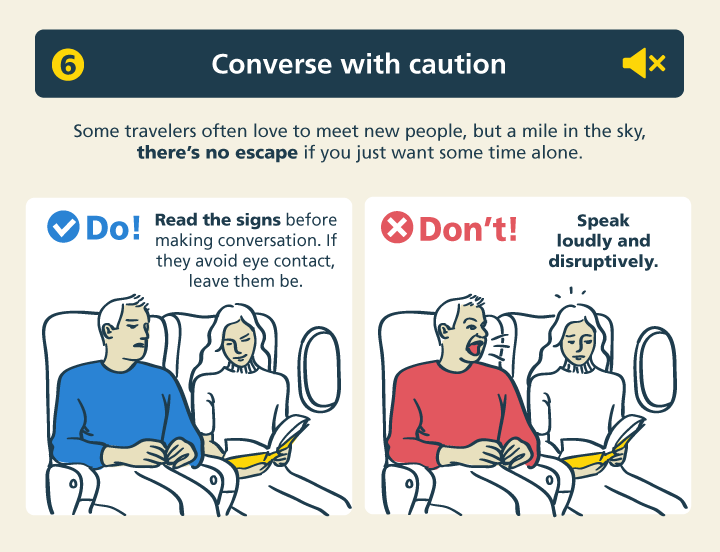 It is okay to say hi to your seatmates, but be conscious of verbal cues before trying to engage in a conversation. Some travelers prefer to travel in silence. If you do engage in a conversation, keep your voice low to avoid disturbing other passengers.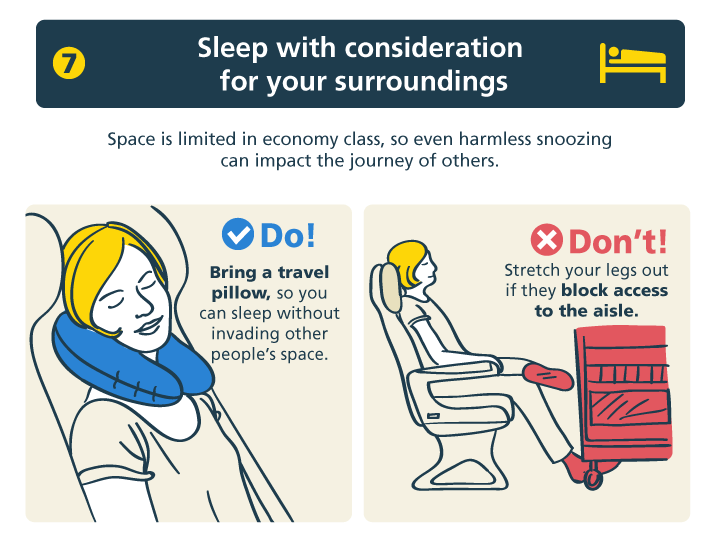 If you prefer to sleep during the flight, pack a travel pillow. Beyond the neck support and added comfort, a travel pillow will help you stay in your area after you fall asleep. If you are aware that you snore when you nap, consider staying awake. I have been on multiple flights with snoring passengers and it can be fairly obnoxious to others. Also, keep your legs in the area in front of your seat. It may be hard to avoid blocking the aisle access if you have long legs. Consider asking your seatmates if they need to get up before your take your nap.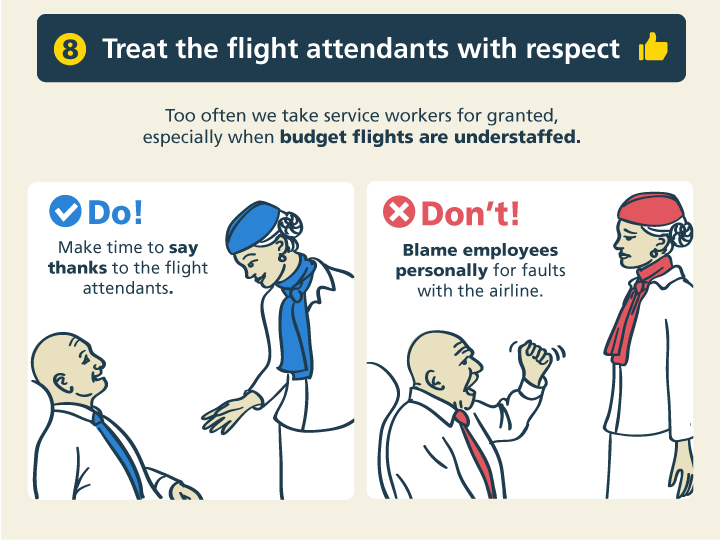 This should be really obvious, but some passengers are rude to flight attendants. The flight attendants main priority is ensuring you have a safe flight. Do not take personal frustrations with the airline out on the flight attendants.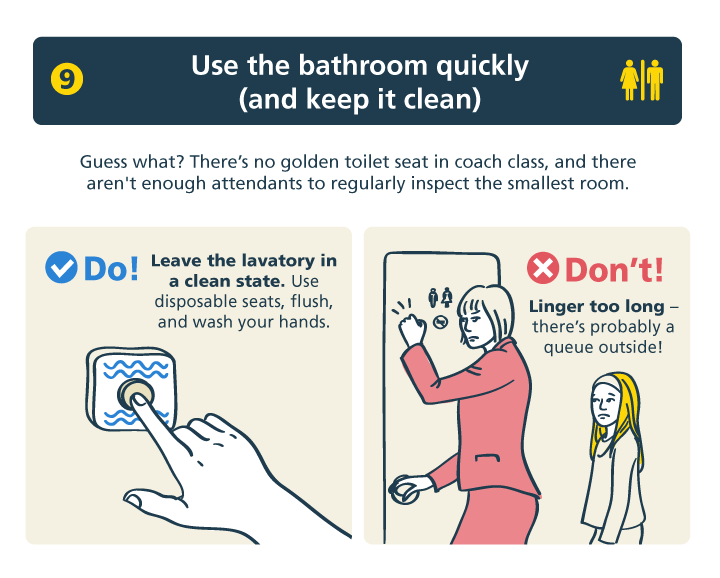 When nature calls, use the lavatory quickly and clean up after yourself. If you expect an upset stomach consider traveling with a small spray to avoid lingering odors in the lavatory.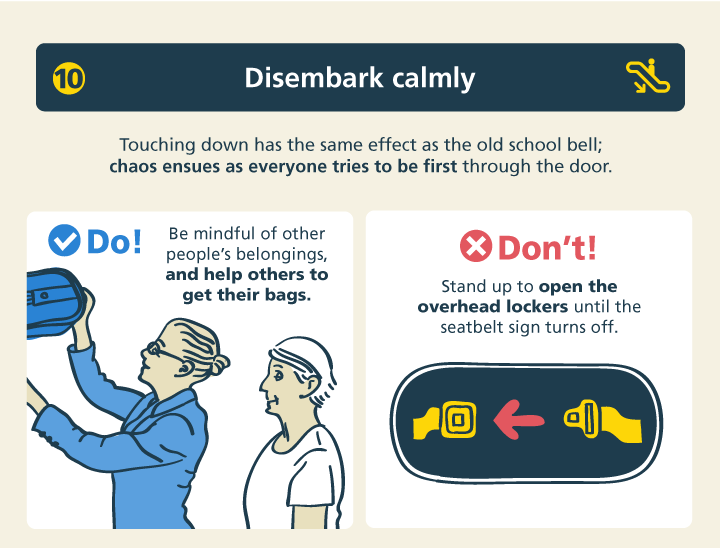 After the plane is parked at your gate, calmly gather your personal items. Do not try to cut the line to get off the plane (unless you are catching a connection and the flight attendant has asked others to remain seated). Be aware of others when you remove your overhead bag.
Please remember these great tips for flying and being a better seatmate during your next trip! Please share your tips for flying below!
Thanks to Expedia.ca for providing this useful infographic with tips for flying economy class.


Business Travel Life
Business Travel Life is an online resource supporting the road warrior lifestyle. We give business travelers the tools they need to maintain their wellness and productivity when traveling. The topics we cover include business travel tips, travel workouts, healthy travel hacks, travel products, general travel tips, and industry trends. Our goal is to make business travel a healthier experience – and to make healthy travel practices more accessible to all road warriors.