Holiday Gifts for Frequent Flyers
Are you trying to find the perfect gift for the jet-setter in your life? We found gifts that will make life up-in-the-air tolerable, if not enjoyable for the frequent flyer in your life. Check out our annual holiday gift for frequent flyers.
Middle Seat Salvation
No leg room? No problem. The Middle Seat Salvation Gift Set finally offers something you can enjoy on the plane, even from the middle seat: sky-high cocktails, quality snacks, and tangle-free headphones. Once you're cruising, enjoy a bag of AgStandard Salt & Pepper Smoked Almonds and use one of those nifty mini bottles of vodka to mix up your own Carry On Cocktail Kit Moscow Mule. Can't stand airplane headphones? Triple C Designs' Green Budz earphones come with conveniently retractable wires that won't tangle, and a magnetic clasp to keep them within easy reach in your pocket or a coat lapel. The Middle Seat Salvation Gift Set can be customized and includes gift wrap. $74, Knackshops.com
---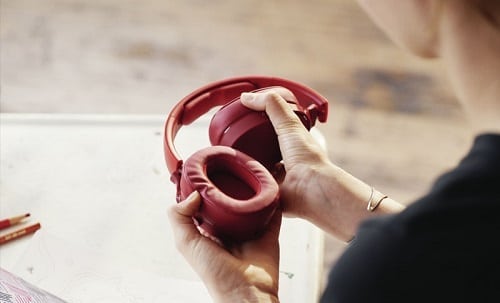 Hesh 3 Wireless Headphones
The Skullcandy Hesh 3 Wireless headphones just launched on October 1st. The Hesh 3 Wireless is perfect for business travelers on-the-go needs with superb noise isolation and durability. These headphones were completely rebuilt from the ground up with elegant industrial design, premium materials, Bluetooth functionality and a suite of innovative technologies that enable an immersive audio experience. Travelers will appreciate the premium, multi‐sensory experience, 22 hours of battery life, quick charging (charge 10 minutes to get 4 hours of battery), memory foam cushions, and travel‐friendly fold-up design. Available in black, red, grey or blue. $129, Skullcandy.com
---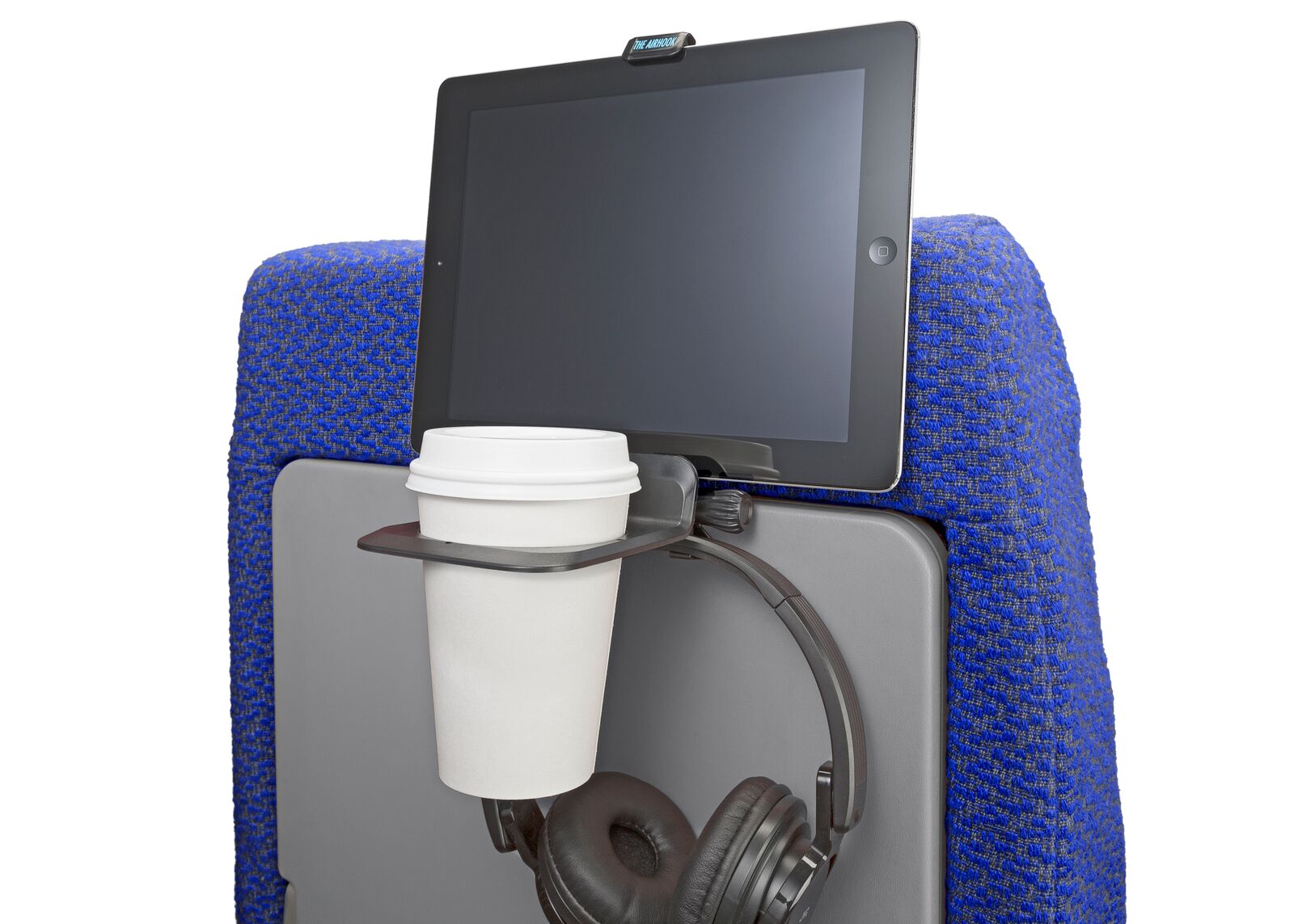 The Airhook
The Airhook is a revolutionary two-in-one solution for airplane travel: a stable drink holder and a secure mount for an electronic device that attaches to the tray table in its locked position. Designed to elevate the level of comfort and convenience for airplane travelers, allowing for maximum legroom, The Airhook uses the tray table in its vertical locked position as an anchor, rather than horizontally as a platform. Travelers no longer need to sacrifice space with the fold down trays! $25, TheAirhook.com
---
VIM & VIGR's Graduated Compression Socks
VIM & VIGR's graduated compression socks energize your legs, prevent swelling and the onset of DVT, as well as alleviate achiness and heaviness, making them a must-have for long flights. These socks increase the circulation of freshly oxygenated blood back into your legs and fit in with your stylish jet-setting lifestyle. Available in four fabric options (cotton, nylon, moisture-wick nylon, and wool) and various sizes including wide calf, fashionable prints, patterns, and colors for both men and women. $32-$40, vimvigr.com and Nordstrom.com
---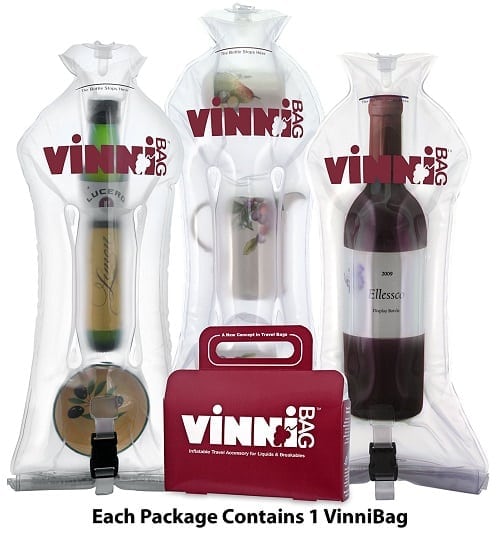 Vinnibag
Vinnibag ® is a versatile travel accessory that suspends items in a liquid-tight air cushion. VinniBag is a great travel companion for anything that can break or leak in a suitcase, backpack, boat or car trunk. From wine, olive oil, and gourmet treats to perfume, medications, camera lenses and collectibles, contents are isolated, immobilized and cushioned by the air chambers, and sealed with a specially designed closure. It only takes a minute to inflate and seal VinniBag. Toss it into a suitcase and you're ready to go. VinniBags meet or exceed all TSA & airline regulations. Durable materials will last for many journeys. Stores flat, rolled or folded. $29.99, Amazon
---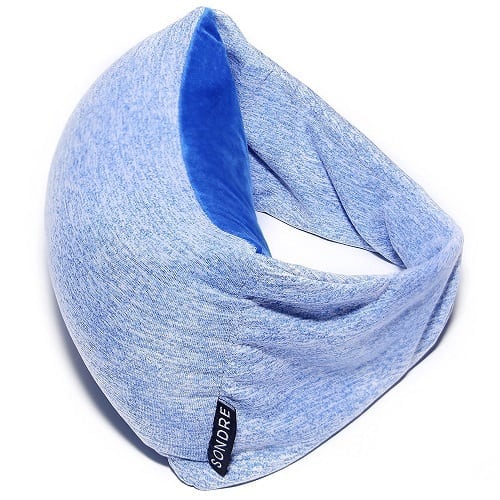 Voyage Pillow
The Voyage Pillow is the most compact, versatile, and comfortable travel pillow for your next adventure. The Voyage Pillow is over 50% smaller than a traditional U-Shape travel pillow to fit perfect in any carry-on bag. It features a plush microbead pillow with our unique multi-purpose poly/spandex band that allows you to customize the way you wear it – over your eyes, around your neck, against the window, on the seat in front of you, etc. $24.95, Amazon.
---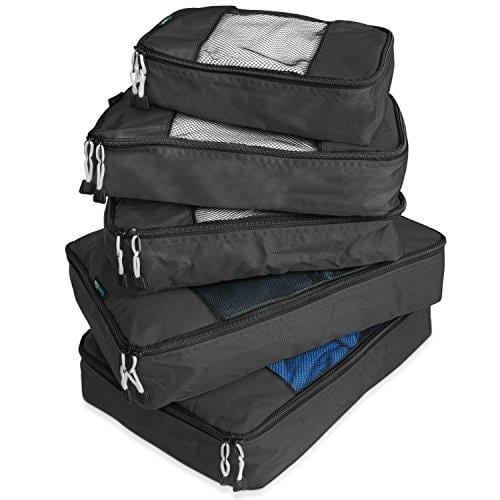 Packing Cubes
The TravelWise 5 Piece Packing Cube Set is a travel essential that allows clothes to stay folded and neat when packed in their own "small drawers". The cubes are fantastic for staying organized on both short and long trips and help travelers avoid over packing. Constructed of lightweight, durable nylon, these multi-sized cubes compartmentalize similar items such as shirts, pants, swimsuits and electronic accessories to streamline packing. The open mesh top makes searching for misplaced items a thing of the past. Set of 5- $24.95, eatsmartproducts.com
---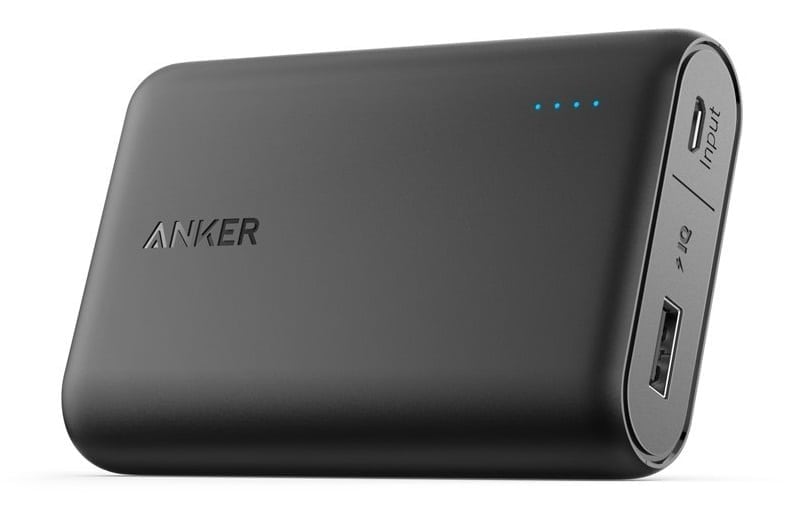 High-speed Charging Technology Power Bank
This power bank is perfect for travelers. It is the same size as a credit card and lightweight. The 10000mAh portable charger provides almost three-and-a-half iPhone 6s charges or two-and-a-half Galaxy S6 charges. The Anker's exclusive PowerIQ and VoltageBoost combine to deliver the fastest possible charge for any device. $25.99, Amazon
---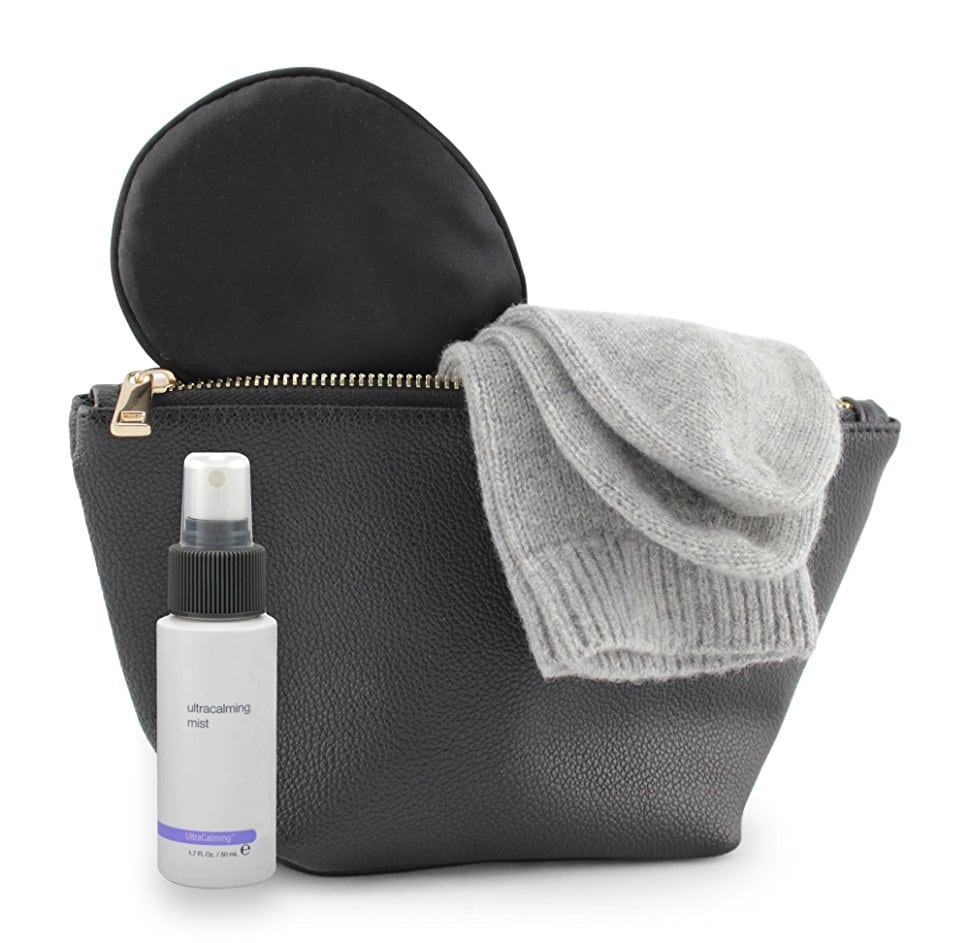 Jet&Bo Luxury Amenity Kit
The Jet&Bo Luxury Amenity Kit includes a leather case, 100% cashmere socks, silk eye mask, and Dermalogica Ultracalming™ facial mist. Feel like you are flying in first class with this luxury amenity kit. Made from natures finest materials, leather, silk and cashmere. $89, Amazon
---
Tile Mate Bluetooth Tracker
Never worry about losing something at the airport or your hotel again. Tile Mate easily loops onto keychains or attaches to anything you don't want to lose so you can find it fast. Use your smartphone to make your Tile Mate ring when it's nearby, but out of sight. You can also use it to find your phone (even if it is on silent). The Tile app remembers the last time and place it saw your Tile, so if you left it somewhere, you'll always know where to look. $24.99, Amazon
---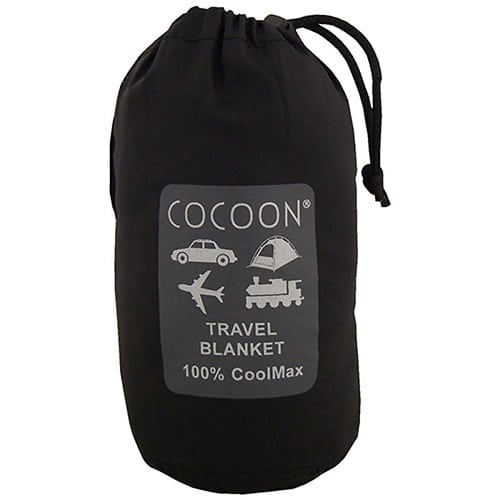 Travel Blanket
The Cocoon Travel Blanket is a small and lightweight blanket that takes up minimal space in your bag. here has that airline blanket been? The blanket's special midweight CoolMax knit is warm, breathes well, wicks moisture away effectively and feels great on your skin. 70 x 56 inches. 11 ounces. $35.95, Amazon
---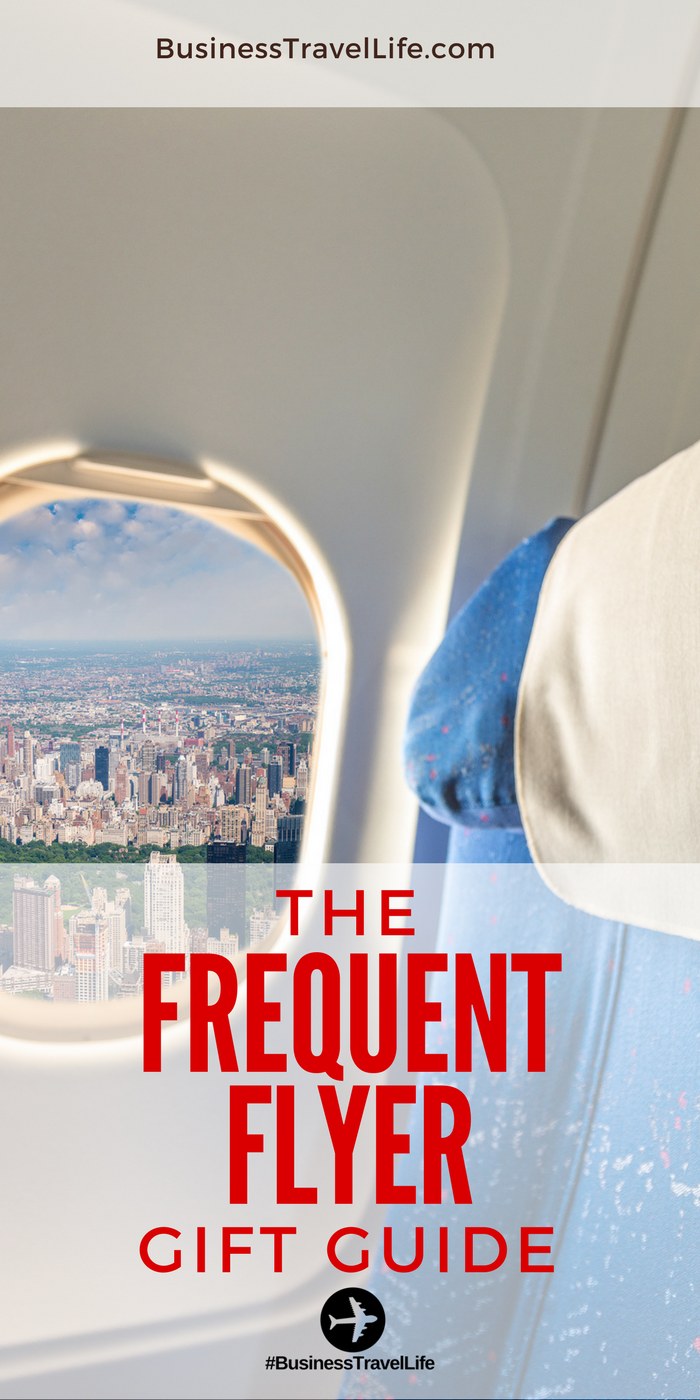 ---
Business Travel Life
Business Travel Life is an online resource supporting the road warrior lifestyle. We give business travelers the tools they need to maintain their wellness and productivity when traveling. The topics we cover include business travel tips, travel workouts, healthy travel hacks, travel products, general travel tips, and industry trends. Our goal is to make business travel a healthier experience – and to make healthy travel practices more accessible to all road warriors.