"I can travel for an entire week without eating out one time!"
Veterinary Sales Rep Jaclyn Goldman has spent the past 10 years as a sales rep in Canada. Business Travel Life caught up with Jaclyn while she was en route to the airport, and she happily shared her secrets for avoiding the temptation of fast food when you are on the go. 
In the last 10 years, Jaclyn Goldman (aka The Travelling Saleswoman) has gained and lost 40 pounds while living life on the road as a Veterinary Sales Rep for Trutina Pharmacy. Her territory is all of Canada, and she may be on the road for four weeks at a time, staying in a new hotel each night. Not unlike other business travelers her routine of dining out, not taking time to exercise and indulging too frequently caught up with her after two years on the road.
"After realizing I gained 40 pounds, I decided to make some changes. I hired a trainer, started cooking my own food, and only drinking on the weekends."
When the scale showed that she was 40 pounds heavier than her pre-business travel weight, she immediately took action. She hired a trainer who she works out with at home. "My trainer puts together some workouts for me to do when I travel as well." Frequent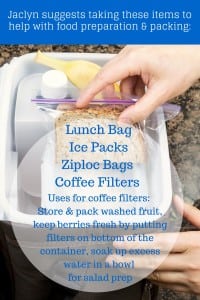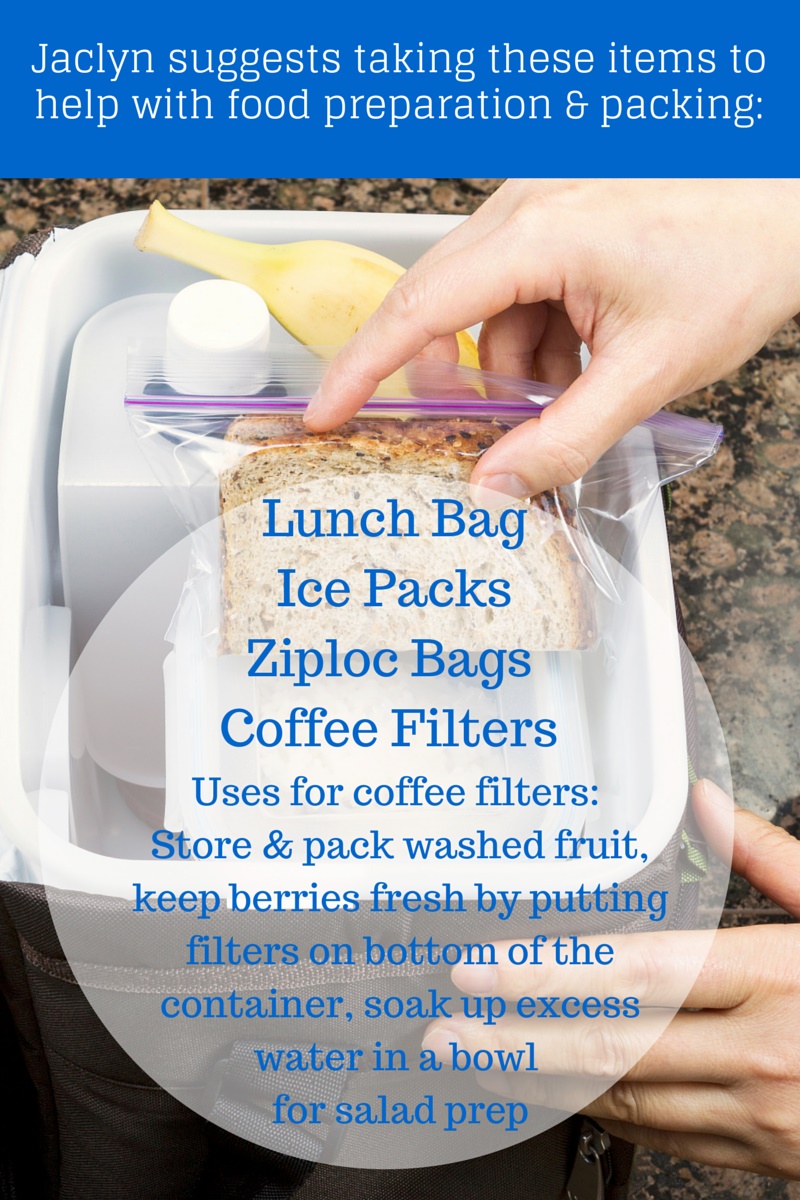 check-ins with her trainer help to hold Jaclyn accountable. Jaclyn also realized she needed to stop dining out so frequently.
She created a standard grocery list, and as soon as she picks up her rental car, she heads straight to the grocery store. "It is time consuming to grocery shop and cook food when I travel, but it is worth it to improve my health," Jaclyn said. Having prepared food with her is also beneficial when she is visiting accounts in the back country that are hours from restaurants. She suggests adding a large reusable grocery bag to your packing list for easily  transporting your food.
Jaclyn prefers to book a suite with a kitchen and a balcony. While it is not always possible, when she does have a kitchen, she prepares food that she can pack along for a few days if her hotel the next night will not have a kitchen. When asked why she prefers a balcony, she says candidly, "I am smoker. It is another habit I am working on."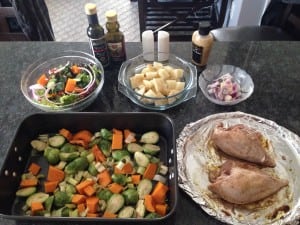 She has a standard grocery list that she uses each week. She mostly purchases whole food items like oatmeal, milk, fruit, salad mix, olive oil, vegetables, and chicken. Jaclyn is able to expense her grocery items as meals. Certainly her company appreciates the savings as she reports spending $85-$170 (Canadian) for a three or four day trip. Jaclyn says her favorite meal to cook is chicken fajitas.
"Cooking in my hotel room is also relaxing and comforting. It makes the hotel feel more like home."
Of course there are times Jaclyn entertains clients with meals out – she is a sales rep! But, she is quick to say that treating clients to dinner does not mean she overindulges. She sticks to healthy entrees when eating out in a restaurant as well.
You can follow Jaclyn on Facebook, Twitter, and her blog, TheTravellingSaleswoman.com.
Providing nationwide nutrition and fitness concierge services, Business Travel Life seamlessly integrates a healthy lifestyle into corporate and business travel . We partner with our clients to provide nutrition plans and workouts that are achievable on the road. If you would like help learning how to eat healthy on the road, Business Travel Life can help. We offer customized meal plans and hourly consultations. Our clients benefit from the customized level of service and ongoing support we provide. Check out our online store before your next trip to shop for healthy travel snacks, travel friendly workout tools, and accessories that make healthy travel easier.