Noise canceling headphones are a must for frequent travelers. They are the best way to tune out obnoxious passengers or crying babies when traveling or simply tune out everything going on around you to focus on a report or catch up on sleep. According to Wikipeida, noise canceling headphones are different than passive headphones because they reduce ambient sounds using active noise control.
There are number of noise canceling headphones on the market. Our top noise canceling headphone picks for 2016 are:
Bose QuietComfort 25
The Bose QuietComfort 25 is ranked the Best Noise Canceling Headphones by CNET. Bose noise cancelling technology monitors the noise around you and cancels it out, helping you focus on what you want listen to. Headphones work the best with Apple. Some remote features do not work with Android or Windows phones.
Features travelers will love include:
Fold up, compact carrying case
35 hours of use powered by AAA batteries
Ability to keep running (a bit lower quality) after the batteries die
Bose QuietComfort 20
The Bose QuietComfort 20 are similarly ranked by CNET to the Bose QuieComfort 25, and perhaps a more appropriate size for travel. The in-ear headphones are compact in size, yet highly effective in noise cancellation.
Features travelers will love include:
Only weighs 1.5oz
Compact carrying pouch
16 hours battery life, charged by Micro-USB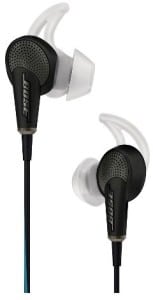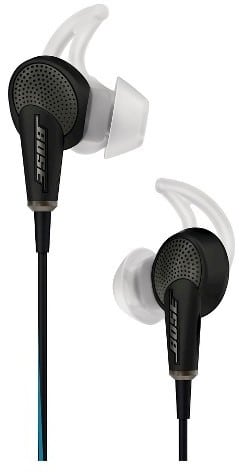 Beats by Dr.Dre
The Beats by Dr.Dre Studio Over-Ear Wireless Headphones are comfortable and light weight.  The sounds is great and a CNET reviewer mentioned clear sound during calls on a busy street in the wind. For anyone who takes calls in the airport, this seems like a major selling point. Available in 5 colors at Neiman Marcus.
Features travelers will love include:
Fold up design
12 hour batter life, wireless and 20 hour batter life when plugged into device
This slideshow requires JavaScript.
Noise Canceling Headphones on Sale
We found a few noise canceling headphones on sale!


[divider_line]

[divider_line]
Business Travel Life
Providing nationwide nutrition and fitness concierge services, Business Travel Life seamlessly integrates a healthy lifestyle into corporate and business travel . We partner with our clients to provide nutrition plans and workouts that are achievable on the road. Our clients benefit from the customized level of service and ongoing support we provide. Check out our online store before your next trip to shop for healthy travel snacks, travel friendly workout tools, and accessories that make healthy travel easier. Contact us to learn more about how we can help you lose weight and feel healthy while you travel.