See what was in this month's POPSUGAR Must Have Box!
This month, POPSUGAR's Must Have Box was focused on entertaining (perfect for timing for Thanksgiving). As you know, I typically highlight the items that are perfect for travel. And, this month there were two items that are great for women that travel for work.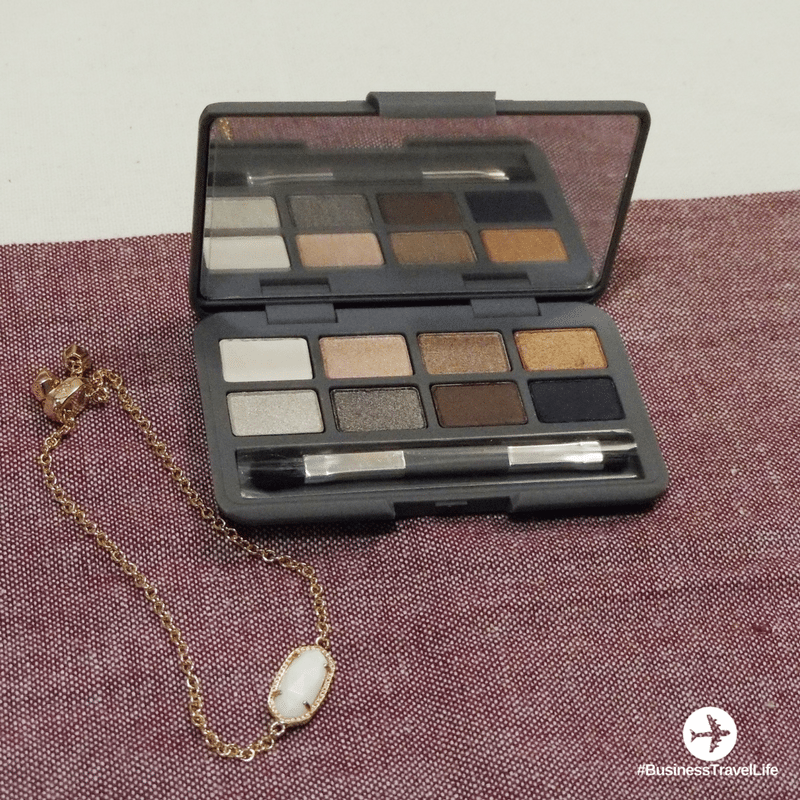 This lovely Kendra Scott bracelet was my favorite. The rose gold bracelet has a sliding closure, which I love because I have really small wrists. It will go perfectly with a few other rose gold bangles.
I also loved this Stowaway travel size eye shadow palate. It has eight colors and is compact in size, making it perfect for travel.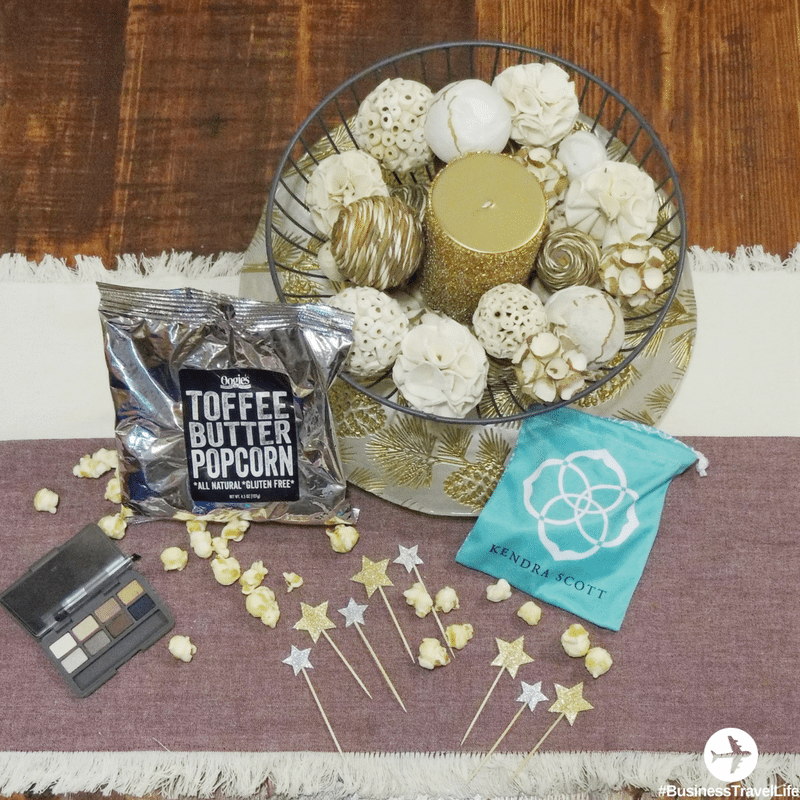 The November POPSUGAR Must Have Box included:
If you didn't receive the November box, don't miss another month! Learn more about POPSUGAR Must Have and sign up now.
POPSUGAR Must Have Box Promo Code
As promised, use the POPSUGAR Must Have Box promo code SHOP5 to get $5.00 off your first box!  Order your first box here!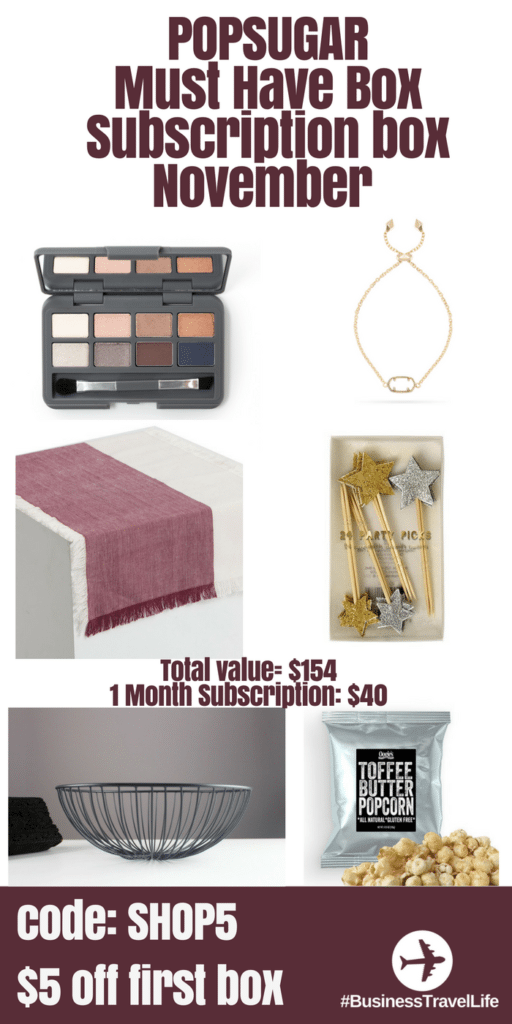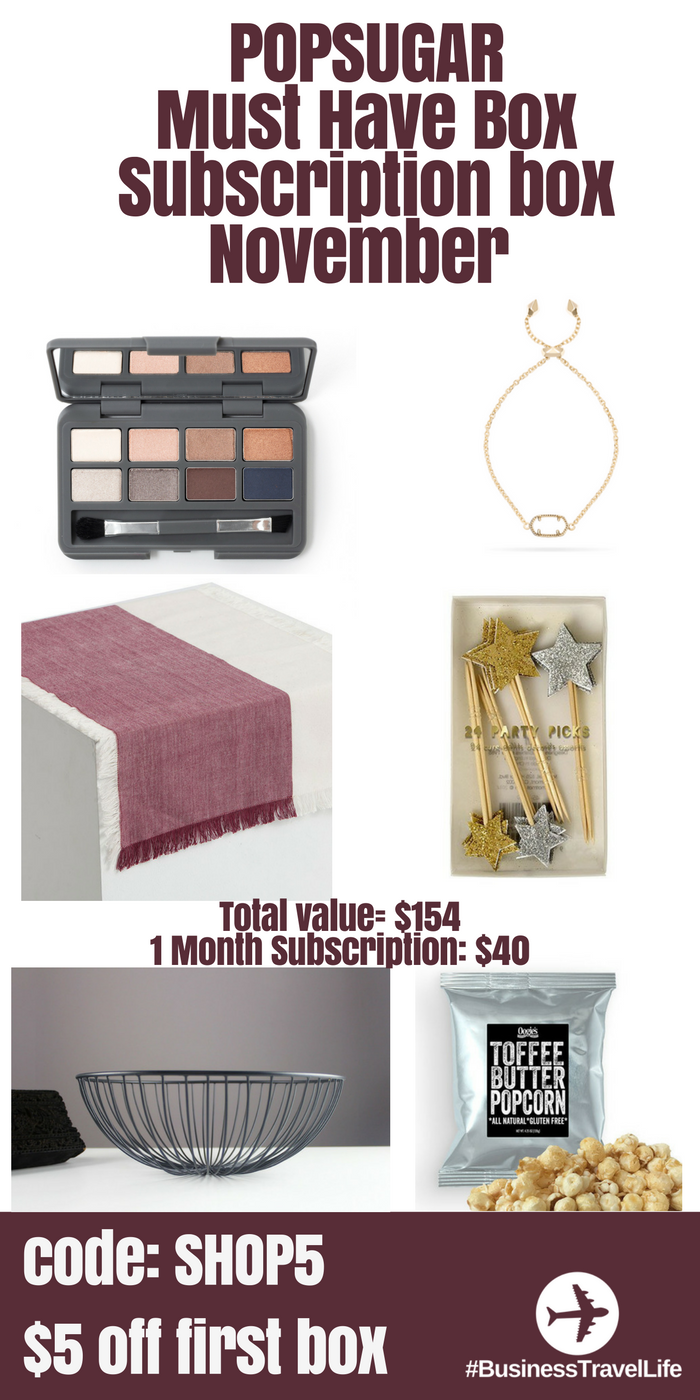 Happiness was delivered!
Huge thank you to POPSUGAR for sending me the November Must Have Box for review. You can subscribe to monthly POPSUGAR Must Have Box Subscription here!
 [divider_line]
Business Travel Life
Providing nationwide nutrition and fitness concierge services, Business Travel Life seamlessly integrates a healthy lifestyle into corporate and business travel . We partner with our clients to provide nutrition plans and workouts that are achievable on the road. Our clients benefit from the customized level of service and ongoing support we provide. Check out our online store before your next trip to shop for travel accessories and travel-friendly workout tools that make healthy travel easier.