Find out what items in the POPSUGAR Box you can pack for your next trip!
POPSUGAR sent me a Must Have Subscription Box full of wonderful treats! The value of everything in the October box was $153, which is an incredible deal for $39.99. Each month, the subscription box from POPSUGAR is full of fashion accessories and beauty goodies. And, each month a few of the items land directly into my travel bag.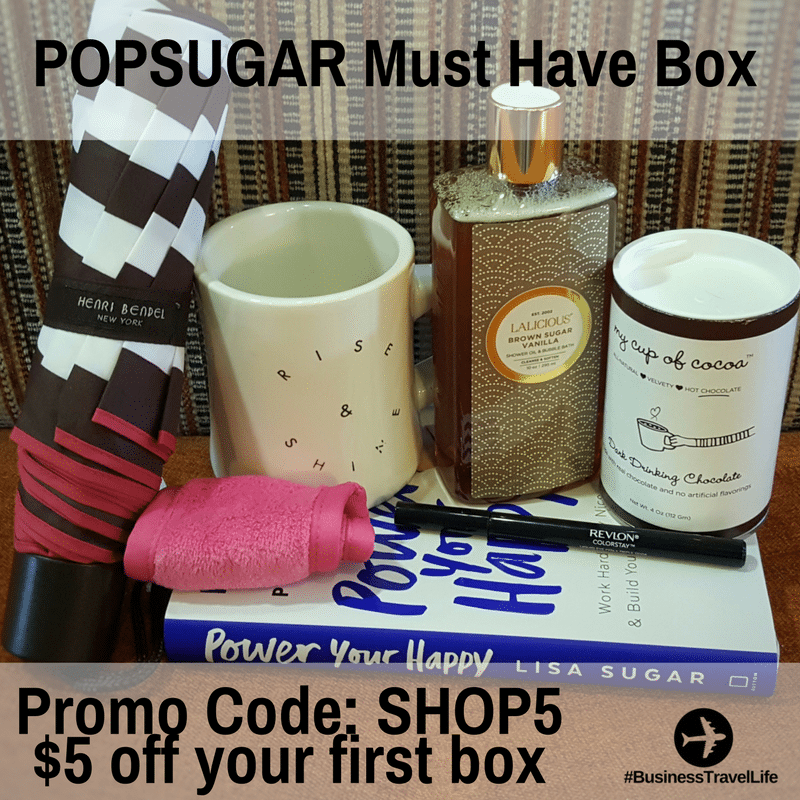 The items from the October Must Have Box that will go on my next business trip are the Henri Bendel Packable Umbrella, the Makeup Eraser Mini, the Revlon® ColorStay™ Liquid Eye Pen, and the Power Your Happy book.
My favorite item in the October Must Have Box is the Henri Bendel Packable Umbrella. I love the stylish design of this travel size umbrella!  It is compact enough to fit in my purse! I despise getting rained on and this umbrella will be a permanent addition to my carry-on bag.
Another cool item for ladies on the go is the Makeup Eraser Mini. Just add water to the makeup cloth and it will remove ALL of your makeup, including waterproof mascara. The clothes will last up t 1,000 washes, eliminating the need to travel with liquid makeup remover.
The Revlon® ColorStay™ Liquid Eye Pen will last up to 16 hours, which is essential on long travel and work days!
I am really excited to read the Power Your Happy book, written by Lisa Sugar. As a female entrepreneur, I love reading motivational books from successful business owners, like Lisa Sugar.
If you didn't receive the October box, don't miss another month! Learn more about POPSUGAR Must Have and sign up now.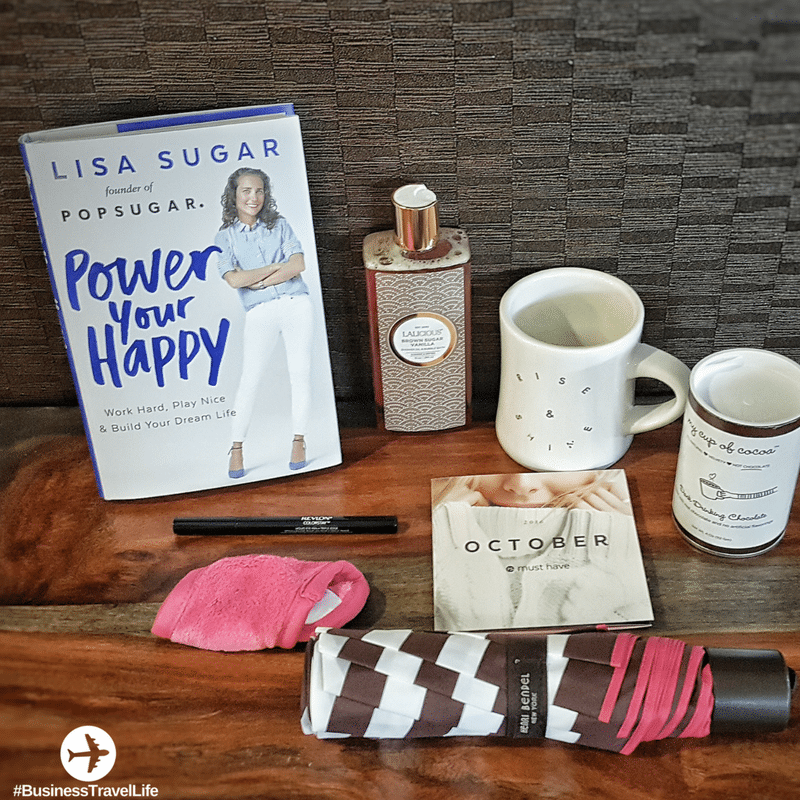 POPSUGAR Must Have Box Promo Code
As promised, use promo code SHOP5 to get $5.00 of your first box!  Order your first box here!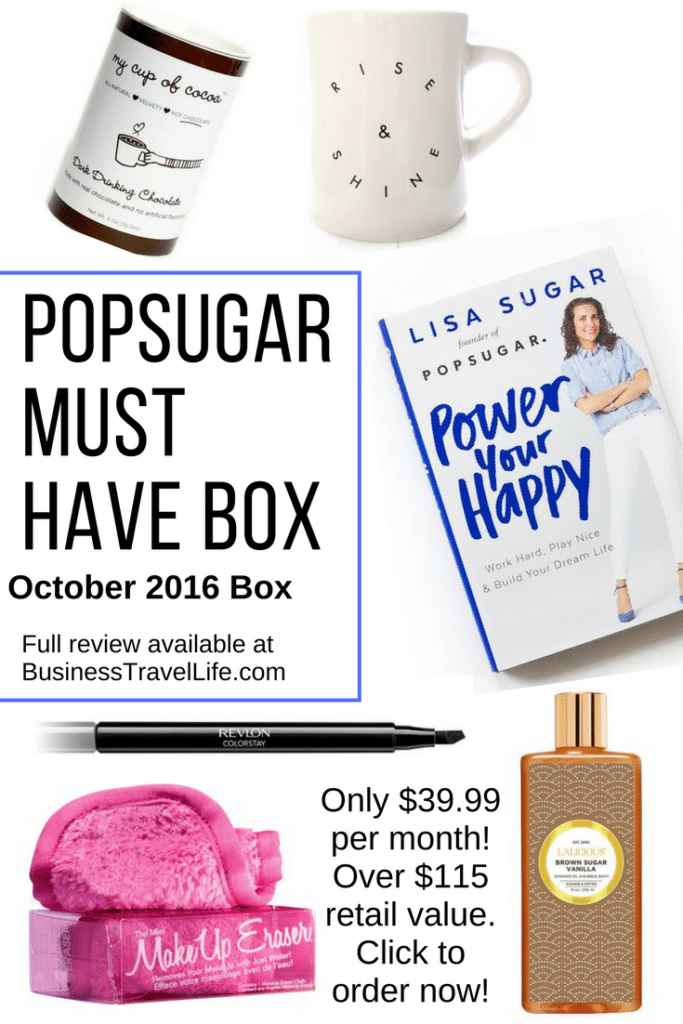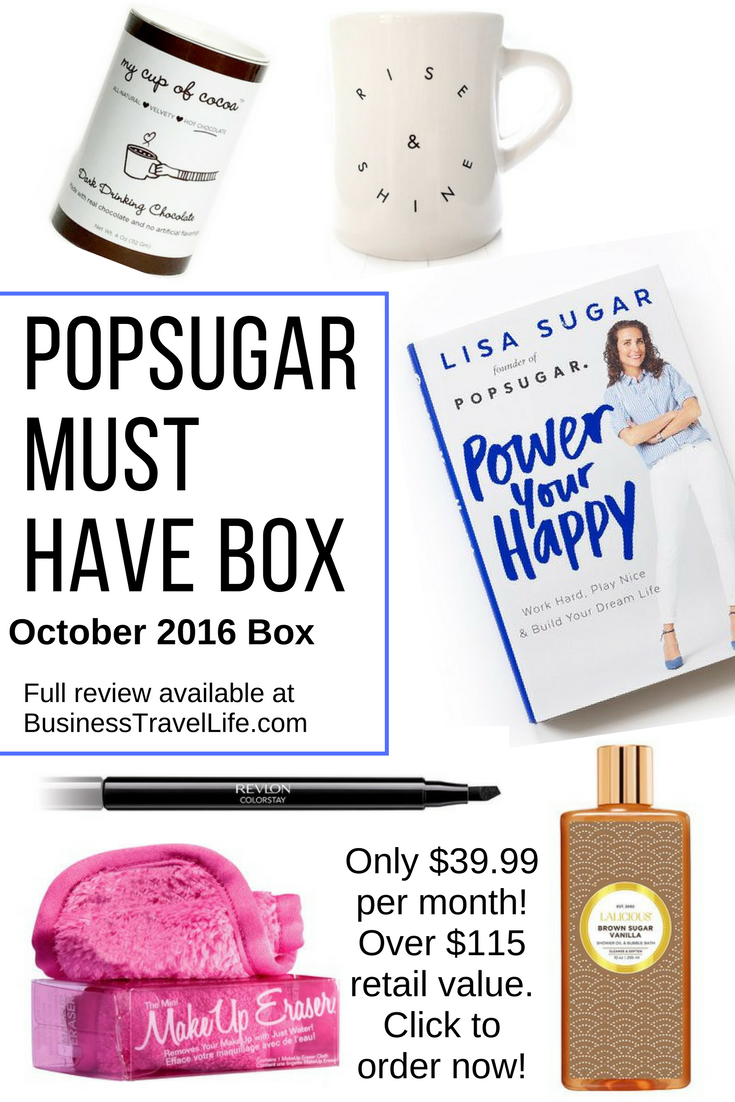 Happiness was delivered!
Huge thank you to POPSUGAR for sending me the October Must Have Box for review. You can subscribe to monthly POPSUGAR Must Have Box Subscription here!
[divider_line]
Business Travel Life
Providing nationwide nutrition and fitness concierge services, Business Travel Life seamlessly integrates a healthy lifestyle into corporate and business travel . We partner with our clients to provide nutrition plans and workouts that are achievable on the road. Our clients benefit from the customized level of service and ongoing support we provide. Check out our online store before your next trip to shop for travel accessories and travel-friendly workout tools that make healthy travel easier.