Healthy Travelers Have Many Options When Visiting Chicago
During travel, it can feel like fast food is the most convenient option for meals. Or that being away from home means working out in a tiny hotel gym. When it comes to Chicago, neither is true. From hotels with health-conscious amenities to restaurants that will help you avoid the allure of fast food; Chicago has plenty of options for health-conscious travelers.
Chicago Travel Tips: Where Healthy Travelers Should Stay
The JW Marriott Chicago
If exercising is part of your daily travel routine, look no further than the JW Marriott Chicago. With a spa that includes a swimming pool, state of the art cardio and strength training equipment, whirlpool, and fitness classes there is no way you'll have to set your fitness goals aside while traveling. The fitness center at the JW Marriott Chicago is open 24/7. Group classes are offered Monday through Friday.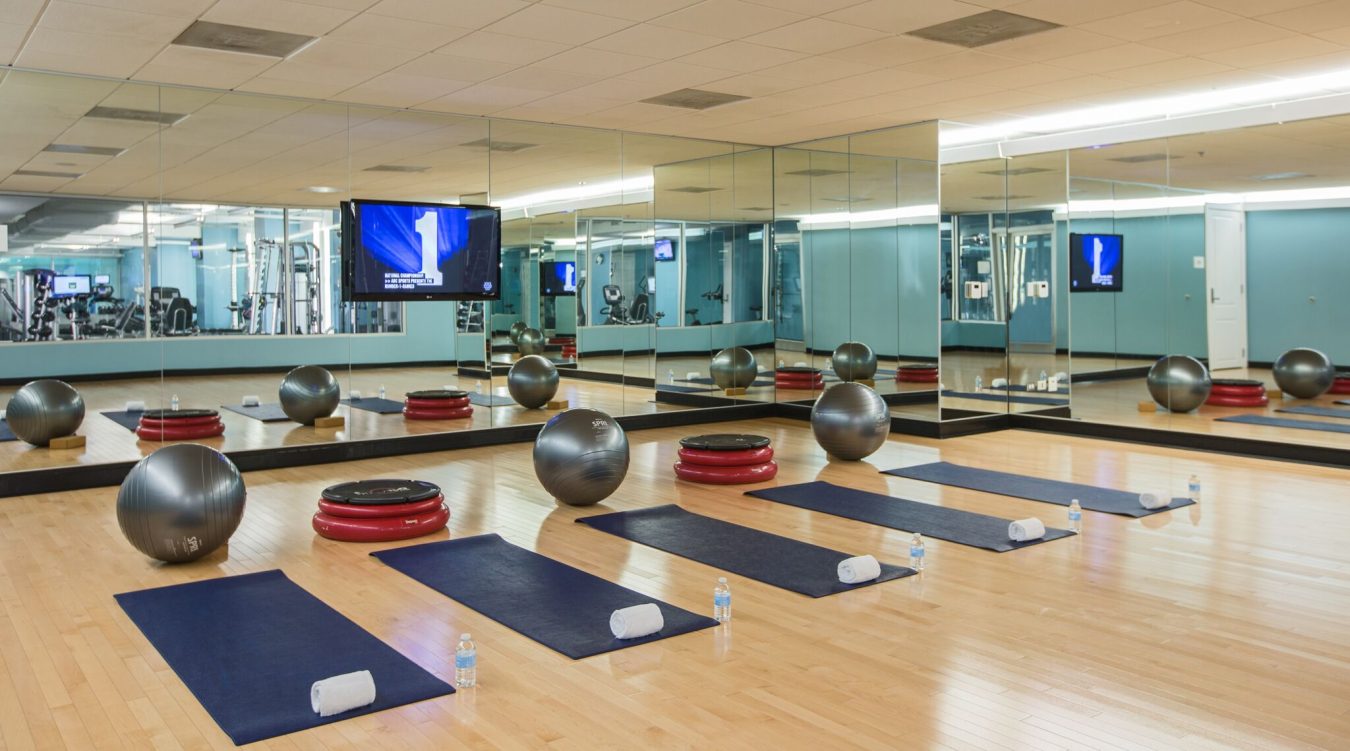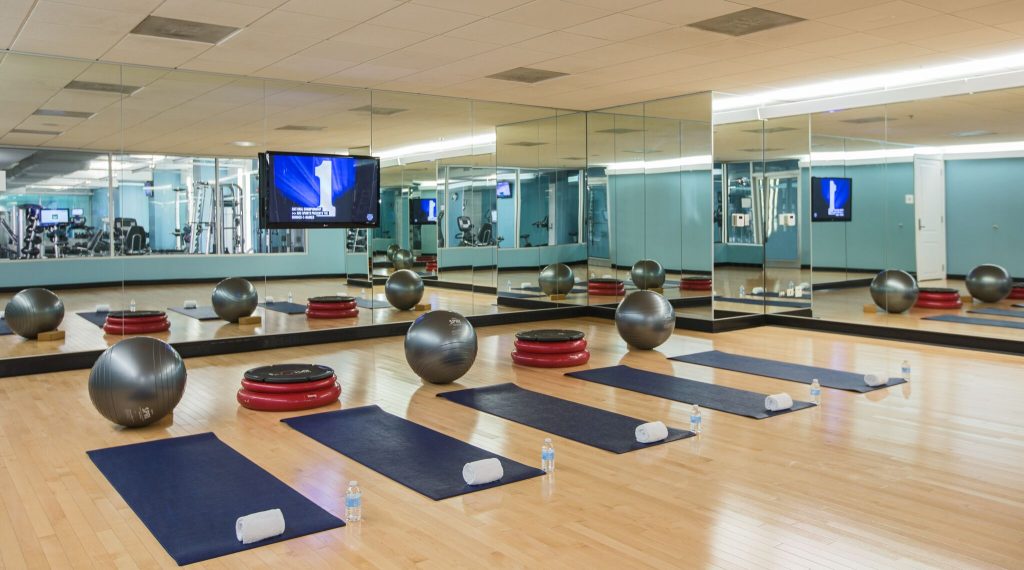 The JW Marriott Chicago's fitness center has Nike™ Performance Trainers that can help with personal training, fitness training, and nutritional consults. Jason Raynor, one of Nike's 50 Master Trainers worldwide, leads the trainers in the fitness center known as the JW Fit Squad. The fitness classes include:
Power Kickboxing
Cardio Barre
Cardio Kickboxing
Restorative Yoga
Athletic Conditioning
Yoga Strength
HIIT & Run
Pilates
Awakening Flow
MOGA (Mobility + Yoga)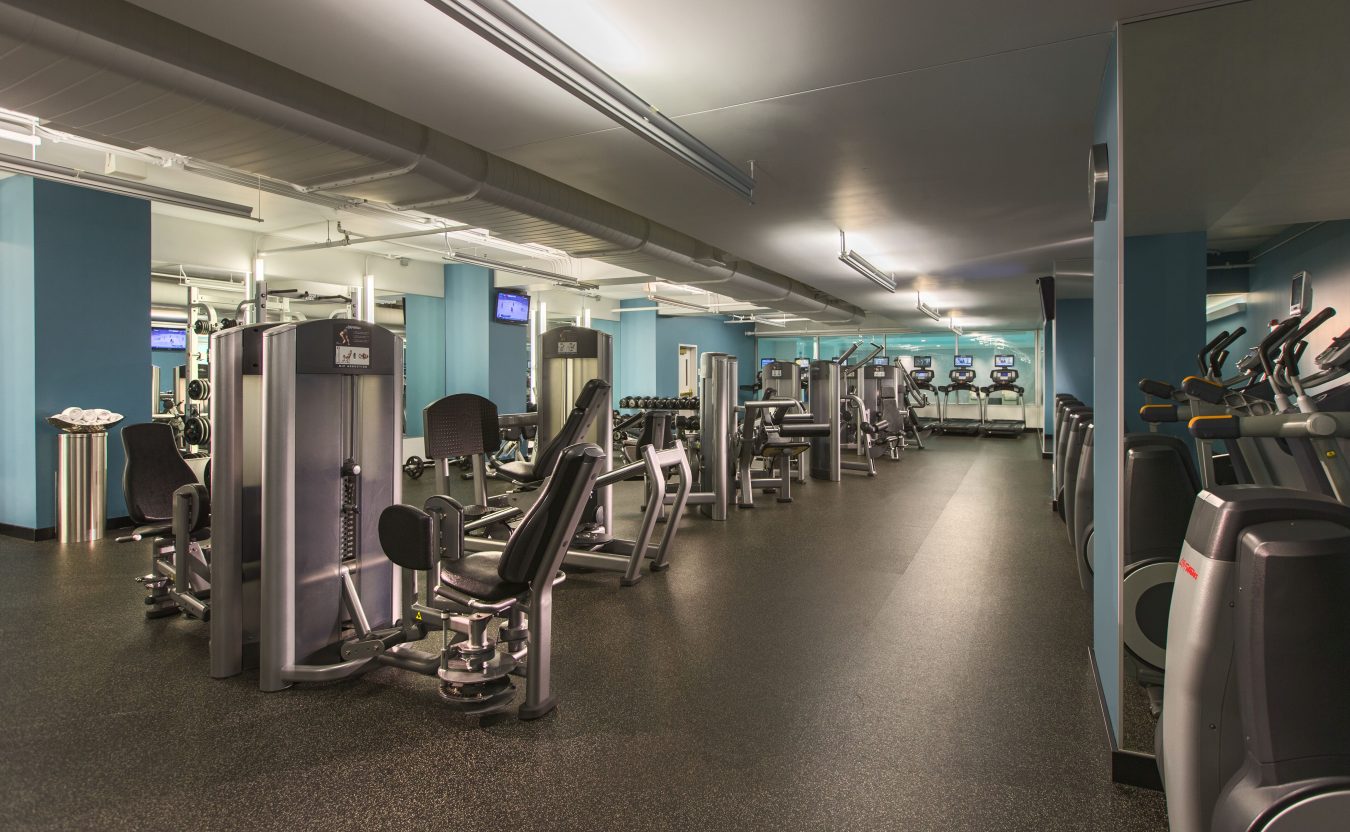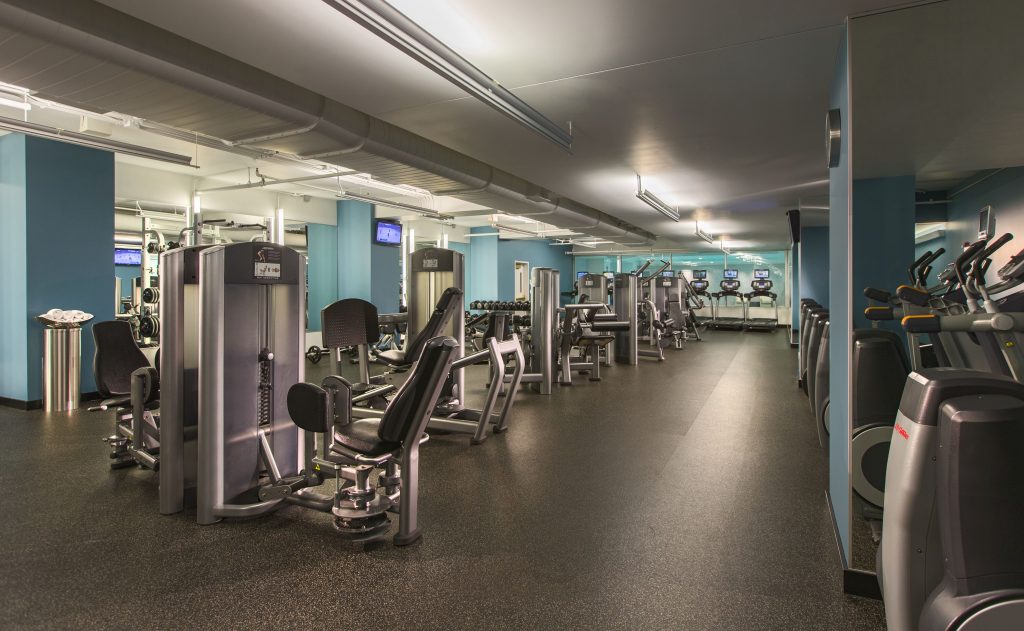 Even if you are not a guest at the hotel, you can use purchase a day pass to use the fitness facilities. First time spa guests can request a complimentary one day pass.
The Hotel at Midtown
What's healthier than a hotel with a large fitness center? How about a hotel that's less hotel and more athletic club? Upon check-in, the Hotel at Midtown will immediately give you information on how to use the athletic club which hosts almost every form of athletic activity from tennis to boxing.
Classes are offered to every guest, as well as access to all the fitness areas and equipment. All fitness offerings are included in your stay with no extra fees. There are areas for every sport including a tennis court, pool, boxing arena, and more.
The Kimpton Gray Hotel
When choosing a hotel as a health conscious traveler it can be frustrating to find hotels with fitness centers that close early or have complicated package systems. To make fitness as easy as possible the Kimpton Gray Hotel offers a wide range of convenient amenities for their fitness center.
The hotel has a fitness center open 24 hours a day filled with state-of-the-art equipment including 2 Peloton bikes with 22 inch touchscreens among many other high tech machines. If relaxing while still burning calroies is more your style, their partnership with Lululemon allows the Gray to offer free yoga mats in every room as well as workout clothes for rent or to buy in their shop. You'll never have to miss a workout while staying here.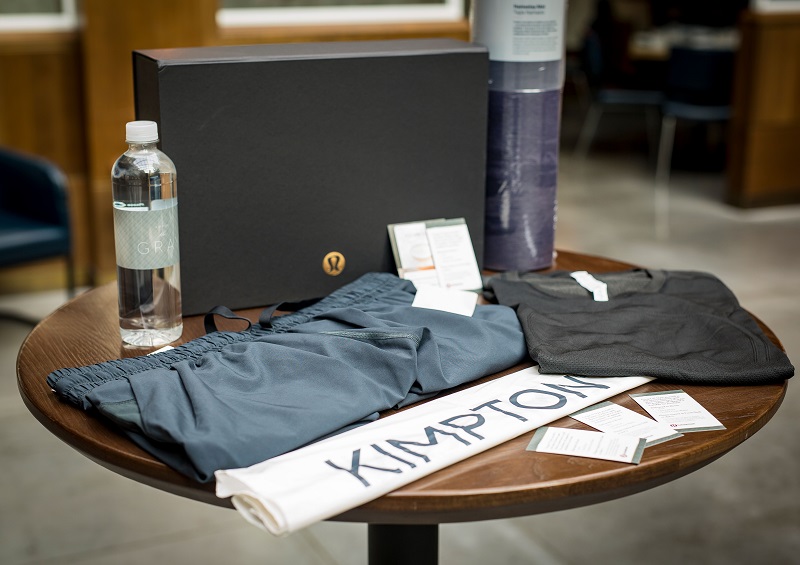 The Ritz Carlton
High atop the 75th floor of Water Tower Place is where the Ritz Carlton hosts rooftop yoga classes. The view and fresh air is a unique fulfilling experience for even those not concerned about fitness during their trips. Interestingly, the beauty of these classes lies in the fact that they are not limited to guests of the hotel. With a Class Pass anyone can join Rooftop Yoga for just $20 per person. The best part is the 30 minute post session wine/mimosa social totaling $30 per person.
For those with a fear of heights or are more into cardio the Ritz offers a unique feature where a Running Concierge leads a 30 minute to an hour long run at sunrise and sunset twice a week with a beautiful scenic view of Lake Michigan.
Chicago Travel Tips: How To Be Active During Your Visit
Divvy Bike Sharing
One of the best ways to make a healthy choice while seeing the beautiful sights and getting some fresh air is to use Chicago's large bike share system called Divvy. With over 580 stations and 5,800 bikes a bike is always available to you. Divvy has some beautiful trails within Chicago that you can follow or you can go your own way on the many bike lanes Chicago has.
It's a very simple system to use. You can check the availability of bikes via the mobile app or their website and buy your preferred pass on the app or website as well. Unlock and choose your bike with a code or pass. Take your ride. Return it to any of the stations around the city. Pricing is very reasonable with the options of a single ride ($3), day pass ($15), or an annual membership ($99).
The many Lakefront Trails are gorgeous rides along the lake with pretty views and a relaxing ride for any schedule. It's an affordable, healthy option for exploring Chicago even on a busy schedule.
The Chicago Botanic Garden
Being able to stay active without being confined to a gym seems daunting when traveling to a new city; however, Chicago's Botanic Garden offers a pleasant walk and plenty of activities to engage in to escape the big city feel while staying on your feet. There is no admission fee but there is a fee for parking if you have a car while on your trip.
The botanical gardens offers many activities ranging from family events to tours of themed gardens. Tai chi is even offered on the weekends. They have a lot of healthy options for dining while you're there, especially at the TrueJuice Bar in the Fruit and Vegetable Garden. The other gardens you can explore during Garden Walks, depending on the season, include:
The Bonsai Courtyards
Circle Garden
The McDonald's Woods
The Krasberg Rose Garden
The Helen and Richard Thomas English Walled Garden
The Water Gardens
The English Walled Garden
The Malott Japanese Garden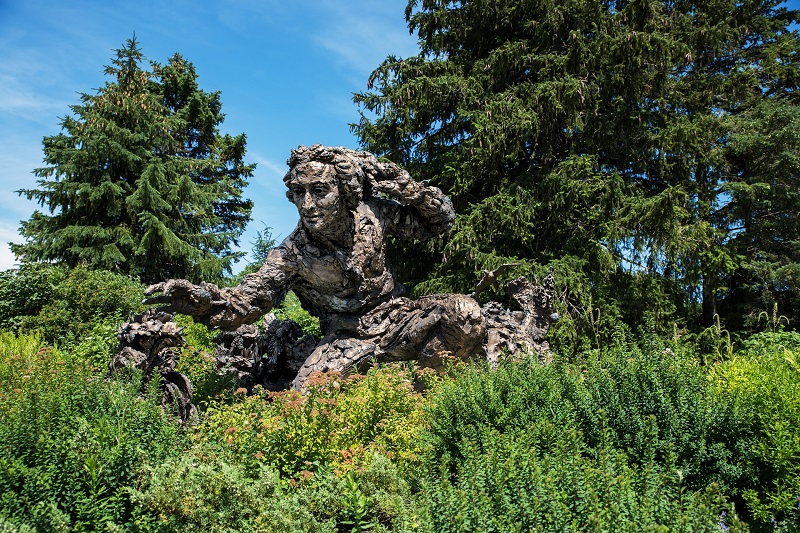 Paddle Boarding Tour
When is the last time you paddle boarded through a city? Recommended by multiple sources, Urban Kayaks offers paddle boarding tours on the Riverwalk and Monroe Harbor.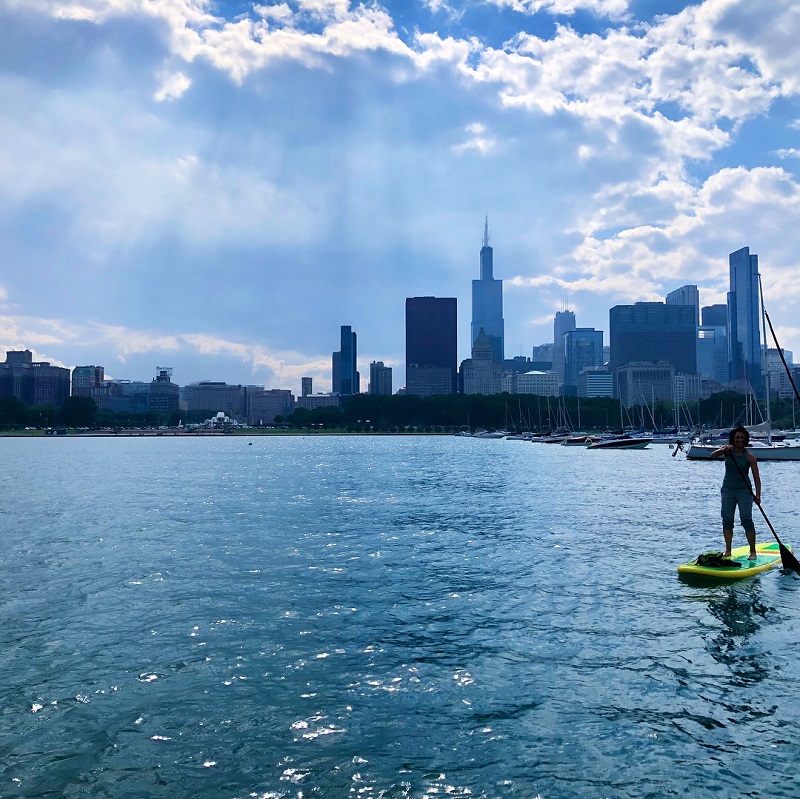 Chicago Walking Tours
Chicago is an amazing city to explore by foot. Whether you take a guided walking tour or explore on your own, you will be impressed by the beauty and architecture. For an interesting place to walk to run, Shana Schneider suggests the 606 Green way. It's a train line turned green way. She says "you'll get to see different neighborhoods in Chicago and parts of it seriously look like the yellow brick road."
Another great place to explore on foot is the lakefront. Stacy Caprio suggests walking around the lakefront on the Riverwalk. "I starting around Navy Pier, crossing the river via the bridge and continuing to walk down the path past all the fun tiki bars and outdoor restaurants, all the way down to see the boatyards, the aquarium, and all the way down to 13th street beach."
If you prefer a more organized workout, consider trying a new class during your trip. If you are interested in a drop-in fitness class during your trip checkout the following options:
Chicago Travel Tips: Healthy Restaurants
Kaliflower
Located on Michigan Avenue, this new addition to Chicago's healthy dining options has an extensive menu of health conscious food. Their mission statement explains further how they want to change the way people view healthy food options from losing taste for health to enjoying a fulfilling meal that's good for the body. All of their items are gluten free naturally, so there's no need to worry about asking for a gluten free option.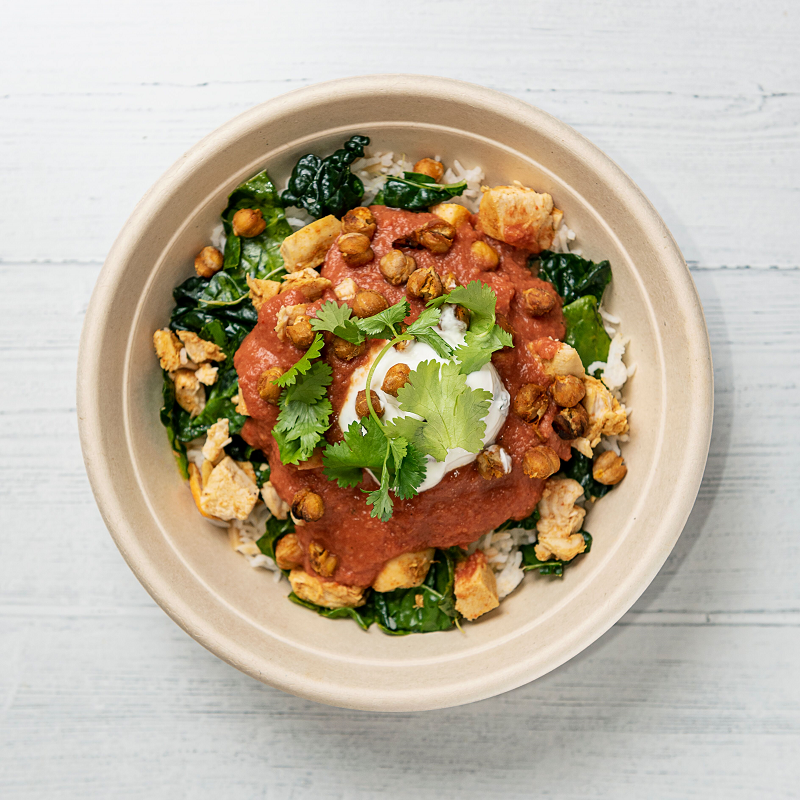 The menu is as enticing as it is healthy, including vegetarian choices and chicken bowls. All entrees are made with fresh ingredients and tasty blends in spices. Stopping in for lunch or dinner means a hearty meal for less calorie. You can feel good about getting dessert as their menu includes a dairy and sugar free banana ice cream made with pureed frozen bananas, almond butter, and cinnamon.
Kaliflower is the perfect dining option for a health conscious traveler or someone who wants something healthy amidst all the fast food traveling makes them consume.
The Little Beet Table
Last but certainly not least is this little gem of health conscious eating with a unique take on familiar foods. The Little Beet Table is located on State Street and has a 100% gluten free menu. Their affordable options include grass-fed burgers, chicken, salmon, and shrimp.
The most interesting and unique part of their menu, however, is the drinks. Cocktails and wine are available, but their refreshing natural drinks have ingredient like activated charcoal, beet juice, and kale creating a healthy new experience for diners. Separate menus exist for lunch/dinner, weekend brunch, desserts, wines/cocktails, and even a kid's menu. There are too many delicious looking option to list so checking out their website will help with seeing the menus beforehand and even the ability to reserve a table.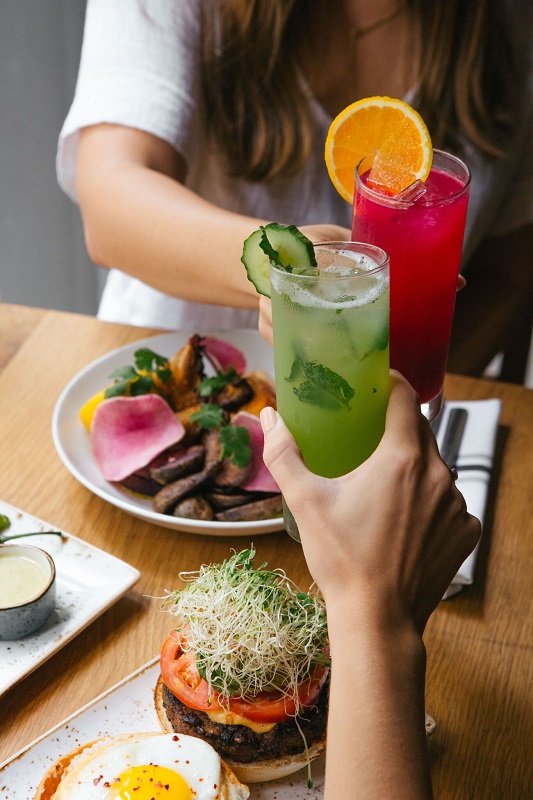 Even More Healthy Choices
Local dietitian Lindsay Bristol recommended some of her favorite places to grab a healthy bite: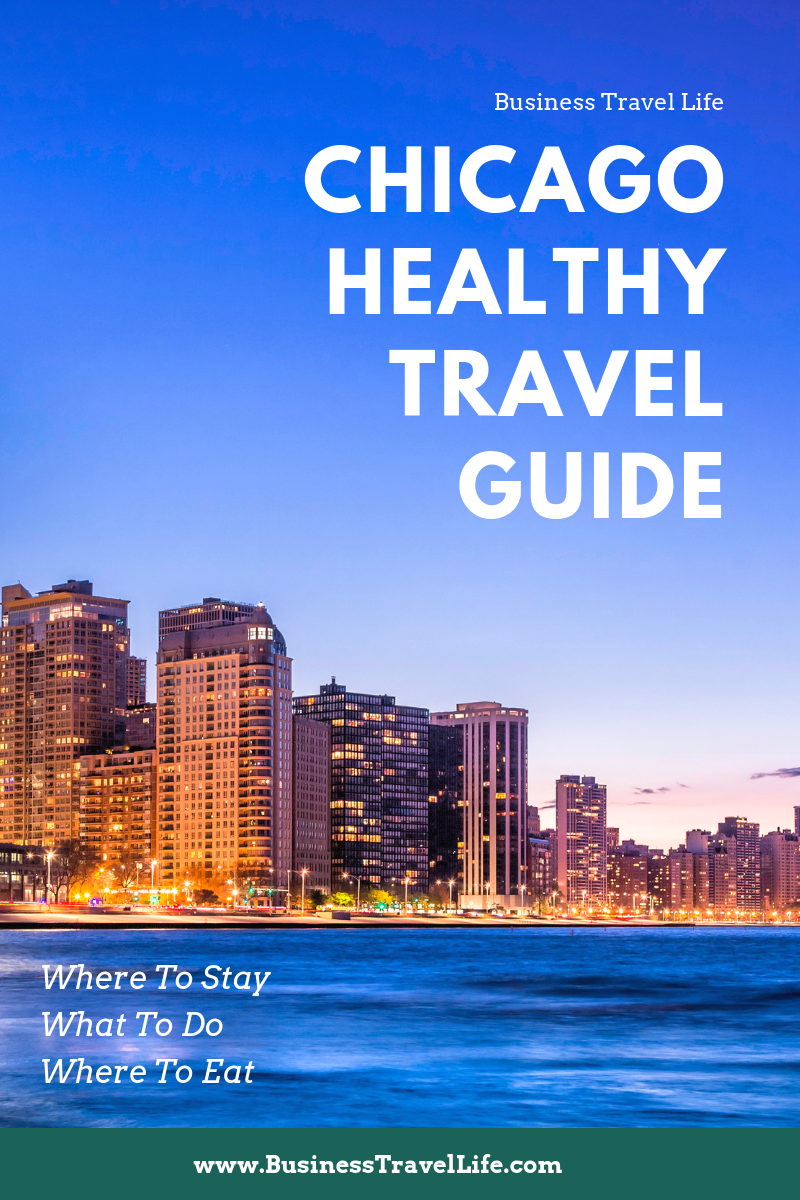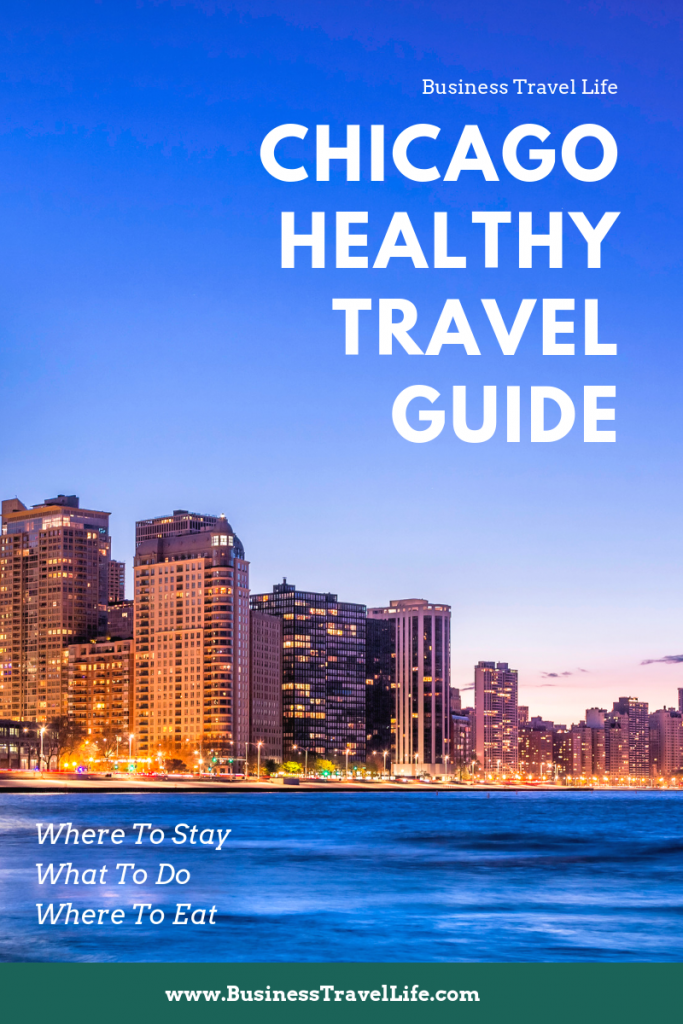 Do you have other Chicago travel tips for healthy travelers? Please comment below!
Business Travel Life
Business Travel Life is an online resource supporting the road warrior lifestyle. We give business travelers the tools they need to maintain their wellness and productivity when traveling. The topics we cover include business travel tips, travel workouts, healthy travel hacks, travel products, general travel tips, and industry trends. Our goal is to make business travel a healthier experience – and to make healthy travel practices more accessible to all road warriors.