Crepe Wrap Dress by Topshop
I love wrap dresses. Invented by Diane von Furstenberg in the 70's, wrap dresses are one of the most versatile garments in a professional women's wardrobe. They are easy to pack and easy to style. Most importantly, wrap dresses are very flattering and versatile. There are many ways to wear a wrap dress. Fashion blogger Fabulous After 40 shared some great tips for wearing a wrap dress here.
This week, I saw this wrap dress by Topshop and had to share it. I tend to get stuck in the black or gray dress rut and I like the light color of this dress. The color is as versatile as the dress and could be paired with a variety of other colored accessories. The dress retails for $80 in nude at Nordstrom.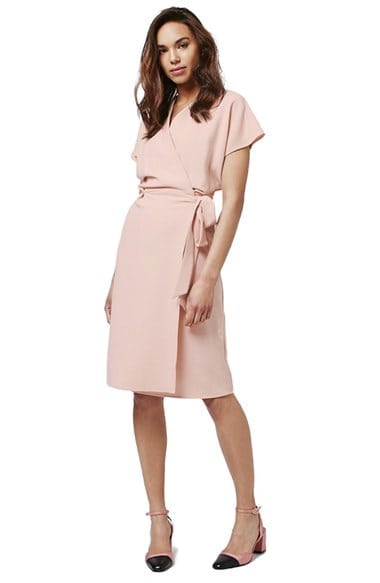 Topshop Crepe Wrap Dress:Available in nude or gray. $80 at Nordstrom, SHOP NOW
DESI kitten heel pump: Available in rose (shown below), red, and ten different patterns. $69.95 at SoleSociety, SHOP NOW
Ralph Lauren Faux Pearl Necklace: 60″ long. $62 at Lord and Taylor, SHOP NOW
Lord & Taylor Faux Pearl Ear Jacket Earrings: 2″ drop. $18 at Lord and Taylor, SHOP NOW
Kate Spade New York Her Day to Shine Faux Pearl Bracelet:2.5″ in diameter with 1″ extender, $78 at Lord and Taylor, SHOP NOW
Kate Spade New York 'Washington' Square Leather Strap Watch: 25mm, Vachetta/ Mother Of Pearl color. $225 at Nordstrom, SHOP NOW
Calvin Klein Reversible Faux Leather Tote: 17.5″W X 13″H X 5″D, available in gray, navy, denim, valentine, black or brown. On sale, $111 at Lord and Taylor, SHOP NOW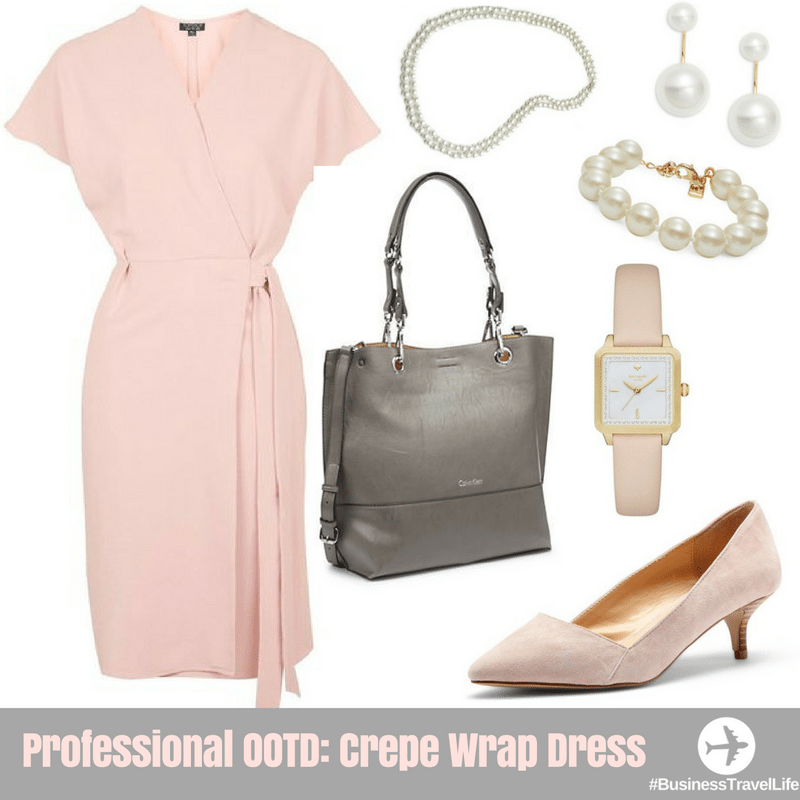 Business Travel Life
Business Travel Life is an online resource supporting the road warrior lifestyle. We give business travelers the tools they need to maintain their wellness and productivity when traveling. The topics we cover include business travel tips, travel workouts, healthy travel hacks, travel products, general travel tips, and industry trends. Our goal is to make business travel a healthier experience – and to make healthy travel practices more accessible to all road warriors.