Four Simple Fear of Flying Tips
MIT professor Arnold Barnett calculated that the chance of one being on a fatal flight in the U.S. is one in 45,000,000. While this statistic should calm one's nerves, the only thing that someone who has a fear of flying is thinking of is that one plane that did crash.
One's imagination can deceive one and cause one to have feelings that heighten fear. Some of you may seek therapy and others may reach for a drink to relieve your nerves. Some common symptoms one has when they have a fear of flying are:
Sweating
Trembling
Loss of sense of place
Loss of sense of time
Loss of sense of identity
There are multiple ways people try to overcome or offset their fear of flying – some grab a drink, others go to therapy. The following fear of flying tips examine if these are beneficial for one with aerophobia.
Medication is Not the Solution
Taking anti-anxiety medications will not help you getting used to flying. While it may calm you down temporarily, it will not solve your phobia. As psychiatrist Richard A. Friedman, in a New York Times article, said "If you think you can outsmart your phobia with anti-anxiety medications like Valium and Klonopin, forget about it; they may numb you during an acute panic attack, but they will not erase your phobia. In fact, they can get in the way of therapy because they impede new learning, which is the essence of curing phobias."
Therapy Can Help
Most therapists treat aerophobia based on feelings. There are many types of therapy treatments that are reputable for treating aerophobia. Cognitive behavioral therapy (CBT) is the most popular form of treatment. CBT is aimed to correct ingrained patterns of negative behaviors and thoughts.
If you are looking for to calm your pre-boarding nerves, try the 5-4-3-2-1 exercise. This pre-flight regimen will help distract yourself prior to your flight, therefore reducing your stress.
Drink Responsibility or Not At All
To cope with the fear of flying, there are some who believe that drinking x-amount of alcoholic beverages will ease their nerves. According to Captain Bunn, the President and founder of SOAR, an incorporation created in order to offer programs for those wanted to conquer their fear of flying, people may psychologically believe it helps them, research shows that alcohol has no effect, other than exacerbation on occasion, on one's fear and anxiety.
If you feel that drinking while in the air helps ease your nerves, there something you should understand – the air at 36,000 feet is not breathable. This is why planes are pressured. Your body does not absorb as much oxygen as you would on the ground. This, when paired with drinking alcohol, can augment the effects of altitude sickness your body receives.
If you tend to get light-headed and nauseous due to your fear of flying, I would think twice about asking for a drink.
Avoid Caffeine
Avoid grabbing a cup of coffee from the airport's Starbucks if you are prone to anxiety attacks. Caffeine will only make you more hyper and jittery. If you rely on copious amounts of coffee to keep yourself going each day, it would be most beneficial for you to cut the ties a few days early that way you do not cut yourself off cold-turkey.
Instead of coffee grab a water or juice. Professor Robert Bor, author of 'Overcome Your Fear of Flying', articulates the importance of keeping hydrated and blood sugar levels up.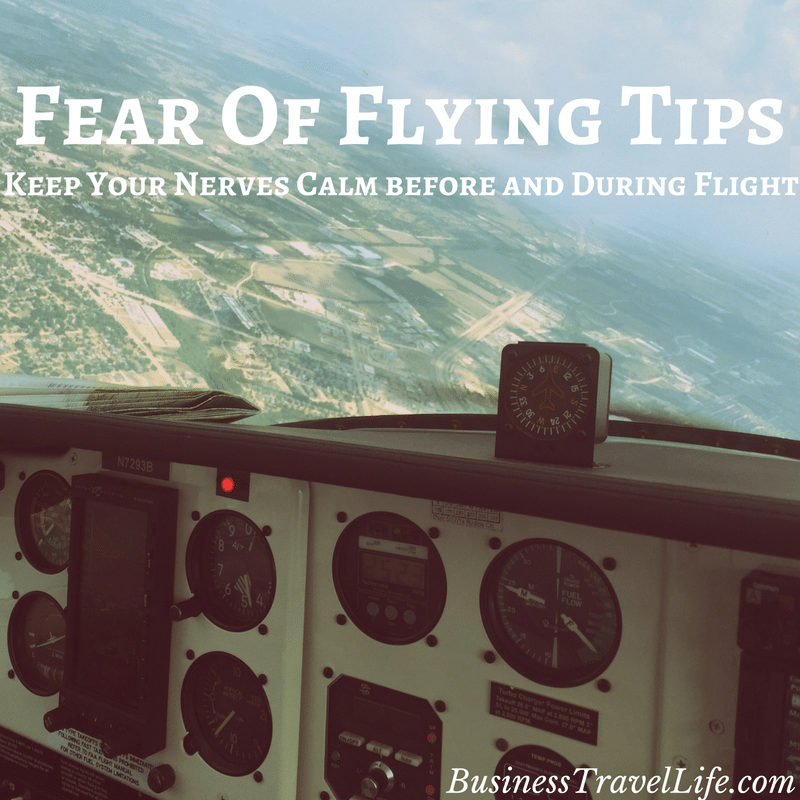 Business Travel Life
Business Travel Life is an online resource supporting the road warrior lifestyle. We give business travelers the tools they need to maintain their wellness and productivity when traveling. The topics we cover include business travel tips, travel workouts, healthy travel hacks, travel products, general travel tips, and industry trends. Our goal is to make business travel a healthier experience – and to make healthy travel practices more accessible to all road warriors.