Top 15 U.S. Cities for Business Travelers
For individuals in a variety of careers, business travel is inevitable. Traveling for business, however, isn't just about sealing a deal or taking care of important business contacts. 83% of business travelers also use their time away on business to explore the cities they are visiting. If you're planning an upcoming business trip, take the time to get to know some of the best cities in the United States a little bit better! You'll find that this enables you to make the most out of your trip.
Arizona: Phoenix
This desert city is a popular destination for vacationers looking for a little bit of sun and a great tan, but it's also an excellent place to have a business trip. It has high temperatures year-round, offering travelers a welcome reprieve in the middle of winter. If you're going to be in Phoenix, make sure you visit the Heard Museum of Native Cultures and Art.
California:
San Francisco is a popular tourist destination for travelers from all over the world. The technology boom in Silicon Valley is continuing its spread into San Francisco, but this area is still able to maintain its laid-back California vibe. It also offers a number of scenic advantages for visitors: steep streets, cliffs that overlook the Pacific Ocean, and the iconic Golden Gate Bridge, to name a few. Business visitors to San Francisco will be pleased to learn that it's ranked close behind Chicago in terms of hotels. It's also ranked third in the US in Restaurants and Shopping and fourth in Arts and Culture, making it an excellent destination for any trip.
San Diego offers year-round great weather and a location on the Southern California coast that can't be beat. San Diego also offers a wide array of outdoor activities and amenities for healthy travelers. The busiest single-runway commercial airport in the country is located close to downtown San Diego, while both the business district and the popular Gaslamp entertainment area are within walking distance. Hosting a special event? Balboa Park is an ideal venue for the entire region.
Colorado: Denver
Denver, Colorado offers an incredible variety of activities and so much culture that you'll wish that you had more time to spend in this fascinating city! World-class museums stand alongside dozens of craft breweries, a culinary scene that's gaining increasingly more attention, and a number of major sports teams. Denver is also a gateway to Colorado ski country, making it the perfect place for both business and vacation trips. Denver International Airport is often named as the best airport in the country, while the city as a whole is ranked third for value and in the top five for friendliness nationwide.
Connecticut: Stamford
Stamford, Connecticut offers a popular business destination. It's home to the largest financial district in the New York metro area other than New York City itself. Stamford offers a variety of cheap hotels—including the Crowne Plaza Stamford and many other great downtown options—that make it easy for business travelers to find a place to stay in the area.
Hawaii: Honolulu
What could be better than a business trip that takes you to the heart of Hawaii? Honolulu is a great central location for meetings between the United States and Asian companies. The area has a number of luxury resorts as well as natural beauty and ideal weather for meetings and events. Within a mile of the convention center are more than 10,000 guest rooms, making it easy to find a place to stay no matter the time of year.
Illinois: Chicago
The Chicago Mercantile Exchange is a long-standing financial services hub that makes it an appealing destination for many business travelers. The city also offers a variety of fascinating architecture alongside a lakefront location that make it a beautiful place to stay. This is the top city in the United States for hotels, so it's the perfect location for any traveler looking for a place to stay. Chicago also boasts a growing technology industry that increases the city's appeal for many business travelers.
Louisiana: New Orleans
In the ten years since Hurricane Katrina wreaked havoc on the Crescent City, New Orleans has shown amazing resilience as it comes back and retakes its place in the industry. The city offers a mix of Southern hospitality, a fascinating culinary scene, and amazing value for any business traveler. Healthy road warriors can tour New Orleans with a rental bike or Social Sweat jogging tour.
Massachusetts: Boston
Boston comes in fourth in three different categories: arts and culture, hotels, and shopping. It is within close proximity of a number of other major East Coast cities, the World Trade Center, and the Boston Convention and Exhibition Center, all of which combine to make it an excellent location for a number of business ventures. Boston also provides a great public transit system that makes it easy for visitors to get around. In addition, Boston has a rich colonial and historic heritage that makes it a great place to bring the entire family.
Nevada: Las Vegas
If you're looking for a destination that can't be beat, Las Vegas ranks number one as the destination for large major meetings. It has excellent convention facilities, plenty of hotels, adequate seating for any size session, and plenty of food options. Las Vegas is certainly the destination for travelers looking for plenty of space and premium amenities!
New York: New York City
No business trip roundup would be complete without a mention of the Big Apple. New York provides the best opportunity you could ask for to mix business with pleasure. As the home to big businesses that have branches all over the world, New York City is also a great cultural center with plenty of restaurants and hotels and stunning scenery.
Pennsylvania: Philadelphia
Philadelphia is the home of a wide range of big businesses with branches around the world, but it also holds a number of fascinating landmarks from America's earliest days. From the cracked Liberty Bell to the Philadelphia Museum of Art, there are plenty of landmarks to check out! Healthy business travelers can enjoy the healthy, local dining and fitness options in Philadelphia.
Utah: Salt Lake City
With its majestic mountain ranges, Salt Lake City offers the business traveler an escape from everyday activities and allows them plenty of chances to get closer to nature. Salt Lake City also hosts some stunning trade shows that are sure to delight and inspire any businessman.
Washington: Seattle
The booming tech center of Seattle, Washington offers plenty of amenities to business travelers. Here, travelers will find friendly people, great shopping opportunities, and seafood restaurants that can't be beat. Even the views from a boardroom are absolutely gorgeous, making this a great place to enjoy life while still taking care of business. Rich cultural opportunities like the Space Needle, the Pacific Science Center, and more fill the Seattle area.
Washington, DC
The nation's capital holds a number of the most iconic symbols of the nation. If there's time in between business events, business travelers have the ability to check out the White House, the National Mall, the Kennedy Center, and more. Downtown, the convention center and the hotels around it offer close proximity to many important monuments and attractions.
For the business traveler who is hoping to take advantage of their location to take in the culture and scenery around a new location, these fifteen cities offer some of the greatest advantages in the nation. If you get to set the destination of your next business trip, any of these locations would be an excellent starting place.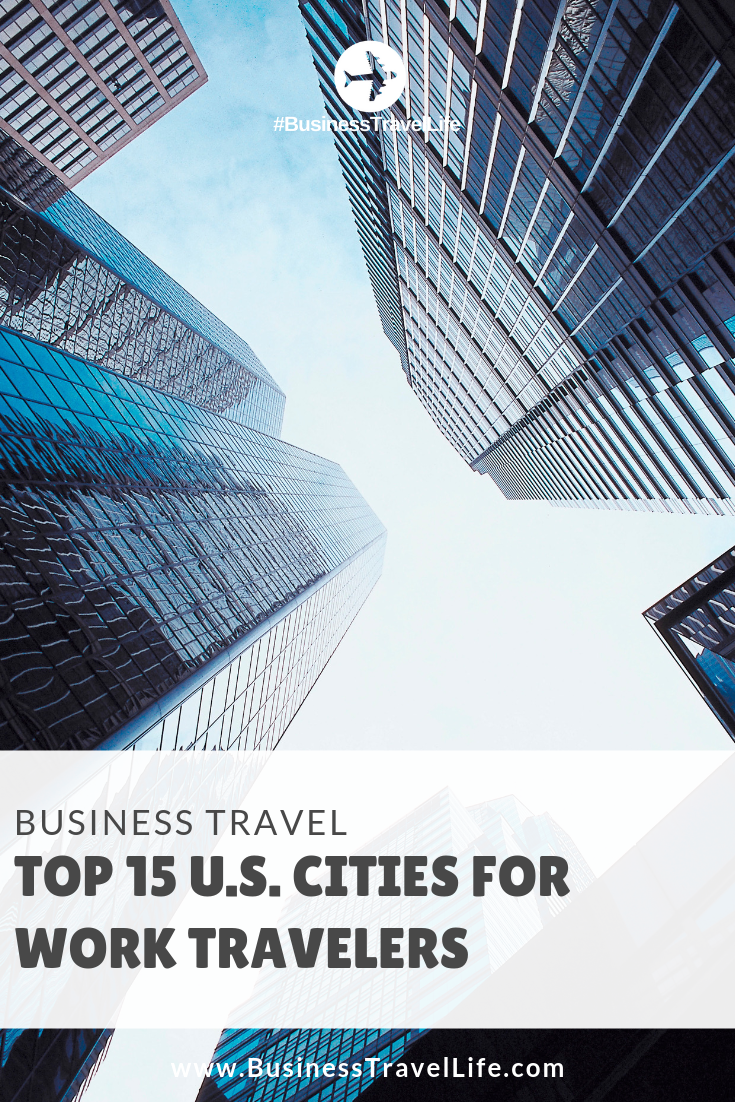 Business Travel Life
Business Travel Life is an online resource supporting the road warrior lifestyle. We give business travelers the tools they need to maintain their wellness and productivity when traveling. The topics we cover include business travel tips, travel workouts, healthy travel hacks, travel products, general travel tips, and industry trends. Our goal is to make business travel a healthier experience – and to make healthy travel practices more accessible to all road warriors.