The Goby is a compact, yet durable keyboard for travelers.
This week I had the opportunity to try out the Goby  mobile, foldable, wireless keyboard.  I was intrigued by the idea of a compact, wireless keyboard. Anything that can save space in my laptop bag is worth trying.
There are three things that make the Goby an excellent keyboard choice for travelers, battery life, size, and durability. The Goby has a standby time up to 6 months, which is convenient for travelers. The Goby is 5.1″ x 3″ x .5″ when folded up and 10.2″ x 3″ x .25″ when folded out. It weighs less than .5 pounds. And, this keyboard is durable. When folded up, the bottom of the keyboard serves as a protective case (giving it a much better rate of survival in my laptop bag). When folded out, the keyboard sits evenly and does not move when you type on it.
Another great feature of the Goby keyboard for travelers is the wireless connectivity. The keyboard uses Bluetooth to connect wirelessly (one less cord to pack) to your phone or tablet. I had no trouble connecting the Bluetooth to my Samsung Galaxy 4 Note or my Windows Tablet.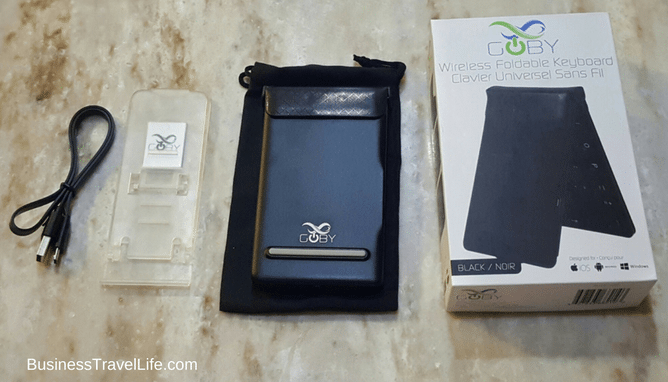 The Goby keyboard comes with a storage pouch, a charging cable and a phone stand. The packaging itself it very solid and could also be used for storage, if you had extra space.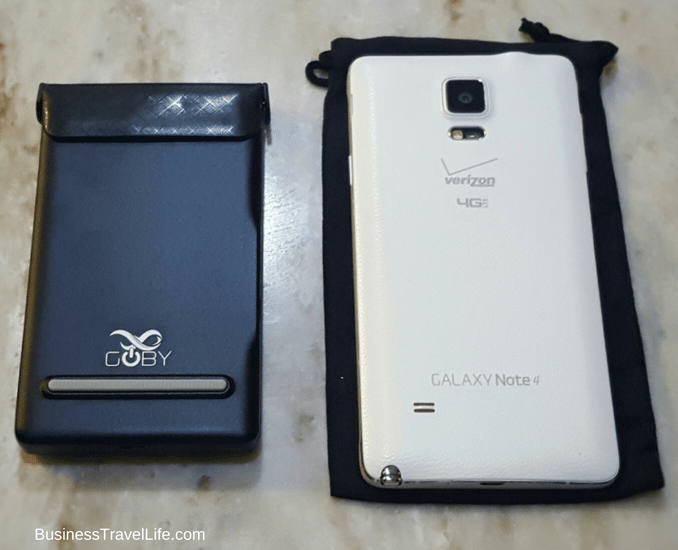 The Goby is slightly smaller than my Galaxy Note 4. I have never considered using a keyboard with my phone, but after trying it out, it is definitely something I will do in the future for email and social media on the go. The cell phone stand that came with the keyboard easily held up my very large Galaxy note. Using the keyboard and the phone stand was much easier on my neck that typing directly into the phone.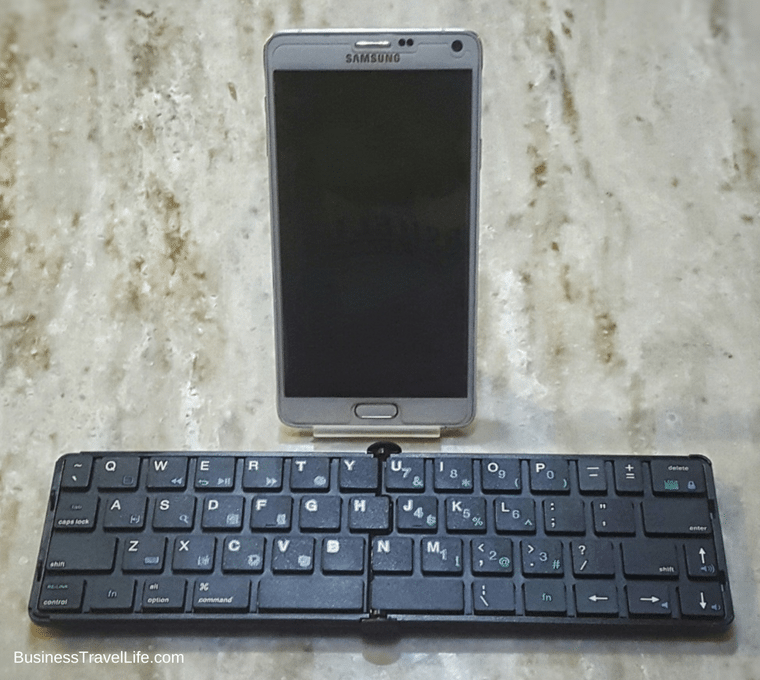 I am very impressed with the keyboard. It is very stable when I type and despite the compact nature of the keyboard, the keys are the same size and spacing as my keyboard at home. The keyboard also has a lot of functions, including a number pad and the ability to take screen shots and selfies.
I also tested the Goby keyboard out with my Windows tablet. I love my windows tablet and have been using a very flimsy keyboard that connects to the device.I do not like that keyboard because it is so thin.  The difference is night and day. Connecting the Goby to my tablet makes my tablet feel like a laptop. And, because the keyboard does not literally connect to my tablet, I have more flexibility with placement (which my neck appreciates).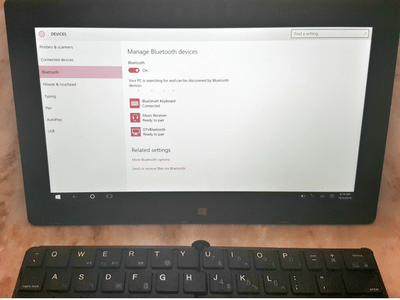 Syncing the keyboard with my tablet took less than a minute. As soon as it was synced, I opened my inbox and got to work! The keyboard is very responsive and very firm. When I typed, the keyboard did not wobble or move at all.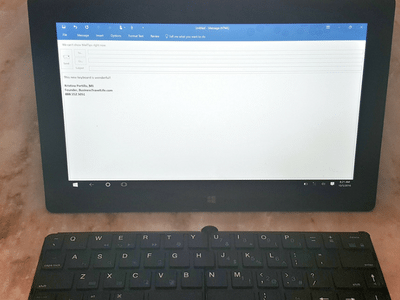 Overall, the Goby wireless keyboard is a great choice for business travelers. The size and features make it a useful, easy to pack tool. The Goby keyboard is $69.99 and available in six different colors on the Goby website.  For travelers that use a tablet to stay connected on the go, the Goby keyboard is a great investment.
Giveaway
Enter to win a Goby wireless keyboard! One lucky winner will receive:
Goby wireless keyboard (ARV $69.99)
Goby Wireless Keyboard Giveaway

[divider_line]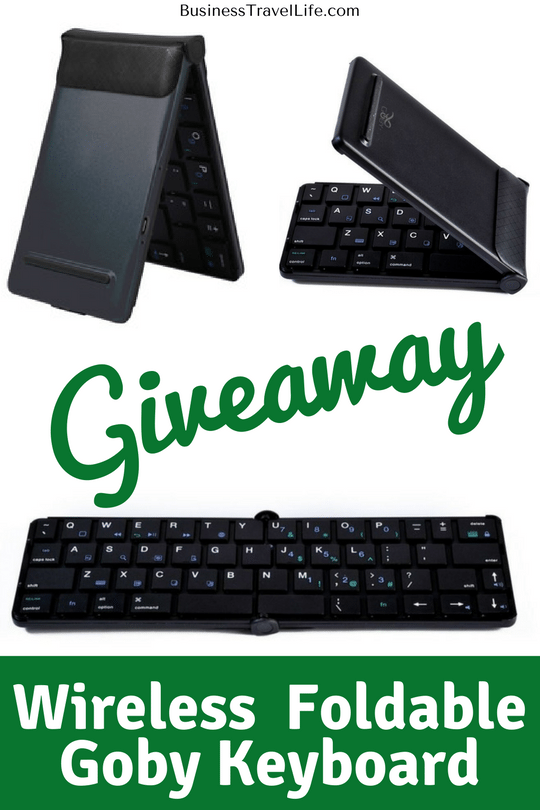 Business Travel Life
Providing nationwide nutrition and fitness concierge services, Business Travel Life seamlessly integrates a healthy lifestyle into corporate and business travel . We partner with our clients to provide nutrition plans and workouts that are achievable on the road. Our clients benefit from the customized level of service and ongoing support we provide. Check out our online store before your next trip to shop for travel accessories and travel-friendly workout tools that make healthy travel easier.