The best carry-on bags for regional jets.
If you have ever caught a flight from a large airport to a small airport, you likely took a regional jet. Regional jets get you from point A to B without difficulty, however, you will likely feel cramped and may even have to duck when walking back to your seat. Storage space on regional flights is limited, especially in the cabin. As a result, you can expect smaller overhead bins and less space under the seats to store baggage.
Since the overhead bins are smaller, the common practice is to gate-check your larger carry-on item as your board the plane. When the plane arrives, you can pick up the bag you gate checked plane side (instead of going to baggage claim). This will work just fine for most travelers, however, if you have a tight connection, be aware that in some locations it can take upwards of 20 minutes for the planeside luggage to appear.
If you are concerned about making a tight connection, it may be a better idea to pack a smaller bag you can take onboard or check your bag when you arrive at the airport and pick it up from baggage claim when you reach your destination.
Tip: Packing organizers are a great tool to use for maximizing space in your suitcase.
How do you know if your flight is going to be on a regional aircraft?
If you are flying on a Bombardier (CRJ) or Embraer (ERJ), it is more than likely you will have reduced overhead storages. Also, if your flight is on a Dash 8, expect an even smaller space, as the Dash 8 is a turboprop plane. You can easily find out if you will be flying on a regional jet, and what type of regional jet, by looking up your flight number on SeatGuru or checking on your airline website.
If you would like to carry your bag onto the plane (and avoid gate checking) on regional flights, here are some bags that are more likely to meet the size requirements. It is always a good idea to check with your airlines before flying to ensure the bag size you choose will fit on the plane. SeatGuru listed 18L x 14W x 7D as the maximum size of luggage that would fit in the overhead bin.
Best Carry-on Bags for Regional Jets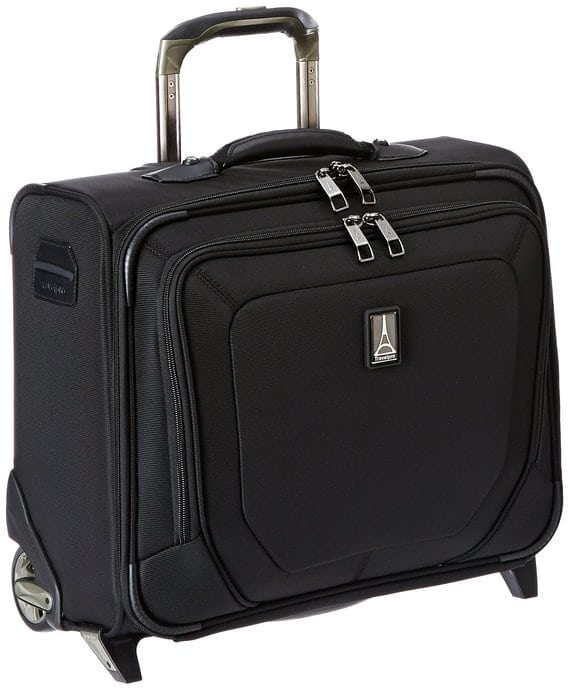 Travelpro Crew 10 Rolling Tote Suitcase
Size: 16″ x 13″x 8.5″
This small rolling carry-on has a large main packing compartment featuring a built-in organizer and corduroy-lined tablet sleeve. According to a reviewer on Amazon, this bag fits perfectly into the overhead bins on the ERJ 145 (a small regional jet) and the CRJ-700. A few reviewers on Amazon advised for travelers to attempt to put the bag in an overhead bin, before agreeing to gate check. Available on Amazon.
---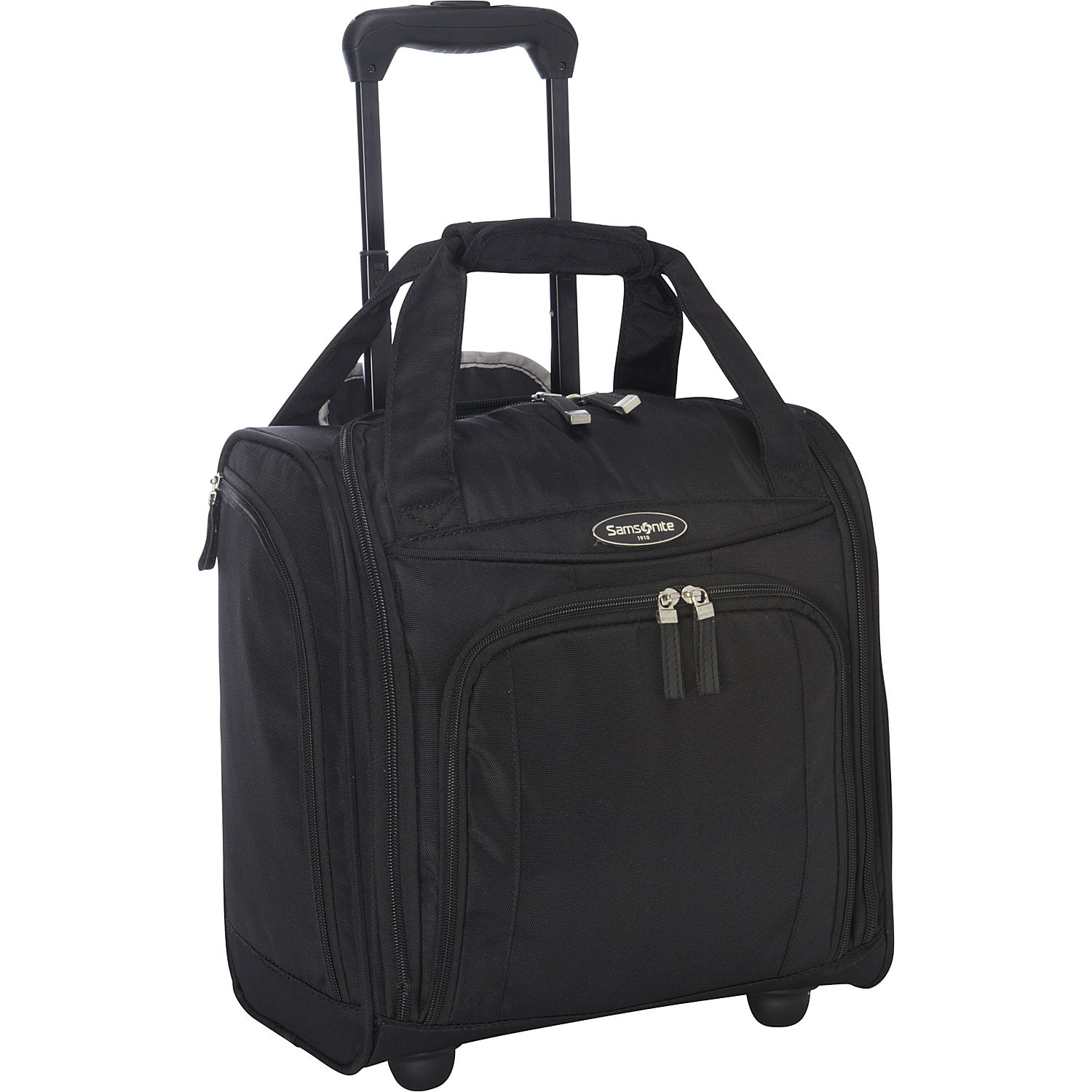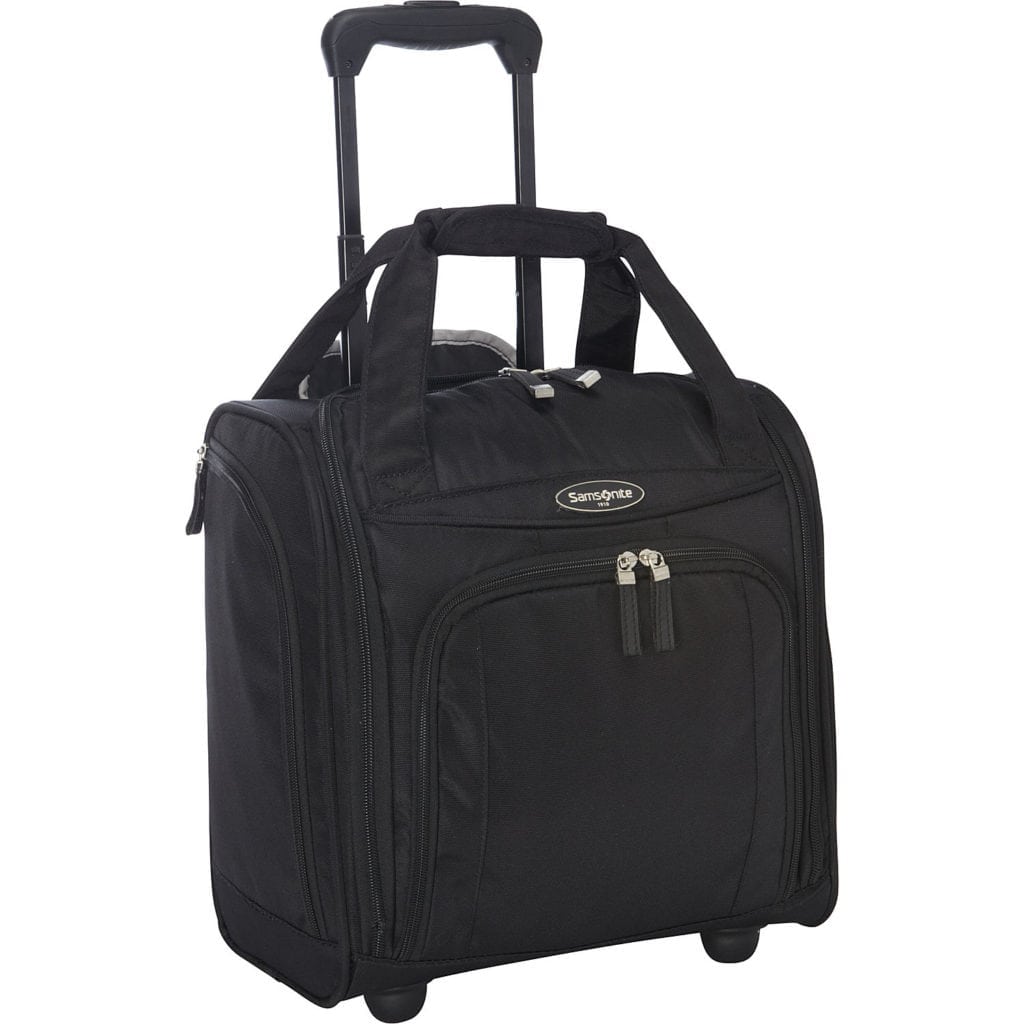 Samsonite Wheeled Underseater
Size: 13″ x 13″x 9″
This bag is well designed and hold a lot more than you may expect. The bag has internal packing compartments with internal wetpak pockets, a removable liquid pouch and removable hanging organizer. Available on Amazon.
---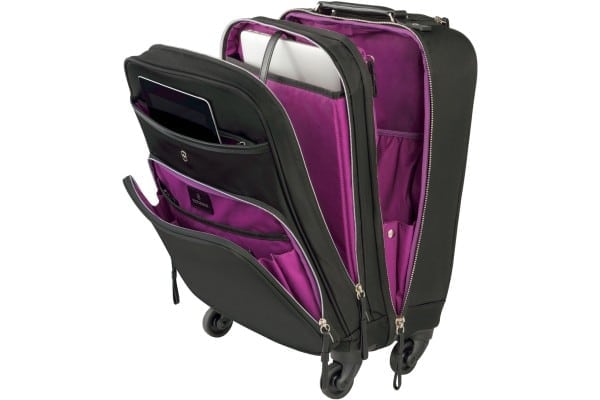 Victorinox Brilliance
Size: 17.5″ x 13″ x 8″
This may be on the larger side for storing on a regional jet, but it's certainly one of the smallest roller bags available. The bag fits most 15.6″ laptops and features four, multi-directional wheels. Available on Amazon.
---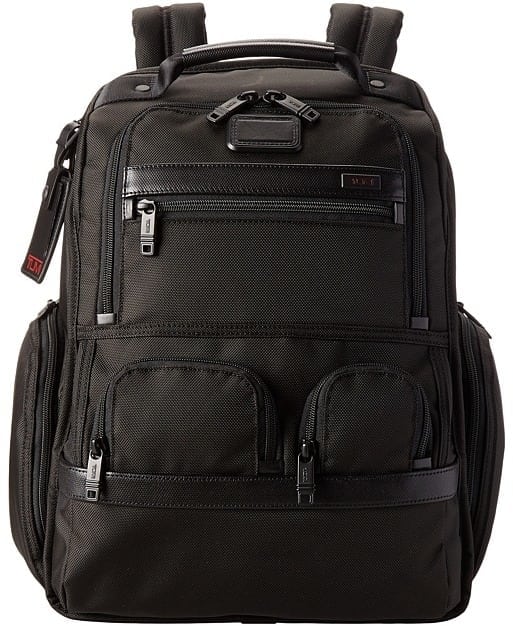 Tumi
Alpha 2 – Compact Laptop Brief Pack
Size: 16″ x 12″ x 7″
The Compact Laptop Brief Pack is part of the Tumi® Alpha 2 collection. The backpack features a laptop compartment that can hold up to a 15″ laptop. Add-a-sleeve on the back allows you to attach to larger roller bag (perfect if you check a large bag). Spacious main compartment stores documents or clothing. Available on Zappos.com.
---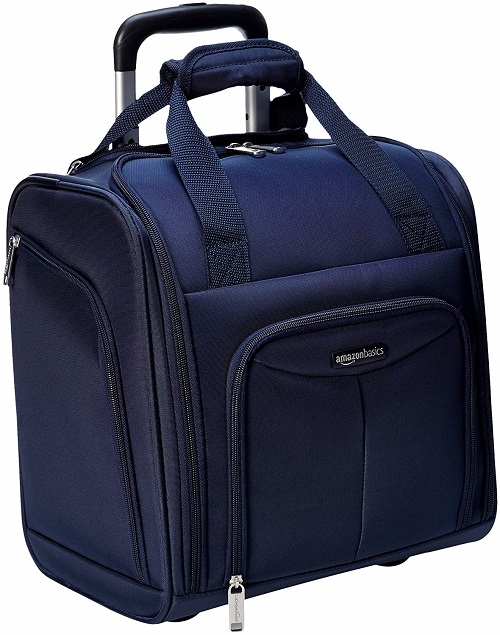 AmazonBasics Underseat Luggage
This AmazonBasics Underseat Luggage is perfect for short trips. This 13″ x 9″ bag has lots of storage and pockets. The reviews state this will fit in the overhead on a regional aircraft (one reviewer specifically said it fit overhead on a plane with a one seat, aisle, two seat configuration). This bag comes in two color options and two fabric options. It is priced under $60, making it budget friendly as well! Amazon
---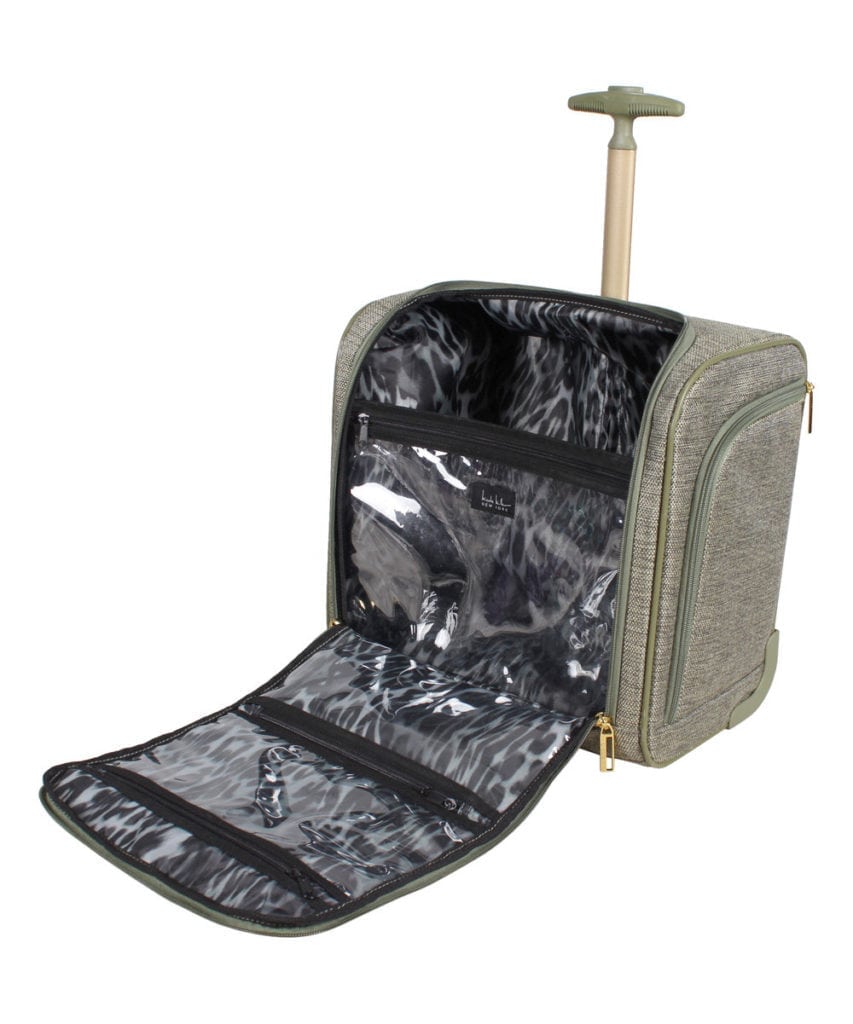 Nicole Miller Jardin Wheeled Under Seat Carry-On
Size: 15.6″ x 15″ x 8.6″
This bag may be a little tight in the overhead bin on a regional jet (definitely check with your carrier), but we thought it was worth including as it is hard to find roller bags this small. The internal pouches will save space as well. This bag would hold a small tablet, but likely not fit a larger laptop. Available on Amazon.
What is your favorite regional jet carry-on bag? Do you use a different carry-on when flying on a regional jet? Please comment below.
Updated January 20, 2019
---
---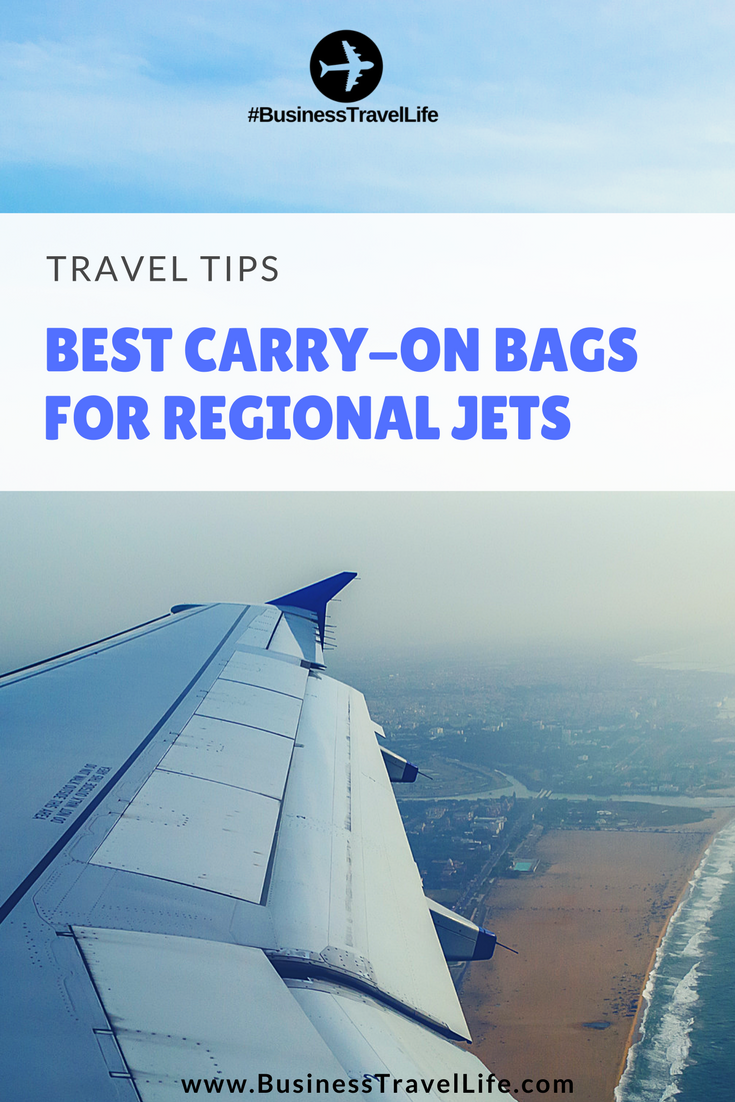 Business Travel Life
Business Travel Life is an online resource supporting the road warrior lifestyle. We give business travelers the tools they need to maintain their wellness and productivity when traveling. The topics we cover include business travel tips, travel workouts, healthy travel hacks, travel products, general travel tips, and industry trends. Our goal is to make business travel a healthier experience – and to make healthy travel practices more accessible to all road warriors.